The training industry in 2021: 8 lessons we've learnt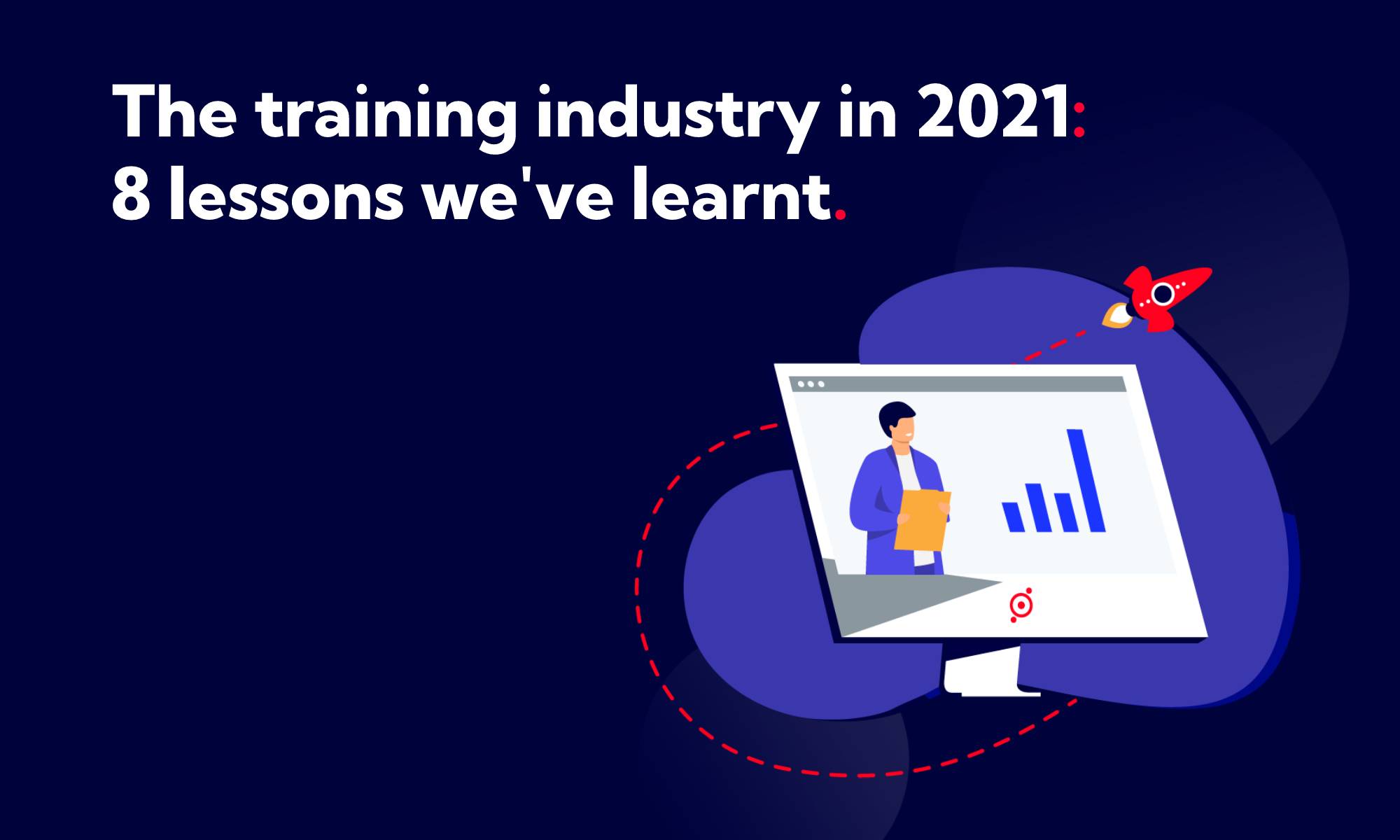 We recently released our 2021 Training Industry Benchmark Report which helps training professionals to understand key changes in the training industry. This year, we learnt a great deal about how training providers are responding to industry challenges and how providers are adjusting to the new normal following a turbulent 18 months.
Check out our 10 minute video which provides a run down of the key findings from this year's training industry benchmark report.
In this guide, we take a look at 8 of the biggest training industry trends from this year's report and the lessons we've learnt heading in to 2022.
1. Blended learning is the future
Unsurprisingly, the number of training providers offering eLearning and blended learning courses has continued to rise dramatically in 2021, with more still looking to implement on-demand and bitesize micro-learning in the future.
What's clear, is that training providers are becoming more future proof with their delivery, and dynamic in order to meet clients needs and requirements. 63% of training providers now offer both in-person and online learning with 14% having transitioned from in-person to online training exclusively.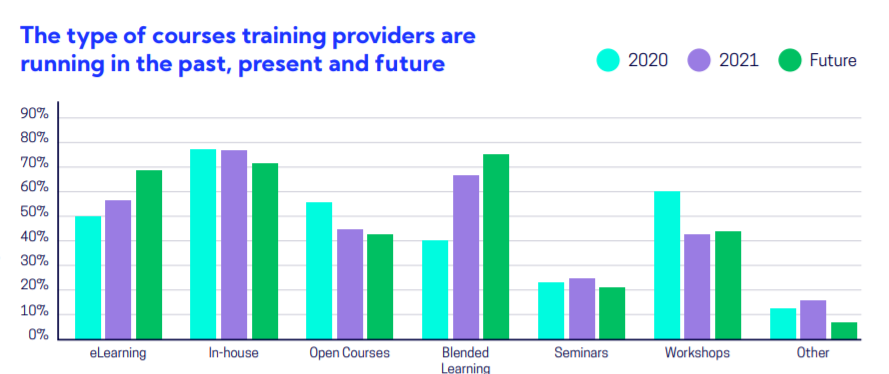 The lesson
A solid future-proofing strategy is based around flexibility; this means our training offering and delivery methods should be diverse and non-fixed. We've learnt during COVID that the training organisations who've experienced the best results are those which adapted to the new environment courageously, and without hesitation (and with available resource to make the transition!)
Blended learning allows training providers to upsell customers, creating a learning journey tailored to the individual. These courses are often sessional in nature; instead of a 1 or 2 day intense classroom course, this may now be a 6 week study comprised of in-person training, eLearning, focus groups and webinars. This comprehensive learning package aids loyalty and has proven benefits for learning impact.
2. The demand for in-person training is still there
Up until 2020, our training industry report recorded an increasing trend among training providers offering in-person training, through both open courses and in-house delivery.
Rather surprisingly, the number of providers offering in-house training courses has reduced by just 1% since last year, and is expected to fall by just 8% by next year. Open courses have shown slightly more volatility to the events of 2020, with providers offering open courses falling by 10% year-on-year, and expected to fall a further 2% by 2022.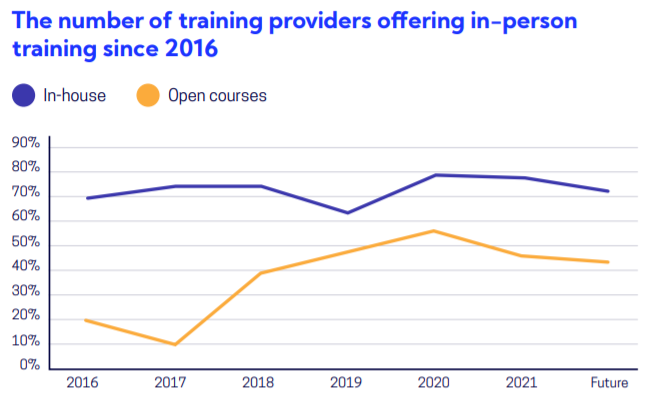 When we consider that this report was conducted following 18 months of social distancing, lockdowns and remote working, it's certainly surprising to see that the number of providers offering face to face training is similar to that of 2020, and that the demand from delegates is also very much still there.
There is, of course, many providers offering practical based training that either doesn't lend itself well to online delivery or simply isn't possible from a practical or auditing standpoint.
The lesson
You do you. Choose the delivery methods that work for your business. While many providers have been quick and resourceful in their transition to online training delivery throughout COVID, it's worth remembering that the market for in-person training still exists, and many delegates still prefer to learn this way.
Ultimately, this decision is based on which delivery methods allow you to provide the most impactful learning, and where the demand is for your offering in the market.
If you're considering a classroom return or hoping to drum up some interest, check out our 5 tips on encouraging delegates back to the classroom.
3. Administration is proving a real headache
Training certainly comes with it's fair share of administration; whether that's sending out course communications, arranging trainers and venues, or transferring a delegate between courses. Without dedicated software in place, it's easy to become overrun with course administration which usually results in a declining customer experience.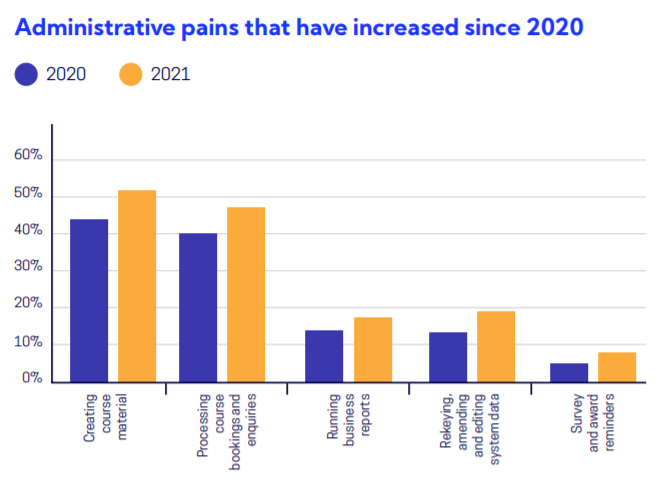 The time professionals are spending creating course material has increased year-on-year, and is now recognised as the biggest administrative pain alongside processing course bookings and enquiries. Time spent on administrative tasks such as course and event scheduling, finance management and course promotion have interestingly each fallen from 2020 figures.
The lesson
Automate, automate, then automate some more.
Technology has quickly become a key component in gaining competitive advantage, especially for busy training departments that are overrun with course admin. By using dedicated software, providers can free themselves from spreadsheets and disparate systems and instead focus on tasks that add value such as course promotion, strengthening customer relationships and new course development. Over 50% of training providers are now using training management software to get everything in one place, reduce cost, and scale their business.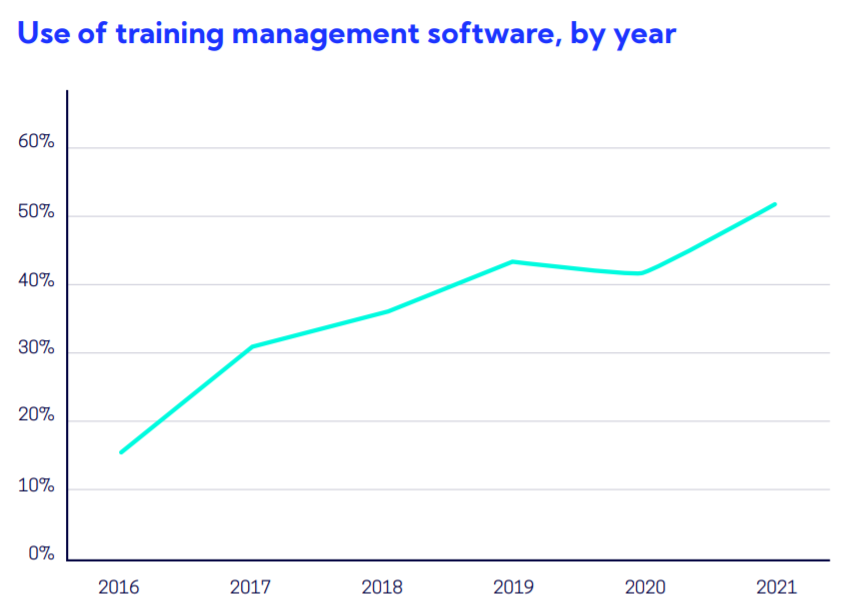 4. Reputation & referrals are key for training providers
Last year, training providers prioritised their efforts in Search Engine Optimisation (SEO) to help increase website visibility and promote courses, while also being reliant also on repeat business from referrals & reputation.
This year, social media surprisingly experienced a second year of decline, potentially explained by many of us working from home and becoming more disconnected from one another. Social media tends to gain more 'buzz' around events, conferences and networking opportunities, however these have been few and far between over the past 20 months.
Business reputation and word of mouth referrals continues to be a relied upon method of gaining business among training providers, and is the only method of course promotion that has not experienced a decline in 2021.
Limited resource has impacted the majority of training providers in recent years, and marketing budgets tend to be one of the first things hit in these circumstances. This could help to explain why Paid adverts have been less favoured for course promotion in 2021, alongside SEO which can prove to be a costly and time consuming practice reliant on expertise and know-how.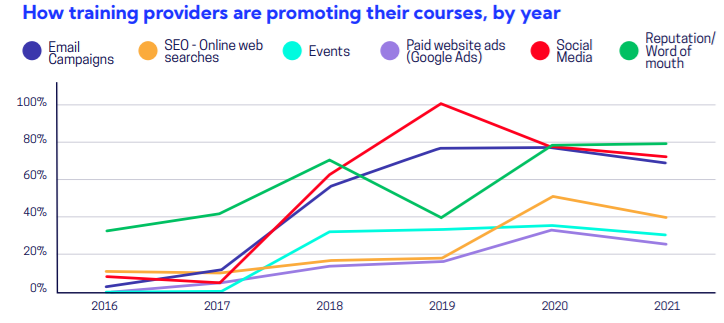 The lesson
Learning is a continuous process, and training is a repeatable activity, which is why an established reputation is so important for training providers.
The importance of building and nurturing customer relationships has been emphasized over the past 2 years in particular, as providers increasingly rely on loyalty to fill courses.
When we consider that it can cost 5 times more to gain new business than to retain existing customers, it makes sense that providers operating with limited sales & marketing budgets are resourceful with their spend, and therefore see it as more effective use of time and resource to preach to the already converted.
5. LinkedIn is the preferred hub for industry knowledge, and 'hangout' for training professionals
LinkedIn was once upon a time a place dominated by recruiters and job seekers, but has quickly become our preferred channel in the training industry to sell our personal brand, gain industry connections, keep up to date with trends and promote our offering. ¾ of training professionals now use the professional social network in their day-today, favoured above Facebook and Twitter which are each used by around half of training professionals. YouTube and Instagram feature slightly further down our list, with little over 1 in 4 training professionals using these channels.
Snapchat and TikTok also featured in our 'Other' category, the latter becoming increasingly popular over the past few months, and likely a feature in future training industry reports.

The lesson
In our Everest Training Industry Conference 2021, we heard from Graham David who emphasized the importance of embracing digitisation, whether you want to or not.
While it's daunting for many training professionals, the prospecting of 'growing your personal brand', or even just being present on modern social channels - it's an important step in building brand credibility, networking, demonstrating expertise and humanising your business.
Social channels have become a key component in the awareness and consideration stage of the buyers journey in particular in recent years, and we're doing our business a disservice if we aren't utilising these free channels to promote, nurture, educate, inform and entertain.
6. Customer satisfaction has quickly become the number one measure of success
Customer & delegate satisfaction continues to be the preferred measure of success in the training industry, used by almost 80% of training providers to inform how well they are performing.
Interestingly, there has been minimal deviation from last year's figures – metrics such as repeat business and course attendance continue to be important measures of success, with sales leads, course completion rate and profitability being less important.
One trend that's clear is that each year training providers are using more metrics to measure success and inform how well they are performing.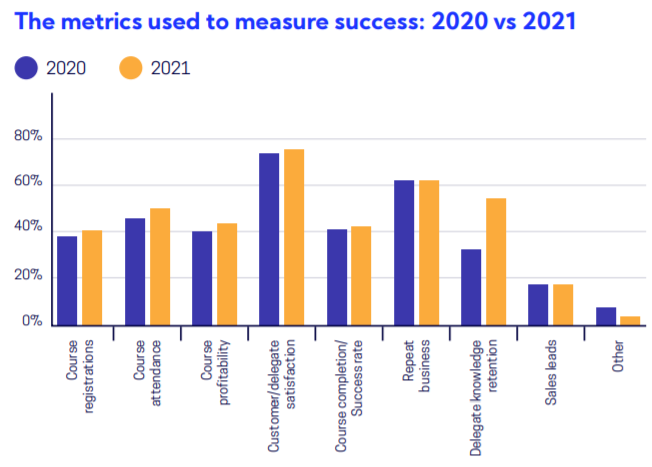 The lesson
Invest time in your customer experience strategy.
Everyone at the business is responsible for helping to deliver a great customer experience, one which is:
Predictable - customers should know expect the same level of great service every time they interact with your brand

Documented - Employees should understand the strategy and have access to shared resources for clarification and training

Tried and tested - A great customer experience is one that is constantly improved and refined
Check out our Everest talk on how to deliver an exceptional customer experience in 2022:
7. Poor quality training is an industry-wide problem
In our annual survey, training professionals were also asked to rate the state of the training industry, on a scale of 1-10, 1 being Poor, 5 Challenging and 10 Great, where we then calculate a weighted average.
The industry outlook is promising, with an average rating of 6.54/10, up from 5.88 in 2019.
When asked for comment, however, responses highlighted a problem with poor quality training and the emergence of providers after 'quick-wins'. In fact, up to 20% of respondents made reference to this in various forms:

The lesson
Focus on quality.
For many providers, the adoption of new tech over the past 20 months has helped to produce better quality, more personalised training programmes – contributing to a better experience and improved loyalty from delegates.
Emerging competition is both expected and out of our control; low cost providers seeking quick win's typically have limited staying power in the training industry, and will find it hard to gain repeat business by offering little value within the training itself.
8. The increasing popularity of online learning is the biggest opportunity for training providers
Almost 2/3 of survey respondents recognised the increase in popularity of online learning to be their biggest opportunity on which to capitalise in 2022. Up by 10% year-on-year, professionals are reaping the rewards of transitioning online, helping to reduce the cost of training provision and gain access to a wider audience.
Digital innovation is also recognised as an emerging opportunity for many training professionals, with businesses becoming smarter across training course promotion & budget allocation and training technology & delivery channels.
Increased interest in classroom training is another opportunity that is up 3% year-on-year, with a third of training professionals keen to relaunch their in-person offering and entice delegates back to the classroom. For practical, hands-on training centres where skills-based training doesn't transfer as seamlessly to an online environment - this has proven to be the biggest opportunity by far.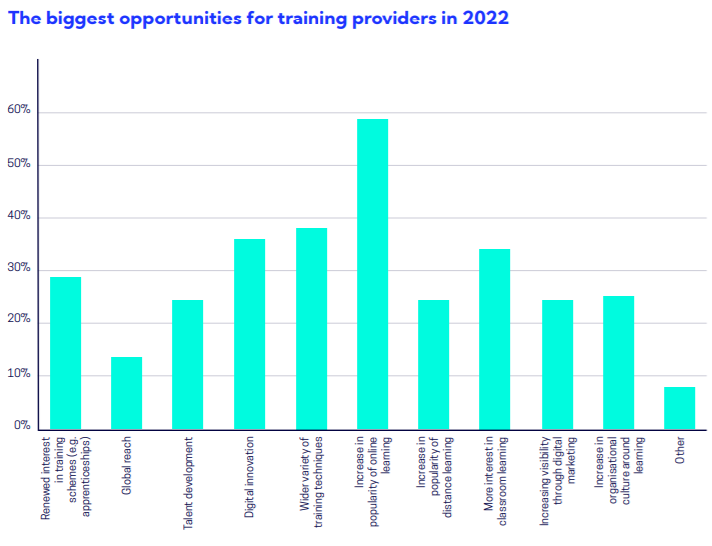 The lesson
Invest time in having the right tech.
The training experience is becoming increasingly reliant on having the right technology in place, whether that's a virtual learning environment (VLE), online conferencing tool, CRM or physical tools such as projectors and training equipment.
Having your finger on the pulse of emerging tech is key, and is a key part of market research most providers overlook. This research might involve looking at comparison sites, seeing what competitors are using, or attending conferences.