How to Create a Successful Customer Experience Strategy

If you make it your mission to help customers deliver success for their customers – then you will achieve success for yourself. That was the lesson taken away from inspirational speaker, Ruben Rabago of Gainsight, who joined us at Everest Conference 2018, where the dominant theme was being human first.
This post explains how by taking a human first approach, any organisations' customer retention, expansion, and advocacy can be improved, as well as improving efficiency across internal teams. This methodology can easily be applied to your training businesses including:
Providing outcomes rather than transactions

Mapping your customer journey

Automating repeatable customer journey points
What Makes a Successful Customer Experience Strategy?
Ruben joined us all the way from Arizona from Gainsight's base. Gainsight are specialists in Customer Success and generate impressive customer retention results for organisations including Cisco, Adobe and Eventbrite.
On the day, Ruben opened by telling us:
"Who I am personally is important to who we are as a company. Our purpose is to be living proof that you can win in business while being human first. Personally, my favourite is the concept of success for all."
Gainsight is renowned for its customer success platform, which enables companies to drive success throughout the entire customer journey, at scale, turning disparate customer data from multiple sources into insights and actions that drive measurable business outcomes for clients.
Providing Customers With Outcomes Not Transactions
In the world of customer success we were told, buyers demand to be guided though their journey and expect outcomes not transactions. For training providers this means wanting to know, not how many courses they attended, but how much they got out of it i.e. what was the customer experience?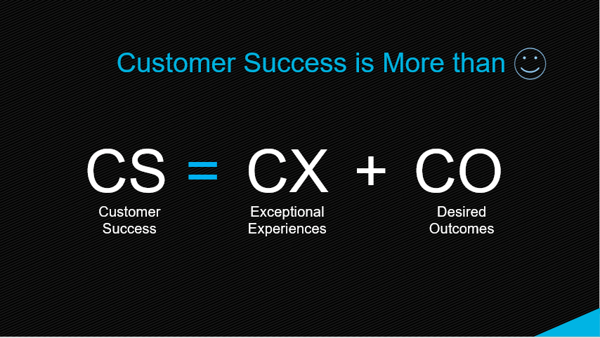 "But what happens when customers don't achieve outcomes? Even if your customers say they are "happy", if tangible value is not being delivered, your customers are at risk for churn."
We are all at the mercy of Google, which gives buyers the power of choice, reading reviews and carrying out research, as well as basing opinions and decisions on conversations with colleagues and friends.
So, the message to delegates was that we will only win in business when taking a human approach, based on helping customers deliver success and grow, through platform, expertise and community.
Mapping Your Customer Journey
Gainsight's customer journey mapping advises that silos work against the customer journey. This means that each stage of the customer journey needs to be identified and defined including handover points between departments and clearly outlined responsibilities making the journey as smooth as possible.
It's vital to share, support, be prescriptive, challenge, advise, demonstrate and build, and always put the customer at the centre of your processes, to advocate on their behalf to achieve their outcome.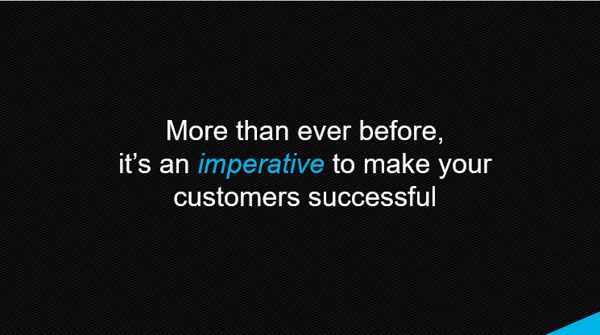 Most companies are reactive but anticipating customer needs is of paramount importance. Just as giving a cup of water to a thirsty friend without them needing to ask – Ruben urged us to do that at scale with customers.
"Define customer segmentation, identify moments of truth, and ask - can you move that earlier? Ask why customers engage your company, look at the culture of the decision-maker."

"The customer journey has to be through the eyes of your customers. Help them identify the outcome if they don't know it."
Just like the periodic table arranges the elements to enable scientists to identify their properties, visualise and categorise materials around us, and what they will react with - Gainsight identifies elements for best practice process, underlying each stage of business maturity.
This prescriptive approach to maturing customer success organisations is something we have benefited from ourselves at accessplanit, so we can wholeheartedly recommend this journey. Each element ensures your team delivers ROI on the customer success vision, with the key drivers being: improved retention, expansion, increased advocacy, and improved efficiency across your teams.
Check out our Proven Process which provides a high level overview of our customer's journey.
Automating repeatable customer journey processes
By automating repeatable customer journey points including welcome emails, joining instructions and certificate generation, more focus can be given to what it is that your customers love about doing business with you such as training delivery and learning outcomes.
As Ruben put it in a nutshell: "Systemise what is repeatable, humanise what is exceptional."
To summarise, Ruben is saying is that repeatable processes benefit from automation whereas in order for areas of your business to be exceptional they need to be humanised. By automating these processes you can empower your team to provide exceptional customer journeys.
Watch The Mapping a Customer Experience Strategy Presentation from the Everest Conference
To read more about automating processes in your training business download a copy of 10 Ways to Eliminate Manual Processes.
Related Content
[Highlights] Everest Conference 2018: The Training Industry Event
Is Your Learner's Journey Everything It Can Be?