[2021] Overcoming The 4 Biggest Challenges Facing Training Providers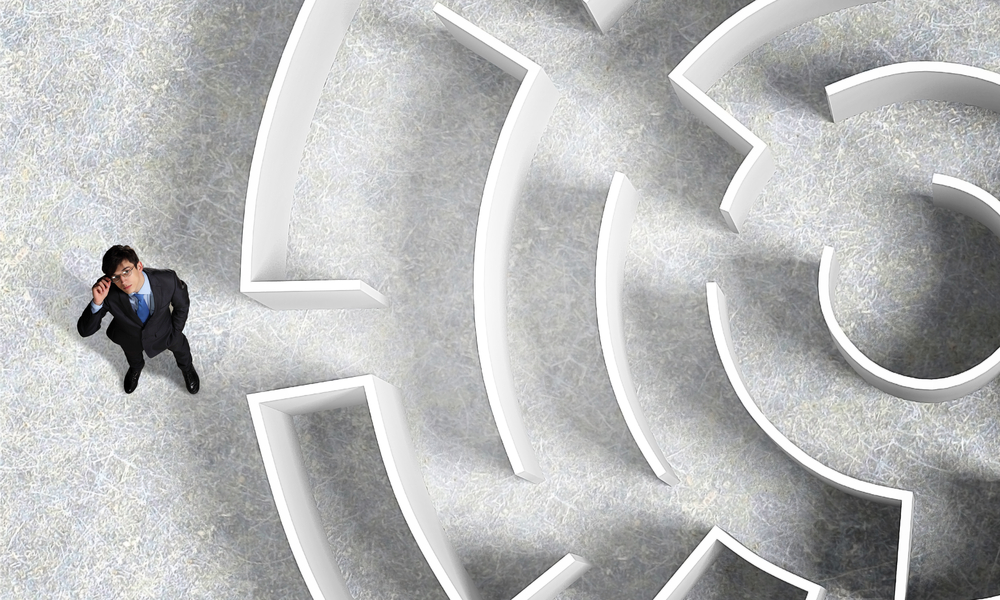 Each year, accessplanit release a survey that looks to hear from training professionals on a number of current and topical themes. This year, there was a core focus on COVID-19, Brexit, technology, success criteria, and industry outlook. Following this, we create our annual training industry benchmark report that allows professionals to see how they measure up.
One of the questions in our 2020 edition looked at barriers to success. From this, we've identified the 4 biggest challenges facing training providers in 2020, including:
Before we dive in, here's a word cloud that collates the thoughts of 200+ training professionals who participated in this year's survey, when asked to describe the state of the industry in 2020.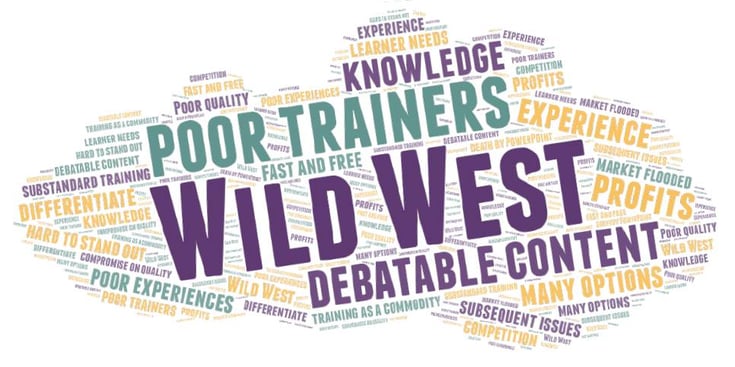 The ongoing impact of coronavirus
Let's get the elephant in the room dealt with first.
93% of training providers have been, or foresee that they will be, affected by COVID-19 in some way this year. Around the start of March, training providers had to make a fairly hastily decision on whether to:
Close for the foreseeable and await government instruction on when to reopen
Pivot training courses online to continue trading
For those that made the decision to close, now is the time to ramp up those marketing efforts.
You're facing the real prospect that your clients may either have used your competitors for online study, or indeed are still out of action, yet to return to the office. Your first priority has to be making the office a safe and sanitised space that allows delegates to feel comfortable with minimised risk.
Outside any offers, promotions or discounts,

safety

could be your best marketing weapon throughout all of 2020.
One of our customers, MRSL, released a blog on how they continued to run emergency rescue cover training safely throughout COVID-19.
For providers that were proactive in their approach when COVID-19 arrived (take Sales Geek for example) they have actually found demand for their offering has increased. We decided to investigate this further and have identified 8 ways training providers can grow their training business in 2020. In this detailed guide, we look at capitalising on the opportunities presented by virtual delivery, including extended geographical reach and reallocating resource.
There's a direct trend between those organisations that have been innovative, resourceful and identified a niche and ultimately found success over the past few months. For those that haven't been able to achieve this, all hope is not lost, but it's time to get planning. The potential worst thing you can do is try to re-engage your clients with the exact same message as pre-COVID, it has to change to suit the situation. It has to be personalised, it has to show empathy, and most importantly. it has to involve authority to show you are in control and have effective safety measures implemented.
Alternative learning delivery methods threatening traditional classroom training

Our training industry survey found a staggering 35% of training professionals are concerned about alternative learning delivery methods threatening classroom-based training. When we look at the graph above, there's a clear shift taking place, with online courses being offered by half of providers currently, increasing to as much as 70% by 2021.
If, like me, you regularly attend any of the big learning and development exhibitions each year, you'll notice learning delivery is becoming slicker, more accessible, more interactive and collaborative by the day. It's hard to not be impressed with the advancements, particularly within the space of gamification and augmented reality. However, this is of little concern to certain industries, where virtual courses simply cannot replace in-person training (or at least not in the immediate future). Take learning to drive, for example.
For the 35% that feel under threat by new learning delivery methods, there's an important choice your business has to make:
Move with technology
Excel at what you already do and differentiate yourselves
Much of the above decision will depend on how easily transferable your offering is, if you have the resource, and what your competitors are doing.

Perhaps the buzzwords of 2019 'blended learning' hold the key to mitigating this threat. Check out this article the Digital Marketing Institute put together on the benefits of blended learning. Try introducing some form of self-serve learning into your offering. This could start of as small as getting delegates to watch a video pre-course, or using Moodle or alternative VLE to introduce some bitesize content between sessions. Moving with technology does NOT have to be this mammoth-sized expensive task that requires months of setup. Start small and build it up. There are loads of a cheap tools that have templates, guides and free tutorials to get you started. I'd suggest starting with this comprehensive guide by LearnUpon.
If you're not looking to move your provision online, or if indeed your offering doesn't lend itself to online delivery, there's options too. Many of us would still much prefer classroom based learning, and there's nothing to say it's dying a death. Sure, it may have had a knock this year, but the demand for in-person training will always be there. The challenge is that there's online courses popping up daily offering a training course with the same name as yours, likely for a fraction of the price. If you're not competing on price, your training experience has to be unforgettable.
Effective course promotion & increased competition
If you're struggling to stand out above the noise, the first thing to understand is that competition is fierce. At a time when many providers are looking to dust themselves off and get back on their feet to recover the financial deficit COVID-19 has caused, you need to be firing on all cylinders.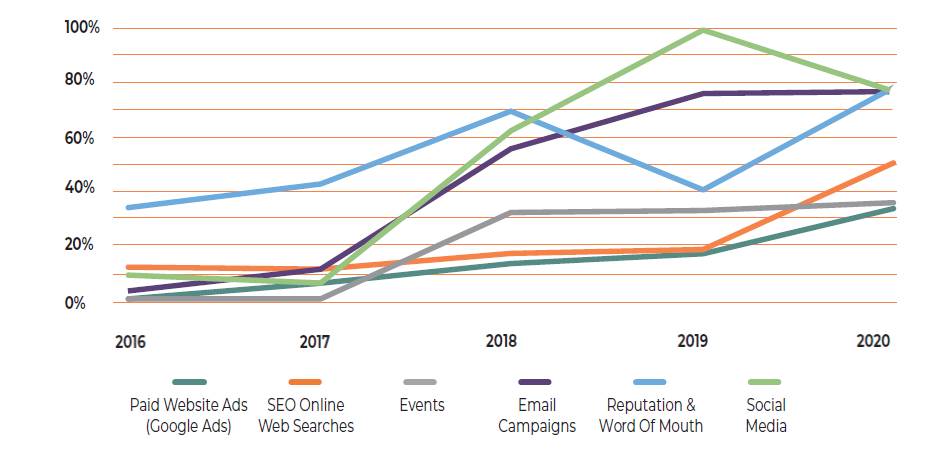 Our 2020 benchmark report found a consistent increase in all aspects of marketing activity since 2016, with some of the most notable increases coming from email campaigns and social media.
Email campaigns are an affordable, quick and reliable way to increase brand awareness and get your courses filled. To get started, it's worth looking at our guide on how to craft the perfect sales email. There's even a free template in there to get you started!
Social media is another free initiative that can help to grow your business exponentially. We wrote a popular guide on a 5 step plan to grow your training business using LinkedIn. It's clear from our survey that LinkedIn is still the king of social, with Twitter and Facebook not too far behind.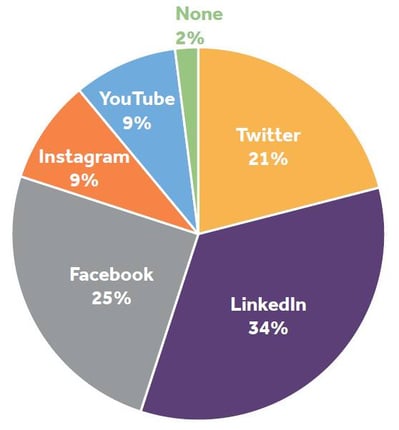 If you're a regular user of LinkedIn, I'd implore you check out Sales Geek's linkedIn page, and give them a follow. They are masters at social selling, and likely have a number of tips your training business can pick up, most of the initiatives completely free! This includes creating video content, offering taster sessions, running webinars and providing tons of amazing free advice for sales professionals.
However you decide to market your courses, it's important that you're regularly reviewing what's working and what isn't. Measuring your campaign success can be done in a multitude of ways, including but not limited to: link tracking, asking how prospects heard of you, analysing impressions, click-through-rates and search engine rankings.
Lack of time to complete tasks/lacking resource
As a training provider, time is never on your side.
With many training professionals still either on furlough or even facing redundancy, the knock on effect of this means many employees are wearing multiple hats in order to make up for the short fall.
That said, this isn't an issue specific to 2020; lacking resource has presented itself as a challenge annually in our training industry report. It wouldn't be unfair to conclude that training providers often feel that there just aren't enough hours in the day.
From the outset, this seems to be a challenge that's tough to fix. Hiring more staff is costly and time consuming to onboard, not least when the vast majority of us are working from home. Increasing hours or overtime is likely to lead to burnout. So what's the solution?
The best way to overcome this is not to acquire more resource, but to make better use of the resources you already have. The most effective way to do this is to implement technology that can help you to save time. A training management system is a great way to reduce your administrative workload by up to 70%, meaning staff can put more time into things that add value to your business.
Other tools that can help you save time include free social media posting tools like Buffer, task organising tools like Trello, and post-course feedback forms created through SurveyMonkey. There are hundreds more, you just need to find the tools that work for you.
We're interested to hear the business challenges you are facing in 2020. Please comment below, we'd love to hear from you!
Challenges faced in 2019
Our 2019 training industry benchmark report revealed these 4 challenges as top of the agenda for training professionals last year:
Lack of resources

Alternative learning delivery methods

Increased competition

Increasing costs
How can we do more with less? How can we keep up with the learning delivery methods that our customers want? What techniques can we use to outsmart the competition? What about ensuring costs don't continue to increase?
We've got the answers (well, we like to think so).
This webinar explores these challenges in more detail and looks at how to overcome them.
In this webinar you can learn:
How to do more with less

How to establish and deliver the learning delivery methods that your learners want

How to stay ahead of the competition

How to minimise increasing costs

Related Posts
- The Ultimate Guide To Training Management Software
- Coronavirus & The Training Industry: Practical Advice For Online Training Delivery

- Course Admin Doesn't Have to Be a Drag (But Here's 8 Reasons Why It Is)