Online booking & payment for training companies
.
What's included
Increase sales and improve your customer experience. Give your customers complete flexibility by publishing course schedules and taking online course bookings and payments through your website.
Online course booking & registration 24/7/365
Make booking training courses easy, by giving your customer everything they need to book, pay and submit course enquiries.
Once a booking has been made, automate all follow-up communication, tasks and delegate admin for a successful training event from beginning to end.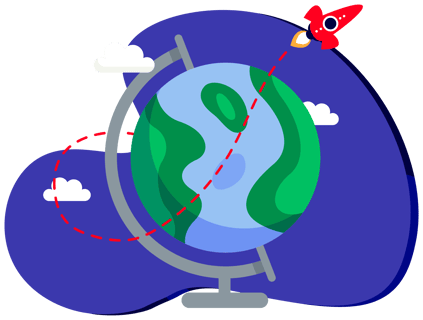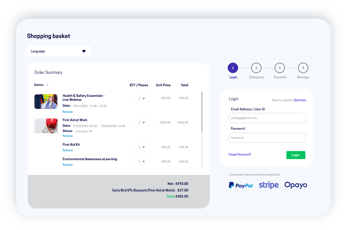 Safe and secure payment
Let your delegates instantly pay their way, from PayPal to international currencies. Offer discount codes, group and business block-bookings, and automatically process secure payments or generate invoices.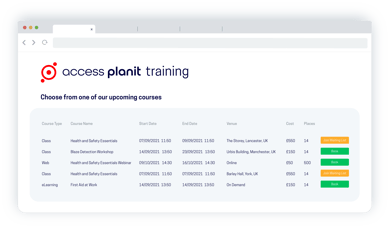 Realtime website updates
Update your website and learner portals in real-time with course schedules, pricing and availability. Take payments for courses, products and services all day, every day meaning you never miss an opportunity again.
Powerful online course booking and payment software
Give your customers complete flexibility by publishing course schedules to your website and learner portals and taking online course bookings and payments.
1.
Online booking
24/7/265 online booking and payment straight from your website or your delegate's portal

Provide optional extras such as fees, textbooks, awarding body registrations and course equipment

Abandoned shopping basket tracking ensures you never miss a booking

Once a booking has been processed, automated communications actions are triggered for end-to-end course management
2.
Flexible booking & registration
Customisable registration forms allow you to capture the data you need from your delegates

Offer discount codes, exclusive rates and group and business block-bookings

Configurable course set-up options mean delegates can register for optional or mandatory sessions

Process bookings for named delegates or add placeholders

Options to register, enquire or add to waiting list
3.
Payment & finance
Secure online payment system with multiple payment options including invoice, card or voucher

Choose the payment gateway that works or you from Paypal, Opayo, Stripe, Realex, Adyen, WPM and Barclays ePDQ

Automate invoice and receipt generation

Offer promotional codes, price lists and voucher payment options

Integrate with your finance software for synced payment processing
4.
Website integration
Website feeds present real-time course details and manages bookings on your website

Capture course enquiries and add delegates to a waiting list

Your website updates as your courses do including schedules, pricing and availability

Branded shopping baskets provide a seamless customer experience

SEO-friendly website optimisation to make sure your offer comes out on top

Google Analytics integration means you can see track your customers
5.
Communications
Once a booking is made, automate all the back-end admin for a successful training event

Workflow rules and triggers automate all communications from joining instructions and booking confirmations to reminders

Send unlimited templated communications via email and SMS to any user in your platform

Use scheduled and ad-hoc email campaigns to remarket to your course delegates or inform leads when a course space becomes available
6.
Delegate management
Automate reminders, surveys, evaluations, course material distribution and communications

Give your delegates access to a learner portal to track training, complete online learning, access certificates and documents, make new course bookings and update contact information

Track the journey of every delegate, to help you increase their satisfaction and enhance the service you provide

Create, customise, and modify delegate surveys and turn your feedback into actionable insight
FAQs
Frequently asked questions about our training management platform.
How do I know if I need a training management platform?

The signs are usually very obvious that your business has outgrown your current management system. Triggers for change that we commonly see are:

An increasing volume of course enquiries.
Growing administration resource required to log, process and fulfil telephone and web enquiries.
Growing manual processes required to record and manage delegates, courses and resources.
Human error is creeping in.
Inability to consolidate the process for all of your types of training.
Cashflow issues arising through payment delays.
The need to grow the business by offering additional courses to the most appropriate existing customers.
The need to track existing course expiry dates to offer re-registration.
Course booking is limited to office hours.

Do you integrate with other systems?

We have a range of options from API feeds, native integrations and automated exports. We'll explore your requirements and make a recommendation as part of our discovery.

Explore our integrations and add-ons here.

Who do I need to involve in the buying process?

A study showed that the fewer people that are involved in the buying process, the quicker it is. However, the study also showed that if one person is responsible for making the final decision then this can lead to upset among end-users due to having little or no say in the selection.

This is why it is important to include not only the decision-maker but at least one key administrator throughout the buying process as well as any functions that will use the software for their role.
Trusted by:





Get in touch with us today.
Training management software configured to achieve the results you want. Start your journey today.
View our resources