A 5 Step Plan To Growing Your Training Business Using LinkedIn

As most training organisations find themselves dipping into the last of their cash reserves, it's important we look to maximise the high impact, low cost initiatives that can help to drive your business forward against all odds.
Strengthening your social brand and increasing exposure through LinkedIn is a completely FREE initiative that really can help you to grow your training business exponentially. You can get the basics set up in no time, however it takes repetition, consistency and ultimately time in order to gain regular business through the platform. Here are the 5 key steps to success:
1) Optimise your company profile page

If you are yet to create a free LinkedIn page for your business, or if your current one is gathering dust, this needs to be your starting point. It represents a great opportunity to establish your brand as an industry thought leader and ultimately attract new business. It's also great for recruitment and sourcing top talent. You can complete most of the following steps in under an hour:
Create or update your profile and banner image, ideally with your company logo in a high-resolution format. LinkedIn recommends 1128 x 191px for the banner and 400 x 400px for the profile image, however triple each of these values for a nice crisp image. The banner can be as simple as you like, just choose something that allows prospects to associate it with your brand.
Update company information including: An informative and compelling "About us" section, your HQ location, your industry (most likely Professional Training & Coaching) and company size
A link through to your website and vice versa
Hootsuite wrote a great guide on some other ways you can optimise your page.
You also want to encourage all your staff/colleagues with a LinkedIn profile to set their employment to your company. This helps to establish credibility, but also allows colleagues to see post updates so they can interact and share to their own audience.
While optimising your company page won't lead to a flurry of new business opportunities on it's own, it's an important starting point in order to establish your professional brand and let page visitors know what you're all about.
2) Join LinkedIn Groups

LinkedIn groups hold massive potential to help grow your training business, particularly if you don't yet have a large personal connection base.
Sure, they may not receive as much interaction and engagement as Facebook groups – it's also quite rare to receive notifications on new posts there. That said, you can join up to 100 groups, and if each of these have a large enough following, you have an audience of up to 1 million professionals in your industry that you can interact with and showcase your offerings too.
Pro tip: As an admin of a LinkedIn group, you can "recommend" a post once a week to members. This gives everyone a notification of the post. By starting your own group, or politely asking the admin of a group you're a member of, you can get some serious exposure this way.
3) Post regularly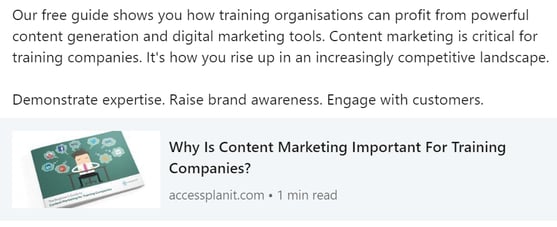 If you're new to social posting, it's really simple to get started. A good combination is to share both content your organisation creates such as blogs, videos and whitepapers, alongside external content from the wider industry. An easy way to start is to post about:
Feedback you've had from courses
Your upcoming courses and spaces remaining
Industry insight and asking open questions to your connection (eg: How has coronavirus impacted your training business?)
If you can start posting regularly, ideally at least once per day, in time you'll find that you gain increased engagement, connection requests and new business leads. It can take time to get traction and awareness of your posts, though. Particularly when you have only a handful of connections, exposure is hard to come by for even the most thought-provoking content. Here's 4 things you can try to overcome this:
Use hashtags – If your post has high engagement,and it starts to trend, other professionals from the industry will be notified!
Use Groups – As mentioned in the previous point, this is the perfect chance to reach a much larger audience through a simple copy and paste. Don't be too spammy, though!
Colleague collaboration – YOU may have only a pocketful of connections, but if your colleague Barry likes your post and he has 1,000 connections…guess what? All his connections can now see it too! Don't underestimate how important this point is!

Consider Sponsored ads

– Sponsored adverts are the quickest way to get in front of your prospects. Learn more about sponsored ads.
4) Grow your LinkedIn network
I'm not going to lie, this one is a slow burner. It shouldn't need saying, however proceed with caution when adding new connections. Running a broad search of your target industry and adding every user in sight is not great practice. You need to be strategic. If you have the budget, LinkedIn Sales Navigator is a great tool you can use to locate your prospects through fine-tuned search criteria such as company size, industry, turnover, growth, job title, location and more!
Finding new prospects to connect with is rarely a fulfilling and enjoyable task, and it's certainly not worth sinking hour after hour into each day. That said, it does need to become a routine, as without an audience, everything else falls down. Don't be demoralised by the number of people who don't accept your connection request, or read and don't respond to your follow-up. After all, there are some very infrequent users on LinkedIn.
New connections aren't going to help you grow your training business over night, however once you build rapport and get to know their business and it's unique challenges, it can open doors for the future.
5) Interact with connections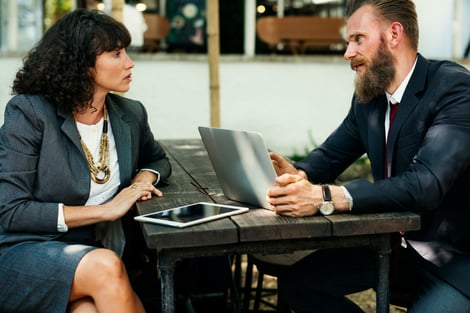 The easy, and complete wrong way to interact with your new connections is to send a fixed template, usually along the lines of "Hi, We provide training services to…would you be interested in this course. Thanks".
If that's your idea of building meaningful relationships and strengthening your brand, it's perhaps time to stop reading here.
It's clear on your feed who has built meaningful relationships, and who has simply added everyone. A good barometer is to look at 'post engagement vs no. of connections.'
There's a number of great conversation starters including:
An award or recent news article that relates to the company
A discussion point from their personal profile
A question from the industry that is relevant to them
Conclusion
That completes our 5-step plan to LinkedIn domination. I'm sure it goes without saying, if any of the above falls down, it hurts everything else you're doing - it's an all-encompassing, complete strategy that relies on daily effort. To emphasize the potential of this social channel, some organisations almost rely solely on LinkedIn for lead generation.
If you're looking for instant impact, you want to be looking to join groups, start posting regularly, get your colleagues involved liking and sharing and even considering paid ads.
If you're looking to build meaningful connections and establish your professional brand, it's important to move through the steps with care and understand this is a slow but worthwhile process.
Here's some FREE tools you can use to aid you on your mission to training business growth using LinkedIn:
Photopea: A free, lightweight image and graphics editor similar to Adobe Photoshop, that allows you to create stunning shareable content in minutes from your browser!
Canva: A widely used graphic design tool perfect for a range of visual content, whether it be presentations, videos, videos or something else.
Buffer: A super simple tool for managing all your social channels, with the ability to schedule up to 10 posts at any one time through the free plan.
Feedly: A central place to organise, read, and share the information you need to stay ahead of the next big trend in your industry.
Google Alerts: You determine the keywords that trigger emails to your inbox. Perfect for finding discussion points for your next post!
LinkedIn App: A great way to keep up to date on the go. It's a handy app, and completely free to download.
There are loads more tools out there to help you get the most from LinkedIn.
Are there any tools not mentioned above that you find useful? Let us know in the comments!

Related Resource