Online Course Booking - 8 Easy Tips To Maximize Sales
Are you currently offering an online course booking facility for your training business? In this fast-paced modern world, where everything is available at the touch of a button, if you've yet to implement a system that allows online course bookings, you're already playing catch up…
Back in 2017, only 26% of training providers were offering online course bookings for their customers. Fast forward to 2019, and our most recent Training Industry Survey suggests that 56% of providers are now offering some kind of online booking for their learners. That's more than double the amount of training providers offering online course bookings to their customers, in just two years! If you're one of the 56%, then good job- you're already well on your way to maximizing your sales!
We've all experienced online booking- it's second nature to most of us. We understand the importance of online bookings for sales in the modern world. But, how do we make sure that our online course booking process is the best it can be for our training business?
8 Ways To Maximize Sales Through Online Course Booking
This handy checklist provides the eight key areas you should be regularly reviewing if you are providing an online course booking facility for your learners, to make sure you are maximizing your sales:
1. Go 100% online
You don't have to entirely stop taking phone bookings if they come through, but you can certainly stop advertising your alternative booking methods.
Think of it this way- when you book a flight online, the flight companies don't actively advertise their telephone booking option. As a result, we all book our flights online without a second thought. As most people today have access to the internet, offering online course booking as the main way to book a course is seen as perfectly normal, and even preferable.
Think about what a seamless online course booking and payment system tells customers about your business. You strengthen your brand by making the buyer journey seamless, smooth and professional.
This also allows your whole booking operation to be centralized, eliminating the risk of that dreaded lost booking!
2. Get your marketing focus right
To maximize your online registrations, make your marketing emails short and punchy – a paragraph in length. See it as a short trailer for your whole event. Remember, your marketing email is about persuading your attendees to visit your event landing page and booking page, rather than displaying all of your event information. Think of it as the menu rather than the main course.
Make sure that the 'Book Now' call-to-action is very prominent on both your website, and any digital marketing communications. The best way to do this, is to position it 'above the fold' (above the fold refers to anything that is seen on the screen before your viewer starts to scroll down the page).
Ensure that when your call-to-action button is clicked, that it links to the correct event/booking page.
ReallyGoodEmails.com trialed a number of emails with different colored calls-to-action. They found that blue and green were the most effective colors, whilst brown was the least.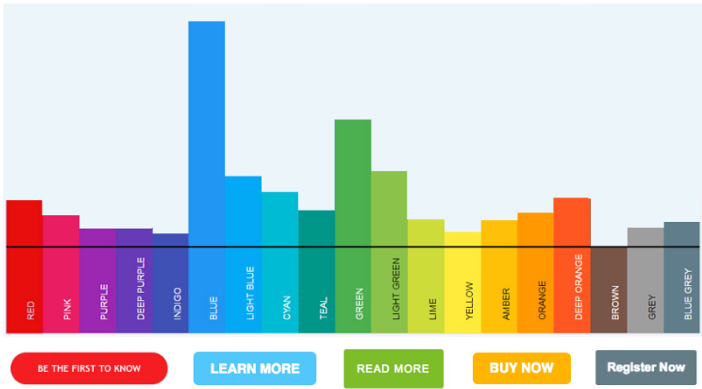 3. Always be linked in
With the amount of online contact we have with so many different audiences, there is almost an unlimited number of ways to spread your coverage. Here are a few to consider:
Always include the URL link of your course landing page in your emails.
Always send several emails to potential attendees, for each event, including your call-to-action in every one of them.
Make sure all your upcoming courses are prominent on your website.
Include the links to your social networking groups, such as Facebook and LinkedIn, in all of your emails.
Talk about your event and include the page link on any online forums or social media updates.
Make the link a clear 'call-to-action' for the attendee such as 'register now'; 'register here', or 'to register for the event click here'.
4. Create incentives for online bookings
Offering online registration discounts encourages early attendee adoption, so make it clearly financially beneficial to book online. It is, after all, generally believed that you get better deals by booking online, no matter what product you are buying. You need to tap into that mindset. Similarly, consider offering discounts for early online registration. This blog explores the power of promotion in training.
5. Give plenty of warning
If you're just beginning to implement online course booking, prepare your potential attendees for the switch. Give them good warning. Send them an email in advance, that explains that your training company will now be accepting online bookings and payment. Let them know what to expect and how the process will work.
6. You'll love it
Let your attendees know how they will benefit from your online registration system, such as ease of use; convenient and quick; more secure; self-service, and better communication. Get them on-board, either with an email or a link to a page on your corporate website.
7. Make it official
Add a message to your voicemail system announcing the newer and more convenient online registration option, along with the URL of your registration website for your next events. Promote online registration alongside your web address on all printed materials; e-newsletters; email communications; handouts, and signage etc…
8. Get Organizational Buy-In
Make sure that all of your company staff are familiar with the online registration process, and are comfortable explaining it to any potential attendees.
Learn more about promoting your training courses with the Beginners Guide to Content Marketing.
Related Posts
- How To Relieve Your Admin Workload With Training Company Software
- How To Increase Online Course Bookings Using Email Marketing
Sign up for a free demo!
See for yourself just how our training management system can help your business
Sign up now