How to increase course bookings through an effective registration process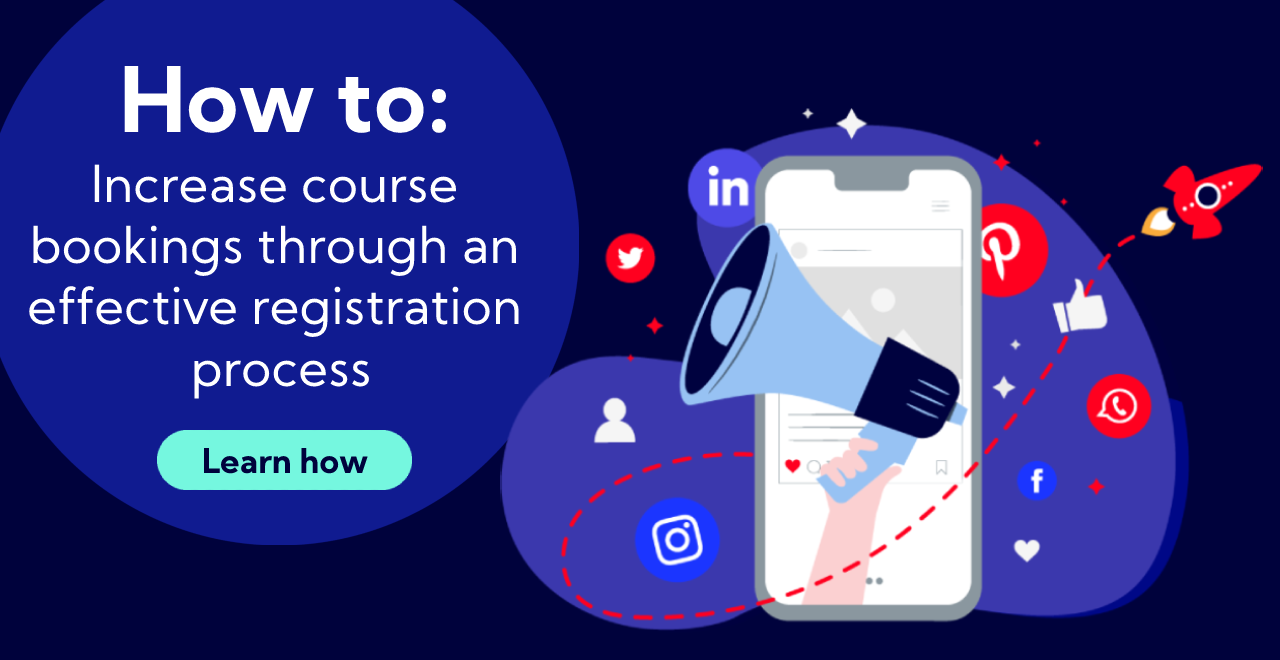 Whether you're launching a brand-new workshop or running a well-established seminar or training series, an effective registration process can make all the difference when it comes to the number of sign-ups you get. But there's more to the event registration process than just taking payment and reserving places. The additional value lies in effective data collection and its subsequent use.
In this guide, we take a look at why registration forms often fail, how to get them right, and how technology can help you out!
First of all, a good registration form needs to work. This seems like an obvious one but any kind of glitch or crash during the booking or payment process can cost you a customer. While we're on this, don't forget about mobile users. Last year, 79% of us made a purchase online using a smartphone. Don't halve your market by not providing a mobile-friendly event booking process.
Ultimately, your registration form should be simple, easy to use and collect only the information you need (and be very clear on the reasons why - remember GDPR?).
Pair this with a well-thought-out post-data collection plan, and you can not only sell-out your event, but make your newly collected data work for you in the future.
Here's some ways that you might be unintentionally missing out on bookings (don't worry - you're definitely not the only one!).
Where you're going wrong with your training event registration process
1. Making it too complicated
Nobody wants to jump through hoops to book on to a training event. The aim of a registration form is to get as many sign ups as possible, so by keeping it simple, you are reducing the friction between the start and end of the booking process. The last thing you want is someone dropping out in the middle of a booking.
Common mistakes include: asking for way too much information, using a clunky booking tool and not clearly articulating the information that you need (simplify your language as much as possible and avoid using jargon).
Top tip 💡: If you're using a third-party booking tool, make sure you can add your company branding. Jumping from a company website to an unbranded registration form can be confusing for the end-user and leave them wondering if they've clicked the wrong link!
2. Collecting too much information
Don't overwhelm potential bookers with tons of unnecessary questions. Your customers want a slick, simple process that takes the least amount of time possible. Using drop-downs and check boxes instead of free text answers is also a good way for your delegates to save time throughout the process, and should allow for easier reporting and collating of data.
Top tip 💡: If you have information that would be nice to have but isn't absolutely necessary then don't mark those fields as mandatory.
3. Not collecting the right information
Think about what your delegates are coming to your event for, and what can you offer to them in the future that will be of interest to them, and of value to you. Use this to work out what data you need to collect. Names and email addresses as well as areas of interest are an absolute must if you're planning on doing any form of re-marketing.
Top tip 💡: Think about how you can best segment people. For instance, you could ask which speaker they are most interested in hearing, this would give you a good idea of what subject matter they are most concerned with. Another good segmentation question would simply be, what business sector they work in.
4. Not informing delegates of how data will be used
It is important that you inform your sign-ups about how you will be using their data in the future. Create an opt-in marketing box that they can select. This is preferable to saying 'If you fill out this form, we will be using your data' without any option to opt out, as this could put off quite a few potential bookers.
Top tip 💡: By being honest and upfront about how data will be used, delegates will be much happier to hear from you again!
5. Not offering popular payment methods
In today's fast-paced online marketplace, people like ease of use; in-fact they expect it. Online fast-payment methods like PayPal make purchasing a product easier, faster and less of a burden for people. However, if your delegate doesn't have a PayPal account, setting one up adds another step to the journey that could prevent a sign up.
Top tip 💡: Offer online payment methods that are universally accepted and don't put up barriers for attendees. Do you accept invoice payment? Make this an option too so all of your delegates are happy!
6. Incompatible on mobile devices
As well as the shift toward alternative payment methods, mobile use for online purchases is also on the rise. Not only does creating a mobile friendly form help you capture more sign-ups, it also ensures that Google looks kindly on your page and site as a whole, and ranks you higher up the search list.
Top tip 💡: Before launching your registration form, test it for yourself across all devices such as smartphones, tablets and desktops. Your delegate should receive the same experience regardless of their device.
How to create an effective training event registration process in order to increase course bookings
Getting your registration form right is an effective way to secure more bookings and give your customers a great experience from the outset. Our top tips for creating an effective training event registration form are:
Keep your form simple and easy to use

Only collect the information that you really need

Collect information that will allow you to offer segment and target your audience post-event

Inform delegates of how their data will be used

Offer the payment options your customers want

Make sure your registration form works on all devices
Providing online booking is just one way you can automate your training business and get more time back. Want to know 9 more? Download our guide to training business automation here or below.
Registration made easy - Increase course bookings with accessplanit
At accessplanit, we understand the importance of getting the registration process right.
Within our training management software, our online booking tool is designed up in such a way that it simplifies the registration process and therefore maximises the number of delegates who go on to book their place.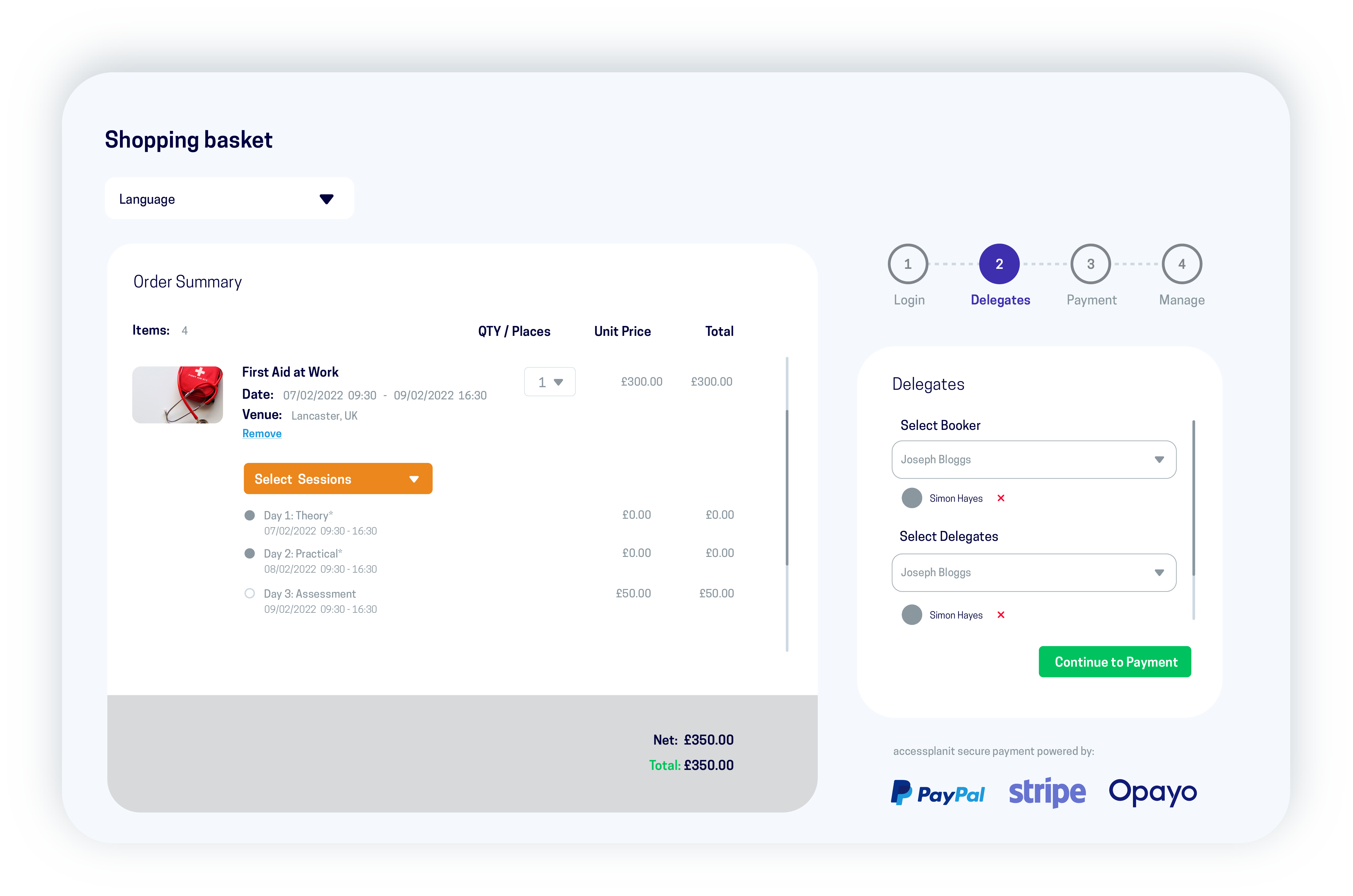 Here are a few reasons why training providers love using accessplanit's course registration tool!
It's fast
In the world of eCommerce, speed is everything. The faster a delegate can make it through the booking process, the less chance there is of distractions, drop-outs and abandons.
It's brandable
You want your registration process to be personalised, and also to create a seamless experience between your website and the booking process. Our shopping basket allows for the configuration of colour schemes, logo's, headers and footers so you can stay on brand right the way through.
It's flexible
No training provider is the same, nor works the same. accessplanit understand this, which is why:
You can take payment through a number of different payment gateways, or invoice!
You can set up and charge for multi-part courses
You can determine what information you capture in your registration form
You can offer discount codes for early bookers, key accounts, promotions and more!
You can link images to a particular course to maintain theme of website
You can take payment before collecting registration information
It's intelligent
Mobile responsive booking means you're booking system is optimised for visitors on any device and our Google Analytics integration means you can track shopping basket activity in real time. The web feed is SEO friendly to help encourage your training offer to come out on top on search.
It's evolving
accessplanit's new shopping basket is being rolled out across our customer base as we speak. The new basket has been completely redesigned and optimised with various UX and UI improvements. Many of these improvements stemmed from product suggestions and comments from our customers. Our product never stands still!
It's a complete package
Everything related to a course registration is linked directly to your training management platform - there is no need for any data entry or duplication. Available courses are generated on your website directly from your course calendar, and once a delegate has registered, workflows can be set up to send the relevant documents to your delegates and notify training administrators and instructors.
Contact us
accessplanit can help you to design an effective registration process and increase course bookings through our award-winning training management platform. If your current training management solution is holding you back, why not book a demo today and see how we can help you to grow your training business.