The Ultimate Guide To Training Management Software
Whether you're in search of a new training management system (TMS) or simply looking to learn more, this comprehensive guide will help you to understand the functionality and cost of a training management system, how a TMS compares to an LMS & CRM and what to expect during software implementation.
Introduction
Capability
Costs & ROI
Implementation
What is a Training Management System?
A Training Management System (TMS) is a software solution designed to make lives easier for training providers. The main objective of training management software is to streamline processes and help training businesses to save money through automation, ultimately helping to free up time to focus on what matters - growing their training operations. This is made possible through system functionality that increases productivity and efficiency throughout a training business.
Here's a functionality model of a typical training management system.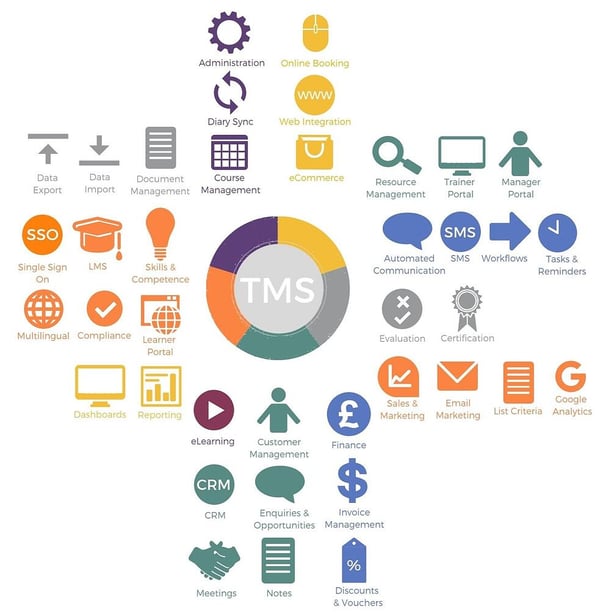 Who uses Training Management Software?
At the highest level, there are two main groups that use training management software - internal training departments and external training providers.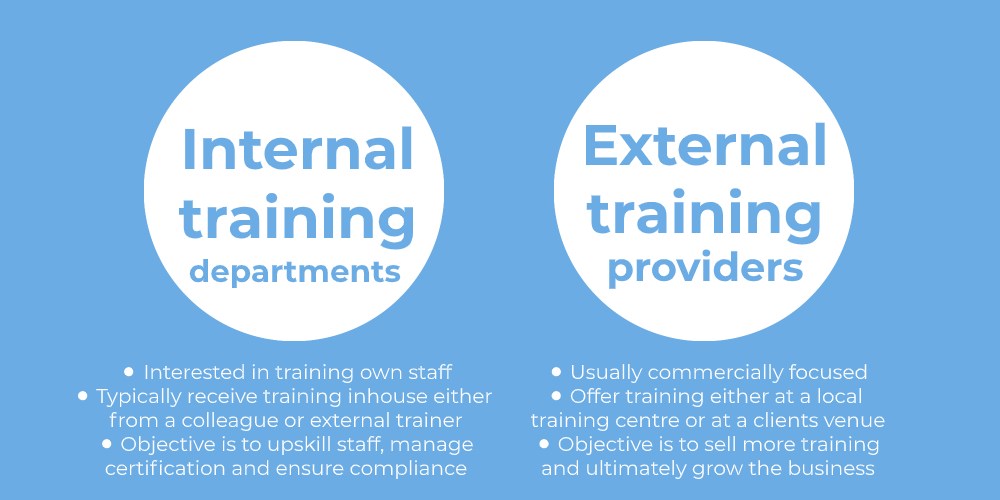 When we break this down further, training management software is primarily used by four distinct groups; commercial training providers, nonprofit organisations, higher education departments and internal training teams. Each of these have different interests and objectives to fulfil, and therefore use training management software in very different ways.
Commercial training providers
For commercial training providers, a training management system is a solution that is perfectly placed to help you sell more training and ultimately to grow your business. Using sales and marketing tools to promote your courses online, offering online booking, handling incoming enquiries and using analytics to constantly improve what you do, a TMS has all the functionality to help you get ahead of your competition.
Case Study: First Intuition responds to COVID-19 and brings training delivery online in days using accessplanit
Higher Education departments
Universities and Colleges use a TMS in a slightly different way. Typically, HE departments will offer longer length qualifications and examinations, meaning functionality such as generating certification, learner records management and self-serve access is paramount. For Universities that offer CPD and other short courses, a TMS is perfectly placed to receive course bookings, take payment and send out course communications.
Case Study: University of West London reduces exam cycle from 6 weeks to 6 days
Nonprofits
A TMS is widely used across nonprofit organisations that offer training solutions to their members. For Citizens Advice, accessplanit's TMS is used to support the 24,000 courses run annually across 150 venues and using 150 trainers. Through reallocated resource and business intelligence the platform delivers annual ROI for the business, helping to shape their strategy moving forward with detailed insights.
Case Study: Citizens Advice reduces paper based admin by 50% with accessplanit
Internal training tracking
For internal employee training, a training management system has all the functionality required to track and monitor all training aspects of training your workforce. Most TMS's have functionality that helps internal training departments through:
Certification and expiry dates
Compliance & regulation
Self-serve access (Learner & Manager Portals)
Targeted and completed awards
Feedback & surveys
Do I need a Training Management System?
Thanks to the sheer versatility of a modern day training management system, it's safe to say there's functionality that can add some value to almost any training organisation out there.
That said, in terms of ROI, you need to know precisely what value it can offer your training business. The functionality within a training management system typically has the biggest impact for training providers that are facing one or more of these six common challenges...

1) Overwhelmed by course administration
Every busy training centre will testify that the administrative workload never lessens, only increases. From course scheduling to sending communications to delegates and from arranging trainers to taking payment, if you're not being assisted by an automated platform, your administrators have their work cut out.
2) Using a number of different systems
Disparate systems can be damaging in modern business for a number of reasons. Sometimes it's unavoidable, particularly if your systems have very different functions, however multiple license keys can be expensive, and it's time consuming to constantly re-key information, or rely on imports and exports of data to align systems.
3) No idea of business performance
Business insight and analytics are essential in the training industry, allowing you to assess what's working and what isn't. Without this information, everything you do is a guessing game. Future planning is done on gut feel and resource is spent and used inefficiently. Do you know which of your trainers receives the best feedback?
4) Customers receiving an inconsistent service
Do what you say you'll do, when you say you'll do it. Things like forgetting to reply to a customer, sending incorrect information and disjointed/nonaligned processes are all sure-fire ways to unknowingly upset your customers! It's damaging for your brand, and there's a risk things like bad experiences and negative feedback could reach other prospects you're targeting.
5) Struggling to attract new business
Standing out above your competitors in 2020 is difficult, if not impossible, without technology to provide a helping hand. If demand for your training has plateaued, it's worth taking a look at your sales and marketing function and see if they have the tools needed to attract and retain business.
6) Outgrown previous systems
Outgrowing previous systems is often a nice problem to have, up to a point. It happens to every successful training business – at some point you find your current solution is no longer fit for purpose, or can no longer cope with the current workload. It's perhaps time for an upgrade.
Recommended read: Overcoming the 4 biggest challenges facing training providers in 2020
What functionality does Training Management Software include?
There's quite a lot to a training management system. To go through everything would require a novel. Also, despite there being a great deal of overlap, there's functionality that varies between different TMS suppliers. We've identified the 9 key areas that training professionals benefit from most within accessplanit's training management system.

Course Management
Widely recognised as the cornerstone of any great training management system, within course management you can create, schedule and manage everything that relates to a training course. Using a centralised calendar tool, new course dates can be scheduled, populated and advertised in seconds. Once arranged, you can manage delegate bookings, communications, finance, associated tasks and attributed resources.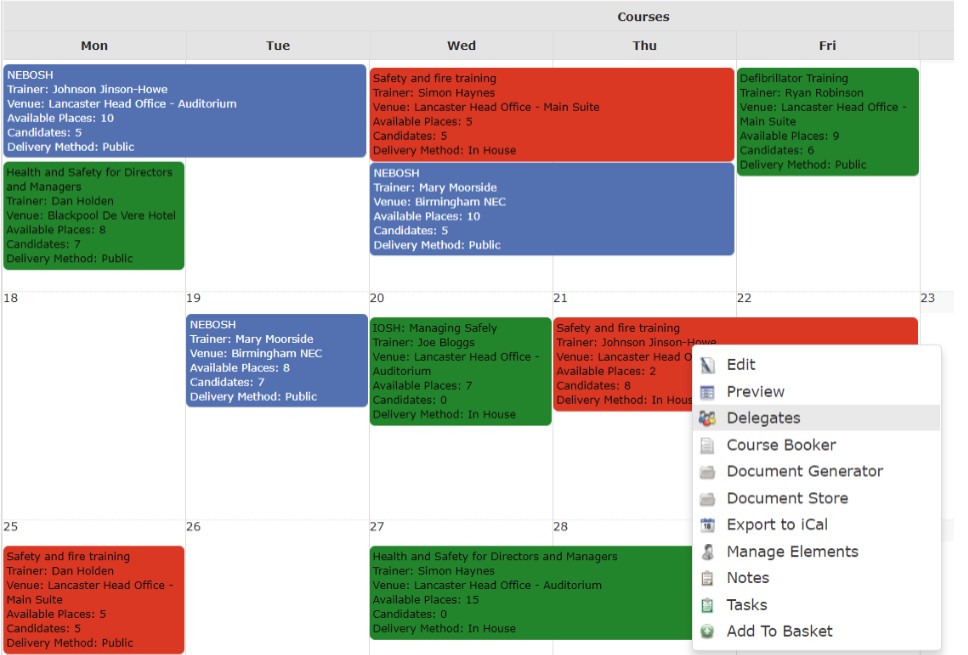 Learn more: accessplanit Training Management System - Course Scheduling Module Video
Resource Management
Resource management is a key component in a TMS. It allows you to handle everything you need for your course to go ahead. By pulling all of your trainers, venues and equipment onto a single view calendar, course scheduling could not be simpler. Exchange integration ensures that calendars align, and scheduling clashes are easily avoided. Viability and profitability can also be calculated using the stored cost of each resource.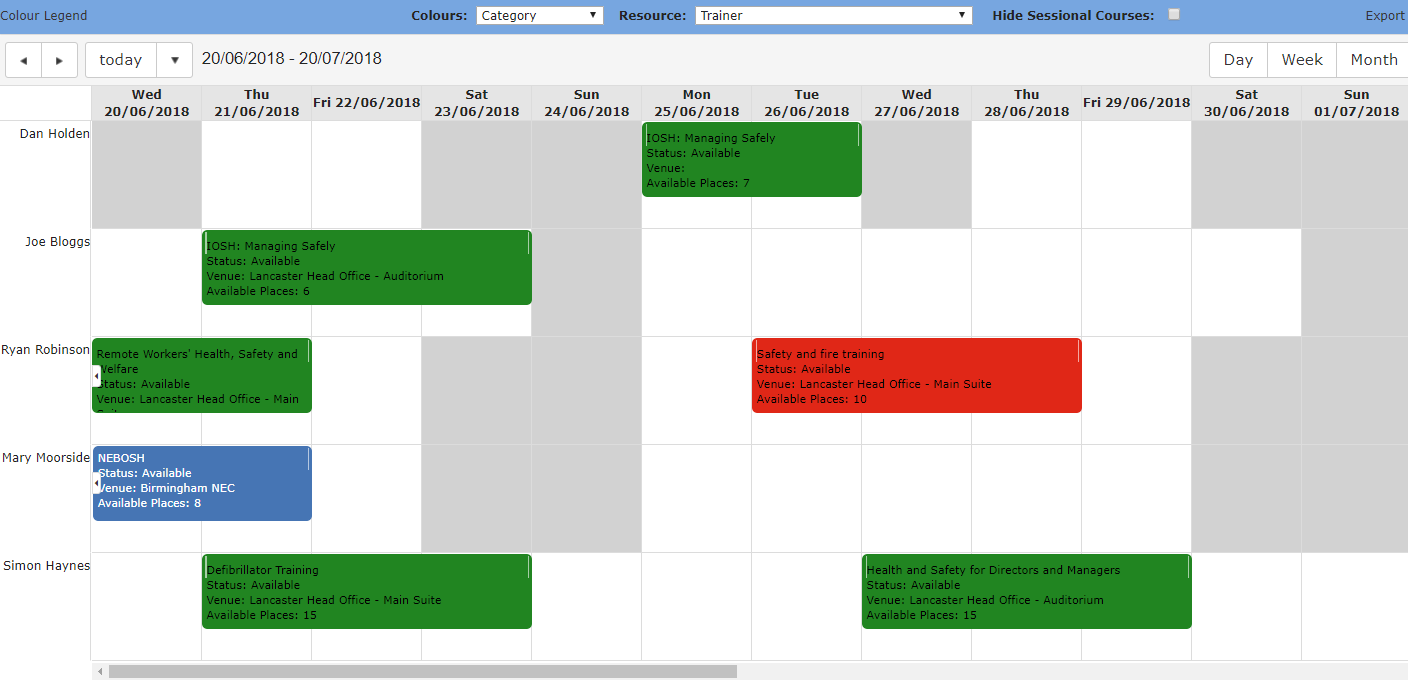 Learn more: accessplanit Training Management System - Resource Management Module Video
Reporting
There's a great deal to track when running a training business. Thankfully, in a TMS there's a number of ways to view and extract this information. In order to assess what's working and what isn't, it's important to make a habit of analysing data and drilling down into training business performance and key financials.
For instant, real time data, there's a dashboard allowing you to keep tabs on your all-important day-to-day metrics. Typically this would display things like daily course bookings, upcoming tasks or open opportunities to close.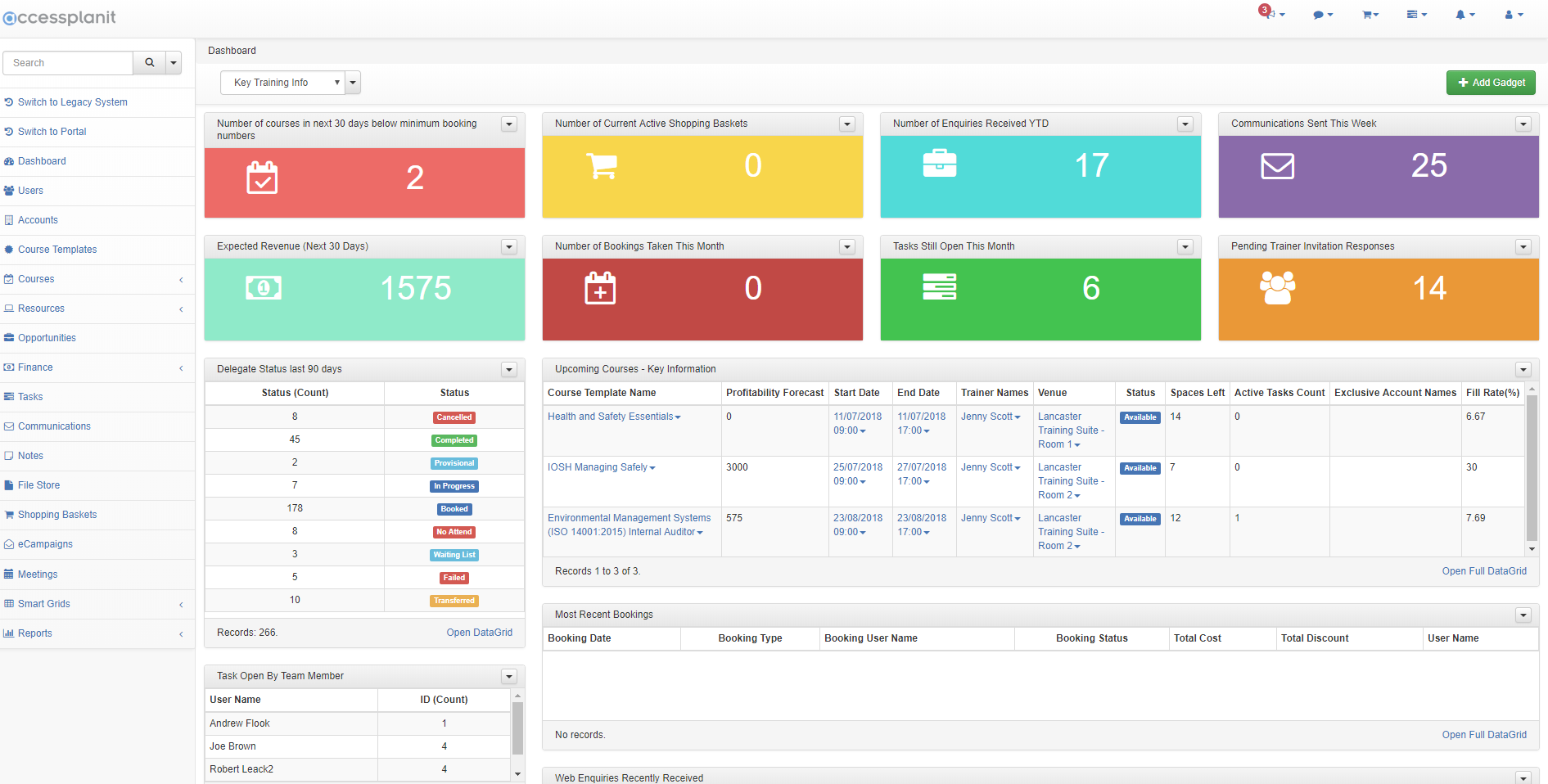 For reports required a little more detail, such as weekly financials or trainer usage reports, there's typically a comprehensive engine that allows you to pull from all data sources stored within the system.
Whether you're a director looking to gain a quick snapshot of daily performance, a salesman measuring your team's KPI's, a finance manager running an in-depth invoice report, or an administrator looking at upcoming tasks; there's functionality to support each user.
Automated tasks and communications
Offering perhaps the biggest time saving of all, turning the cogs behind the interface of a training management system, is a powerful workflow engine. The workflow engine is composed of a set of rules than allow a communication to be sent or a task to be created based on a trigger. Inside the brain of the workflow engine, it looks a little like this:

A branded, automated communication sent from the TMS with mail-merged information:

Sales & Marketing
For commercial training providers, a CRM is absolutely essential both to log hot new leads and nurture existing customers. Most TMS's will have a built in CRM that allows you to manage sales pipelines, produce forecasts and track all delegate communications. The platform can be used to create cross-platform marketing campaigns that put your brand infront of your audience.
Learn more: accessplanit Training Management System - Sales and Marketing Module Video
Online booking
Although not a feature in every TMS, online booking is essential for training providers offering open courses, allowing them to receive bookings round the clock, reduce the workload for administrators and allow delegates a smooth and seamless journey. Typically, you'll be able to take payment through a number of different payment gateways, with the ability to offer discount codes, vouchers and course add-ons.

By using either an XML feed or API, scheduled courses can be automatically listed onto your website along with the cost, venue, available spaces and details about the course. By creating a customised registration form, you can capture the information most important to you.
Learner Management
Whether you sell eLearning courses or provide internal training for staff, within this module you can guide the learner through crucial courses, provide access to documentation and track training progress. Up to date qualifications and certifications can be managed with notifications upon expiry, allowing you to stay on top of compliance. Skill gaps can be identified with ease, and access to evaluations and surveys allow you to constantly improve what you do.
Portals
Portals are used to encourage self-serve access to different system users using tiered access levels. Some of the most common portals within a TMS include:
Manager portal - Particularly useful for internal training teams, manager access allows the monitoring of learner progress and the ability to identify skill gaps
Trainer portal - Self-serve trainer portals allows your instructors to log in and see their schedule, accept training requests, download attendance forms and upload course content
Learner portal - A value-add for your delegates; learner portals allow you to see past and future courses, make new bookings, access certification and complete course feedback.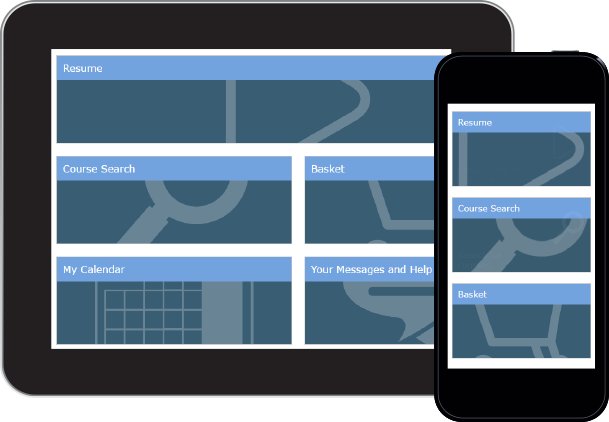 Finance & Invoicing
Automatically generate invoices, reminders, credit notes, statements and refunds with absolute ease. Offer multiple payment gateway options, and with the option to charge for courses in different currencies, you'll easily support your international delegates.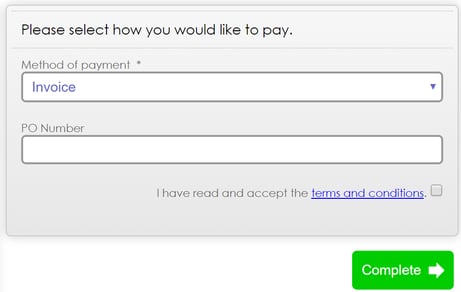 What are the benefits of using a Training Management System?
At this stage, you'd be forgiven for thinking a TMS solely benefits the training business. The truth is that everyone benefits (apart from your competitors!) In particular:
Your customers
A reliable, consistently professional service is delivered to your customers every single time. By letting automation take over, communications are delivered on time and nothing falls through the cracks. With more time free'd up from course administration, your customer experience team can focus on spending time building and nurturing relationships with clients.
Your soon to be customers
Prospects can find your courses with ease. Your online booking process is optimised for convenience and accessibility. New enquiries and negotiations are easily tracked and actionable, and once your client has agreed on a price, new course dates can be scheduled in seconds. Everything happens so fast, your prospect doesn't have time to let it fall off the radar.
Your employees
Most of us aren't the biggest fan of admin. By letting a TMS take care of the boring stuff, your staff can put time into fulfilling, creative and meaningful tasks like running marketing campaigns, improving course material and increasing website visibility.
Your company and brand
Every time a prospect or existing client interacts with your brand they get the exact same professional experience. Your brand exposure increases through advertised courses being available on your website and enticing email campaigns. By using feedback forms to improve what you do, your training courses become recognised for their high quality.
You!
You're now operating at maximum efficiency. You're monitoring business performance on the go and planning for the future. Your staff and customers are happier than ever, your profits are rising and your market share increases.

Is a TMS better than an LMS or a CRM?
Before reading further, it's perhaps worth checking out our software jargon-busting guide.
When looking for a new software solution for your business, there's a high chance you'll also be considering (or already be using) a CRM system or an LMS. All of these systems have their place in training, however there are some distinct differences in terms of functionality and ultimately the objective of the business. Lets break each one down:
Learning Management System (LMS)
A learning management system offers a virtual environment that users can log in to and get access to a range of online training courses. An LMS tends to focus on three key areas:
Bespoke course design and creation
Course information - including uploading content, ensuring availability of course material, student enrolment
Tracking training progress – ease of communication with learners and effective tools to evaluate learner progress
Customer Relationship Management (CRM)
A CRM will help you record client information, track leads and prospects and store information against individuals and companies. All contacts, whether initiating from an enquiry or from a meeting at an exhibition or conference, can be logged in one place with full details of their business and future potential recorded. Reminders to make future contact can then be scheduled and automated. This simplifies your administration process and allows you to increase your overall business efficiencies.
Learn more: Can a CRM run a training business?
Which system is the ideal tool for training?
Without doubt a CRM is powerful and a necessary tool to manage relationships and expand business. It is a great tool for managing pipelines, enquiries and capturing all relevant information, but the benefits within training are limited. Typically, unless you're open to using work-arounds, there is no specific functionality for course management & scheduling, eCommerce, resource management, online learning, evaluation tools and customised portals; all of which are crucial to training success.
An LMS should be your go-to solution if you're looking to track learner progress typically through an intuitive suite of engaging online content. It specialises in the ability to deliver ROI to corporate training departments and ensure compliance. Things such as learner collaboration, gamification and bespoke course design are all specific to an LMS. If it's solely eLearning that you're offering, there is simply no better or more appropriate option than an LMS.
Our pick of the bunch however is a training management system (TMS). It's an all-encompassing solution that houses functionality to support all aspects of both a commercial training business or internal training department. From eCommerce to automated communications and from online learning to detailed reporting, for instructor-led providers there is simply no better solution in terms of business impact. With a built in CRM and LMS, a TMS doesn't rely on integrations from other platforms to cover all bases. It's already there.
What's the difference between a training management system and a learning management system?
There are overlaps in what each system can do, but the main difference between a training management system and a learning management system is intent: A training management system handles your back-office admin through automation. A learning management system offers an online platform to manage your eLearning content and track your learner's progress. In other words, a TMS is built for course administrators; an LMS is built for your delegates.
Can training management systems work together with learning management systems?
Training providers may feel that they require the capabilities of both types of system. A lot of training management systems like accessplanit, are able to integrate with learning management systems like Moodle- offering the value of a user-centric eLearning platform and back-end, admin-centric functionality in one. It is best practice to find a TMS that has some form of integration with an LMS, to avoid the data re-entry headache that comes with using disparate systems.
Learn more: LMS vs TMS vs CRM: Which Management System Will Benefit My Company?
Which Training Management Software is best?
The best training management solution for your business will depend on both the budget you have in mind and the functionality you require. Unlike Learning Management Systems that are available in their hundreds, training management systems are harder to come by. Some of the most recognised training management platforms available today include accessplanit, administrate, arlo, dante, training orchestra and genius software.
If you're in the consideration phase, or simply interested to learn some key differences through a training management system comparison, it's worth heading over to the review sites Capterra or G2.
In this guide, we've outlined the 3 things we feel set accessplanit apart:
Support
We don't believe in SaaS, we believe in SwaS: Software with a Service. We're a family run, UK based organisation here to build live-long relationships delivering the same award-winning customer support to each and every client, whether you deliver 100s or 1000s of training courses.
We also understand that there's a lot to learn with a training management system, and that things aren't always straightforward.
There's 4 ways to access our support suite:
A dedicated UK-based helpdesk available by phone 9-5 Monday to Friday
A built in ticket system that allows you to submit and manage queries directly from the main interface
accessplanit Academy: an initiative set up to help customers learn the in's and out's of their system as quickly as possible
A detailed help guide complete with video tutorials, explanatory visuals and FAQs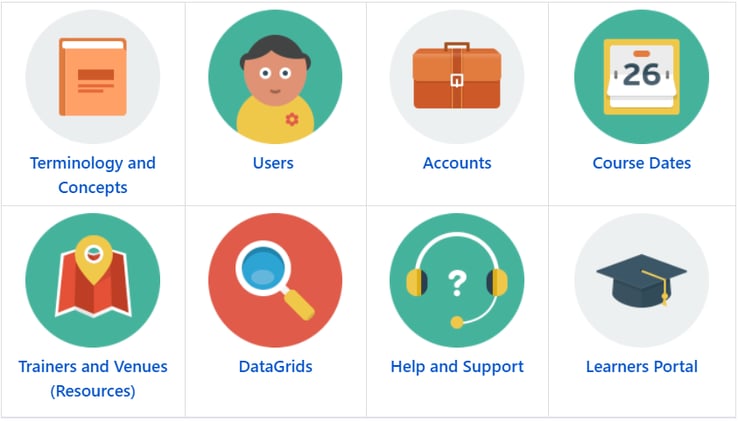 Flexibility
We understand that every training provider is different and has varying requirements from the platform. There is certainly no one-size-fits-all in the training world, and you shouldn't have to change the way you work in order to utilise a new solution.
accessplanit's platform prides itself on flexibility; something that distinguishes itself above competitors in the following areas of functionality:
Dashboard: A blank canvas allows you to create the most meaningful statistics for your job role. Multiple dashboards can be created per department, job role or user. This mobile friendly interface also updates in real-time!
Workflow engine: The level of customisation when creating workflows means you can effectively mirror your current processes. From fully customisable communication templates to desired delivery times and automated task creation, it's exactly what you were doing before, just all in one place.
Course addons: The introduction of accessplanit's Products and Services module allows training providers to capitalise on online course bookings by offering additional addons and services alongside the course itself. This could include things like accommodation, certification, access to course material and more.
Check it out: accessplanit's Products & Services module video
Implementation
You can learn more about what the implementation process involves further down this guide.
Implementation is something that you have to get right. It's commonplace in SaaS for implementation periods to be rushed, sometimes with both the onboarding team and the client reluctant to commit enough time to the process. When implementing a training management system, you simply cannot afford to slip up. It's a complex solution which requires regular check-ins, confirmations of understanding and ongoing, active involvement from all system users.
Throughout the planning, execution, testing and go-live phases we're here to support you all the way. You'll have both a dedicated implementation manager as well as a customer success manager to ensure you're well looked after throughout the entire process.
Can a Training Management System integrate with…?
Many leading software companies have prioritised the development of integrations in recent years, allowing seamless data transfer like never before.
Some of the most sought-after integrations for training management software include:
Finance systems & payment gateways
Outlook/Exchange integration
If you've got a well embedded system that you want to integrate with, a native integration is the first thing to ask your supplier about. Native integrations can be defined as software that is customised and specifically designed to run on a particular platform. A couple of the most common native integrations offered within the training industry include links with finance tools such as Sage and Xero. There's a chance, if not immediately available, native integrations could be requested as a custom development, depending on how business critical it is for your organisation.
API's or Application Programming Interfaces are something you'll come across frequently when looking into training management software. Jungo describe an API as, when overly simplified, a "guide" for using an app. It is then utilized to develop programming for software applications to "talk" to each other. It's important to note, if you're looking into an integration using an API, it requires technical know-how and configuration on both sides of the fence (both for the TMS supplier and the training organisation).
Here at accessplanit, we have a number of API's that allow our customers to integrate numerous systems seamlessly.
Other integrations you may want to consider:
Virtual conference platforms (Zoom, WebEx etc)
Single sign on (SSO)
Website integration
Learn more: Integrations & Add-Ons Built For Training Businesses
How much does a Training Management System cost?
Unfortunately, as you'd expect, there's no obvious answer to this. The true cost of a training management system depends on a number of different factors including:
The level of functionality you require (& any custom developments!)
The number of delegates or learners you train per year
The number of administrators that require access
The implementation package
Most training management systems on the SaaS market today are sold as an annual license and can typically be contracted to a duration of your choosing (typically 1-5 years)
When it comes to purchasing a training management system, there's typically two costs you'll have to pay:
The annual license fee – this is for the ongoing use of the system
A one-off implementation fee – learn more about this further down the page.
The actual price you will pay can range anywhere from £1,000 annually all the way up to £100,000 plus, it really can vary that much. Learn more about the different software packages offered by accessplanit.
What ROI can I expect from a Training Management System?
The return on investment from a training management platform typically comes from:
Time and resource savings from working more efficiently
The revenue gained from selling more training
The true ROI of training management largely depends on how well embedded it is within your organisation and what position your company is in before implementing it. If you have a comprehensive training offering and currently rely heavily on manual processes, it's not unusual to expect ROI that's up to four or five times the cost of your system.
We've put together an ROI calculator that estimates how much you could save through accessplanit's training management system. It simply asks you input a few figures relating to time spent on repetitive tasks such as sending communications, processing bookings and managing finance.
How soon will it deliver ROI?
You can expect to see time savings from a TMS as soon as your team are up and running. Things like re-usable course templates, automated communications, instant reports and booking self-service are all valuable time savers that can have instant impact on your day to day. Following the implementation period, depending on the time savings you experience and the impact it has on your sales and marketing efforts, it's not uncommon to expect full ROI in the next few months that follow.
What is software implementation?
A successful project means getting it right first time. Software implementation can be described as 'a systematic approach to ultimately integrate a software based service into the workflow of an organisation and it's individual end-users.' A well-structured and disciplined implementation period is absolutely crucial in order to ensure long term success using your new training management system.
Why do I need implementation?
Almost all software solutions come with some form of onboarding. Typically, the more complex or bespoke the solution is, the more in-depth implementation is required. Ultimately, you need implementation because it involves key steps such as data migration, system training, meeting key contacts and means you can vocalise the way that you want the system to work within your organisation.
What does implementing Training Management Software involve?
The implementation period will involve a number of meetings with your designated implementation manager who will introduce you to the system, involve your colleagues and require certain tasks (such as data transfer) to be carried out between sessions. This is typically all done remotely and will follow timescales as per a predefined plan.
How long does it take to implement Training Management Software?
The length of implementation of a training management system depends on the following factors:
The time you and your team are able to commit to onboarding
The extent of data migration required
The level of customisation required
As a standard, accessplanit offer a 90-day implementation period. This tends to be in the realms of longer implementations for reasons mentioned earlier in the guide. The reality is that you can be up and running much sooner, however this relies on diary availability of both parties, efficient correspondence and a certain level of tech savvyness!
What happens after implementation?
This is a great question to ask a potential supplier.
You need to be crystal clear that you aren't going to be left to fend for yourself when your allotted implementation hours have been used up.
Here at accessplanit, we have a proven process that lays out what you can expect from us at various timescales throughout a project. Once you've made it through implementation, you're about half way through your journey towards optimisation.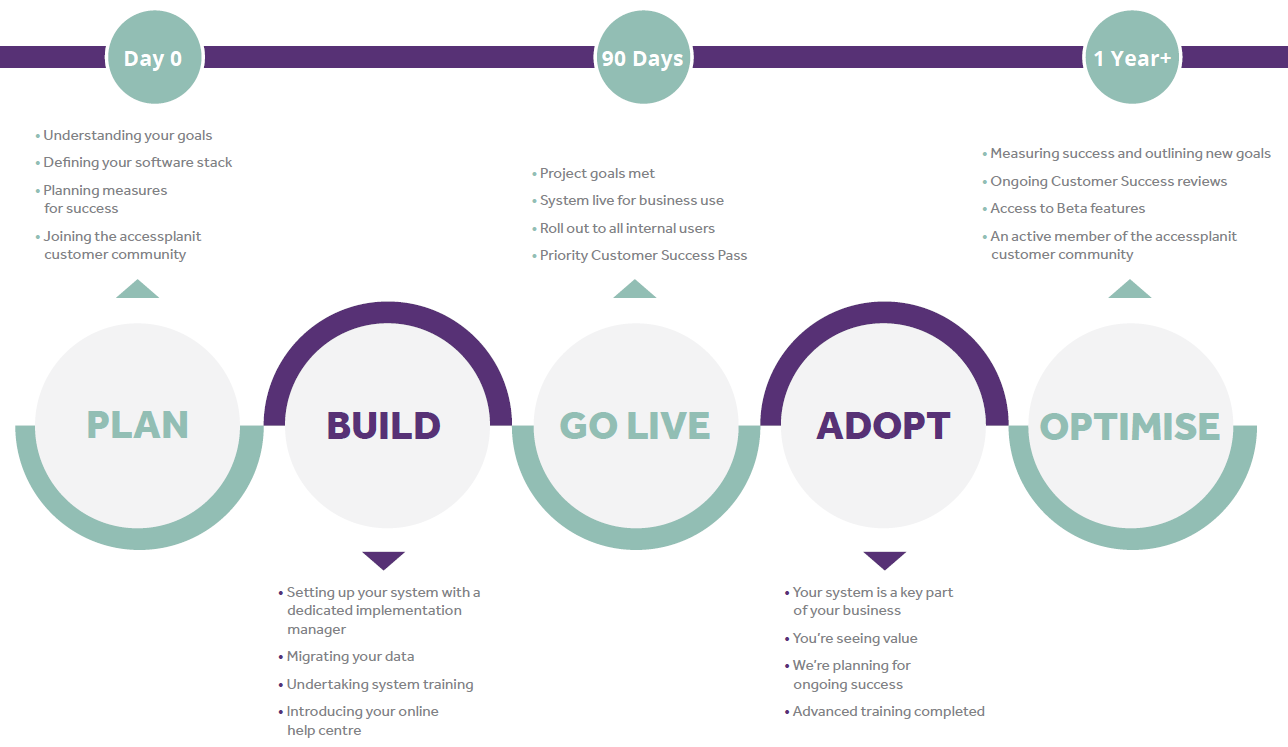 Conclusion
We hope this detailed guide has helped you to learn more about training management software systems and their potential to transform the lives of training providers. We've tried to answer some of the most common questions we face, however if you haven't found the answer you need, feel free to comment below or schedule a call with accessplanit.
If training management is something your organisation is considering, you can request a demonstration with an accessplanit expert.
Popular Posts
- 8 Reasons Why Now Is The Perfect Time To Begin Your Journey With accessplanit
- [2020 GUIDE] Overcoming The 4 Biggest Challenges Facing Training Providers
Sign up for a free demo!
See for yourself just how our training management system can help your business
Sign up now