How To Increase Your Online Course Bookings Using Email
Do you struggle with your course promotion techniques? You've got all these valuable training courses – but even for the largest organisations, raising awareness, spreading the word and increasing your online course bookings isn't always easy.
So, let's talk about emails that engage your delegates…
Are emails relevant in the Instant Messenger Age?
It's easy to dismiss emails. After all, everyone chats via instant messengers, younger generations don't use them, and they're heavily associated with spam.
But despite its perceived reputation, email remains one of the best content marketing tools to advertise your training courses. That's because it adheres to one of the big marketing tenets out there: 'Be where your audience is'.
Let's not forget…
Everyone has an email these days – it's just not possible to navigate 21st century life without one
It's the cheapest way to target the most people – compared to other content marketing, emails keep your running costs low and offer the biggest ROI
Most of your email contacts will be sourced from your website – meaning an existing target market willing and eager to be engaged
It's the preferred communication method between customers and businesses – according to Adobe, 63% prefer email marketing
Email marketing best practices
There's a big difference between doing email marketing and doing email marketing right. If you're serious about making an impact, it's worth considering a few best practice tips.
Get personal
Your delegates don't want to feel like just another number in a spreadsheet. They want the personal touch. However, there's more to it than whacking your delegates' names in an email. That's not personalisation; that's just a basic expectation.
Personalisation is really about using your delegates' data to tailor the message you deliver and the offers you provide. As such, target individuals based on courses they've previously booked with you or ones they've shown an interest in. This shows that you know precisely who you're talking to and what they'll actually want to receive from you – which means boosting sales is much more likely.
The all-important subject line
Subject lines are absolutely the most important element of your marketing emails. That's what entices readers to open up your message in the first place, right?
When it comes to crafting great email subject lines…
Keep it short-ish – Studies have shown that between 60-70 characters is the absolute sweet spot when it comes to emails that get read.
Keep it relevant – One of the worst user experiences is receiving a cool email… only to find that the subject line was misleading and that spammy email has nothing to do with what was promised. What happens next? They'll hit delete on your finely crafted email.
Keep it clear – If you're offering a new course, say it straight away. If you want your delegates to take action, put that front-and-centre. Don't force readers to guess what your email is about.
Keep asking questions – Ok, you don't have to ask a question every time, but in doing so, you're soliciting engagement from your readers, ensuring that they know that their opinion matters (and that you care).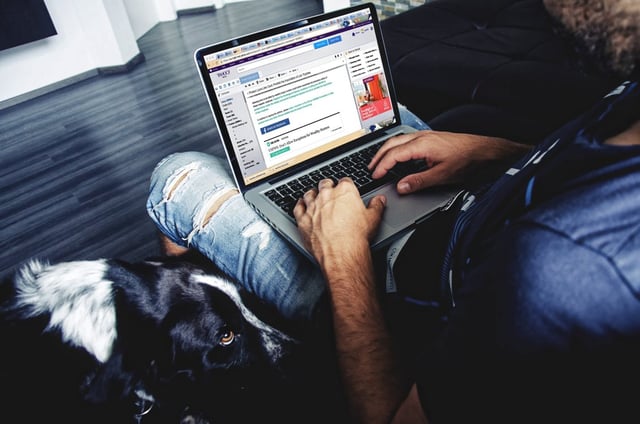 Write to get read
Ok, so you have your pithy subject line. What about the main body of the email?
One of the biggest mistakes many training companies make is to jam-pack their breathless emails with tons of offers, info, calls to action… It becomes a confusing mess and means your delegates don't even know where to look first (if they even bother to look at all).
Stop.
Ask yourself: 'What's the one message I'm trying to convey here?'
And then say it – in as few words as possible. Use verbs and other action-orientated language to give your copy more punch and cut through the noise of your delegates' inbox too.
Whether it's course sign-ups, newsletter subscriptions or your hot new offer, coherent and consistent messaging with a clear call-to-action is critical to success. It demands total attention and tells your delegates precisely what action you'd like them to take.
Think aesthetically
There are two considerations when it comes your email's on-screen design. Firstly, there's the layout and colours. Do you want everything branded in your training company's colours? Is this an image-centric or copy-centric email? Your emails need to look clean and professional, no matter what kind of device your delegates are using.
Secondly, there's the positioning and formatting of the copy itself. Most people are skim-readers, especially when online, so make it easier for them to grab those core takeaways by…
Placing key facts and statements in bold
And...
Using bullet points to break up walls of text
It's all about how best to deliver a message that gets read.
Want to learn more? Download free content marketing guide for training companies.
Be GDPR savvy
On May 25th 2018, the EU's General Data Protection Regulations directive comes into force. This beefed-up iteration of the Data Protection Act offers new rights and protections for EU citizens and British subjects (yes, even after Brexit). These individual rights include…
The right to be informed – You must tell delegates when you're collecting their data, and your lawful basis for doing so, e.g. because they've signed up for a course and need to receive email updates.
The right to be forgotten – If a delegate requests you take them off your mailing list, or opts out of certain workflows, you are legally obliged to comply.
The right of access – Your delegates can request to see all the data you hold on them.
Meanwhile, any business collecting, processing and storing personal and sensitive data will find increased liabilities and responsibilities (not to mention increased non-compliance fines, up to £20 million or 4% of global turnover).
Sales and marketing departments across the globe are those most likely to be affected, since these teams will now have to obtain 'explicit consent' from every delegate before sending any communications.
In order to get ahead of the game – and ensure compliance with this complex and intricate law – you can start offering an 'opt-in' right now, and maintain an accurate database of contact information, including their email subscription preferences.
And speaking of contact lists…
Build your own contact list
Thinking of buying a list of email addresses?
Don't.
For starters, those emails are likely worthless. Either these are dead addresses or you'll be marketing courses to people who have little to no interest in the training you provide. Oh, and it's an absolute no-no when it comes to the GDPR.
The best way to create a database of contacts is to build your own, from the ground up (oh, ensure that they opt-in to be contacted). This way, you can be sure that everyone you're marketing your courses to is interested in what you're offering. They signed up to receive your emails, after all.
This becomes your ready-made audience, eager to hear more. You can then nurture those relationships, segment your audience by demographics, and tailor your emails to what appeals to them.
Test, test, test… Then test some more
The biggest bonus to harnessing email marketing is the ability to test your output against the results.
This means you can continually modify and refine your messaging in order find a formula that works; hits the target; engages delegates; and drives sales. Conversely, you'll be able to see, at a glance, what's not working and what could ultimately be costing your organisation money – and act accordingly.
When it comes to your email marketing efforts, it's a good idea to test absolutely everything. Subject lines, the copy, the offers, the design, the send date and time… You name it, if you can change it, try it. However, when you are A/B testing, it's important to only make single changes – so focus on tweaking those subject lines, for instance, but retain identical copy. In doing so, you gain a clear overview of what changes make the most impact.
The benefits of email automation software
Of course, it takes time to craft the perfect email – one that gets opened and encourages increased online course bookings. Then you spend even more time selecting individual recipients. And then even more time running through the data to see what worked, what didn't and where to make changes.
Thankfully, busy training companies can now take full advantage of email automation tools, like the one that comes packaged with our training management system. This software does everything from automatically populating fields (so no more typing out names by hand!) to anticipating upcoming award expirations and reminding delegates to rebook with you.
So, you can start reaping the benefits like…
The beauty of automated email marketing is the ability to set key trigger actions and let the software take care of the heavy lifting. So, for example, if you're remarketing to existing delegates, you can command the software to only email those who booked a certain, similar course or contact those who haven't been on your site for a set period of time.
You have untold amounts of data on your delegates. Now let your training software make the best use of it. Armed with all that information, automation means you can accurately target only those you want to target – this means you won't waste time contacting those who don't want the courses you're offering. Instead, you can segment your audience based on a variety of factors and target them individually with personalised emails relevant to them.
Automated email tools allow you to create branded, standardised templates that keep your emails looking just as they should. Alongside the obvious peace-of-mind this brings, as you confidently send another mail-out, it also ensures that your email marketing communications remain professional at all times. Oh, and it also means the end of worrying about fiddly issues like formatting.
Ready to automate your email marketing? Get in touch with our team to book your free demo and discover how our training management software can help you increase online course bookings.
You might also like…
Sign up for a free demo!
See for yourself just how our training management system can help your business
Sign up now