How to set the prices of your training courses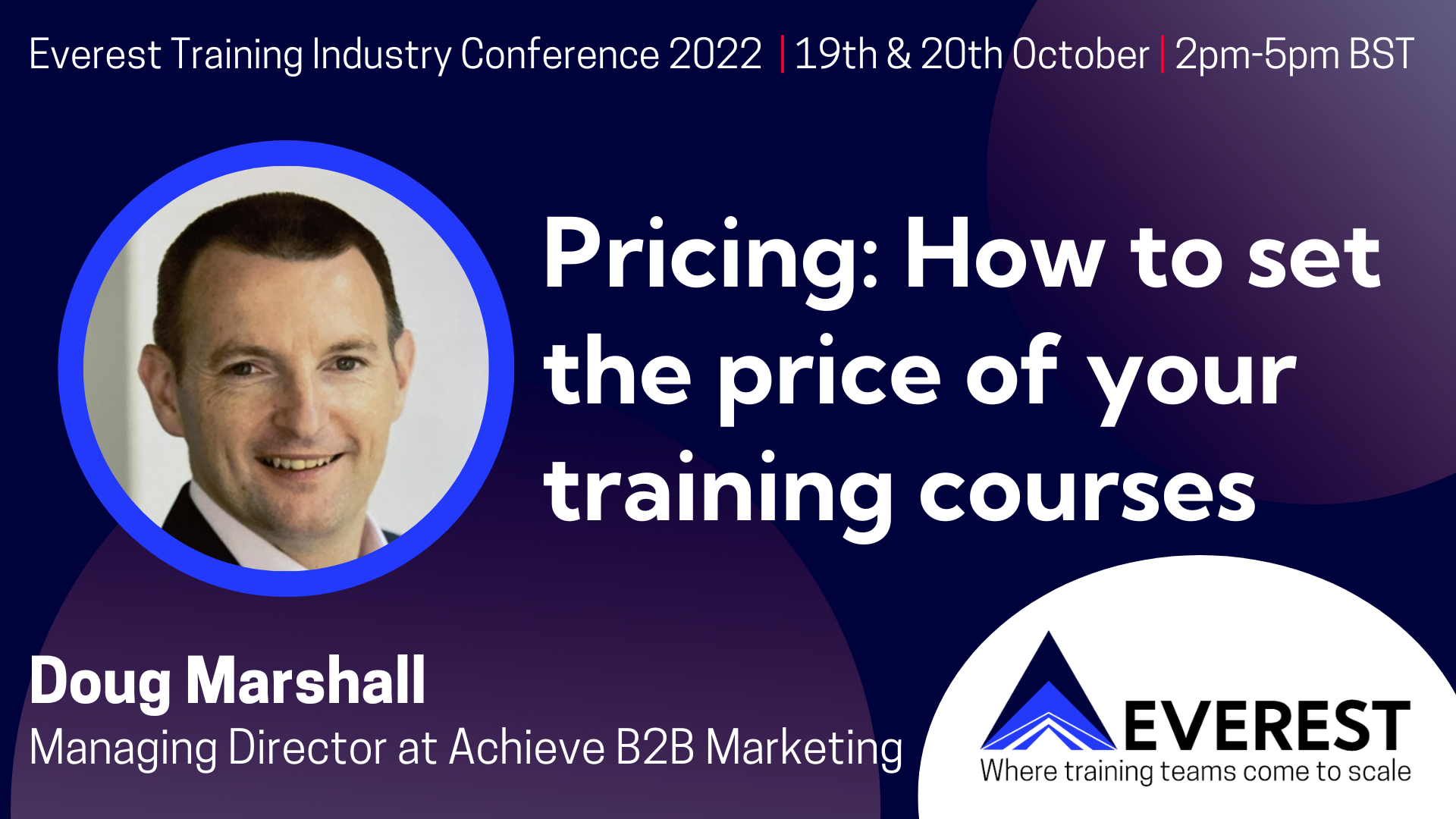 Doug Marshall, Managing Director at Achieve B2B Marketing, shared his expert insight into price setting for your training courses at this year's Everest Training Industry Conference. Here's a summary of what he taught us about demonstrating value through pricing:
About Achieve B2B Marketing
Achieve B2B Marketing is the specialist strategy and communications agency for information and L&D companies. From training providers to trade magazines, learning technologies to data services, they help companies in knowledge and learning grow.

The company is led by Doug Marshall, an experienced B2B marketer with 30 years' experience in these sectors.
Between 2015 and 2019, Doug was Wilmington plc's Group Head of Marketing with responsibility for strategy across its 14 marketing teams. These included all of Wilmington's learning brands in Europe and North America.

While at Wilmington, Doug also launched and ran its internal Marketing Academy, organising a range of learning experiences and apprenticeship schemes for a 50-strong marketing cohort.

As MD of Achieve B2B Marketing, Doug has provided marketing services for a range of learning companies. These include a stakeholder engagement simulation platform, a leading sales training company and an insurance innovation business. Doug also provides training programmes for clients across a range of B2B marketing skills.
Intro
Sharing his practical advice for pricing, Doug notes, "none of what I'm about to tell you is prescriptive - every training provider has different audiences, different sectors, different products. These are just ideas for you to think about". No fancy pricing systems are used here - just actionable advice for you to consider when pricing your training courses.
"Setting prices well is a huge opportunity", Doug says. "It can boost profits, increase revenues and even change the perception of your product. Taking the initiative on pricing is also a great way to build your commercial reputation".
Doug's session at Everest 2022 covered:
How effective pricing can affect your bottom line
How to avoid common pricing mistakes
How to price for enterprise deals
How to price based on value
How to test prices
How to present prices well
Doug's first poll to the session attendees is below - some interesting stats here!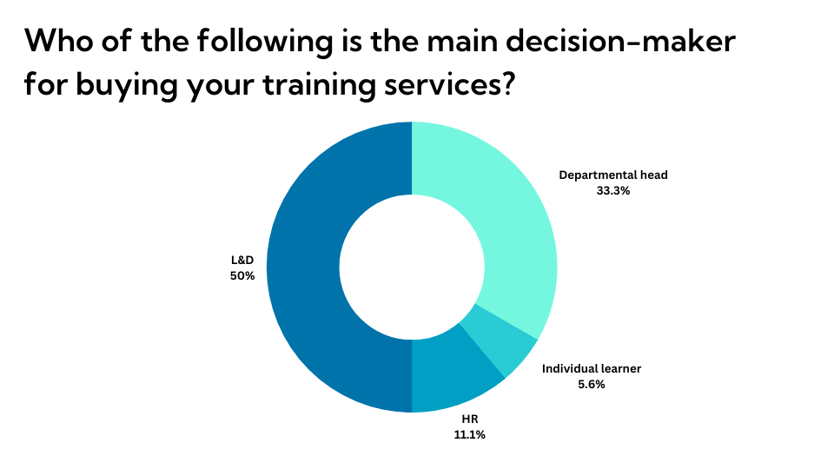 Why look at pricing?
"We're all going through some fairly challenging times", Doug notes. "Some storms are brewing - budgets are tightening, CFOs will be looking to managers to see where costs will be cut". All the predictions for the current economic situation are indicating that this isn't short term; we need to prepare for the long term and have our value story in place.
Doug shared some insight into the impact that pricing can have - a 1% improvement in price, assuming no loss of volume, increases profit by 11.1%. Improvements in price typically have three to four times the effect on profitability as proportionate increases in volume.
The Marketing Mix
"It's important to say when we're thinking about price, we can't think of price in isolation. It's got to be part of a bigger marketing mix", Doug says. "You've got to have a product that's working well, that your customers are seeing real value from. It's got to be in a place where they can easily find it and its accessible. You've got to be able to promote it in a way that the price reflects what people are getting."
Next, was another poll to the Everest attendees: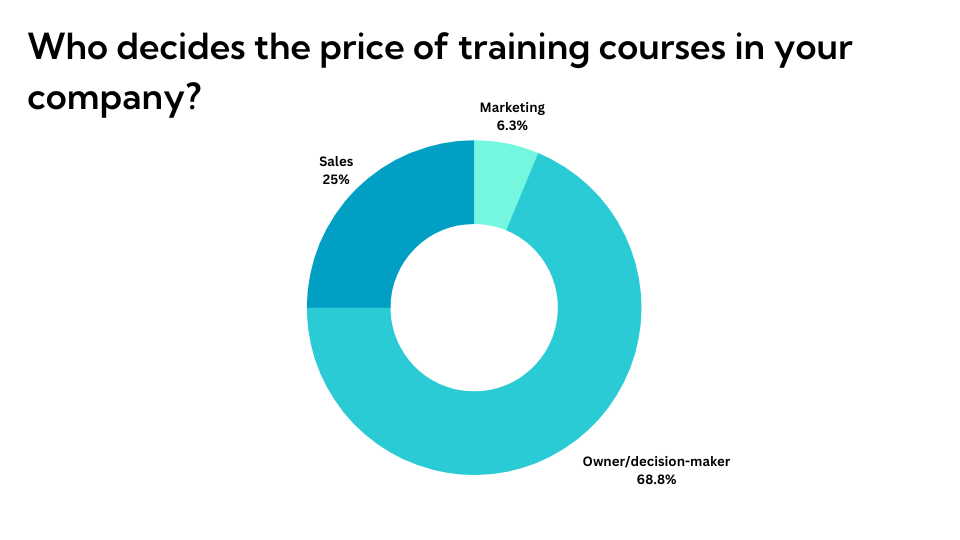 Where do you start when it comes to setting a price for your training courses?
Define your value proposition
Doug notes that one of the most important things when it comes to setting prices for your training courses is to ensure you're got a clear value proposition that explains clearly internally and externally the value it is you are offering. If you're not clear about what your value is, its very difficult to set your prices
Define your customer personas
There's a whole host of helpful resources online about how to define your "customer personas" - the different types of people who will be buying your training courses. Think about their job roles, their motivations, and the problems they're trying to solve. You can also link your value proposition to their pain points.
Listen to your customers
Another great tip from Doug is to evaluate any recent feedback you've had from customers - whether it be reviews, feedback forms, or other research you have conducted. Do your attendees feel they've received value for money?
Do some competitor research
It's important to have up-to-date and relevant competitor information. Have your competitors changed their course structure or outcomes? Make sure you're keeping tabs on competitors who are offering courses of a similar structure, length and value to yours to keep your pricing in check.
Ensure you can differentiate your training company from your competitors. "If you cant say why you're different, this can end in price wars", Doug says.
Although information on your competitors is extremely useful, it's important to not rely too heavily on their prices as a benchmark, and to take all factors into consideration. "Are you a price taker, or a price maker?", Doug asks. There are lots of things to consider. "In an ideal world scenario, a price maker would be a training company with the power to set its price without worrying about competition or consumer. This would mean they have little to no competition, unique courses with no close substitutes, substantial market power, and inelastic demand".
Things to avoid
Doug advices against doing anything too extreme with your prices. Pricing too high, for example, can cause a dip in sales, causing a need for discounts to bring orders in. Pricing too low can of course lead to a lack of revenue and reduced profits, but it can also hurt your brand perception, as low prices can be viewed as low value.
Motivations for buying training courses
Doug notes that the main motivations for buying training courses are fear and greed.
"It sounds simplistic, but bear with me!", Doug says.
The fear element comes in when there's a need for the training to be able to complete their role properly - for example, health and safety compliance training. Needing to have the knowledge to reduce risk and harm, have up-to-date certifications, and staying within certain regulations.
The greed element relates to courses that may boost a company's profits - such as effective leadership training, or sales training for their business development teams.
How to price for enterprise deals
Most courses offered can be booked per attendee, for individual learners. However, enterprise pricing involves packaging up multiple courses for lots of learners. For example, you could offer a multi-seat licence for 50 learners.
"If you're selling individual courses at the moment, consider the ways you could sell to an enterprise", Doug says. "It does require a different relationship; you need to build that relationship with an enterprise customer. It's a lot less transactional, you need to build that trust with the client. It's more of a long-term approach".
How to test your prices
Price testing options
It's important to make sure that you're testing your prices. "It's about getting a sense of what works", Doug says.
For bespoke courses, for example, you could A/B test prices when pricing them for customers privately.
Another option is to have discreet promotions that are not publicly available on your website, such as discounts on subscription renewals.
Freemium
"There are some instances where you should be charging nothing!" Doug notes.
An example of this is freemium - free membership with options to upgrade, or a timed offer for free membership.
The great thing about freemium is that you get to see the behaviour of people who have got the free membership, and the topics or items they've engaged with. You then get a sense of the value and what they're going to get out of it
To publish or not publish prices?
Another option for price testing is to trial having public or hidden pricing. "Some businesses (and customers) believe its too early to show pricing when first browsing for courses - some customers want a conversation first", Doug says. However, hidden pricing, or pricing behind a contact form, can be a barrier or a distraction to other customers.
Want to learn more about accessplanit?
If you're interested in learning more about using our powerful tools to grow your training business, why not book a demo with accessplanit today?
Forget about admin, automate your processes, and free up your time to focus on what matters to you and your training business.