8 workflows every training business NEEDS [with examples!]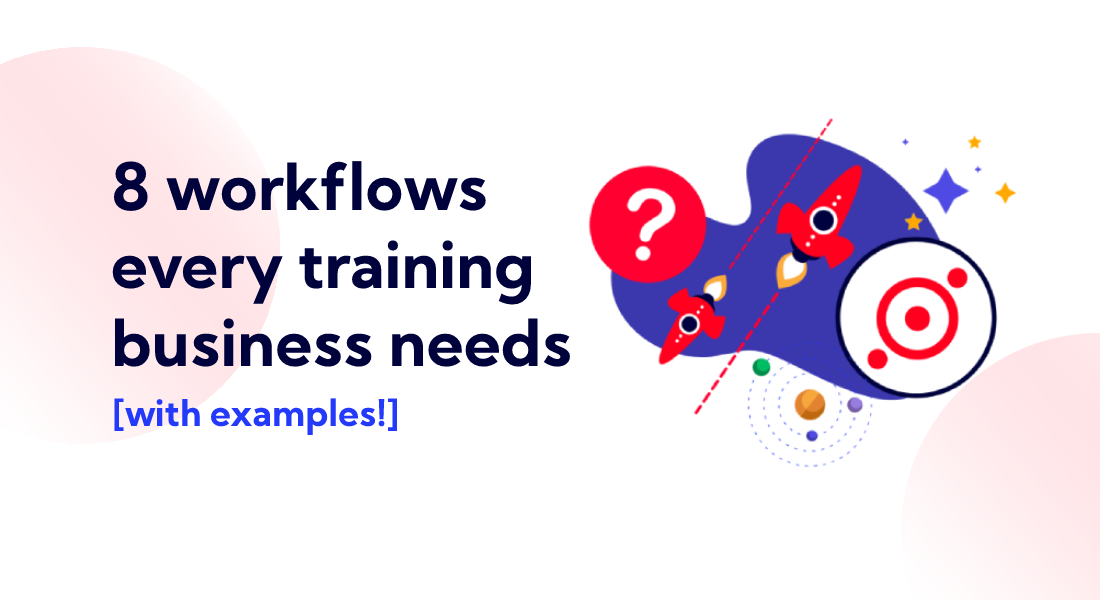 A workflow can best be described as a repeatable activity of sequential tasks in order to reach an intended goal. Every training business has their own unique web of workflows, relating to tasks, information, communication and documentation.
Increasingly, training providers are reaping the time saving rewards of automating a number of repetitive, and often mundane workflows in order to free up time to focus on tasks that add value to the business such as promoting courses, creating new material, networking and upskilling.
Workflows also help training businesses to deliver a more consistent and predictable customer experience, strengthening brand image and improving speed of service.
Workflows have quickly transitioned from being a 'nice to have' to a necessity for training providers looking to remain competitive in an increasingly overcrowded market. In this guide, we explore 8 key workflows every training business should have in place!
Use the heading links below for easy navigation across the page:
Sales team alerts
Confirmation of booking or enquiry
For any business that sells goods or services online, first impressions are super important. Whether you receive course bookings directly through your website or collect information through an enquiry form, as soon as you capture prospect information, your opportunity to delight them begins.
Sending a beautifully branded, automated email following an enquiry or booking helps to keep you fresh in your prospects mind, as well as introducing a point of contact for further communication.
For your prospect, it's reassuring to receive a confirmation, particularly if they've just paid for a course and want reassurance payment has gone through.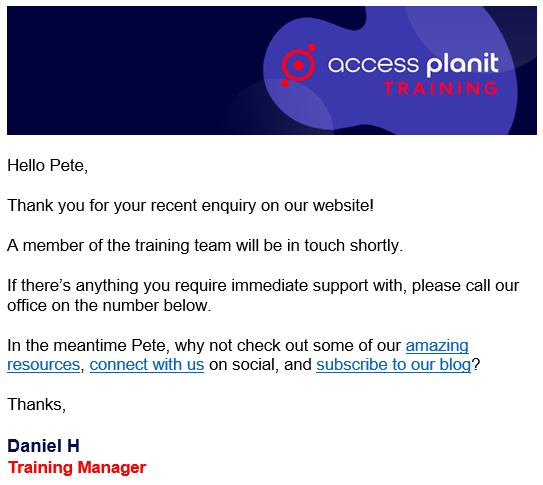 Sales team alerts
Customers want to feel valued.
When a new visitor makes their interest in your organisation known, your sales team need to be hot on their heels with a call. Whether it's a content download, an enquiry or a direct course booking, a well designed internal workflow helps to ensure nothing is missed.
Particularly for larger sales teams or those operating over distance, sales alerts can be a useful way of segmenting leads and creating a 'round robin' system both for fairness and sharing the workload.
This alert could be something as simple as a transcript of a completed prospect form emailed to a salesperson: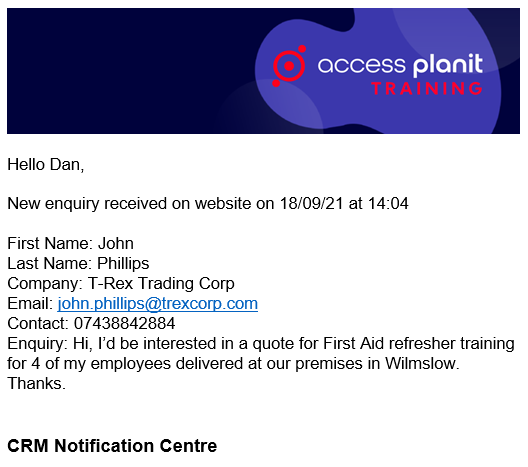 Post course surveys & certificates
Workflows are an effective way to disseminate post course information such as certificates and course material, and powerful in their ability to help generate more survey responses.
On-the-day feedback via a paper happy sheet is questionable in it's ability to attract honest and considered feedback from your learners. After a long day of training, the final obstacle between an exhausted delegate and their couch is a printed A4 sheet asking lengthy questions about their experience. After 2 minutes of scribble, they're outta there. Is this feedback valuable?
A more preferred, reliable way of obtaining feedback from delegates is to create your survey in an online tool such as SurveyMonkey, Kodo Survey or within your training or learning management system. Not only is this data more easily extracted than from a paper form, however you can also A/B test forms and make amends to questions as you go.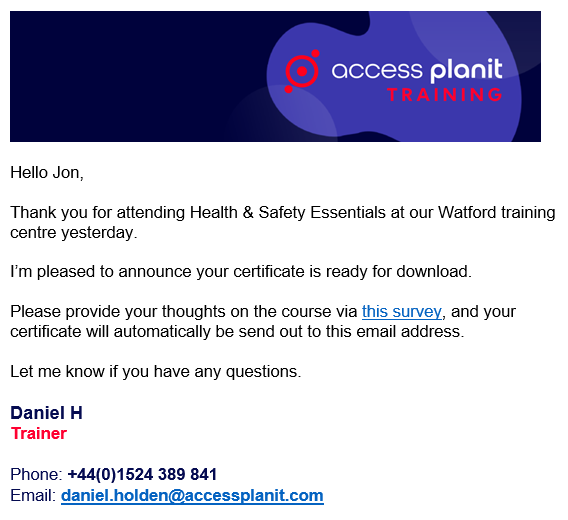 For more on this, download our ultimate guide on training surveys, and learn how you can use actionable feedback to generate better results!
Trainer confirmations
Communication breakdowns are frustrating.
When it comes to course scheduling, getting the nod from your trainers and venues can prove to be a frustrating admin task that involves a great deal of back and forth and ultimately, if delayed, a poor experience for your customer.
Using workflows, as soon as a resource is scheduled for a particular course, a confirmation email is already on it's way to the trainer, venue, or any other resource you may need for the day.
Not only does this speed up course scheduling and reduce the administrative workload for the coordinator, it also documents trainer responses and eliminates any risk of miscommunication or uncertainty.
Many training management systems house the ability for trainers to log in to their own portal where they can respond to training requests, download attendance sheets, access course material and see their schedule.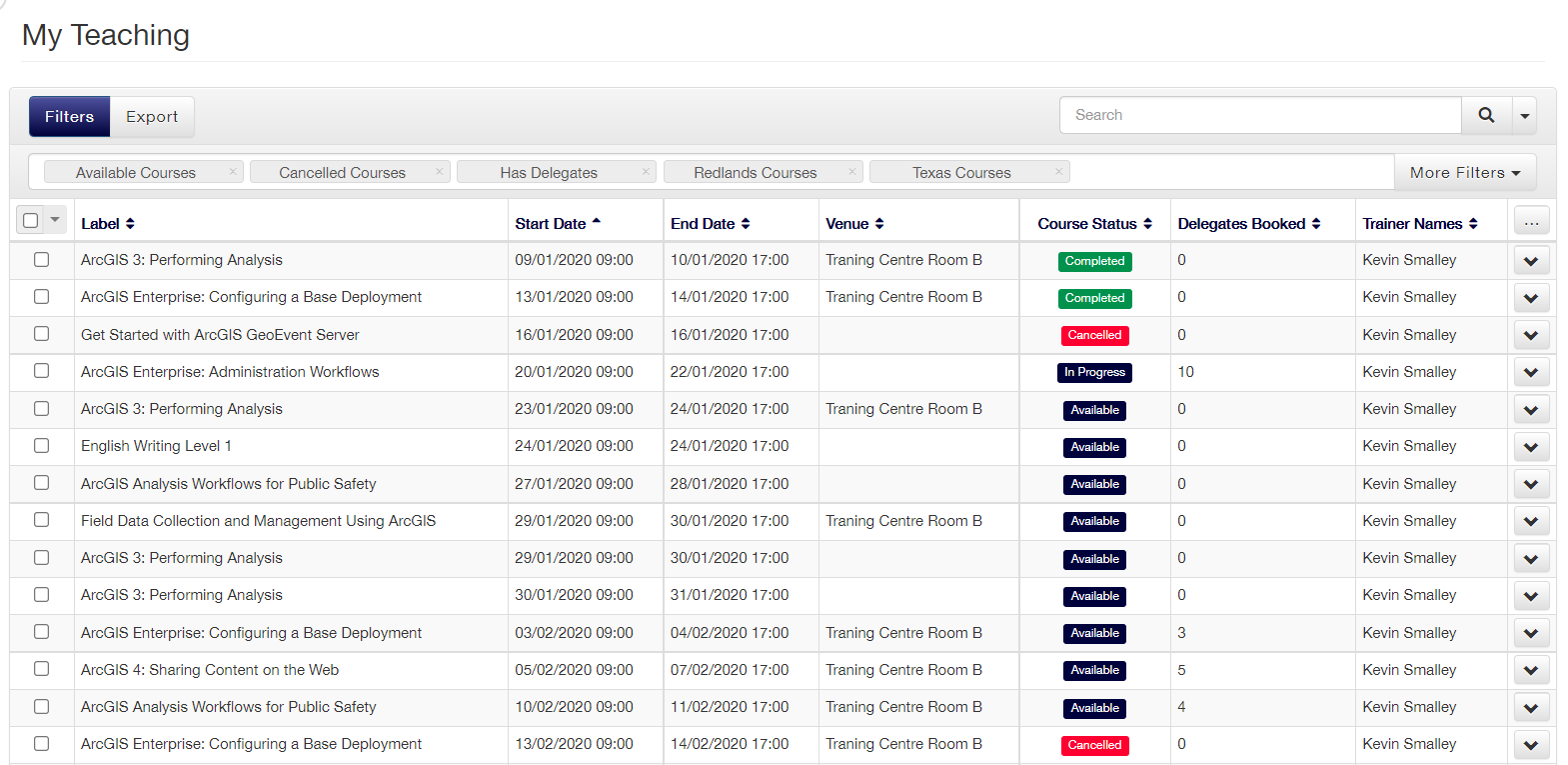 On-the-day task reminders
Training administrators, coordinators and managers spend the majority of each day spinning multiple plates to keep customers happy and ensure training gets off without a hitch.
Many of us have our own methods for staying on top of important to-do's, whether that's a notepad, Trello board or shared team communication channel. These tools are unrivalled in there ability to structure and segment key tasks, however rely on manual input from the user to work effectively.
Automated tasks can help your training team to ensure nothing falls through the cracks and that customer experience never suffers due to forgetfulness. These tasks are tied to objects, events, triggers and users, meaning the right task is created at the right time, notifying the relevant team members.
In training management software systems such as accessplanit's, you can set due dates for each task, as well as level of importance, status and owner. Not only is this useful for business transparency, however it also proves useful as an event log for when things don't go to plan!

Course profitability checks
There's a great deal of resource that goes in to running a successful training course, such as trainer time (and cost for freelancers), venue hire, equipment cost, travel, accommodation, printing costs, course material, the list goes on.
Accounting for all these costs is rarely an easy task, with variable day rates and various externalities to consider. That said, knowing the profitability of each course you run is critical in knowing what's viable to continue running, and what simply isn't.
By setting up reminders a few days before the course start date, you can identify any courses 'in the red' and use the time to promote on social, run some eCampaigns and consider discounts in order to make the course viable.
With a training management system, every cost and resource is accounted for and applied directly to the course, making calculating viability rather straightforward!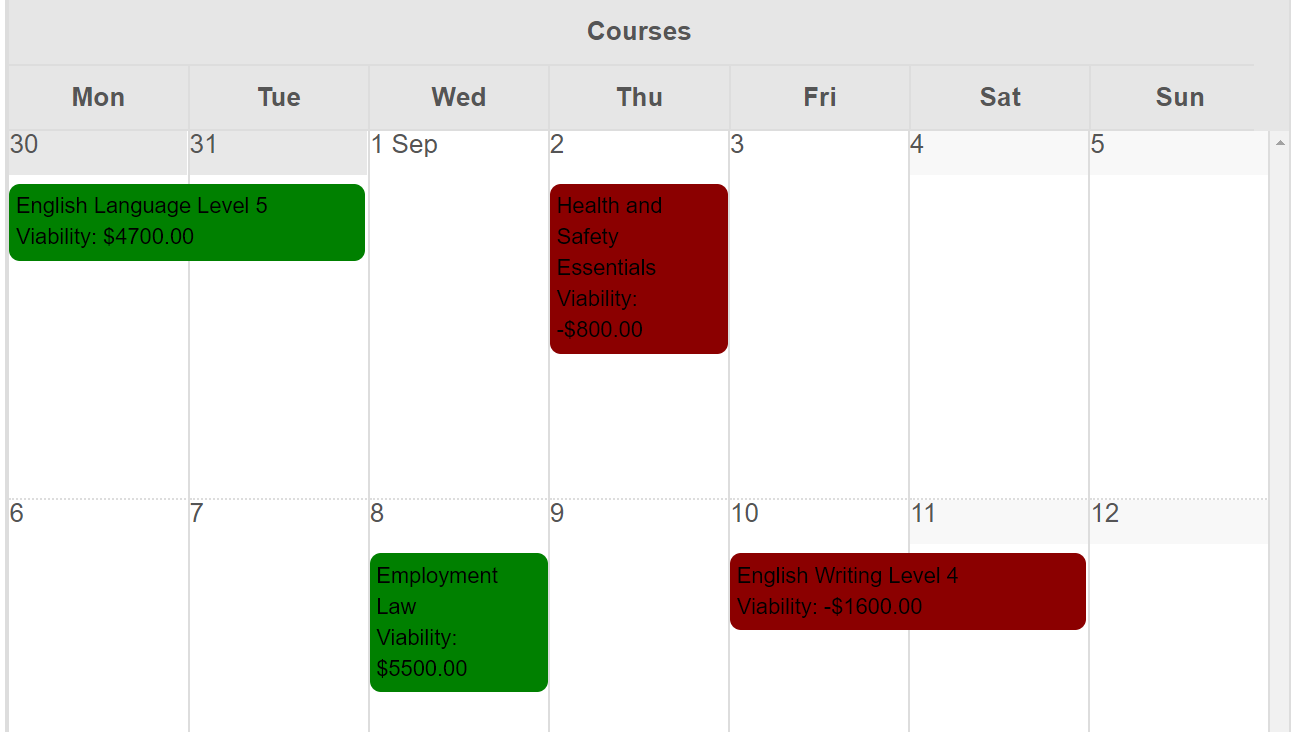 Document generation
Anyone who's involved in the delivery of training will attest to the paperwork. The endless paperwork. Whether it's a sign-in register, feedback form, workbook, exam, supplementary material or COVID questionnaires, it's hard to escape from. For sales teams, there's proposals, quotes, contracts and invoices to consider.
Thankfully, much of the above has transitioned online in recent years, and become automated in the process.
For example, when a sales stage is set to 'Negotiation", a quote can be automatically generated with stored figures and mail-merged contact info and send via email. When this progresses to 'Agreement', a contract can be sent in a similar fashion.
In terms of training material, sign-in registers with stored delegate information can be sent to the trainer automatically on the day, with course content delivered to the delegate within minutes of the course finishing.
By uploading relevant documents in advance and linking them to respective courses, this can offer huge time savings for administrators.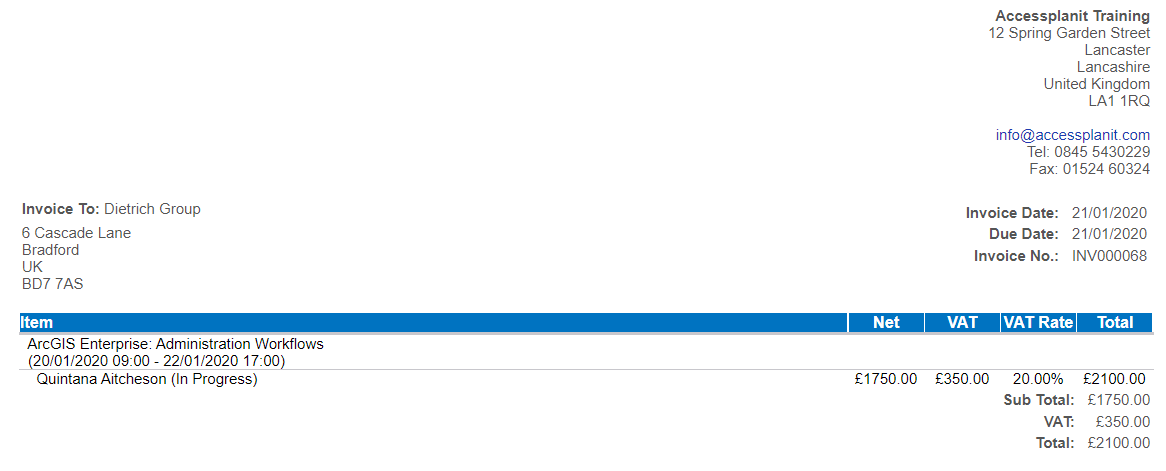 Award expirations
Staying on top of, and accurately maintaining delegate records is key both in order to help your customers remain compliant and to easily establish retraining opportunities.
When an award is close to expiry, workflows can send out an email or create a task, allowing appropriate time to reengage customers and arrange for recertification.
There's a number of great tools out there that can help you to track training and certification, however what's key is having the ability to create notifications around key dates and ultimately automate the process of maintaining certification.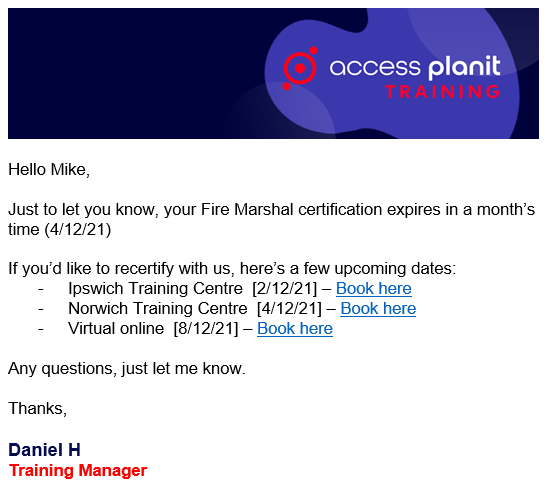 Within various training and learning management systems, delegates have access to their own portal where they can access awards and see upcoming expiries. From here, they can either recertify through eLearning directly in their portal or book on to a scheduled course.
Nurture workflows
Very few prospects that land on your website are going to be ready to buy there and then.
Most likely, they'll have a couple of other training providers in their crosshairs and they're seeing what's out there.
If you're lucky enough to capture the prospects details either through an enquiry, subscription or content download, a nurture is your opportunity to keep the lead hot until they're ready to buy. (If you're not, consider website remarketing using tracking cookies!)
A nurture workflow can be as simple or as comprehensive as you like - typically the sequence might involve 3-4 automated emails that end in a call (or direct CTA). In each step, the aim is to educate your prospect and increase brand awareness, using persona-driven content to intrigue and entice your target.
Conclusion
Workflows offer immense potential for training providers looking to lighten the administrative burden of training.
In order to achieve this, appropriate technology is required. Many CRM's have functionality that allows you to create workflows based around contact and account records and website actions, however fall short when it comes to course bookings, course communications, training evaluations and trainer confirmations.
If you're interested in seeing how training management software can help your training business to save time through automation, book a demo with one of our training management experts today.