3-Step Guide to Generating More Course Bookings Online
We've all experienced online booking, in fact it's second nature to most of us. Thankfully it's not the security problem-ridden process it once was and this is backed up by recent research showing that 77% of UK Internet users made a purchase online in 2015.
For training businesses this presents a huge opportunity. Booking courses online is now considered the 'norm'. There is nothing more frustrating, than going through an online process and completing a registration form to find out you will be contacted later. Delegates want to book and secure a course place right here, right now.
Organisations that offer online booking with payment options, instant confirmation and downloadable invoicing reap a host of benefits, not least reduced administration and improved customer service.
This short guide includes:
Benefits of providing online course booking
24-hour booking accessibility
It makes perfect sense. Individuals want the freedom to choose when to buy clothes, do their food shopping or book training and development programmes. Just as retailers have extended their opening hours by letting customers buy online at any time of the day, training companies are realising the benefit of being constantly 'open'.
Increased sales
Training companies are now able to be open 24/7 and are exposing their products and services to a worldwide audience.
Ensure the tool you choose is mobile responsive as mobile web use overtakes desktop use in popularity as demonstrated by the graph below.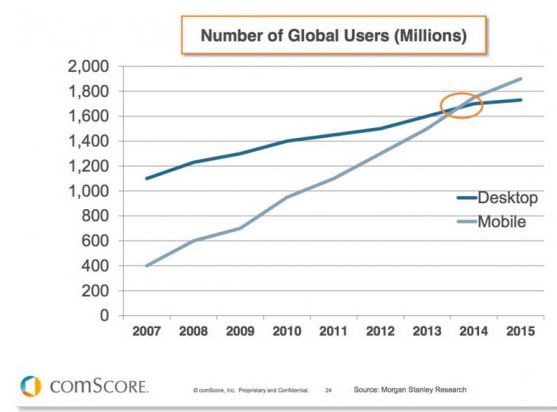 Real time means no double bookings
Increase effectiveness of the business by avoiding double course bookings. It's the age old challenge that faces any business involved in taking bookings. What happens when two people try to book delegates on at the same time?
Reduced overheads
Consider the administration savings. When bookings are taken via the telephone it involves booking staff and office administration to get forms and instructions sent out to the applicant.
Online booking removes this administration allowing the individual to book without any input from the training company (in essence, the customer does all the hard work for you). Confirmation, joining instructions, and invoices are issued automatically. This is a great example of creating efficiencies.
Get paid faster
Online booking systems can also take payments as part of the process. This means training companies can improve cash flow by reducing the need to invoice and track whether payments have been made. Simply, it can be part of the booking process. It's amazing how much time can be spent moving candidates to alternative course dates and issuing credit notes. The figure below shows the top 3 preferred online payment methods which is led by credit / debit card (49%). Providing customers with this option will greatly increase your chances of gaining new business.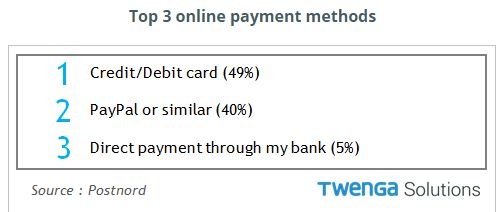 Exploring an online booking tool? What to look for
It is always prudent to be prepared when you make a change and introduce a new booking system (especially if integrated with your website) – there can be some initial challenges that it's worth pre-empting before the switch.
Date of launch
It's greatly advised to consider the most appropriate time to launch your new booking system. There is no denying that an online booking system will streamline processes and help build a far more effective training business, but the initial launch will need time and attention. If your business is seasonal, or has peaks, try and schedule the launch across a period of downtime.
You're an online store now
Take a look at Amazon, they work tirelessly to build traffic to their site and ensure that people buy when they land. Is your site geared up to be an online store? You might want to consider how much traffic you get to your site and how valuable it would be to increase that traffic. You may wish to offer discount codes or special promotions, so make sure the tool you choose can handle these simply and effectively.
Don't forget about existing clients – communicate effectively to ensure that they become familiar with your new booking system and how it will benefit them (speed of service, increased accessibility, to name just a few!). Why not offer a loyalty deal or discount?
How will you choose a payment provider?
This is the provider that will channel money from your clients to you. It's essential for online booking and there's lots of choice. It's also worth remembering that there is sound advice from forums on the internet.
Do your research, Paypal and Worldpay are popular choices though they all have different pricing structures. Be careful to choose the right one as it can easily become costly. Talk to your system provider for advice.
How will staff fill their spare time?
This is a great problem to have. Something our clients have said to us in the past is that they are less reliant on administrative tasks being carried out by employees once an online system is in place. Think about what else those individuals could be doing and how best they could spend their new found time – don't let it become downtime!
Maximising the benefits of your online booking tool
Welcome to the world of eCommerce. Your training company has launched itself into the global market with an online booking system. Sounds great, but the journey into the worldwide web dos not end here.
To ensure you get the very best from an online course booking system it's essential that you implement an online marketing strategy that ensures good quality traffic is flowing to the website at all times. In effect, it means that the shop can be open 24 hours a day, seven days a week.
To help training businesses to get one foot on the online marketing ladder, and help push the right levels of traffic through to the website, we have compiled this three-step guide:
Step 1: Think about where the traffic is going to come from
Too often social media platforms are presented as the silver bullet for online marketing. It simply isn't the case. However, the likes of Twitter, Facebook and LinkedIn can play an instrumental role when they are part of an overall strategy. In this first step you should see social media as a vehicle to collect potential customers and channel them towards your website.
Set up branded social media accounts on relevant platforms and fill it full of information of your offerings (don't forget to include keywords to show up in search engines). Think about the kind of targets you have for your training programmes, who do you want to come and book a place on your programme? Then using search functions to identify profiles in your target market.
So, if you offer leadership training and specialise in the hospitality sector, search for key companies you want to target in this sector or individuals based on job title or industry. Follow all relevant accounts, and track who follows you back / connects with you. You are building a community of followers – but now you need to grow that list by passing on some valuable information and resources. Think blog posts and training offers.
Other avenues to ensure that you've got covered include:
Paid adverisements (PPC)
Optimising your site to be found by search engines (SEO)
Referral marketing
Step 2: Kick off a content campaign
Well-written and valuable content is one of the key players in a results-driven online marketing plan, and is a great way to engage with target audience. The websites that attract large traffic numbers are the ones that give visitors a reason to come in the first place.
Think about topics for a weekly blog. Each time you write and post on your website, send a teaser with a shortened link (shorten at https://bitly.com/) out on your social media channels.
Ask them to comment and create an open environment for discussion If the content is relevant, interesting and engaging to your target market, the chances are it'll spark enough excitement for your 'social community' to click through and read the rest...which is conveniently placed on your website.
It's not just content that will spark that interest, great offers and promotions are likely to have a similar impact. Why not try a combination of both? The question now, is: How do I ensure website visitors book onto my courses?
Step 3: Converting visitors into customers
Getting clever with the way you link your pages is crucial to completing this simple but effective online marketing strategy to get the maximum value from your new online booking form. This is really about channeling traffic to your course booking page, so there needs to be two things in place:
A live 'click here' link for visitors to seamlessly land on your booking page from your content
A good reason for delegates to book onto the course
If your content is about sales training, for instance, and you have developed an interesting debate around the most effective ways to 'close' the sale – there should be outlets to the booking page throughout the piece. For example, the 'outro' at the end: If you would like to develop your sales skills with a proven trainer, click here and sign up for one of the last few places on our next one-day training programme. You can also work the links into the copy (note, we've italicised where the link should appear): "Good quality training providers will demonstrate this point in their training programmes, giving delegates ample opportunity to develop their skills…"
These three steps will give your training business a great start in online marketing and certainly help to develop a strategy that gets your new online booking system showing maximum value.
Getting it right takes time and the finer detail is always dependent on the market you are selling into. However, the fundamentals (social media, content and effective linking between pages) always remain the same.
Learn more about implementing a content marketing strategy in your training business with our free beginners guide.
You may also like:
How Can Content Marketing Benefit Your Training Company?
7 Reasons Why a CRM Will Boost Your Sales and Marketing Campaign
Sign up for a free demo!
See for yourself just how our training management system can help your business
Sign up now