Making Google Analytics Work For Your Training Business

Google Analytics is a highly effective tool that enables users to gather in-depth information about

their website visitors, where they come from and how they use your site. This helps us to then implement the changes and tweaks that we know will have the most impact.

This post explores how the functionality in Google Analytics can help to build your training business and increase course bookings.

They say that 90% of the world's data was created in the last two years. IBM estimates that we produce 2.5 exabytes of data every day (that's 2.5 billion gigabytes, by the way). There's no getting around it: We live in a data-driven world. But with so much information flying around, how can we be sure we're making use of the right sort of data, and even better, using it effectively?
Google Analytics For Your Training Business
When it comes to gaining insight in your business, there's no better (or commonly used) option than Google Analytics. Google Analytics is a powerful tool that breaks down data into easily analysed segments, and if you're not using it, you can bet that your competitors are.
This video explains in a little more detail how you can use the data Google Analytics provides to develop and grow your business.
Next, let's take a look at how the functionality in Google Analytics can help to build your training business and increase course bookings.
We'll be taking a look at:
Measuring your site's performance
Tracking where your visitors are coming from
A/B testing your changes
Additional resources for Google Analytics
Measure Your Site's Performance
In its most basic form, Google Analytics can tell you how many people are visiting your website, how they found you, which courses they're clicking on and how they generally navigate your site.
However, there's a lot more to Google Analytics than simply seeing how many hits your site's getting each day. It's a golden opportunity to assess the popularity (or unpopularity) of specific courses, so you can better manage what's working, what's not, and how best to give your training organisation a boost.
Understanding what's driving your traffic means you can better optimise your content to entice even more potential learners to the page. If you're noticing that you're racking up hits from sober publications like The Daily Telegraph, but your conversions are down, then it's worth looking at altering the content on your site to better reflect the likely demographics of those visitors.
The reverse is also true, meaning that if a page is performing poorly and receives few or no visitors, you can quickly see why that may be – compared to more successful course pages. If people aren't staying on your site, or you're seeing a very low scroll depth (how far down a page they get), you'll be able to rectify that by, for instance, shifting that course booking form to the top of the page where far more visitors are likely to see it.
Learn Where Your Visitors Are Coming From
Tag links with UTM Parameters; Urchin Traffic Monitor – or UTM – parameters present the opportunity to create custom campaigns by adding tags to a URL. And thankfully, Google Analytics' URL Builder offers a fairly simple way of doing this for you. A few basic details about your campaign – what website are you directing visitors to?
What you'll get once it's built is a familiar web address, with an additional set of text after it. For example:
www.accessplanit.com/demo/?utm_source=twitter
www.accessplanit.com/demo/?utm_source=facebook
Once you've generated your link via the URL Builder, you can then attach it to any asset you want, across text links, images and social media posts.
Let's say your training company is running a marketing campaign across three platforms, all designed to direct customers to a single landing page that offers a free course taster session. You've placed adverts on Facebook, sent out email communications and mentioned the offer on your blog.
Without Google Analytics, you have no real way of knowing which of these three methods is most effective, since they all lead to the same destination; all you know is that one specific page is getting more hits than others.
By tagging your links, Google Analytics will show which part of the campaign is driving the most traffic to the landing page. That way, you'll be able to filter web traffic results according to your current business goals and see at a glance which of your marketing strategies is gaining the most traction with your target audience. But the benefits of using UTM parameters doesn't stop there.
See What Works: A/B Test Everything
Once you've set up your UTM parameters, the fun really begins. If you're marketing your courses, or even your business as a whole, online, then the best advice is to test everything. And I mean everything, from your PPC ads to your marketing communications.
A/B testing isn't new, but with Google Analytics, you have a lot more control over the insights you'll gain. We'll take the basic principle UTM parameters (i.e. what's driving the most traffic in a multi-platform campaign), and apply it to two versions of the same format, each with their own unique URL tag.
Sending out a marketing email? Then split your database 50/50 and send a different email to each half. Or test the same email at different times of the day. Running a Facebook ad campaign? Use two visually distinct images. Then set yourself a realistic deadline to check back in on the campaign and study the results. They may surprise you!
So, rather than simply looking at what worked once and running with it forever and forever, you can constantly modify a campaign by comparing two sets of results. You'll be able to analyse why that particular campaign asset worked.
It's not a quick process – A/B testing requires constant tweaking. A slight change to the image here; a minor alteration to the copy there. For the best results, it's worth changing only one thing at a time, to ensure you get the fullest, most honest picture, about the traffic you're driving.
Each time, regardless of outcome, you learn a little more about what appeals to your target market, and how best to develop brand loyalty that keeps them coming back for more.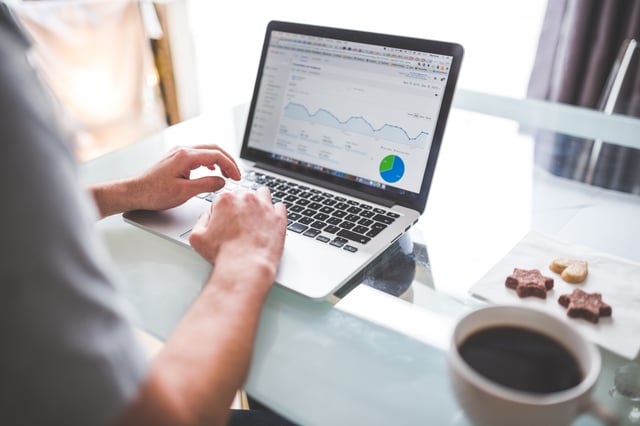 Additional Google Analytics Resources
We've rounded up some of our favourite Google Analytics resources to help you leverage the tools available as well as staying GDPR-compliant.
A Beginner's Guide to Google Analytics - this guide walks you through the key points you need to know when utilising Google Analytics including understanding reports, useful metrics and getting the most out of your dashboard.
The Small Business Guide to Google Analytics [Infographic] - I love this infographic because it sums up everything you need to know in one simple format from setting up an account to the different information you can gather.
Google Analytics Blog - this one stop shop offers all things Google Analytics so you can keep up with new features and updates.
GDPR: What it Means for Google Analytics - this post explores how the GDPR will impact your use of Google Analytics including the features Google has rolled out.
Google Analytics Academy - brought to you by Google so you know that it is going to be good! Courses range from beginner to advanced and give practical advice on how to master Google Analytics.
How Do accessplanit and Google Analytics Work Together?
The accessplanit training success platform features a Google Analytics module that effortlessly synchronises your course shopping basket with your Google Analytics account. For anyone offering services via an eCommerce site, the benefits are clear:
Easy set-up
Real-time analytics
A range of visitor data at your disposable, from location to demographics
Key marketing statistics
Track page views and visitor navigation
Discover popular courses and promote them effectively
Using Google Analytics to help market and grow your training business is all fairly straightforward – the tool is, by and large, incredibly user-friendly.
More than that, though, it's hugely indispensable for analysing your web traffic and setting measurable business objectives.
Our advanced training management software has been designed to seamlessly integrate with Google Analytics so you can make the most of the data you hold.

Book a free, no-obligation demo and discover how to start making your data work for you.
Other articles you may be interested in include: