4 Ways To Gain Internal Buy-In For Training Company Software

Did you know, the biggest factor in successfully implementing Training Company Software, or any type of new business software within a company, is the level of support given to the person or team trying to implement it?
If you're currently in the early stages of supplier review, or if you're considering updating your training company admin systems to an automated system, it may be time to consider ways to increase the level of internal buy-in.
If you think of any business-critical purchase or organizational change- there will be many different participants involved, from several departments, all of whom hold a diverse set of priorities. Consider each department within your training company and what their key goals or pain-points are.
Use the diagram below as a basis for mapping out who in your company will be involved/affected by your new software purchase.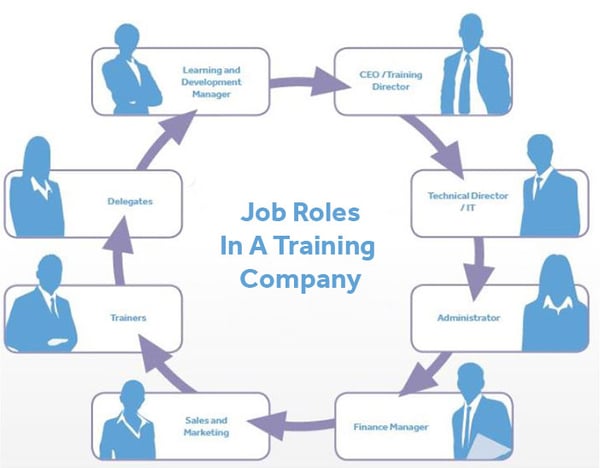 Gaining buy-in at all levels is essential for successful Training Company Software adoption. Although cost may be at the top of the list for some, it's not going to be a successful investment if the system users struggle to master the functionality or had no say in the process in the first place.
4 Ways To Increase The Likelihood Of Buy-In For Training Company Software
1. Ensure that individuals are assigned to be responsible for aligning business and cultural goals with the potential software supplier
Working together with the Training Company Software supplier to ensure that business goals are understood and met, will provide a smooth transition throughout the project. In addition, if the supplier is aware of your business culture, they will be able to act more appropriately, providing a much more tailored service.
2. Assign project sponsors at different levels, throughout the company
Assigning sponsors at different levels, across multiple departments of the company, means the message is being circulated more fluidly throughout the business, and is not just being received from the top-down.
Ensure these sponsors are fully committed to the project, and will help to encourage others to feel the same about your amazing new Training Company Software, that will save them tons of time!
3. Communicate progress throughout the organization and stakeholder groups effectively
Encourage knowledge sharing from the start. Some employees will embrace new Training Company Software, whilst others may struggle. You understand your team – empower knowledge champions to encourage a culture of knowledge sharing.
Fear of organizational change can cause distrust, so it's important to create an open and honest environment during this time. Creative internal communication can go a long way to build trust, and promote the many benefits the system will bring to both departments and the organization.
4. Once a business case has been completed, circulate it to all members of the team in order to demonstrate the value of Training Company Software
Highlight the existing pain-points across the organization, and one by one explain not only how these will be removed but the additional benefits the system will bring. Seeing the advantages in black and white will provide a real overview for employees, and what they should expect from your new Training Company Software.
How accessplanit Can Help You Gain Internal Buy-In
accessplanit offer a tried and tested solution. We understand how easy a project can go off track. And, with recent reports citing that software projects have a failure rate of between 37 – 75% it's never been more important to choose a software partner with a full support team and dedicated resources, to work with you every step of the way.
"Introducing a system which affects every process and every person involved, has required a cultural shift and a change of mind-set throughout our organization" Mary Cameron, University of West London, accessplanit customer
We recognize that the move to Training Company Software or a Learning Management System is a huge commitment within an organization, and that's why our support to customers never ends. accessplanit software comes complete with a Customer Success Manager and a UK-based technical telephone support team, available to all customers during office hours. The accessplanit helpdesk is now also open for East Coast American customers, until 3pm (EST time).
Download ROI gains throughout the organization eBook which explores the factors most important to each department to aid in gaining internal buy in.
Related Posts
- How To Relieve Your Admin Workload, With A Training Management System
- 4 Tell-Tale Signs That Your Training Business Has Outgrown Spreadsheets
- Course Admin Doesn't Have to Be a Drag (But Here's 8 Reasons Why It Is)