What a training management system is
A training management system (TMS) is software for training companies, that automates training-related tasks and helps organize and schedule courses, resources and attendees. The aim of a training management system is to bring all training operations together on one central platform; to allow your business to grow; your customers to be more satisfied, and your team to all row in the same direction without anything getting missed.
Functionality typically includes course and resource management; automated communications; delegate tracking; task management; reporting; document generation, and CRM.

What a training management system isn't
A training management system isn't a performance management system, HR platform or an assessment tool. While there are overlaps with a learning management system (LMS), the main difference is intent: a TMS is built for training managers; course administrators; customer service teams, and business owners. An LMS is built for learners, to facilitate front-end learning.
While learner experience is important, it is not the only factor that contributes to happy customers. Having streamlined back-end processes, supported by a training management system, means all of your operations run smoothly and nothing falls through the cracks.
56% of training professionals are yet to invest in automated training management technology
If you're one of these providers- this page will guide you through everything you need to know about training management systems and how training tools could benefit your organization.
Download our latest Training Industry Guide to discover more interesting stats on the training industry this year.
Grab a copy of the full report
Training Management System Model
What is a training management system? This model breaks down the key components of training management software.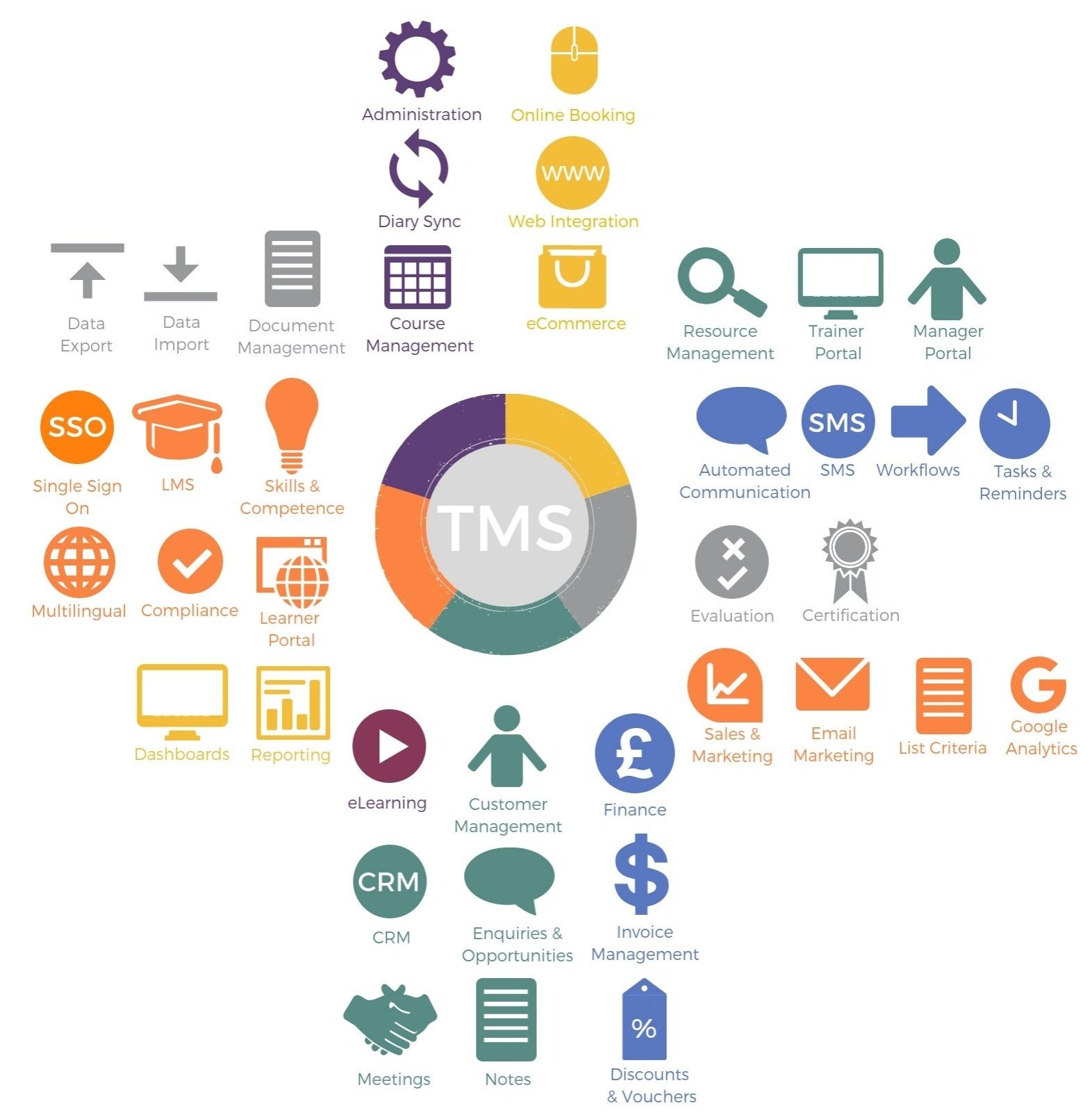 Download PDF
Popular blog posts
Check out the popular blog posts below for essential information around training automation.
Guides and eBooks
Free guides and eBooks for you to download.
Frequently Asked Questions
How do I know if I need a training management system?
When a business decides to invest in training process automation, there's a few triggers that we commonly see:
They want to grow their training business, but they've hit a ceiling
Issues caused through human error are increasing
Course inquiries are increasing but the workload is becoming unmanageable
Their admin team is close to burn out
It's difficult to look up training completion, monitor upcoming qualification renewals or track certification
They have their training information in lots of different systems which makes it difficult to gain a complete overview of the business
Increasing admin resource and workarounds are being used just to get the job done
Important tasks are slipping through the cracks and it is beginning to impact their service and reputation
They need to standardize the way their business or department operates
They want to improve customer satisfaction (reputation and referrals are recognized as the #1 marketing techniques by training professionals.)
Do any of these challenges sound familiar? In most businesses more than one of these triggers applies.
What is the difference between a training management system and a CRM?
A training management system is designed to manage course attendees' and customers' course bookings, from payment through to delivery whereas a CRM is designed to take care of the beginning of the customer journey including generating leads, tracking opportunities and managing the sales pipeline.
A CRM may also come back into play at the end of the journey in ways such as offering re-booking discounts or suggesting other courses that could be of interest. However, the CRM doesn't fill in the middle bit. This is where a training management system comes in. This table provides a side by side comparison of a training management system and CRM:
| | | |
| --- | --- | --- |
| Functionality | CRM | TMS |
| Lead management | ✅ | ✅ |
| Quote management | ✅ | ✅ |
| Opportunity management | ✅ | ✅ |
| Contact management | ✅ | ✅ |
| Sales forecasting | ✅ | |
| Sales targets | ✅ | |
| Notes & documents | ✅ | ✅ |
| Meetings tracking | ✅ | ✅ |
| Automated communications | ✅ | ✅ |
| Outlook integration | ✅ | ✅ |
| Workflows | ✅ | ✅ |
| Finance integration | ✅ | ✅ |
| Course management | | ✅ |
| Resource management | | ✅ |
| Online course booking | | ✅ |
| Website integration for course advertising | | ✅ |
| eCommerce | ✅ | ✅ |
| Text Messages | ✅ | ✅ |
| Tasks & Reminder | ✅ | ✅ |
| Compliance tracking | | ✅ |
| Certificate generation | | ✅ |
| Reporting | ✅ | ✅ |
| Email marketing | ✅ | ✅ |
| Invoicing & payment | ✅ | ✅ |
| Discounts & vouchers | ✅ | ✅ |
| Learner portals | | ✅ |
| Evaluations | | ✅ |
Ultimately, a CRM and TMS can work together in sync to harmonize the entire end-to-end customer experience but a CRM alone is not enough to manage a training business effectively.
Download CRM vs Training Management System eBook for more detail.
What makes a good or bad training management system?
This all depends on what you want. If you are looking for a simple event management tool or somewhere to host eLearning, then there are plenty of off-the-shelf systems on the market. However, if you're looking for a centralized system to manage and automate all of your training operations then you need to do a bit more digging.
If you are seriously considering course management software for your training business then there are some questions that you need to answer before you make a start:
How many courses do you run annually, and how many attendees register for each course?
Do you use a number of venues, hire external trainers and manage equipment?
Do you manage training for clients or are your courses public facing?
Is it easy for clients to make multiple bookings for a number of attendees?
Do you currently (or want to) offer discounts, special offers or promotions?
Do you manually book attendees and distribute invoices?
Is it easy for attendees to cancel, re-book and be added to waiting lists?
Do you lose track of how many pieces of communication you issue to delegates, trainers, venues or suppliers related to one course?
Do your trainers have mobile access to course delegate lists, sign in sheets and course documents?
Is reporting, such as tracking attendance and finances essential to your business?
Would document generation of course materials, such as sign in sheets; name badges; evaluation surveys, and certificates be useful?
Do your clients require visibility of their employee training?
Once you have defined your criteria then you have your own clear list for deciding whether a training management system is good or bad.
There are a lot of different terms around - what else is a training management system known as?
There's lots of terms that are used interchangeably to describe training management software including: training management system; course management software; software for training companies; training business software; training booking system; course administration system; training admin software; training CRM, and many more!
Can you recommend any resources?
Want to find out more about our training management system?
Book a free demo now