7 training industry lessons we've learnt in 2023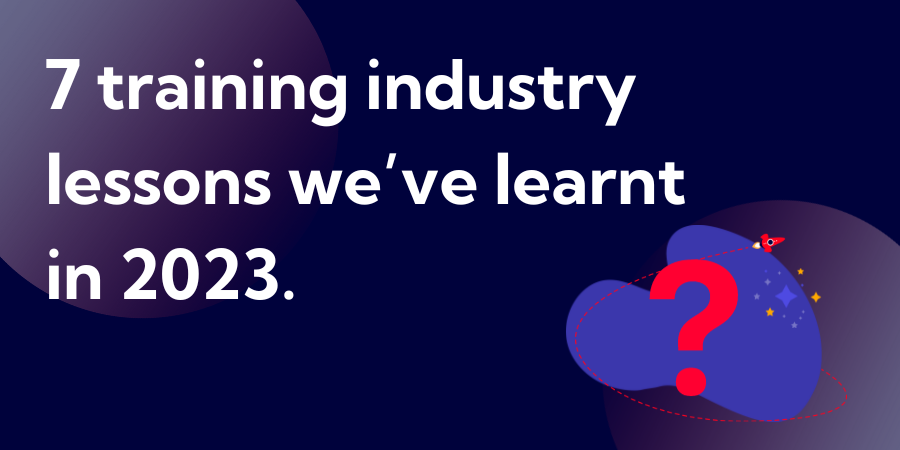 Our 2023 Training Industry Benchmark Report is a useful tool designed to support training providers through the changes, challenges and trends of the industry.
With the new year on the horizon, let's revisit some of the important lessons we learnt last year. From financial and administrative obstacles to learner behaviour, this year has taught us a lot about how to adjust to new trends.
In this guide, we will reflect on the 7 biggest lessons we've learnt from industry insights presented by this year's report as we gear up for 2024.
1. The greatest hurdle for training providers is increasing costs
Within the dynamic landscape of the training industry, one thing we've all learned over the past year is that surprises will often hit us where it hurts most - right in the budget. We've observed the spike in inflation over the past 18 months, as manifested by the tightening budgets both at home and work.
Unsurprisingly, rising costs have triumphed this year over increased competition, which was last year's greatest challenge facing training providers. Our annual survey reveals 47% of training providers cited this as one of the top challenges in 2023.
While grappling with this all too familiar foe of the past year, it is crucial to maintain the same high quality of training and delivery while also saving costs and managing tightened budgets.
The lesson
The answer? Reporting tools.
The ideal starting point to overcome this ever-present hurdle is to establish a firm grip on your financial data through detailed reporting, offering your training business the essential intelligence required to minimise the burden of rising costs.
This also gives you the opportunity to review the type of technology supporting your training programs, to see if there are more cost-effective alternatives, such as open-source learning platforms or cloud-based systems to trim expenses while upholding the quality of your service.
2. eLearning has won over both learners and training providers alike
We've all witnessed the increasing presence of digital media within the training industry in recent years, so it is no surprise that eLearning has grown in popularity with both learners and providers.
This presents a clear shift from 2022's findings, which cited in-house training and workshops being the most popular course types. That said, the demand for in-person training still exists, even though live virtual training has taken the lead with 46% of learners stating it as their preferred delivery of training.
This growth is only expected to continue over the next 12 months, as over 50% of training providers say that blended learning is a focus for them in 2024.
The lesson
So why not embrace the digital?
The ROI of virtual learning is becoming clearer than ever before. Using online methods of teaching not only helps to solve the dwindling bottom lines, but also the lack of resources which impacts 41% of training providers.
With online learning, expenses such as trainer costs, room hire, equipment and provision can all be eliminated. Further costs such as training administration can be circumvented through training management software for eLearning.
Training management software can streamline your learning environment and lower the costs associated with training. By accessing a personal Learner Portal, delegates can easily keep track of completed, upcoming, and required training.
Plus, you can easily track ROI with training management software's reporting tools, so you can get a clear picture of which parts of your business are winning with eLearning.
3. Students use search engines to find courses
Finding the right course can make all the difference for students looking to upskill. So, how are learners stumbling upon these golden opportunities? Our survey revealed that search engines are the most relied upon method of discovering short courses, as 23% of students use this method.
But that's not all - this statistic is closely followed by accreditation bodies, as 22% of students trust this method to find quality courses and 21% rely on recommendations and social media.
The lesson
Leverage your online platform by optimising your website with search engine optimisation (SEO) techniques to ensure students find your course.
Boost your website's visibility by:
Writing content that is unique and will stand the test of time
Reel in the right audience with keywords and long tail phrases
Incorporate keywords into your titles, meta-descriptions and headings
Establish authority in your field by creating a network of internal and external links
Keep it simple with straightforward URLs
4. Training providers rely on reputation and referrals
Despite the rise of social media popularity, word of mouth has protected its title as the top marketing method for training providers for the fourth year in a row, with 81% relying upon it. However, it's worth noting that social media closely follows this figure, with 78% of providers using various platforms to promote their courses.
With resources in short supply, training providers have felt the pinch, prompting them to reduce marketing expenditures. This is why paid ads and SEO lost some of their appeal in course promotion during 2023, given their expensive and expertise-dependent nature.
The lesson
Customer satisfaction is key.
The best way to ensure your customers become brand evangelists is by maintaining a high standard of training; when you provide top-notch training, the rest falls into place. 80% of training providers state that customer satisfaction is their preferred metric of success.
Everyone at the business contributes to an excellent customer experience, one which is:
Consistent - customers should confidently expect excellent and reliable service every time they interact with your brand
Well-documented - Employees should have a clear understanding of the strategy and have access to shared resources for clarification and training
Tried and tested - An outstanding customer experience is one that is constantly improved and perfected
5. Learners prefer on demand methods
Podcasts and webinars are the only two methods of teaching which are ranked higher in demand than they are offered.
According to this year's survey, self-paced online learning structured over many weeks is the top preference, as 31% of learners opted for this over other methods such as bitesize, intensive, or a combination of all. There was a surge in the popularity of downloadable content, with 53% of training providers embracing the method. The trend of accessible, downloadable content shows that convenience reigns supreme and learners appreciate the freedom to tailor their experience to their own pace.
The lesson
Make sure you properly meet learner preferences.
An effective future-proofing strategy revolves around flexibility, and this should be reflected in your training offering. Considering the majority of training providers cite customer satisfaction as central to their success, take this opportunity to provide learners with their preferences.
6. LinkedIn remains the most popular social media platform
LinkedIn remains the training industry's favourite platform, as training providers consistently use the social media for both business promotion and to stay informed. Our survey found that while there has been a slight dip in the platform as a marketing tool, a solid 83% of training providers still use it for course promotion.
On the other hand, there's been a 6% increase in LinkedIn's use as a tool to receive information and trends within the industry in 2023, bringing it to 89% of training providers using it for this purpose.
So, whether you're highlighting your training abilities or staying current with industry trends, LinkedIn is your go-to platform.
The lesson
For many in the training industry, the idea of 'building your personal brand' and having a strong online presence on social media platforms can be intimidating. However, it's a crucial step in building brand trust, expanding your professional network, and bringing a human touch to your business.
In recent years, social media channels have emerged as pivotal players in the awareness and consideration stages of the buyer's journey. Neglecting these free platforms for promoting, nurturing, educating, informing, and entertaining is a missed opportunity that sets back your business growth.
Here are some top tips for optimising your LinkedIn activity:
Maintain a regular posting schedule on personal and company pages

Interact with content posted by fellow professionals in your field

Join relevant LinkedIn groups that cater to your industry

Share industry-related content, not just specific to your business

Use video to increase engagement on your posts
7. Administrative pains are up
It's safe to say managing the nuts and bolts of a training business isn't getting any easier - administrative headaches have risen by 10% over the past year.
Processing course bookings and enquiries lead to these challenges, as 58% of training providers have reported this as their primary hurdle - that's nearly six out of ten training providers feeling the strain of handling the logistics of bookings and queries. Despite this, there has only been a slight increase of 2% this year in training providers who take the majority of their bookings online.
55% of training providers shared they struggle with getting the word out about their training. It's a race to capture the attention of prospective learners.
It was also reported that 50% struggle with the creation of course content. For these providers, it's a constant battle to strike the perfect balance between knowledge delivery and learner engagement.
Could this be caused by the constraints training providers are facing on both their time and resources when it comes to these administrative tasks?
The lesson
Automate.
Technology has become key to staying ahead of the game. Dedicated software, such as training management software, can be the lifeline for training providers drowning in admin work. Forget the chaos of disjointed systems; it's time to focus on what truly counts, like course promotion, customer connections, and new course development. Over 50% of training providers have made the decision to automate with training management software to simplify, save money, and expand their horizons.
Want to learn more about accessplanit?
If you're interested in learning more about using our powerful tools to grow your training business, why not book a demo with accessplanit today?
Forget about admin, automate your processes, and free up your time to focus on what matters to you and your training business.