The 4 Most Loved Areas Of A Training Management System
When it comes to searching for a new software solution for your training business, you'll often be met with an endless list of functionality from various suppliers, all of which has the potential to revolutionise your training company in some form. Particularly in the early stages, you'll more than likely come up with more questions than answers and find yourself sinking hours into comparison and review sites.
As a training provider, in reality it can take months to work your way through the capabilities and intricacies of different solutions in order to find the best fit for your business.
In this blog, we decided to ditch the detail and focus on the big hitters. From conversations with our customers, we've identified 4 key areas that people absolutely love about training management software, including:
Course & Resource Management
Dashboards & Reporting
Workflows
Integrations
Course & Resource Management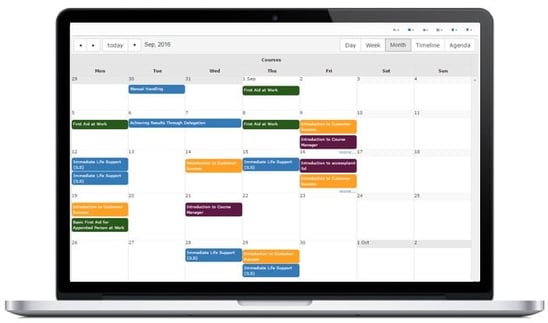 There is a lot to consider when running a training course.
The course calendar is a crucial component of any training management system that allows the administrator to pull all of this course information into one centralised, interactive panel.
New course dates can be scheduled, populated, and advertised within seconds from stored templates. You can view and edit course information from here, including linked resources, sent communications, delegate bookings, finance information and stored documentation.
The resource management tool allows you to handle everything you need for your course to go ahead, including trainers, venues, equipment for the day and travel. An easy-to-use calendar allows you to pull all of this information into one view, with the ability to attribute resources to a particular course, and determine the viability and profitability of each session.
Why customers love it:
"I particularly like the calendar and how it can give you all the information you need by just hovering over the course you are interested in, this saves a lot of time and means that I can relay the information to customers more efficiently."
"Everything is in one place, I am able to see all of our sites calendars which is invaluable when looking for resource availability"
Dashboards & Reporting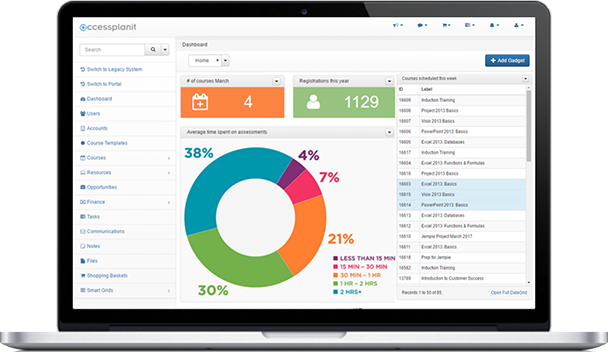 In order to assess what's working and what isn't, it's important to make a habit of analysing data and drilling down into your training business performance and key financials.
Whether you're a director looking to gain a quick snapshot of daily performance, a salesman measuring your team's KPI's, a finance manager running an in-depth report, or an administrator looking at upcoming tasks; there's functionality to support each user.
A training management system like accessplanit allows ease of reporting through 3 core areas of functionality:
Dashboard: This starts as a blank canvas and allows you to create key stats and datagrids personal to each user or job role. It's mobile friendly and updated in real time, so you can stay in the know, on the go!
Report Writer: This in-depth reporting tool allows you to pull information from any data source within the platform. This is particularly useful for weekly financial reports, trainer usage information and delegate feedback assessment!
Datagrids: This is one our customers favourites. Datagrids can be found system wide, and are used to compartmentalise important information in a digestible way, allowing you filter the information you need and bring it to the forefront when required.
Why customers love it:
"I like the systems versatile dashboard in which each administrator can use personalise their dashboard and make it job specific"

"Datagrids and filters used throughout the system make for easy viewing and reporting."

"The reporting aspects alone are worth the money."
Workflows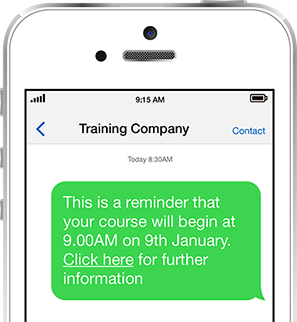 Workflows are a set of rules that allows a process to occur when pre-defined criteria has been met. Without any shadow of a doubt, workflows offer the biggest time saving opportunity of all. When set up well, they become the heartbeat of your training company, disseminating information and creating tasks autonomously. Prime examples on how customers use workflows within accessplanit include:
'IF a trainer cancels last minute THEN create an urgent task to arrange another trainer'
'IF a course has finished AND feedback has been received from Delegate A THEN send out their certificate'
or even...
'IF a delegate books on to a course THEN send joining instructions AND send a text 1 day before course start date'
Some of our larger clients have literally hundreds of workflows set up all with a different purpose or circumstance. This means thousands of automated tasks being created and emails being sent without any human intervention. Cool, right?
Why customers love it:
"To have the admin tasks done as a workflow is great and enables me to be more customer focused."
"Workflows has been a great tool and also the ability to send out ecampaigns to users."
Integrations
Many training providers have realised it's both inefficient and costly to run disparate systems side by side, relying on re-keying data and import/export tools in order to connect the dots.
It's rare nowadays to come across a software solution that doesn't offer some form of integration, whether it be a native one or simply an API that allows basic information to be transferred across.
Training management software is designed to be an all encompassing system that presents a single source of truth and manages the core end-to-end functional requirements for a training business to operate. That said, if providers would like to link up external tools, accessplanit offer a number of integrations which help to keep everything under one roof. Some of the most popular include Google Analytics, Finance integrations and Outlook Exchange.
Come and learn more about our integrations.

Why customers love it:
"The team have built exactly what we've asked for so accessplanit will allow us to move away from 3 different systems we currently use and use one streamlined provider with everything all in the same place which is not only far more convenient but will also save so much time!"
"I love that since switching to accessplanit, there is no need to go to 5 or 6 other programs/documents to get a training booking done. Much better to have everything in one place."
What is your favourite area of a training management system? Let us know in the comments!
All the quotes referenced above can be viewed on our Capterra review site.

Related Posts
- The Ultimate Guide To Training Management Software
- 4 Tell-Tale Signs That Your Training Business Has Outgrown Spreadsheets
- Course Admin Doesn't Have to Be a Drag (But Here's 8 Reasons Why It Is)