LMS vs CRM vs TMS: Which Management System Should I Choose For Training?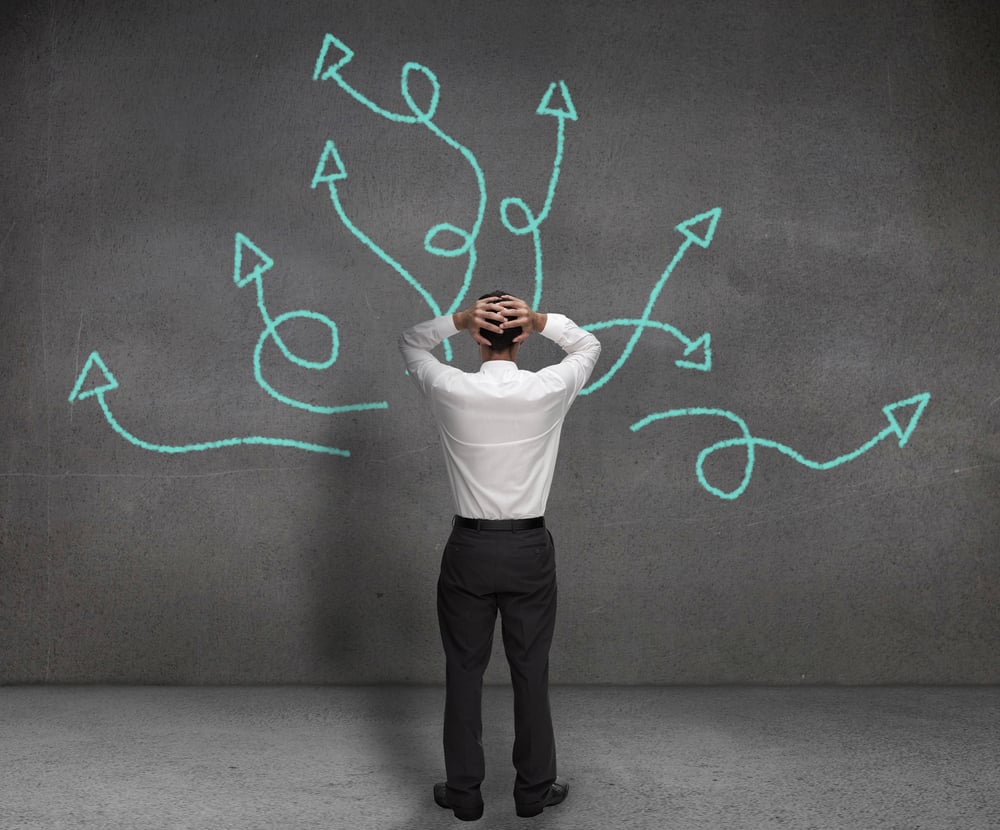 In the modern world, there are literally hundreds of business systems and technologies that have the potential to help your training company. If you're unfamiliar with any of the terms in the title of the blog, it's worth having a quick revision session on business system acronyms before continuing!
This blog aims to outline the key differences between an LMS, CRM & TMS to help you find a system that best suits your training business. So if you're sat there wondering, 'what is the difference between a TMS and an LMS?' - you've come to the right place!
The Big Picture
A learning management system (LMS) can track every step of the training journey, giving management an insight into the real success levels of corporate training. Alternatively, a CRM helps you manage your relationships with existing and potential customers, which provides a fully integrated solution from the sales cycle right through to customer management. A TMS typically will house the functionality of both an LMS and CRM mentioned above, however has a primary objective of reducing paper based administration. It's an operational-focused tool that aims to streamline business processes.
So what are the functionalities and benefits of each system?
Expanding a training business without the help of technology or software can be almost impossible. Competition is fierce and the internet provides fast access for prospective clients to conduct initial research for a suitable supplier, make enquiries, and in many cases make the booking. Contact data is your lifeblood to new and repeat business. Every existing customer, contact or enquiry is potential business and as such should be recorded accurately and referenced in such a way that details can be recovered and accessed easily to promote services to suit their individual needs. This is where a customer relationship management system is extremely useful.
Here's how a Customer Relationship Management tool works in practice…
Your CRM will help you record client information, track leads and prospects and store information against individuals and companies. All contacts, whether initiating from an enquiry or from a meeting at an exhibition or conference, can be logged together with full details of their business and future potential recorded. Reminders to make future contact can then be scheduled and automated. This simplifies your administration process and allows you to increase your overall business efficiencies. Other benefits of a CRM include:
No data duplication of contact information, communications, documents or order history
All emails notification, reminders and confirmations are recorded in one place
Segment existing customers or import mailing lists to target with relevant courses, loyalty discounts and amazing offers
Create engaging email using customised templates for campaign messaging and branding
When to choose a CRM
If budget is tight, and you're struggling to stay on top of interactions with both new and exisiting clients, consider a CRM. A CRM is typically the go-to for smaller training businesses that are looking to bring everything together in one place. If information is falling through the cracks and customers are receiving an inconsistent service, it could be the perfect solution.
There's a number of CRM's to choose from, and of the 3 solutions a CRM tends to be the most affordable, particularly for entry-level systems.
So, what about a Learning Management System?
A learning management system provides a virtual environment that users can log in to and get access to a range of online training courses. An LMS tends to focus on three key areas:
Bespoke course design and creation
Course information - including uploading content, ensuring availability of course material, student enrolment
Tracking training progress – ease of communication with learners and effective tools to evaluate learner progress
When to choose an LMS
If your aim is to improve and track the learning experience in your organisation, there is no better solution than an LMS. It specialises in the ability to identify skill gaps, create an engaging and exciting learner journey, aids compliance and offers full oversight to management. It has benefits for both internal and external training, however is most heavily used for large, internal training departments.
And a Training Management System?
A training management system (TMS) is a tool that focuses on automating the administrative side of training operations. Utilised by commercial training businesses, internal L&D departments and training arms of larger organisations, a TMS is most effective when supporting instructor-led training organisations. The core function of a TMS is designed to promote business growth by saving time and money through automation. A training management system can help you with the following:
Check out the model below for a complete overview of the capabilities of a TMS.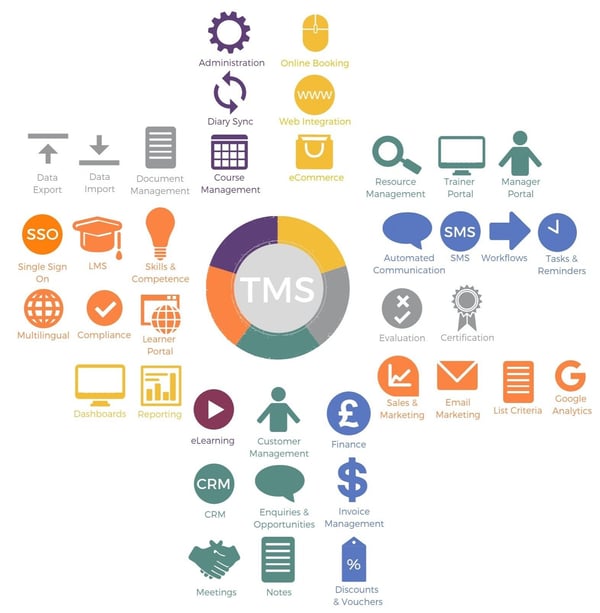 Further reading: What is a Training Management System?
When to choose an TMS
A TMS is best placed if you're a commercial training department looking to bring everything under one roof. It's an end-to-end solution, meaning it can cover the bases of a number of systems you already use. It's most effective in busy training departments, where staff spend a great deal of time on time consuming admin such as sending communications, scheduling courses and processing bookings.
Which system is the ideal tool for training?
Without doubt a CRM is powerful and a necessary tool to manage relationships and expand business. It is a great tool for managing pipelines, enquiries and capturing all relevant information, but the benefits are limited. Typically, unless you're open to using work-arounds, there is no specific functionality for course management & scheduling, eCommerce, resource management, online learning, evaluation tools and customised portals; all of which are crucial to training success.
An LMS should be your go-to solution if you're looking to track learner progress typically through an intuitive suite of engaging online content. It specialises in the ability to deliver ROI to corporate training departments and ensure compliance. Things such as learner collaboration, gamification and bespoke course design are all specific to an LMS. If it's solely eLearning that you're offering, there is simply no better or more appropriate option than an LMS.
Our pick of the bunch however is a training management system (TMS). It's an all-encompassing solution that houses functionality to support all aspects of both a commercial training business or internal training department. From eCommerce to automated communications and from online learning to detailed reporting, for instructor-led providers there is simply no better solution in terms of business impact. With a built in CRM and LMS, a TMS doesn't rely on integrations from other platforms to cover all bases. It's already there.
Download a PDF of the Training Management System model.
Related Posts
- The Ultimate Guide To Training Management Software in 2020
- 4 Tell-Tale Signs That Your Training Business Has Outgrown Spreadsheets
- Course Admin Doesn't Have to Be a Drag (But Here's 8 Reasons Why It Is)