Buying An Automated System: Your Questions Answered

Throughout our years' in the software purchasing arena we have been asked many different questions and not surprisingly also many of the same. The process of purchasing software is fairly standard across the board but we also appreciate that each organisation has specific areas of prioritisation. Using this experience we have answered a range of frequently asked questions to arm you during your search and selection of an automated solution.
Where do you start when looking for an automated system? What kind of questions do you ask suppliers? Who do you involve in the buying process?
Compiled using extensive industry experience, our latest eBook provides you with 5 key sections and 10 jam packed pages full of frequently asked questions and answers.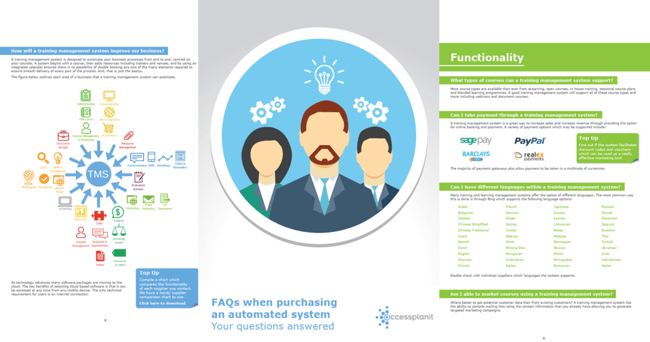 5 areas of frequently asked questions
The eBook also includes top tips throughout to ensure that you get the information that you require and a section on those questions that you may forget to ask suppliers but are incredibly important. Areas covered include:
The early stages of the buying process
How do I know if I need a system?
What type of software system do I need?
How do I know if it is time to replace my current system?
Who do I need to involve in the buying process?
What are the main steps involved when looking for a system?
Exploring training management software functionality
What types of courses can a training management system support?
Can I take payment and generate invoices?
Can I have different languages within training management software?
Am I able to market courses using a training administration system?
Delving into the technical details
How do I integrate my training tool with other systems?

What is the difference between API and iFrame website integration?

How secure is my data?

How do I migrate my existing data across into a new system?
After purchase essentials
What level of support will I receive?
How long will it take to implement a system?
When will I see value?
What you may forget to ask the supplier
Who else uses your system?
When can I have the system in place by?
What type of accreditations should I look for?
How do I measure credibility?
Download it here
Download FAQs When Purchasing An Automated System by following this link and don't forget to let us know your thoughts!
Other articles you might find interesting include:
4 Questions To Ask Before Investing In Automated Systems
Can Automation Really Save Your Business 50% Admin Time?