3 Proven Benefits Of Training Automation For Trainers

When considering a new business system, it is crucial that all individuals and departments benefit from this change. Resistance is inevitable so it is incredibly important to understand the key priorities of each individual throughout an organisation. Fifth in the series, this blog focuses on the benefits to course trainers. Other posts have explored the advantages to Course Delegates, the Finance Team and even the Sales & Marketing Team.
This blog focuses on the benefits of a training management solution to course trainers including remote access to course materials and two-way diary scheduling.
Trainers are one of the most crucial stakeholders in delivering the training experience. If a trainer turns up to the wrong venue at the wrong time, the opportunity to satisfy and impress course delegates goes straight out of the window.
Automating course administration allows trainers to easily manage their schedules and access the most up to date information to prevent any training disasters. The system also simplifies the provision of information to trainers through automated reminders, notifications and updates. This communication can be automatically sent via email or SMS to reach the trainers effortlessly.
Our ROI gains throughout the organisation eBook outlines the many benefits that a training management system provides for all business departments including the key areas below. Read on to find out more about the key benefits to your course trainers.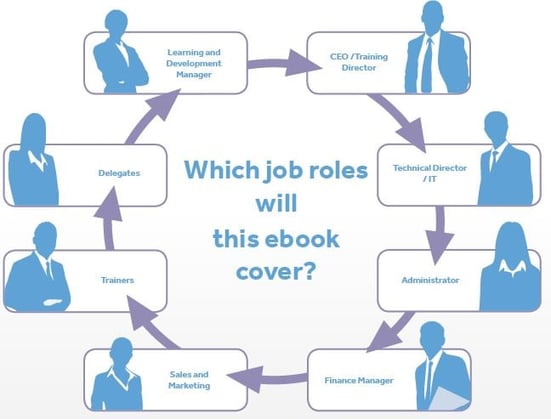 What are the benefits of automation for training?
Eliminate double bookings
Trainers can take charge of their own schedule, by accepting or declining bookings
Remote access to course materials for trainers
Eliminate double booking of resources
Automated training calendars make fewer mistakes. It is undeniable. With manual, time-consuming, repetitive administration tasks, companies run the risk of not only human mistakes but also duplication errors. Many training companies face disasters such as double-booking a venue or trainer.
With a training management system, trainers can manage and schedule resources including classrooms, course materials and equipment. By automating course administration, you can reduce duplication errors and allows trainers to view resource availability at a glance. This kind of business visibility is crucial in organising and administering numerous training courses and can improve a course delegates overall training experience by eliminating possible disruptions.
Easily accept or decline training
Double booking a trainer is another risk associated with manual administration tasks. When a trainer is supposed to be in two places at once, it can be difficult to find a replacement at such short notice. If course delegates are left without a trainer, it will almost certainly leave them completely dissatisfied. This could ruin their experience with your company and initiate a domino effect of issuing refunds, switching courses and negative word of mouth.
An automated system allows the trainer to access real time course information and also manage their own availability both on the system and through Outlook. This is achieved through a two-way diary scheduling tool which means that they will be able to organise their training calendar and easily view when they are available or busy. Trainers can easily accept or decline training based on their convenience and eliminate the risk of double booking.
Remote access to course materials
Preparation is key especially in the training world. A training management system can allow trainers remote access to course materials whenever they need to view them. This means that they can be better prepared for their training session and it can help in delivering consistent training over time.
Additionally, with pre-course questionnaires, trainers can gain a better understanding of what the delegate hopes to achieve, their current level of understanding and any other areas they might want to cover. This allows the trainer to plan ahead and tailor their course delivery where necessary. Ultimately, this helps in improving the course delegate experience and ensuring excellent training standards.
If you would like to find out more about the key benefits of a training management system to trainers, download the ROI gains throughout the organisation eBook below. In the eBook, you can also explore the benefits to other departments including the Finance Team, HR Team and the CEO.
Other related articles include:
How Can Training Automation Benefit Course Delegates?
How Can Automating Processes Benefit Your HR Team?
How Can Automation Benefit My Sales & Marketing Team?