What is a Training Management System?
A training management system (TMS) is all-in-one software that automates administrative duties and helps organise and schedule courses, resources and trainers. Functions typically include collating business reports, awarding certificates, generating invoices and sending marketing communications. A TMS can be used for all course delivery types and enables training providers to take greater control over their entire operation.
What is a training management system?
Essentially, then, a dedicated training management system means an end to all those time-consuming jobs that slow you down: No more duplicating or losing data, no more switching between multiple systems. Once implemented, you focus on delivering an outstanding customer journey and courses that are most profitable. You're also able to increase online course bookings with an e-commerce platform that integrates with your website.
But after a little research, you stumble across another bit of kit: The learning management system (LMS). So...
What's the difference between a training management system and a learning management system?
There are overlaps in what each system can do, but the main difference between a training management system and a learning management system is intent: A training management system handles your back-office admin through automation. A learning management system offers an online platform to manage your eLearning content and track your learner's progress. In other words, a TMS is built for course administrators; an LMS is built for your delegates.
In essence, a training management system handles the 'business side'. Think bookings and payment, invoicing, reporting on key business data, tracking the sales pipeline and promoting your courses.
What are training management system features?
Optional extras vary between software suppliers, but the core features of any good TMS include:
Course scheduling and resource management
Automated admin and communications
Online course booking and payment
Data-driven business intelligence and reports
Integration with existing financial software
Calendar synchronisation
Digital surveys and happy sheets
However, it's important to discuss your options with your training software supplier. They should understand how you intend to use the system, what you wish to achieve, and your long-term business goals. That's because modern training management systems (you know, like ours) employ a modular design, so you won't be paying out for features you and your team will never use.
How can training software benefit my business?
A cloud-based training management system acts as a single, unified hub across your organisation that can be accessed on any kind of device, so long as you have an internet connection. Since these automated systems are specifically designed for training professionals, you'll gain real-world benefits such as:
Time savings
Improved customer experience
No data duplication or double-bookings
Increase course bookings
Send remarketing emails that nurture your customers and encourage repeat business
End reliance on spreadsheets or software not designed for training professionals
An end to confusing stacked systems
Streamlined operational costs
Increased revenue
Manage training on-the-go
Obtain accurate data and insights into your business
Track delegate progress
Automatically generate invoices, course documents and awards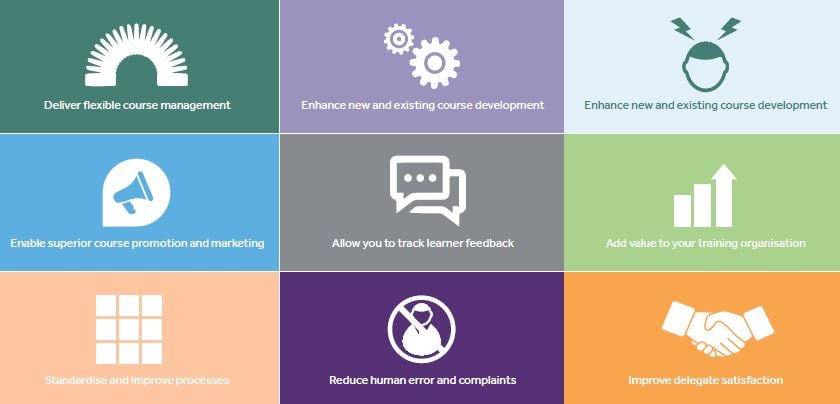 How will accessplanit's training course management system help me?
The accessplanit training success platform is an intuitive, award-winning course management system developed to meet the actual needs of training professionals. That's why, when we developed the software, 50% of all new features were suggested by training providers.
You'll also find our system perfectly integrates with common peripherals and software, such as Sage, Outlook and Google Analytics, which enable you to, for instance, automate sending invoices, sync your system with a trainer's calendar to see when they're available, or get insights into how people are finding and using your website.
We'll also offer a clear implementation plan that will have you up and running in just 90 days, as well as full training on the system and on-going support from our first-class customer helpdesk. And by choosing accessplanit, you'll also be partnering with an ISO 27001-certified company, ensuring true data security that conforms to a rigorous international framework (pretty handy with the upcoming introduction of the General Data Protection Regulations).
Your accessplanit software guarantees unparalleled ease of use, so if training management software is on your agenda this year, grab yourself a free one-to-one demo tailored to your organisation.
The only question left is: How will your business benefit from the smart training management system?
You may also like...
Originally published 25th January 2018, updated 19th October 2018
Sign up for a free demo!
See for yourself just how our training management system can help your business
Sign up now