accessplanit Named Rising Star in the Summer 2019 Customer Success Report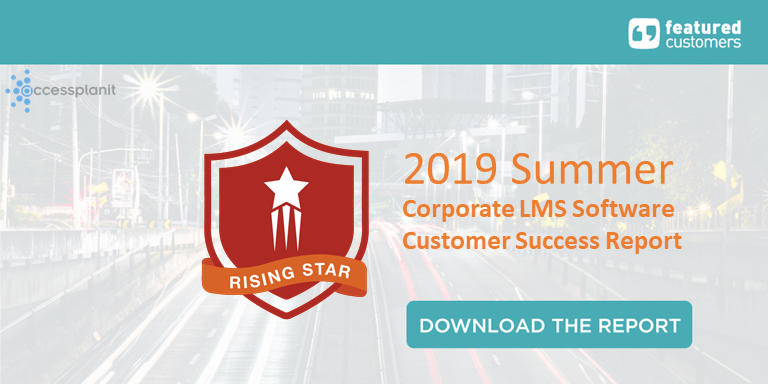 accessplanit has once again, been named a Rising Star in the Corporate LMS Software category for the Summer 2019 Customer Success Report, published by FeaturedCustomers.
FeaturedCustomers evaluated all the potential Corporate LMS Software companies on its platform for possible inclusion in the report. Only 40 companies meet the criteria needed, to be included in the Summer 2019 Corporate LMS Software Customer Success Report. accessplanit received a Rising Star award in the Customer Success category.
What A Rising Star Is, And Why We Got The Award
A 'Rising Star' company has been around long enough to establish momentum and a good amount of positive customer references, along with a growing social presence. Highly rated by customers, accessplanit consistently publishes high quality vendor-produced customer success content and curates quality customer reviews from multiple third-party sites.
About FeaturedCustomers
FeaturedCustomers is the leading customer success content marketing platform for B2B business software & services, helping potential B2B buyers make informed purchasing decisions through vendor validated customer success content such as customer testimonials, success stories, case studies, and customer videos.
Every day their platform helps influence the purchasing decisions of thousands of B2B buyers in the final stages of their buying cycle - from Fortune 500 companies to SMB's. For more information, visit their website.
About The Customer Success Report
The Customer Success Report is based on the curation of authenticated case studies; testimonials, and reviews from across the web; telling a complete story of vendors in the Corporate LMS Software space, through real customer experiences.
Scores are determined by multiple factors, including: number of total reviews; customer success content; social media presence, and vendor momentum, based on web traffic and search trends.
The full report, along with accessplanit's profile, which includes detailed product scorecards is available for you to download here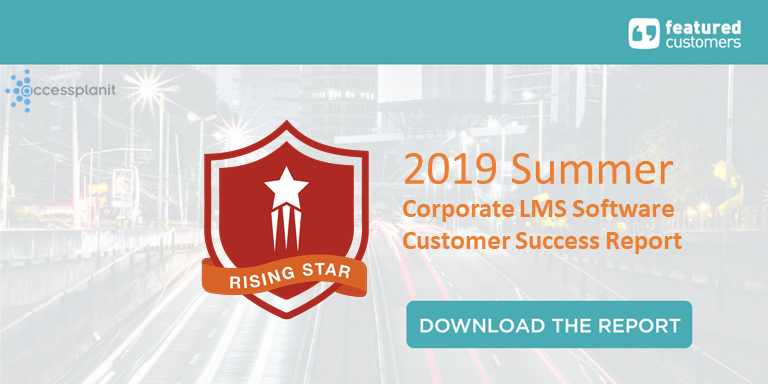 Customer Success And accessplanit:
"Customer Success encompasses everything that we do here at accessplanit. Each and every decision we make is made with our customers in-mind. We are honored to be recognized once again, by FeaturedCustomers." Dave Evans, Managing Director at accessplanit
Every decision we make at accessplanit; from which features to develop in our training management software, to introducing new customer support initiatives - is completely customer-centric.
Every customer receives the same level of support, whether they deliver 100s or 1000s of courses. We have a Proven Process to guide customers to success – which we have implemented for hundreds of training companies and departments.
Don't just take our word for it though! Here's what some of our customers have to say about working with accessplanit:
Also, take a look at our latest customer case-study, starring Management Concepts
Discover fascinating facts, and benchmark your training company against the industry standard: Download the 2019 Training Industry Survey for free.
Other Useful Resources
accessplanit Wins Premium Usability Award
What You Missed At Everest Conference 2019
Training Industry Benchmark Report 2019 - How Do You Measure Up?