The Data You Need To Run a Successful Training Team

At Everest Conference 2018, our very own Matthew Smalley delivered a presentation on the importance of data for training companies and provided us with an insight into the impact it can have on businesses. With today's technology it is possible to analyse data and get answers from it almost immediately, providing training teams with the essential information they need to make critical business decisions.
The session explored some of the tools from our online training software that enable training teams to pull the information they need and also shared insights into what information is crucial for a successful training team. Read on to find out:
The critical information you need to run a successful training team
How Report Writer presents accurate and up-to-date data for business decision making


How Dashboards are personalised to provide role specific tasks and KPIs

How Datagrids provide the fundamental information you need at a glance
"Data allows you to track that business performance day in day out, week in week out, all the way through to monthly and quarterly."
The information you need to run a successful training team
Smalley began by highlighting the practicality of having useful data on-hand and how the accuracy of that data can allow you to make better informed decisions on a regular basis.
In our recent Training Industry Survey, we found that the #1 challenge for training companies was a lack of resource.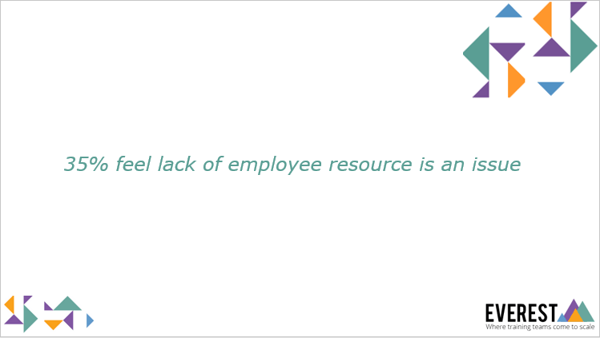 Having accurate and regular reports are key to determining areas of efficiency. And, having the ability to collate data quickly also provides a reduction in resource time. In the session, Customer Success Manager, Matt gave us an insight into the information most important to training companies.
What training teams want to know
Which courses are most popular?
Where are customers coming from (location & industry)?
Which customers are booking onto which courses and do they attend?
Which departments are not meeting their quotas?
Does the above:
Drive your business strategy?
Justify resource use & calculate resource spend
Another key point made in the session was that by relying on reporting tools that are part of your day to day training management software, time-consuming tasks like end of month reports can be replaced by reliable analytics that present themselves in an easily digestible form, free from human error.
Report Writer: Accurate and up-to-date data for business decision making
accessplanit's Report Writer, Smalley explains, "Can make relationships between the data and allow you to report on complex fields in the system". Using advanced features, the Report Writer provides regular scheduled reports making it easy to present precise monthly and quarterly figures to your team and management as and when required.
How can I use the Report Writer for reporting?
Income reports
Course date statistics
Customer attendee breakdown
Popular courses
Resource viability & utilisation
Delegate statistics
The resources taken up by inputting data manually on Excel spreadsheets can be eradicated by using reliable tools that do all the monotonous work for you. The data can then be converted visually into graphs making it easy to present and consume for other members of your team.
Dashboards: P
rovide role specific overviews of key KPIs and metrics
The accessplanit dashboard provides users with a customised homepage featuring specific tasks and key KPI's. The tailor-made nature of the dashboard means that each individual is presented different information based on their priorities and an overview of the key areas specific to their role.
Dashboards overview:
Provide 'at-a-glance' headline information
Dashboards can be customised to suit all roles within a business
Individual to each user
Looks great (I'm not kidding)
"The Dashboard contains everything you need to see at a glance."
Dashboards can be used as a central reporting tool and if your role encompasses several functions within the business it is possible to set up multiple Dashboards and switch between them through a handy drop-down box.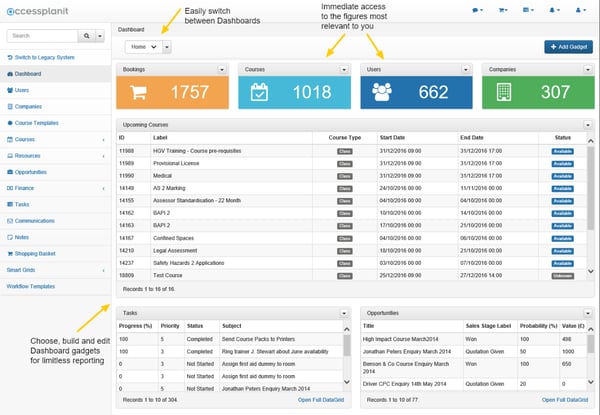 To find out more about Dashboards, click here.
Datagrids: T
he fundamental information you need at a glance
Datagrids provide the foundation of the accessplanit training management software, a reliable and accurate data retention store that is consistent across the board. From page to page, Datagrids are fully customisable, allowing you filter the information you need and bring it to the forefront when required.
How can I use Datagrids for reporting?
Outstanding invoices per account
Future courses with a low fill rate
Outstanding tasks

Active shopping baskets
Add, edit and universal search functionality make the Datagrids extremely easy to navigate and explore. You can also export your data for key contacts or to manipulate further. Advanced features provide additional functionality in the form of paginations that allow you to limit or expand results, as well as badges which allow you isolate individual pieces of data for further analysis.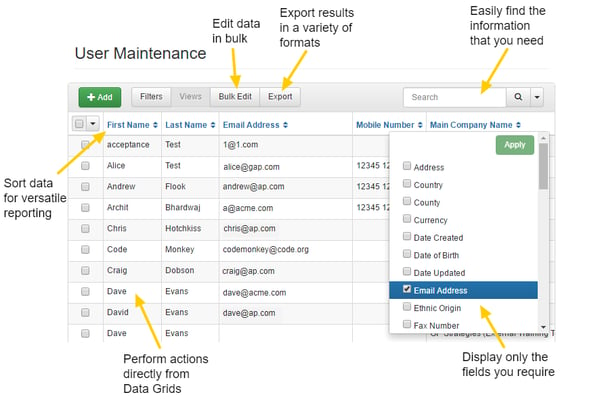 Click here to find out more about Datagrids.
Software for training companies that utilises the vast amount of user and employee generated data to drive both strategy and performance are becoming an essential component to the success of training teams.
The tools detailed in this post give an indication as to how training solutions can form the backbone of your company. By stripping away unnecessary tasks, using data analytics to drive performance and providing more resources in other areas training solutions are capable of having a hugely positive effect on your business.
Watch Information Essentials for a Successful Training Team at Everest Conference 2018
Want to learn more about the reporting tools available in accessplanit training management software? Book a one-to-one demo today.

Related Posts Include: