Increasing training business revenue through additional Products & Services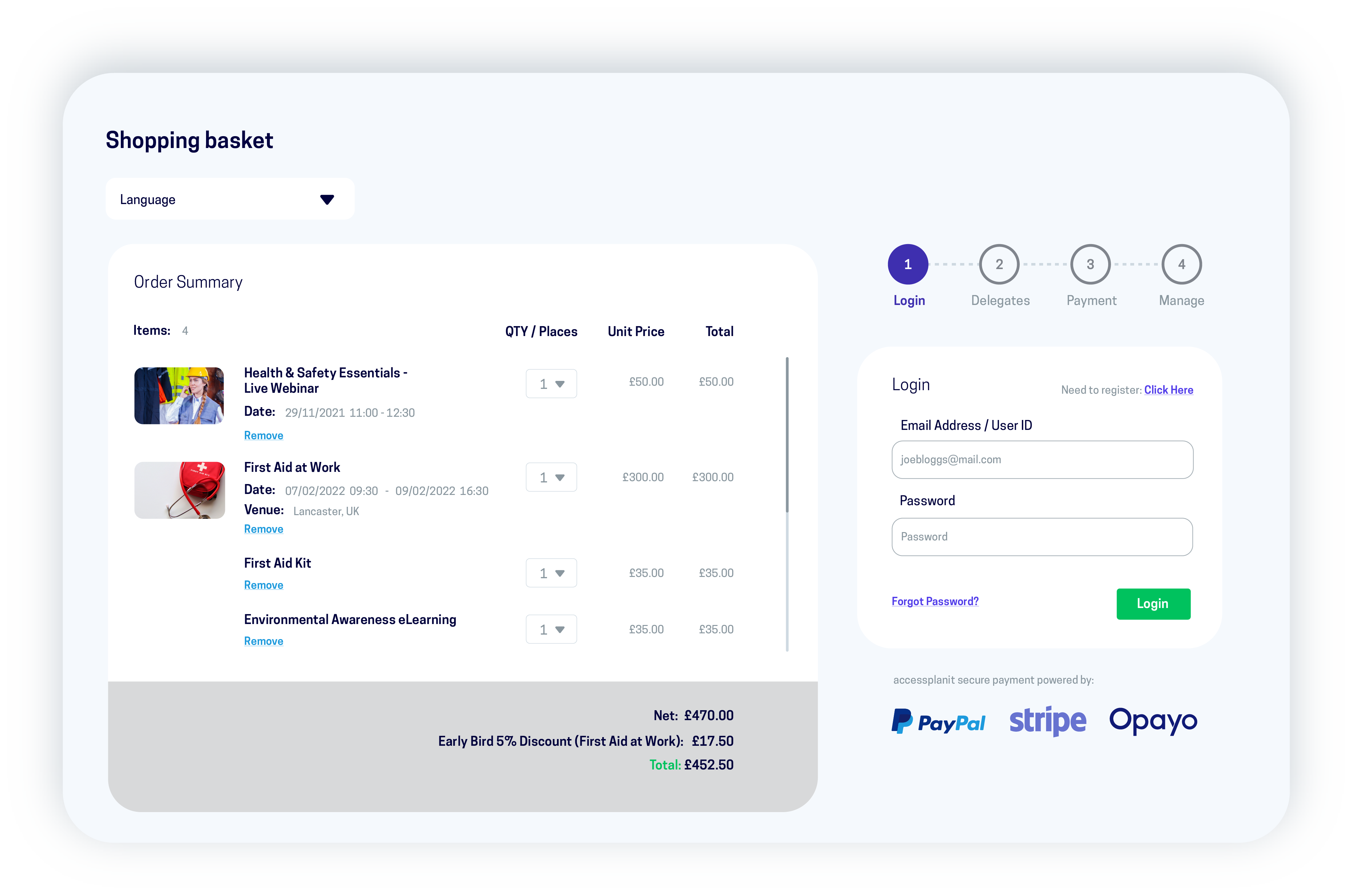 Is your training business leaving money on the table? Online booking has revolutionised the way customers pay for goods and services, and forward-thinking training providers are now capturing accommodation reservations, professional certification and other services in addition to course bookings.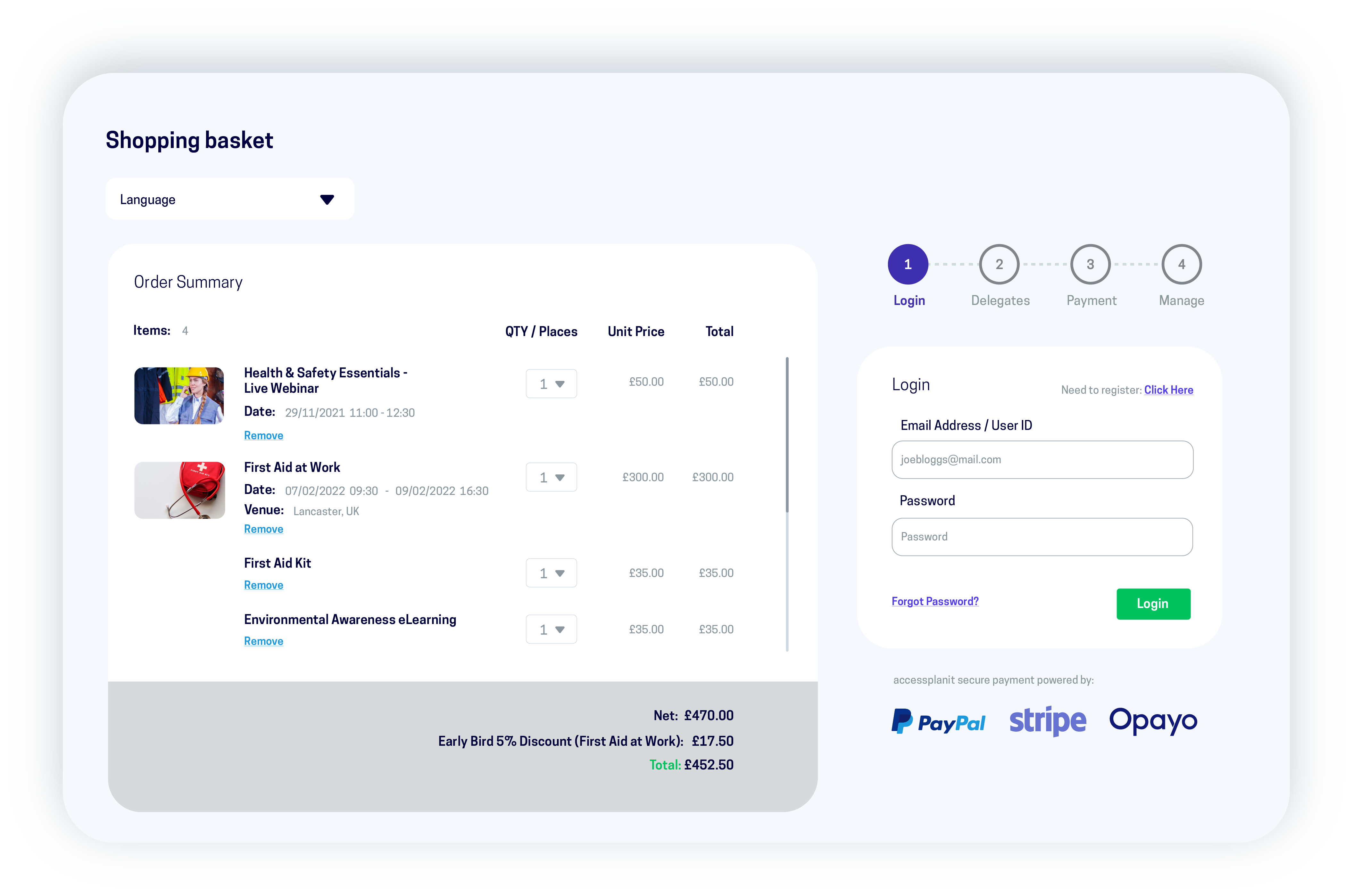 The benefits of offering products & services alongside your courses
1. It's a great way to upsell customers
While your customers are already making a purchase on your website, this is your best opportunity to maximise the order. Whether it's a first aid kit or manual to supplement a First Aid Refresher course, a printed certificate, or accommodation for a 5-day residential, by offering additional items at the point of sale, this represents your best chance of increasing the sale value as your delegate is already in a buying state of mind.
2. It saves time
By automating processes that would typically involve a human, this creates great time savings for the business. Instead of additional purchases being managed over the phone, or in-person, everything related to the transactional part of the purchase is now self-service. This is also more convenient for the delegate, as they can get everything sorted for their training in one place.
3. It reduces human error
An unfortunate truth is that humans make mistakes. Whether that's forgetting to reorder stock, capturing the wrong contact details, or charging the wrong price, mistakes are going to happen which can impact customer experience. Thankfully, when technology is in control, mistakes are minimised, if not eliminated, thanks to:
Stock inventories updating in real time, with prompts for reordering in the form of tasks and automated reminders
Accurate pricing per product or service pre-determined in-platform
Capture of delivery details upon booking (if required)
4. It centralises operations
The inventories and purchase history of providers offering additional products and services, often fall outside their CRM and central course management. This can cause problems if data records and finance information needs updating across multiple systems. It also creates challenges when running reports, as accurate profitability and purchase data is hard to extract without a single source of truth.
6 examples of products & services you can sell alongside courses
Subscriptions & exclusive content
Some delegates demand that little bit extra. That podcast with expert insight to supplement the learning. That exclusive industry report that's yet to be released. Subscriptions and exclusive content help create an additional revenue stream that might be in the form of a premium membership, individual coaching and mentoring, or specific reports. For those looking to gain maximum value from a course or training session, this could be an excellent value-add that helps create a more blended and varied offering.
Printed certificates
Not everyone has the technology to create professional certification on fancy card at home. Instead of simply sending a downloadable PDF post course, consider printed certification as a great opportunity to upsell at point-of-sale. This can then be posted to the delegate following the course - convenient for the delegate, and extra business for you!
Booking fees
There are various fees to consider when a course is paid for online, which you may want to pass on to the course booker. This may vary by course, location, account or particular session, which can make a blanket cost addition or percentage increase difficult to calculate. Products and services let you manage this at a more granular level, adding service charges and bookings fees at your discretion.
Educational items
Course literature and suggested reading can sometimes rack up to be a considerable outlay for delegates, particularly if there are multiple hardbacks required by recognised industry authors. Instead of waiting till the first training session to bring up additional reading, consider offering it on your website to purchase ahead of time. Not only will this increase the chance of purchase, but if they're already making a transaction with you, it should reduce the likelihood of them nipping over to Amazon to buy it separately!
Accommodation & travel
For multi-day or residential trips, it may well be necessary for delegates to stay nearby overnight. By offering this as an add-on to the course, it saves them having to go to an external website and do it themselves. It's both pressure off, and time saved, for the delegate. Similarly, public transport and associated costs may be required to reach the training venue. Some providers
Optional exams
Some courses offer the opportunity to validate delegate knowledge with an exam, something that typically may be booked separately to the course itself. With products and services, this can be included as an additional item in the basket and let's the delegate pay for everything there and then.
Conclusion
As technology has advanced, the flexibility of eCommerce tools has increased, allowing training providers to extend their offering as well as increasing the speed, security and general experience of online purchasing.
There are hundreds of online booking tools available today, from event management and ticket-system tools such as Eventbrite to integrated commerce tools within training management software such as accessplanit. The ideal solution for your business depends on the objective you want to achieve and the budget you have available.
Book a demo with accessplanit today to learn how our Products & Services module can help you to increase revenue through your website.