10 KPIs and metrics to track to enable commercial training success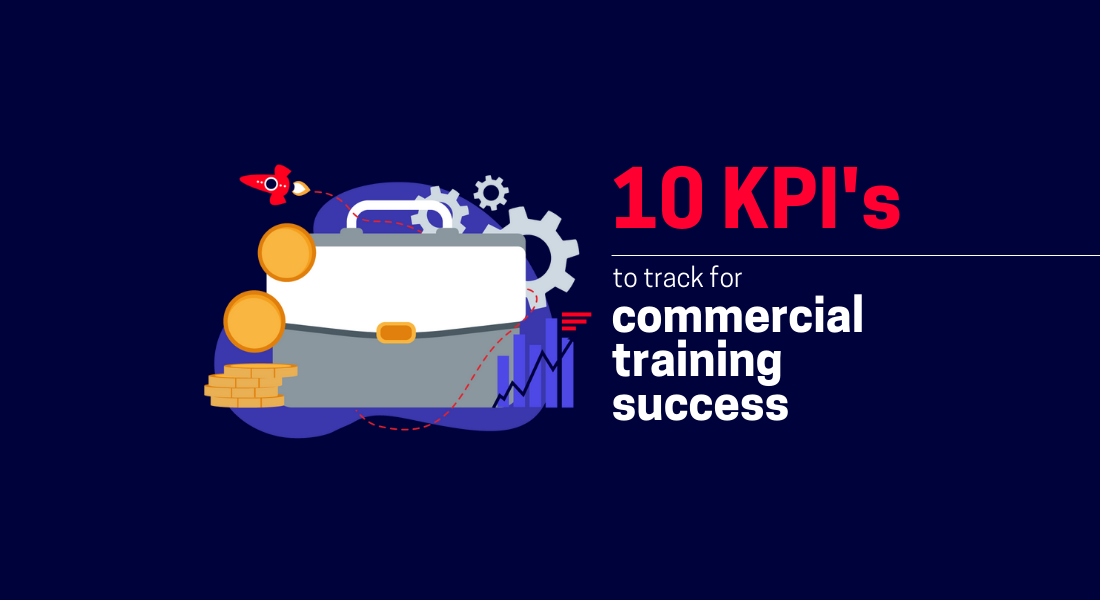 Is your commercial training business successful?
We're not just living in a data-driven world anymore; we're data-soaked, and experts reckon that around 90% of the information swirling around was created in the last couple of years. And, used correctly, that data offers an unrivalled opportunity for training companies to enhance their course offerings and increase their bottom line.
A KPI, or Key Performance Indicator, is quite simply measure of performance for an important objective over time. KPI's are used regularly within target-based job roles such as sales, marketing and customer support, however their real-life application stretches far beyond that.
As a training professional, there are key metrics that you need to study to know if your organisation is moving in the right direction, and using that information to understand how and where to grow your business.
One of the questions within our 2020 training industry benchmark report simply asked respondents the following:
What metrics do you use to measure success?
This is what we found:
Unsurprisingly, delegate & customer satisfaction remains the industry's favoured success criteria, with over 3/4 of training professionals using evaluation forms and happy sheets to determine their level of success. Repeat business is another important measure of success for almost 2/3 of training organisations. Perhaps surprisingly, sales leads are only seen as a measure of success by 1 in 6 training professionals.
Of the respondents that selected 'other', responses included things like impact assessments, ROI delivered to client, year to date revenue and pass rates for exams.
This post explores the following KPI's. Use the links below to easily navigate around the page.
Let's dive in.
Delegate satisfaction
Delegate satisfaction continues to be the most important metric in terms of success criteria for training providers. Measuring delegate satisfaction is usually conducted within training evaluation forms and surveys, however it can also be captured in phone calls, over email and face to face. When delegates are satisfied, they're more likely to retrain with you, and are more likely to leave a positive review online or refer colleagues and friends.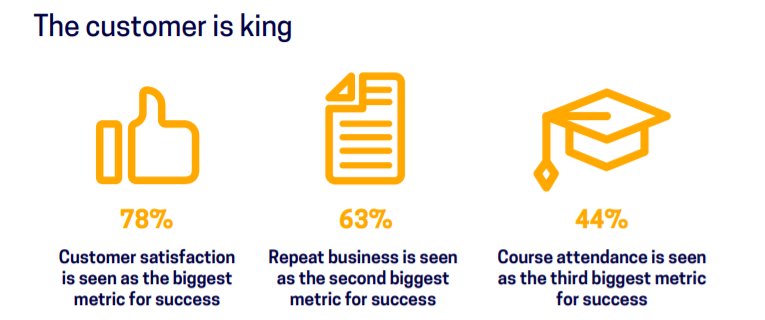 It's important when tracking delegate satisfaction that results are tangible. Using NPS (Net Promoter Score) is a useful way of objectively measuring this. A typical question you may want to include post-course to establish your NPS is:
How likely is it that you would recommend this training course to a friend or colleague?
Using a scale from 0-10, you can categorise answers in to the following groups:
9-10 - Promoters

7-8 - Passives

0-6 - Detractors
You can then calculate your NPS by taking your promoter percentage and removing your detractor percentage. This is best tracked on a weekly or fortnightly basis to help establish trends and allow you to quickly rectify any issues.
Cost per acquisition (CPA)
It's surprising just how many businesses never think to calculate this, let alone track is as a KPI.
CPA provides an estimate on how much your new customers are costing your business to acquire them, and is most commonly used by marketers to track the success of current and ongoing campaigns.
In order to calculate your CPA, you must total up your marketing budget then divide by the number of customers acquired in that same period of time.
An easy example is to look at Google Ad spend. If you were to spend £400 on adverts in a month and acquired 4 new customers in that time, the cost per acquisition for that month for PPC would be £100.
It becomes more clouded (read: realistic) when we start analysing other channels that don't have such objective monetary value, and when labour costs are included.
For this reason, CPA can vary a great deal over even a short space of time, but it's critical in order to assess what channels are working, and ensuring spend is being allocated to the correct marketing initiatives.
Check out some of these top tips in how to reduce your CPA, including optimising landing pages and checkout process, using retargeting tools and personalising the experience.
Course profitability
Knowing the financials around every course that you run is key in determining the margin (or lack of margin) you make in each instance of a training event. Most training businesses have some idea of the viability of each course, however few capture the granular details that help you to establish accurate margins. This can help you to identify which courses are worth your time and those that simply aren't.
Without dedicated training management software, this isn't always the easiest measure to keep track of. For in-person courses, costs can range from equipment and venue hire to travel and accommodation. The difficulty of tracking this is only compounded if you work with a number of freelance trainers and instructors, or regularly offer discounts and promotions on your courses.
Simply minus the cost of delivery from your revenue of your course to find the profit per session. If the course is delivered over multiple days or sessions then you will also need to divide this by the number of sessions for individual event profitability.
By tracking this over an extended period of time, you can see if a course becomes less or more profitable depending on cost changes within your inputs. This could be due to trainer cost, course cost, travel required, equipment costs, or any number of other variables.
Employee satisfaction
A happy workforce is a productive one. The satisfaction of your most important assets can indicate a great deal about the direction your training business is moving in, and it's not difficult to see the reasons why!
Training businesses suffering from low morale and poor culture may have unenthusiastic trainers, administrators that are prone to mistakes and general poor communication business-wide. Naturally, this often leads to a poor experience for the customer and will likely show a strong correlation with your customer NPS.
Using the same NPS format as above in the delegate satisfaction, send a survey out to your employees every 3 to 6 months, with one question:
How likely are you to recommend us as a place to work for your family and friends?
Simple, but surprising effective. If you find that your employee NPS is trending in the wrong direction, it could be a useful time to look at your organisations culture and values and perhaps look to meet with your employees one-to-one to uncover any issues.
Marketing data
The impact of just about every form of digital marketing can be measured, which is incredibly handy when looking to promote courses in a competitive industry. Core tools like Google Analytics measure metrics like website clicks, most popular pages and how long folks stay on each page – even if you're monitoring stats from other software, such as Wordpress or Hubspot, Google Analytics is necessary for a greater overview, with data you can really act upon.
Perhaps the second-most important data you'll want to study are from email blasts (email campaigns are still one of the most dominant forms of marketing) – so you can see, at a glance, who's opening your communications, when they're opening them, and if they're acting on your CTAs. Most bulk email services also let you perform A/B tests, meaning you can constantly refine what's working – whether it's eye-catching subject lines, irresistible copy, attention-grabbing designs… pretty much anything – and stop wasting money on campaigns that aren't performing.
A/B tests are also available for other digital marketing tools, such as pay-per-click ads. It's all about getting more bang for your hard-earned buck. Other marketing metrics you'll want to be looking at are CTRs for PPC and levels of engagement on social media.
Top tip 💡 Test. Test. Test. Remember to take your time assessing and reacting to the data – what you're looking for are clear patterns of success, not a one-off one-hit wonder. Check out more tips on content marketing for training companies with our free content marketing guide.
New business leads
Knowing what's entering the top of the funnel is critical for any commercial focused business. Whether this is web enquiries, direct course bookings, phone enquiries, leads from events or DM's on social media, all of this should be tracked on a weekly basis to indicate demand for your training over time.
These figures become particularly meaningful when paired with web impressions, opportunities, new business, marketing costs and conversion rates.
While tracking total new business leads is key, what's equally important is tracking where these leads originated from. You need to have a solid idea of what channels are working for you, and how this is changing over time.

Not only does tracking the lead source help you to calculate what's working, it can also inform you on the quality of leads you're getting from a particular channel.
Some lead sources require much more time and cost from the business to execute, therefore resource allocation should be factored in when deciding which channels are worth your time.
Course completion rate
For compliance training, or courses that are generally longer in duration, course completion becomes a useful commercial success indicator and marketing tool.
When customers send their delegates to be trained with your business, they want the confidence and assurance that their learner is going to return qualified and competent with their new skills. If delegates don't attend, drop out or fail the course, we need a record of how frequently this is happening, as it has ramifications for both the training business and the customer.
Thankfully, for the majority of training providers, the completion rate percentage is typically up in the high ninety's - it's just important it stays there!
Repeat business
There's few metrics that tell you you're doing a great job quite like repeat business.
Repeat business has endless benefits for both the customer and your training business. For the business, regular, repeat business becomes a more reliable income that allows for more accurate forecasting. There's little to no costs associated with acquiring this business unlike taking on new opportunities, and there's increased ability to gain referrals and recommendations from these customers.
The customer benefits from having a trustworthy and reliable partner that can consistently deliver ROI, not to mention building a level of rapport and trust with delegates and being able to tailor sessions to the needs of their audience.
For training departments that struggle to attract repeat business, there's undoubtedly some digging required to unearth what's going wrong. Most businesses will find their NPS and level of repeat business will correlate rather closely.
It may well be the case that your NPS is performing well, yet your repeat business is low. This suggests a potential issue within your course offering and lacking opportunities for progression, or indeed your marketing strategy might need looking at.
Conversion rate
Your conversion rate can tell you a great deal about your sales and marketing process. It's essentially the number of people who take a desired action, such as completing a form. Conversion rate can relate to any number of steps in the buying process, including but not limited to:
The number of people who submitted their information after viewing your ad
The number of leads who become opportunities
The number of opportunities that become sales
By tracking conversion rates across the above, you can monitor, assess and re-adjust for when things take a downward turn. Or learn how to replicate when conversion rates are high. The beauty of improving conversion rates is that it's just making better use of the prospects or traffic that you already have. Changes that you make could include any of the following:
Improving form placement and structure
A/B testing
Create stronger CTA's
Add reviews, testimonials and social proof
Blogging
Nurturing campaigns
Targeted & personalised content
Skills application
Cultural or behavioural change won't happen overnight (we're creatures of habit, after all), but measuring the application of skills taught is necessary because it definitively tells you whether your training is working. If you're an IT training company, for instance, training delegates on a new computer system, are they effectively using that system post-training?
If the answer's no, then the training might not be right – or, at least, it's worth investigating what other barriers learners are facing that prevent them from changing the way they operate, and how your training can help overcome them. To adequately measure these sort of metrics, communicate with your clients – in addition to receiving necessary data, it keeps that professional relationship alive.
Top tip 💡 Use staged feedback for a true overview of how your training impacts learners. It starts with pre-course evaluation to discover delegate expectations, followed by post-course feedback rating your training – but encouraging feedback 3 months after the course will show you how well those skills are applied.
Conclusion
In this guide, we've run through 10 KPI's that your commercial training business needs to be tracking. This list is not exhaustive, however it provides a clear indication of what metrics contribute to success within a training business, and the actionable steps that can be taken when things head South.
The criteria used to define commercial training success differs for every training organisation out there, what's important is recognising what success looks like for your training business and making a habit of tracking it across a week, month, quarter and year.