Promotion Motivation: Does It Still Work?

Did you know? According to a 2015 RapidCampaign study promotions influence 28% of consumers to spend more, 27% to buy from retailers they would not normally choose, and 25% to make purchases they would otherwise not have made. Great news, right?
The figures above are all positive for companies that implement promotions within their marketing strategy but it still begs the question, do these kind of offers only attract 'deal hoppers'?

It is undeniable that for the majority of businesses generating sales ranks very highly on the list of priorities. A onetime sale is a win but gaining customers that value your offering and become a regular patron is much better. This is where brand value comes in to play.
Building brand value
Creating brand value is centred on building mutually beneficial partnerships with your consumers and ensuring that they buy in to what you're offering.
Whether you want to be perceived as the 'out there' option or the safe and secure choice the route to get there is the same. Think Google, Apple and Coca-Cola. They all have astronomical levels of brand power which has been achieved through brand building.
Promotion motivation
Vouchers and deals have long been used to entice consumers but it could be said that they are in fact devaluing brands. There is a fine line between offers coming off as desperate gimmicks and being seen as exciting or even a privilege. The outcome is very dependent on the type of deals that you offer.
There is also a large differentiation between industries. For example, a 50p off coupon for a can of Coke would not have the same effect as purchasing a car where the norm is to receive incentives such as a free yearly service.
So what kind of promotions contribute to building a brand in the learning and training industry?
Time bound promotions
Individuals tend to act on impulse when they know that they need to make a decision within a certain time frame. Promotional techniques include early bird offers i.e. get 30% off if you book a month before the course start date and flash sales that expire after a number of days. The buyer recognises that they need to act quickly or lose their place.
Reed Learning offer weekly alerts which provide updates to individuals on last minute course places. This provides candidates with a feeling of exclusivity as they are offered the places before the general public but also prompts them to make a course booking before they are published and spaces run out.

Another example from Schumacher College combines social media marketing with time bound promotion providing their followers with their most up to date course availability information.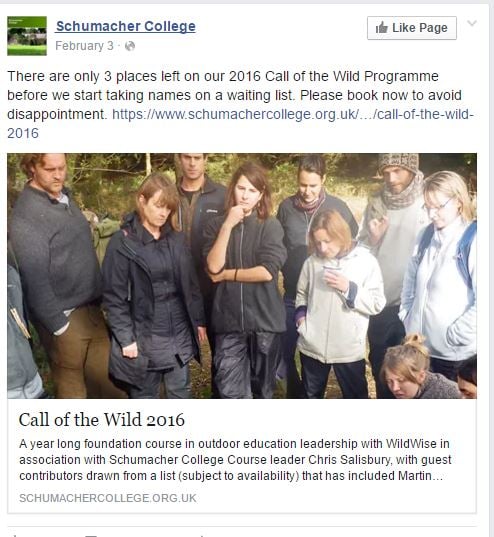 This infographic looks at 9 other ways to share your training offer including through social media.
Saving plans
Saving plans are a great way to encourage course bookings and for consumers to spend more than they usually would as they are making a saving in the long run.
Hemsley Fraser provide 3 different programmes targeted at 3 different audiences. This includes both organisations and individuals with the aim of improving learning and development.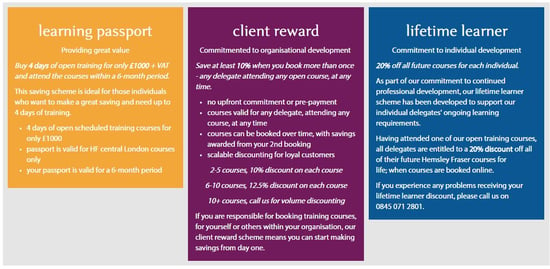 Personalised offers
This is a tried and tested technique used with existing customers. Running personalised promotions makes customers feel valued and keeps them actively engaged with your product or service. Providing offers that are tailored to an individual can greatly enhance your customer retention rates.
Birthday deals are the obvious choice here. Who doesn't love a birthday treat? Lee went one step further by offering a 'half-birthday' deal!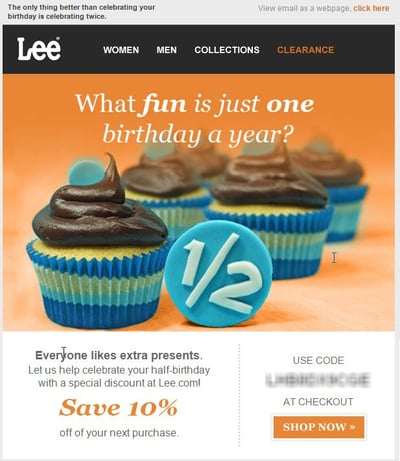 In the training industry an effective way to provide a personalised touch is by offering a related or the next level up of a course at a discounted rate. Generate a list of past attendees of a particular course and use this to run an email campaign (read more about automated marketing functionality).
Conclusion
Promotions continue to prove effective for drawing in new customers and promoting increased spending. However it is imperative to provide ongoing benefits to consumers to increase the chances of repeat custom and brand loyalty. Focus on techniques such as personalised offers and exclusive deals for maximum impact.
Download the beginners guide to content marketing for more ways to boost sales.
Other interesting articles include:
What All Learning And Training Professionals Should Know
How Training Automation Could Benefit CEOs
How To Transform Your Training Evaluation