Training Feedback: Is The Paper Happy Sheet Dead?

Learning is a two way process. Delegates sign up to be trained, but the trainer needs to be sure that any information imparted is current, relevant and accurate. How many times have you been on a training course and felt that only part of the content was suitable for your needs? Or as a training business, have you missed the opportunity to gain repeat business because learners haven't felt satisfied?
How can you use evaluation to meet learners' needs?
Try happy sheets before the course begins
For this blog I thought about some of the recent courses I have attended. I was sent an agenda, but I have never received any form of pre-course assessment which would have given me the opportunity to feedback on what I hoped to gain from the training session.
Information is power!
This type of up front information is invaluable for the trainer, but only if they are willing to tailor the content to suit their audience. As on the same token learners will feel demotivated if they have taken the time to provide information which they feel has not been utilised or even considered. Gathering information pre-course certainly feels like best practice and something some of our customers use as a standard part of the training process. It may sound like a chore and difficult to achieve with paper systems, but as part of a fully automated process this can be done online with the results recorded against delegate information.
Certainly being informed is being prepared, and it's fairly obvious that the trainer who kicks off the session fully armed with what each delegate hopes to learn, will inevitably make the content more interesting and engaging.
Pre-course information however, is just part of the process and used effectively will support the training day, but trainers also need to be constantly fishing for feedback to be sure they are hitting the right spots during delivery and squeezing on those pain-points when imparting knowledge.
What does the post course happy sheet really tell you?
It would be unusual for any training session not to end with a happy sheet but what does it actually tell you? Certainly it's great to get that immediate feedback at the end of your training course when delegates are happy with the course content and desperate to rush home like so: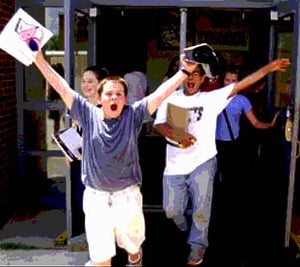 But is that real feedback? Is it meaningful? It may give you an assessment of course delivery and a subjective view of course content, but in most cases it's not until the delegate tries to put this into practice that the real value of the course can be assessed.
Is it time for automation?
Again this is where automation can transform the entire evaluation process and training management software opens the door to new levels of feedback. Online feedback gives you the ability to take a long range approach to course evaluation. By scheduling follow up evaluation surveys at intervals, you can investigate not just the immediate course deliverables including venue, content and trainer, but more importantly how the content matches each delegate's needs over a period of time.
The information received can also be linked with the pre-course evaluation which will allow you to explore and match actual against expected outcomes. This information can also be used to build substantial metrics to measure success, and of course give you the opportunity to develop additional courses to bridge any gaps. Check out this infographic for the key differences between paper based and automated evaluation.
Conclusion
Although the benefits of automation seem obvious 69% of respondents to a recent survey still use paper happy sheets! Throughout this blog we have looked at how adopting automation for evaluation can provide measurable benefits for both the learner and the training provider. For the learner this is in the form of receiving tailored learning and having the opportunity to assess ongoing knowledge and for the organisation by gaining enough valuable feedback to facilitate improvements.
Need convincing further to bin the happy sheets? Download this infographic for the key differences between paper based and automated evaluation.
Alternatively check out our online resource centre for more information and downloads.
Other articles you might enjoy include:
The 27 best training survey questions to start asking your delegates
How Automated Training Evaluations Gain Meaningful Feedback