How To Get Faster Support From Your Software Supplier

In the world of software, support is key. From asking a simple question to wanting to learn about a piece of functionality that you have never used before. But how can you make sure that you are getting the best support that you can? This blog looks at 3 key easy steps to get better support from your software supplier.
Software with a lot of functionality and capabilities such as a training management system, LMS or CRM requires more support than the 'plug-in and go' variety that some of us have previously been used.
But, getting quality and timely support is not always such an easy feat. This is why we have devised a 3 step plan to receiving better support.
3 easy steps to ensure that you get faster software support
Step 1 - Determine your needs
Calling a support helpdesk can seem like the quickest way to gain an answer but depending on your needs, this may not always be the most effective route to go down. If your query is not urgent then there are multiple other options available:
Logging a support request
Logging a support request can be a great way to get the answers that you want. You can include a lot of detail in your request which support advisors can analyse to get to the bottom of your query.
Self-help can be great for both answering an immediate question and learning how to use a part of functionality that you have never used before. This approach allows you to work through an issue step by step therefore building up your system knowledge.
Top tip: Self-help guides are a great way to train new system users.
Making the most of best practice
Many suppliers will have a range of best practice resources explaining how to get the most out of different areas of your system. Afterall, the supplier will know the software inside out and be able to provide you with indespensable insights in to how to gain maximum benefits.
Step 2 - It's all in the detail
Provide as much information as possible. This can include a link to the relevant area, an in-depth description of the problem and the steps you have taken to get there.
This allows your support advisor to replicate the issue faster and ultimately rectify it.
Step 3 - Make it visual
Our support advisors love a screenshot and I'm sure other suppliers feel the same way. As they say, a picture says a thousand words and a screenshot of the affected area and its current behaviour makes it much easier to provide support as your advisor knows exactly which area of the system to work with.
Top tip: Provide a screenshot of the entire area rather than a close up of the issue which may result in backwards and forwards to identify exactly which area of the system you are referring to.
Use the checklist below as a quick reminder to get faster and better quality support from your software supplier.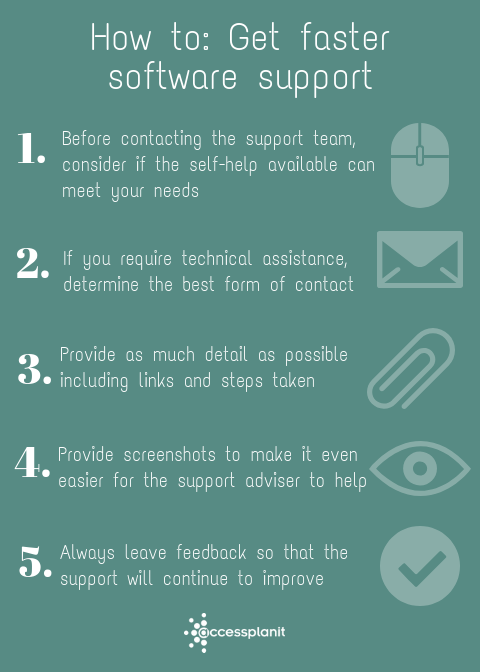 It would be great to hear of any other tips for getting better support to share with other software users! Comment below with any ideas or experiences. And, don't forget to subscribe to our blog for more top tips like this.
Related articles:
Training Management Software: What Companies Really Want
How Important Is Customer Service In Management Software?