Customer Service: What to Look For In Your Software Supplier

Customer service is a key success factor when evaluating and selecting a software supplier. And, it is becoming more and more important as organisations try to differentiate themselves from the competition. But what makes great customer service? What should your training organisation be looking for in a software supplier? Let's start with the essentials...
Have you ever searched and searched on a website for a customer service number with no luck? Sent off an email only to receive an auto-response promising resolution within 28 days? Got stuck in a ticketing system that seems to be operated by bots rather than real people?
We've all been there and it's not a good place to be when you need answers quickly. In this post we outline some key questions to ask to ensure that you don't fall into this trap and you select a software supplier that has the best support for your business.
Does the supplier have a clear support plan?
Dealing with any new technology can be daunting. You've got to get your head around a dizzying number of functionalities, remember all those acronyms and how to perform key tasks. So, first of all, you'll want to ensure your software supplier provides an extensive customer service roadmap. A roadmap equips you, your team and your supplier with a clear idea of what support is available to you, and how to access it.
If it is difficult to decipher the kind of support that is available to you then this should set alarm bells ringing.
Plenty of support options should be available to you. Multiple communication channels depending on your needs, a software on-boarding program, online support resources, a dedicated Customer Success Manager and software training. Customer service roadmaps also highlight that your chosen software supplier has actively considered your experience and are well-prepared to meet your needs. It's pretty important, right at the beginning, to start equipping you with the right support to make your system use a true success.
'Here is a simple but powerful rule: Always give people more than what they expect to get.' - Nelson Boswell
When does support begin?
Legendary customer service must go beyond mere support - after all, this isn't just plain ol' customer service or even exceptional customer service. This is legendary calibre.
A good way to assess a supplier's dedication to customer service is where support for their product begins. Legendary support starts long before you've implemented software across an entire organisation. If what you're offered starts only after you've purchased a product or started using a service, then question whether this is the level of support you deserve.
As an example, check out our Proven Process to software success, which has a single goal: Getting it right the first time. That's where the best support always begins. It means identifying your current processes and particular pain points, to help understand where efficiencies can be made through automation. This way, together we can work out which parts of our training management software system are best suited to your business objectives (which means you'll only pay for the modules you need to achieve, and receive comprehensive training on the areas of the system you'll actually use).
End-to-end support programs like ours exist to maintain an open communication channel between you and your supplier throughout the project's lifetime - from initial consultation and throughout the build and go live stages.
'The goal as a company is to have customer service that is not just the best but legendary.' - Sam Walton
Is the supplier someone you can count on?
One of the most grotesque aspects of lousy customer service is the willingness of businesses to shunt you from person to person. You spend ten minutes explaining your issue, only to be transferred to another adviser, where you're forced to repeat the problem again. And again. Until someone, somewhere, sometime, offers genuine assistance.
What you want is a single point-of-contact. Depending on your supplier, these may be called an account handler, customer service adviser - at accessplanit, we call them Customer Success Managers since their primary focus is enabling your success.
This dedicated point-of-contact will get to know you, your business, your operations so that, whenever an issue arises, they'll be able to offer the best possible advice and support.
What is the process for implementation?
Did you spot that word a few paragraphs ago? Implementation. It's enough to have even the most hard-boiled IT manager running for the hills. And no wonder - it's during the implementation stage where most technology failures occur, either falling through completely or running over-time over-budget.
Software implementation is, arguably, the single most important factor. Poor implementation across a business can mean a system is not fit for purpose, that no employee understands how to use. That's why great software suppliers devote so much of their time working closely with you to deliver a system that meets your exacting standards.
Implementation managers will carefully guide you through the core stages of software implementation to guarantee that you and your team can use a system that's built specifically for your training business.
A major phase during this stage is testing. How often does your software supplier test the system to meet your needs? Because it's only through testing that you'll find a system that's pitch-perfect for your organisation.
What post-implementation support is available?
Your training management software is in place. You're fully trained on using it. But there's a good chance you still need assistance, especially if this is your first learning or training management system, or it's drastically different from previous systems your organisation has used.
So, a critical question to ask is: What post-implementation (or, in some cases, after-sales) support is available to you?
At the very least, you'll want to know there's a dedicated helpdesk support team on hand. This team needs to know the system inside out and back to front in order to offer you a fast, first-class service.
And there ought to be multiple ways to contact them throughout office hours: For instance, telephone, email, support portal... All of which makes it that much more convenient for you when you run into trouble. What you definitely don't want to see is a series of holding emails - the digital equivalent of a recording that tells you 'we're sorry for your wait. Your call is important to us...'
Another key facet is the online help guide. These days, it's often quicker to search and find the answer you need on your own particularly for smaller issues. Find out whether your software supplier offers a comprehensive online help guide that you can access on the go.
For instance, our online resource is a constantly updated, 'living' guide to all the modules and functionalities you use. Just start typing your query and the screen will pop with matching keywords, making it easier to find the answers you need. And if you can't find what you're looking for, you can easily submit a ticket - not only will this result in one of our team contacting you, but also provides queries which can later be added to the help guide for the benefit of all accessplanit users.
How to get faster software support
Want to get the most from a helpdesk support team? Just follow the steps below: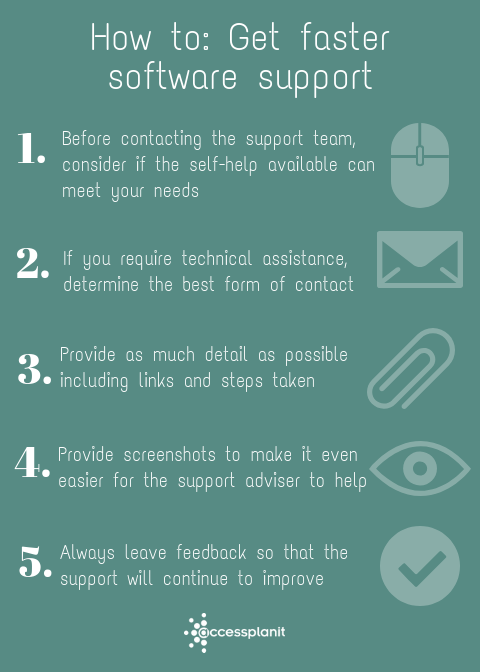 Is the software supplier open to feedback?
Any software supplier worth their salt understands the importance of feedback. As such, it's important to ask the question how do software suppliers use your feedback to build a better system?
It's less important how this manifests itself - it may be an online portal, forums or simply sending emails - but it's crucial that you're offered a platform to express how your chosen software performs in future updates.
Equally crucial is a supplier's willingness to listen to, and act upon, that feedback. Doing so helps the entire user-base, as product suggestions you need may be just what other training companies require too.
How is the overall customer experience?
Step back a moment.
Now think...
How was your experience as a whole?
Your experience should be the focus of all support received. A software supplier who recognises the benefits of an accessible, multi-faceted support system - from a product's intuitive interface to 360-degree assistance - is one dedicated to legendary customer service.
Is your current supplier's customer service not up to scratch?
If not, it may be time to explore something new. Book a free demo here to learn more about accessplanit training management software and the service we provide.
Liked this? Then try...
Is Your Learner's Journey Everything It Can Be?
accessplanit Chosen As Winners In HSBC Customer Service Award
accessplanit Upgraded To 5 Compliance Plus In Customer Service Excellence
Originally published 24th October 2017, updated 3rd October 2018