[2018 Edition] The 4 Biggest Challenges Faced By Training Companies
We previously reported on the biggest challenges faced by training companies from our 2016 Training Industry Survey. We found that some of the biggest challenges faced by training companies included increasing costs, growing competition, inconsistent customer experience and a lack of business visibility. This blog provides an updated version for 2018 and explores how the industry has changed.
Challenges facing training companies in 2018:
Lack of resources

Alternative learning delivery methods
Increased competition
Increasing costs
The 4 Biggest Challenges Faced By Training Companies
Before we dig into 2018's results, lets have s a quick recap of how the training industry looked in 2016.
#1 Increasing costs
One problem that all training managers related to was the increasing learning delivery costs. Face to face training can be extremely costly due to the expense of hiring venues, resources and other equipment. However, blended learning strategies are a great way to increase learner flexibility as well as reduce expenditure.
#2 Growing competition in the training industry
Training professionals recognised an increase in the training providers operating. Growing competition wasn't seen to be all bad as it indicates that the demand for training courses is also increasing.
#3 Lack of business visibility
Business visibility is crucial to monitor company progress in order to identify gaps and make improvements. This seems obvious but it was surprising how many training companies admitted that they don't have enough business intelligence to make vital decisions.
#4 Inconsistent training experiences
Another challenge faced by many trainers and managers was the risk of inconsistent training. Every service will be different and it can be difficult to standardise training offerings.
The 4 Biggest Challenges Faced By Training Companies [2018 Update]
The results are in for our 2018 Training Industry Survey. For this year's report, our training organisations come from a broad range of industries, in order to really take the pulse of the training world as a whole. This includes respondents training in project management, engineering, the health and social care sector, and leadership & HR – each looking at the training world from a different perspective, and each offering valuable industry insights.
Before we launch the full Benchmark Report, here's a sneak peek of the biggest challenges recognised by training professionals today.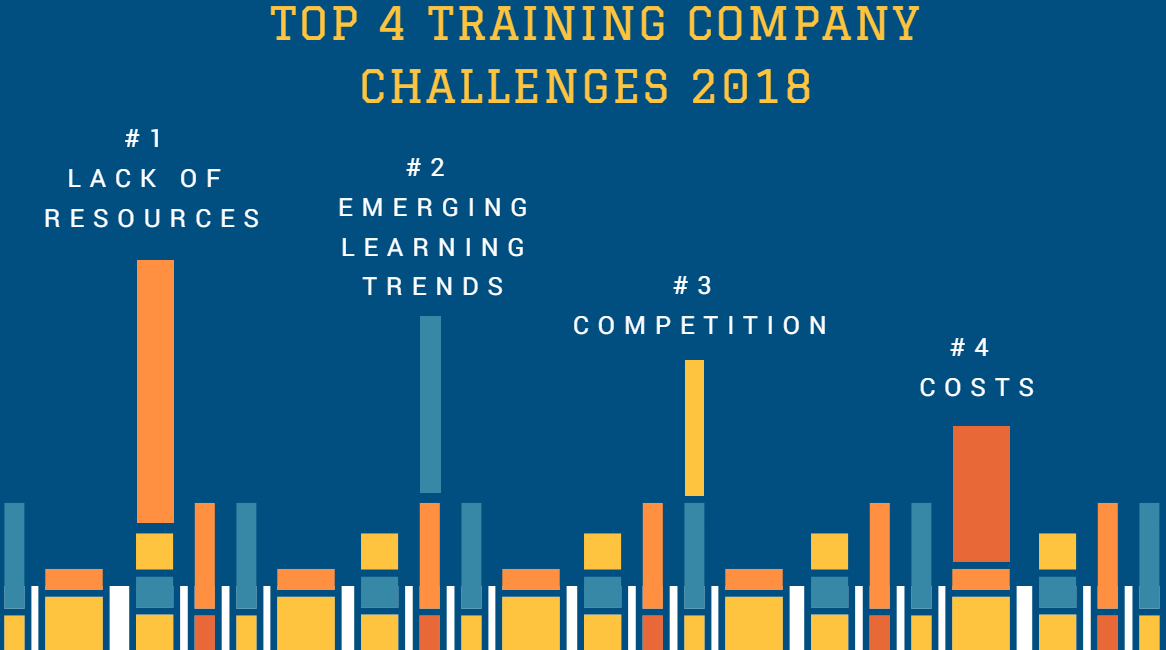 #1 Lack of resources
Climbing the rankings from both our 2016 and 2017 results, lack of available resources was recognised as a key area where training professionals are struggling.
Essentially, today's training organisations are expected to do with more with less.
According to our survey results, the average training business is spending 26 resource hours on administration. So, how can you do more with what you've got? Eliminating manual processes is a great place to start.
One way to this is by ditching the spreadsheets and investing in automation. A training software system can help to automate your entire booking process including course communications, certificate generation and you can even remove the hassle of registering delegates and processing payments with an online booking tool.
And, with the reduction in administration processes, more time can be sent developing and enhancing existing courses.
#2 Alternative learning delivery methods
One of the biggest challenges recognised in this year's survey, was the threat of alternative learning delivery methods, such as online and distance learning, threatening traditional classroom based training. With 78% of respondents focusing on delivering face to face training, this a big area that could make an impact in the training industry.
The survey results showed that online self-service learning is an area that many training companies plan to focus on in the upcoming 12 months, perhaps to meet this shift in demand.
Now, we're not saying to move away from your core competencies but with a training management system you have the option to blend your face to face learning with eLearning and online delivery.
#3 Increased competition
Although less of a worry than in previous years, almost a third of respondents felt that increasing competition is an area of concern.
Our survey revealed that marketing is heavily reliant on word of mouth and referrals with social media following up the rear.
Training providers are still not fully utilising digital marketing tactics such as Google Ads and SEO. With an increased online presence, the likelihood of your training courses being booked increases dramatically. Going one step further and offering online course booking and payment can stand you apart from the competition even more. You can even reward your learners and promote your courses with discounts, vouchers, promos and seasonal offers.
Check out our free content marketing guide for training companies for more tips on how to increase your presence.
#4 Increasing costs
Similarly to increased competition, increasing costs are still a significant issue for training organisations. However this concern has declined from previous years.
To reduce costs you first need to understand where they are coming from. Which of your courses are actually costing you money? How can you market better? Is your sales team performing?
With a central training platform to manage your training at a glance, you'll get an overview of everything from sales figures to course sizes, budgeting and forecasting to compliance and business development. And management reporting won't take hours to complete – it's all right there at the push of a button.
Download our free eBook, to explore the 5 costliest mistakes training companies are making.
Other challenges reported included:
Lack of time to complete tasks
The General Data Protection Regulation (GDPR)
Effective course promotion
Lack of business visibility
Decreased marketing budget
Brexit
Can you relate to any of these challenges?
If your training company faces any of these problems, then you're not alone. Our Training Industry Survey identified these areas as the key challenges faced by many training managers today.
Download our 10 ways to eliminate manual training processes to learn more about how to eliminate common training company issues.
Related articles include:
Training Industry Benchmark Report 2017 – Where Do You Rank?
The 4 Biggest Challenges Faced By Training Companies [2016 Edition]
Sign up for a free demo!
See for yourself just how our training management system can help your business
Sign up now