Training Management Software House Finalist For E3 Business Awards!
Here at accessplanit, customer service is the heart of our business. We believe that our excellent customer service levels and on-going support really make us unique. After achieving the Customer Service Excellence Standard in September 2015 and becoming finalists in the Red Rose Business Awards earlier this year we have been determined to exceed expectations and continually improve our customer relationships. We are thrilled to announce that we have been chosen from hundreds of nominees as a finalist for the 2016 E3 Business Award for Customer Service!
The E3 Business Awards were introduced in 2013 to recognise business excellence in the North West. There are 17 categories including Online Business of the Year, Outstanding Woman in Business and Green Business of the Year. The criteria for being chosen for the Customer Service Award included being able to demonstrate our company-wide customer service commitment, our excellent customer service policy and examples of good customer care.
Mubarak Chati, MD of 1 Events Media, which hosts the E3 Awards said: "Given the number and the high standard of entries, we certainly gave the Nominations Panel a difficult job. They have risen to the challenge, though, and their final selections represent the very best of the whole North West region. For accessplanit to have been named as a finalist for 2016 is an achievement of which it should be very proud."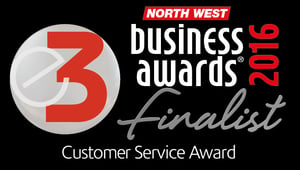 How we focus on customer service
Our Driving Success Programme has been a fundamental aspect of our focus on customer service. It helps to establish positive customer relationships by understanding customer needs. As a training management software house, we understand the importance of on-going customer support to provide assistance with knowledge issues. We provide technical support to customers through a range of channels includes webinars, best practice guides, training events and an online help guide. This ensures that customer knowledge issues are resolved and customers feel continually supported while using our training administration software.
Our Customer Charter outlines our Mission, Vision and Values which demonstrates our strong commitment to our customers to deliver high quality services and maintain excellence in customer satisfaction. The staff here at accessplanit are always receiving positive feedback from our customers and we feel sincerely rewarded when pleasing our customers.
"The support is amazing, without exception the accessplanit team and friendly and willing to help and resolve any issues." Mary Cameron, Project Manager, London College of Music Exam Board
Our quality management system meets ISO 9001 standards and the criteria of Customer Service Excellence. These standards ensure that we consistently meet customer needs and enhance customer satisfaction. The culture of our organisation is built upon supporting the needs of our customers and providing first-rate customer support.
Dave Evans, MD at accessplanit said: "We are thrilled to be chosen as finalists for another customer service award. The team has such a strong focus on customer service so we're incredibly proud to be acknowledged for it."
The E3 Business Award results will be announced on Friday 3rd June 2016 at the Macron Stadium in Bolton.
If you would like to know more about our commitment to our customers, you might want to read more our about our Driving Success customer programme.
Other topics you might find interesting include:
Finalists In Red Rose Customer Service Award 2016!
Helpdesk Assistant Wins Apprentice Of The Year Award
accessplanit Achieves Customer Service Excellence Awards
First UK Training Management Software House To Hold ISO 9001