FAQs When Evaluating Training Management Software
When considering a software system to manage the training within your business, you're bound to have plenty of questions. And rightly so. Luckily, we've been doing this for over 15 years, so we've compiled a comprehensive list of our most frequently asked questions. In the post we'll address what thousands of training professionals before you have asked, so you don't have to!
How do I identify the best training management software? What kind of questions do I need to ask software suppliers? Who do I need to involve in the buying process when making a software purchasing decision?
We answer all of these questions and more (click on the question to go to the relevant section)...
FAQs When Searching for Training Management Software
How do I know if I need a training management system?
First things first. How do you know when it's time to invest in automated training software? There's a few triggers for change that we commonly see:
Course enquiries are increasing but customer service isn't keeping up
You're ready to grow your training business but you've hit a ceiling
Things are falling through the cracks and you need all of your training operations in one place
Administration required to process course bookings is requiring the input of additional resource
It's difficult to look up training or track certification
Increasing manual processes are required to record and manage delegates, courses and resources
Issues caused through human error are increasing and you need to standardise the way your business or department operates
You want to improve customer satisfaction and perception (reputation and referrals are recognised as the #1 marketing techniques by training professionals.)
All of these scenarios are common triggers to invest or upgrade your software. And, on most occasions more than one of these triggers applies.
How do I know if it is time to replace my current system?
Often, people come to us when they have outgrown their current system or just want to see what else is out there on the market.
Common reasons for switching suppliers include the requirement for additional functionality, lack of support from the existing supplier, the need for a simpler system and unjustifiable (or rising) costs.
If you can relate to any of the reasons outlined for changing suppliers, then it might be time to review your existing systems. You have to take a systematic approach to ensure a smooth transition process. We've created a handy switching cycle which outlines the essential steps to guarantee that you make the right decision and find a supplier that suits your needs.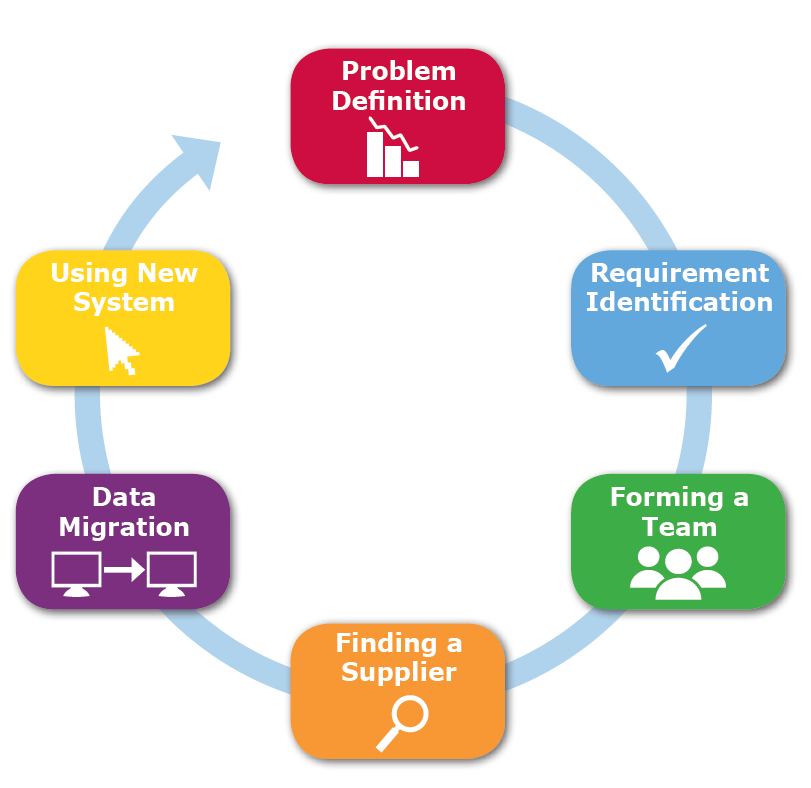 The switching cycle is broken down in this free eBook: Switching Software Suppliers: Ensuring a Smooth Transition.
What kind of questions do I need to ask software suppliers?
There are many questions that you will already have mapped out around requirements, functionality and pricing. However, there are some really valuable questions that you may forget to ask:
Which other organisations use your software?
It is great to get a feel for the other types of organisations that use the system and what they do. Establish if there are any similar companies that the supplier works with or any organisations who operate in the same way as you. What kind of names trust this supplier?
You can check out our customer case studies here from organisations including Citizens Advice, University of West London and Mace Business School.
When can I have the system in place by?
It is important that both customer and supplier are clear on the answer and set realistic expectations. It is impossible to expect your system to be implemented by a certain date if you haven't asked for supplier and implementation availability.
What level of support and training do you offer?
After-sale support is equally if not more important than when exploring system functionality.
Ask the supplier about what they offer including a support helpdesk and an online ticket system. Is there advanced support available such as a help guide, webinar opportunities and a dedicated Customer Success program or initiative? Are there opportunities to meet with other customers such as at training days or events?
We provide all of the above and more. Explore the service you can expect from us by visiting our Service page.
Who do I need to involve in the buying process when making a software purchasing decision?
It has been shown that the less people that are involved in the buying process, the quicker it is. However, from experience we have discovered if just one person is responsible for making the final decision then it can lead to upset among end users due to having little or no say in the selection (trust me, we've been there!).
This is why we emphasise the importance of including not only the decision maker but at least one key administrator throughout the buying process. Letting the end users see the software in action during a demonstration is a great way to gain buy-in.
Additionally, identify the functions that the software you are purchasing will be used for. If it will be used to implement marketing campaigns involve the Marketing Manager and if it will be used to run all financial reports involve the Finance Manager. It's common sense!
If you are not the person responsible for final sign-off, it is also critical to get an executive sponsor from your senior level team who can help you to follow the purchase through.
Recommended reading: From Trainer to CEO: How to Get Buy-In Throughout Your Business
How secure is my data?
As an ISO 27001 accredited organisation, data security is incredibly important to us. We host our customer data in UK data hosting centres which are security protected 24/7.
Our servers are monitored 24/7 with onsite technical engineers available if required. In the event of a power failure, an advanced uninterruptible power supply (UPS) system provides power to all dedicated servers, while diesel generators are also available which are capable of running the data centre indefinitely.
We back up, encrypt and store system data securely once a day so if a worst-case scenario were to occur, the most data you would lose would be from 4 hours previously.
How do I justify buying a training management system?
Whether you are a training administrator or a managing director, cost is always a contributing to business decisions so having return on investment (ROI) at front of mind throughout the process will enable you to make an educated decision.
Throughout the buying process, think about:
How much time will I save by automating manual processes?
How much cost will this remove from the organisation?
What else can we do with time freed up from automation?
It can also be useful to request some real-life customers examples of ROI from the vendor you are working with.
By automating administration and removing the need to send out course communications or process bookings manually, your company could save up to 50% administration time.
Recommended reading: Software Business Case Template
How long will it take to implement a system?
90 days – that's how long we aim to take to get you up and running on the new system unless otherwise advised by your Implementation Manager. Together, we'll discuss at the start of the project, and is defined by the scope.
Your Implementation Manager will work to the agreed timescales in order to achieve the project timeline, so it's important that we're all committed to working within our approved time-frames.
Remember that system implementation is not purely down to the supplier and that you need to be prepared to put the time and effort in to be able to see results.
Have more questions?
Download our free FAQs guide to explore the commonly asked questions and answers when selecting a software solution.
More helpful resources:
Build vs Buy: When Buying Software Is Better Than Building
Training Company Dilemma: SaaS or On Premise Software?