Why training providers should attend Everest Conference 2022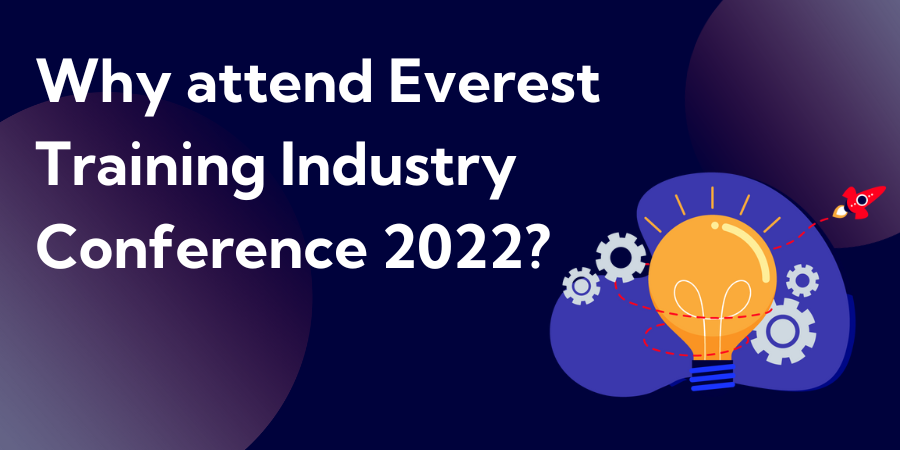 Everest is back for 2022! Join us virtually on 19th and 20th October, 2pm-5pm BST. Register for free today!
It's the annual training industry conference hosted by accessplanit.

A host of virtual events will run from 2pm - 5pm BST over the two days. You will receive recordings following the event and gain instant access to all material from the talks.
Why attend Everest Training Industry Conference?
Everest Training Industry Conference is unique as it's designed specifically for training and learning professionals.
We aim to bring all of the key elements of a successful training business together to provide a one-stop shop for professionals in the training industry.
Instead of having to attend one event for training delivery techniques, and another for sales and marketing strategy, everything is in one place at Everest.
It's grown exponentially in size over the past 4 years, as training professionals look to get ahead of the curve and gain unique insight from training industry experts.
Also - it's completely free to attend and participate in! We see it as our gift back to the training industry.
What can I expect at the conference?
You'll gain unique insight from training industry experts, get ahead of the curve with the latest training trends, and have the opportunity to connect with like-minded training professionals.
Everest is designed to help training teams make sense of an ever-changing landscape, and equip you with the knowledge and data to become successful in your training strategy and delivery.
Who will I see at the conference?
We'll be welcoming a range of experts from the training industry to provide invaluable insights into how you can grow your training business.

We're thrilled that Mathew Bewley is joining us for the conference!
Mathew is Managing Director at 3B Training, a H&S training provider specialising in the construction industry.
Since 2011, 3B Training has grown and expanded nationally, and now offers accredited training to over 30,000 delegates a year online, in classroom and through eLearning platforms and works with some of the UK's major construction companies.

He'll be running an engaging session on Learning Impact, which will explore:

- The importance of client/trainer engagement in the development of training
- The different ways organisations can measure learning impact
- How to demonstrate return on investment

Diana is an award-winning speaker, global virtual facilitator, and master trainer who brings 25 years of experience in the talent development field.

Currently, she is CEO of Howles Associates and author of the new book, Next Level Virtual Training: Advance Your Facilitation (2022).

We're so excited that she is joining us for Everest and can't wait to hear her insight into live mixed learning.

Matt George, Managing Director of MTG Digital, will be joining us for the conference!

MTG Digital offer a full end to end solution to the #training and #education sector, from course promotion through digital ads, booking portals and integrations. Ultimately, helping the industry to streamline their booking and administration processes.

Matt will be running an engaging session on how to grow your training business through social media, which will explore:

- How social media has a huge impact on course and product promotion
- Finding out what platform will give you the best ROI
- Creating eye catching ads and posts using free applications and tools

Throughout his career, Jonathan Finch has helped organisations of all shapes and sizes grow their revenue streams and scale their businesses.
He now leads the client strategies for Big Presence, where the team work with organisations all across the world to generate leads, enquiries and growth strategies for organisations all across the UK.
He'll be hosting an interactive session, with a guided tour of how his team help organisations design and implement lead generation plans that deliver results and keep their pipelines fuelled to grow.
Topics include:
- Push and pull lead gen: The keys to a successful long-term strategy
- How to design a funnel that won't break the marketing budget
- Growing your funnel and planning for success
- Automation VS Personalisation: How and when you use each as part of your funnel
We can't wait to hear Jonathan's expert insight into all things lead generation!

We're looking forward to hearing Doug's expert insight into all things pricing!
With over two decades of marketing experience and specialist expertise in the learning sector, Doug Marshall will be hosting a session on strategic price setting for your training business at Everest Training Industry Conference 2022!

His session will cover:

- Pricing for enterprise deals
- Common pricing mistakes
- How to test your prices
- And much more!
Last year's highlights: Everest Training Industry Conference 2021
If you didn't attend Everest Training Industry Conference last year, take a look at our conference round-up for 2021!
We can't wait to see you at this year's event - if you haven't already, make sure you're registered.