The accessplanit 2022 round-up!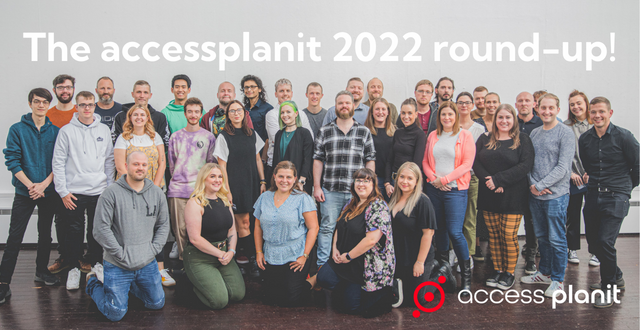 2022 has been a huge year here at accessplanit! We've continued to develop our people with promotions, role changes and training and welcomed lots of new, talented people into the accessplanit family. We've made big changes to our team structure and processes, and developed lots of exciting new product features. We've completed charity events; ran regular customer group training events, and more. Here's to an exciting new year ahead, with lots more on the horizon.
Read on for our round-up of 2022!
Feature focus: most impactful feature of 2022
Our most impactful feature update this year has to be our Learner Portal enhancements! Here's a quick summary
My Course Breakdown
We redesigned the My Courses page of the Learner Portal to provide learners with an easy-to-access Course Breakdown page, which lists each of the sessions they are booked to attend, along with quick actions available to launch their eLearning course, to download their documents, to view the venue details, and to access their webinar joining information!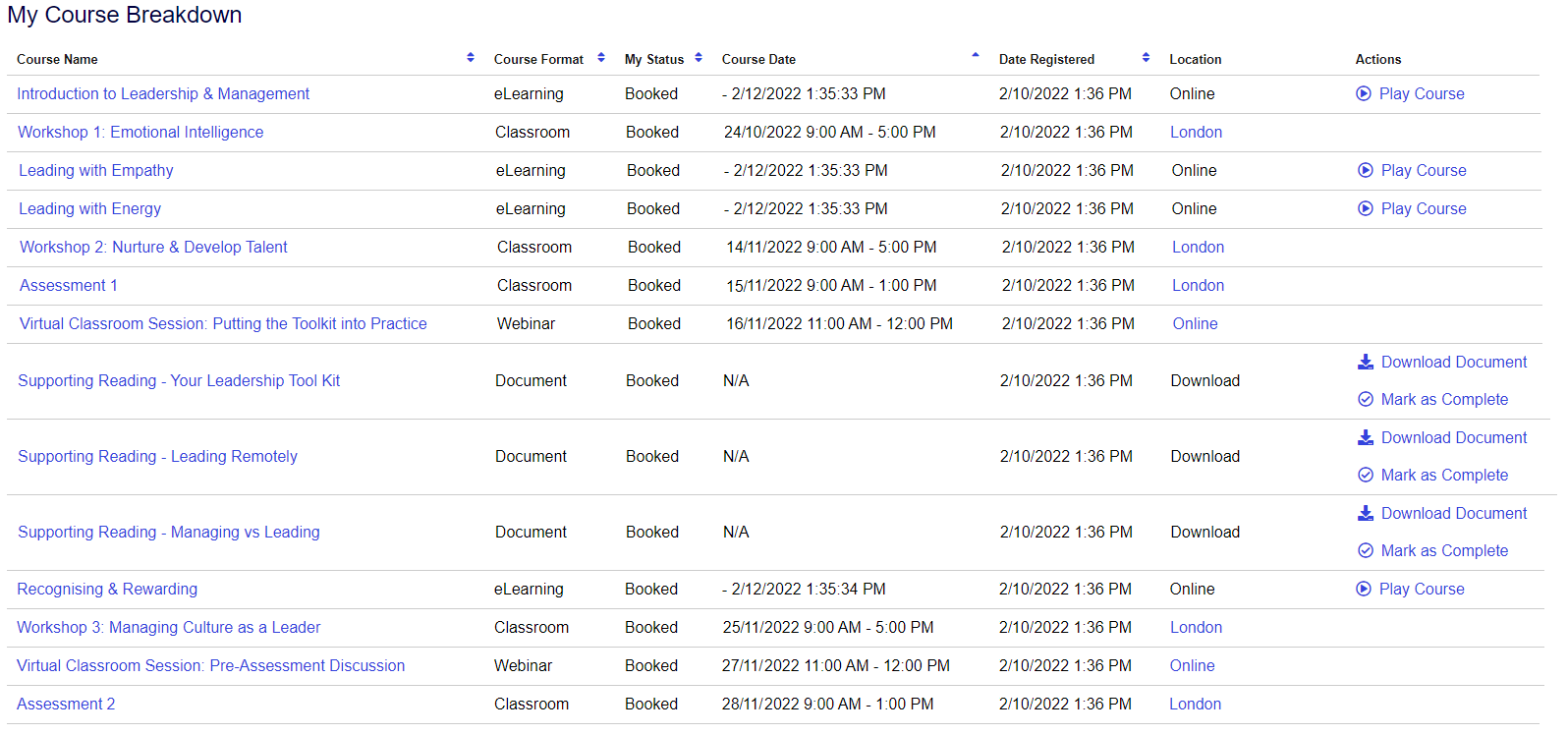 My Courses
We made a whole host of updates to the core My Courses page of the Learner Portal to better support learners - these included sortable columns, easily hiding cancelled and transferred courses, as well as several usability updates.
We also gave the Learner Portal "a bit of a facelift" - as our Product team described it! We made several visual improvements to the overall look of the portal. This also included accessibility improvements with our hyperlinks, as well as a new typeface to allow more context and information to be included on the pages.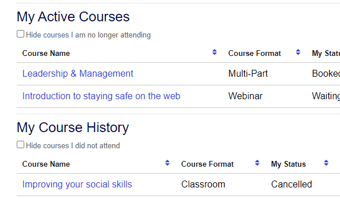 accessplanit Staff Summit: Rocket Fuel 🚀
This year, we hosted our first accessplanit Staff Summit. It was a full day of celebration, fun and collaboration. We had some truly inspiring talks and discussions led by Enthuse International over the course of the day. Overall, it was an amazing day for the whole team!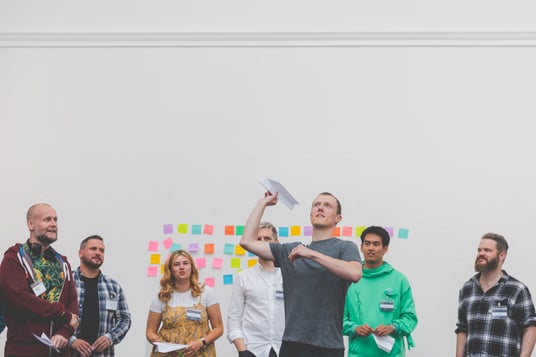 Everest Conference 2022
We had a great time hosting our annual Everest Training Industry Conference 2022!
We had a host of virtual events running across the two days led by training industry experts, in a range of topics including lead generation, learning impact, and live mixed learning.
If you didn't manage to join us for Everest this year, discover our key takeaways with our Everest Training Industry Conference round-up here!


Our team has grown!
This year we welcomed 14 amazing new members to our accessplanit family:
Angela Donovan - Customer Support Team Manager
Jack Chandler - Customer Success Manager
Jordan Fisher - Junior Software Developer
Robert Coxhill - Implementation Manager
Helen Noble - Customer Success Manager
Rebecca Hennedy - Marketing Manager
Dan Holding - Customer Support Advisor
Hannah Letch - Customer Support Advisor
Harrison Wood - Software Developer
Megan Hanson - Head of People
Nick Hokari-Daly - Software Developer
Al Sharpe - Business Development Manager
Eleonora Drago - Product Manager
Nigel Powell - Head of DevOps
Staff promotions/role progressions
And a big congratulations to the existing accessplanit family members who levelled up this year! We had 8 team members with promotions or role progressions:
Emily Sargant - Software Tester
Amy Evans - Head of Finance
Josh Allen - Junior Software Developer
Aimee Armitage - Head of Customer Experience
Louis Parsloe - Head of New Business
Steven Helvin - Senior Software Engineer
Vivek Padala - Senior Software Engineer
Jenna Buttershaw - Product Knowledge Manager
Ian Brown - Business Operations Coordinator
Developing our skills
We couldn't offer training management software without having lots of training ourselves! 2022 has been a huge year for enhancing our learning - we've actively pursued staff training and improvement sessions for our team members.
Our Customer Success, New Business and Product teams have had sales training with SalesGeek
We've had presentation skills training with Mindful Presenter
We created a LMA Training Program to develop our people management skills
We've had Emotional Intelligence training with Lancaster and Morecambe College
We launched a Funded Tech Skills Program!
We've also had lots of Lunch and Learn sessions throughout the year - on topics from accessibility to levelling up your Linkedin profile.
Making a difference
We have continued to focus on fundraising and making a difference, and feel incredibly strongly about giving to those that need help more than ourselves, be it close to home or on the other side of the world.
In March, the accessplanit team challenged themselves to walk from Lancaster to Lublin 4 times in 4 weeks - or 3680 miles in total - to raise money for Lublin. Lublin is a Polish city near the Ukraine border that had experienced a high influx of refugees, and in urgent need of essential medical supplies and food. We raised an amazing £1859 across our two events for this.
In April, we hosted a Games/"Sports" Day for staff and customers at the accessplanit office, to raise money for an emergency appeal for Lublin, near the Ukrainian border in Poland. They received over 2 million refugees who had to flee Ukraine due to the war. We fundraised through several games and a raffle, raising £1859 across our two events for this!
In July, we took on the Cross Bay Walk to fundraise for Derian House Children's Hospice. The hospice help children and young people, whose lives are too short, to make happy memories in an environment of fun, respect and high-quality care. We walked through river channels and sand banks from Arnside to Grange-over-Sands, raising a fantastic £1,395!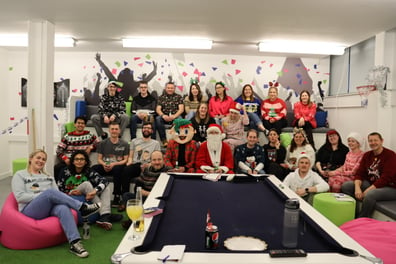 In December we hit our target of collecting 250 food bank donations (with accessplanit donating £1 per item)! We also raised vital funds to support people's mental health in Lancashire for Lancashire Mind with our Festive Day and Mental Elf 5k run.
A Sneak Peek at 2023
This year we released many impactful features - and we have big plans for next year!
Take a sneak peek at our Product Roadmap here..
Our 2022 in numbers
All of this wouldn't have been possible without our amazing customers and incredible team. A big thank you for making this year amazing!
Here's a graphic summing up our 2022 highlights: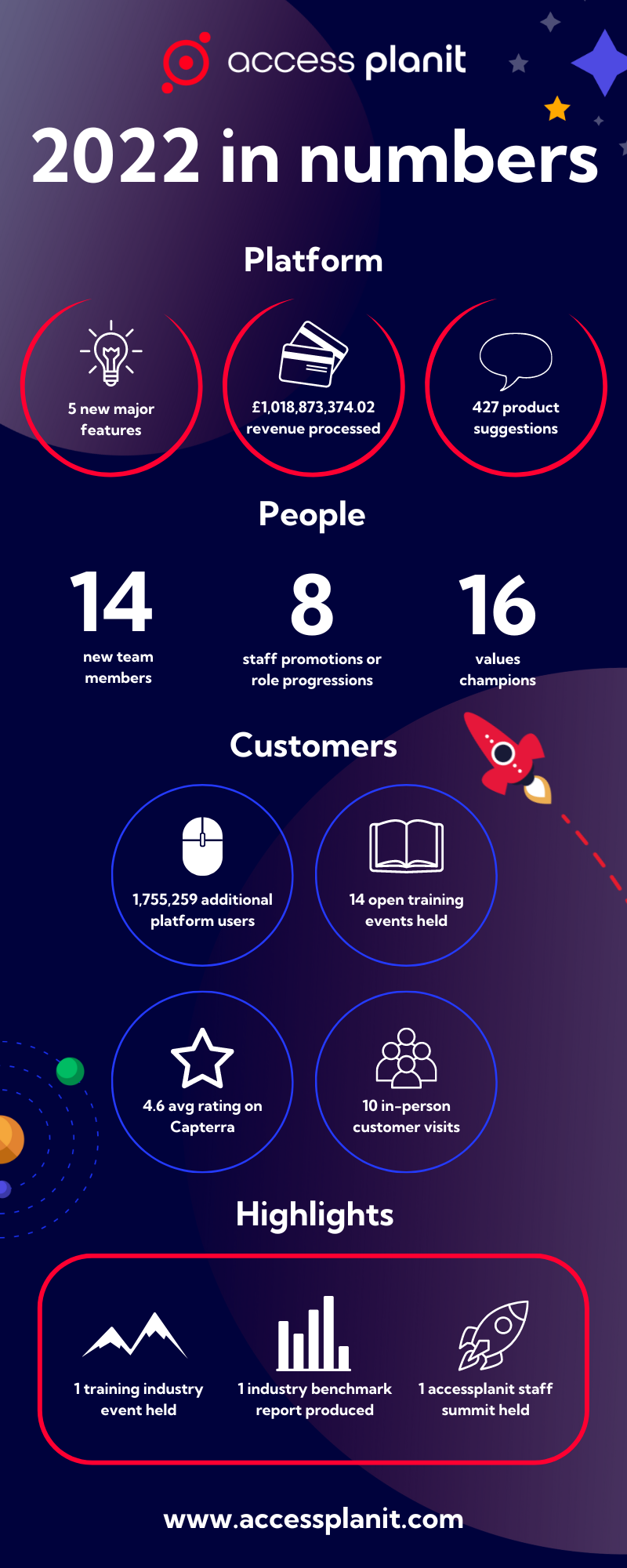 Want to stay up to date with what we're up to? Subscribe to our blog or follow us on Instagram!