How Training Companies Can Communicate Effectively

Do you need to make 3 trips a day to the Post Office to keep your course delegates informed? No, of course not. It is now 2015, the age of email, mobile and social media, communication channels are so simple and easily accessible that it is alarming that so many organisations are getting it wrong!
Have you ever ordered an item to not receive an order confirmation or shipping update and for it to turn up on your door step a few days later?
A welcome surprise as all packages are, but annoying nonetheless.
In the meantime, it will be likely that you have been out and bought exactly the same item and that it will be getting sent straight back. This results in a loss of both revenue and time for the supplier as well as a likelihood of not receiving your custom again.
On the flip side, order a taxi and you will receive a text message confirming the booking as well as a communication when it has arrived plus what kind of vehicle to look out for – it doesn't get much simpler than that!
As well as providing a smooth customer experience this secures the provider as a trusted supplier in your eyes and therefore you are much more likely to use their services again.
3 simple tips for communicating effectively throughout the learning journey:
1. Make sure delegates feel prepared
Communicating with delegates prior to a course is probably the most crucial time to get in touch. Set up triggers which send an email or SMS at the change of a status or a certain number of days before a course starts. For example, once a candidate is booked onto a course this may trigger a set of joining instructions, 1 week before the course you may wish to send some reading materials and 2 days prior to the course to send an SMS reminder. Through the addition of an online course booking tool this will not even require you to lift a finger and also leave the customer feeling prepared and looking forward to the session. A win, win situation! Take a look at other key online booking benefits.
2. Keep everybody informed
As well as communication experience, the course itself is also key; this is why it is so important to keep everybody in the loop. For example, if the trainer hasn't been updated with a venue change and turns up at an alternative venue 5 miles away in rush hour traffic, this is not going to fill the candidates with confidence and they will be less than impressed from the start.
Additionally, make sure that you are communicating with the right person. If a candidate has been booked onto a course by their manager, make sure you are sending correspondence to the preferred contact.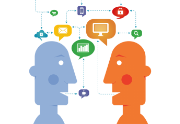 3. Don't forget the customer once the course is over
How many times have you ended a course, seminar or event on a high and not received any correspondence afterwards? It really leaves you feeling let down doesn't it? Sending on further information or course materials makes the customer feel valued and also provides the perfect marketing opportunity to promote courses.
Further down the line, set up communications for a certain time after completion with course offerings. In our experience, this has proven to be particularly effective if the delegate attended a levelled course where you can advertise the next level or qualification. Check out this free eBook which looks at further ways to promote courses and increase course bookings.
Communicating with your customers has a multitude of benefits for both you as the provider and for the customer and something you can provide easily with the use of course management technology.
Learn more about other areas you could automate using a training management system by downloading free 10 ways to automate whitepaper.
Other related articles include:
Use SMS To Communicate In Training Administration
New Automated Communication Tool