The Training Professional's Guide For a Successful 2019

With just one quarter left of 2018, now is a good time to be looking ahead to 2019 and identifying the things you can do differently in your business to make the biggest impact to your results. In our training industry survey, training professionals from a wide range of industries identified 4 common challenges that are holding them back from success. This guide focuses on these 4 areas to provide a comprehensive planning guide for a successful 2019.
Albert Einstein famously said, "The definition of insanity is doing the same thing over and over again but expecting different results".
What are you planning to do differently in 2019 to ensure that it is your most successful year yet?
To get you started, I've devised a 4-step plan to help you prepare for a successful 2019.
The Training Company Guide For a Successful 2019
Understand your customer
Utilise digital marketing tools
Identify bottlenecks in your processes
Eliminate unnecessary costs
1. Understand your customer
The first step of the guide is all about the most important part of your business: your customers.
This step requires a two-pronged approach. The training landscape is changing, meaning that training professionals both need to adapt their learning delivery methods as well as how they market to their customers. This requires you to have a deep understanding of who your ideal customer is and how they want to be served.
Let's start with learning delivery methods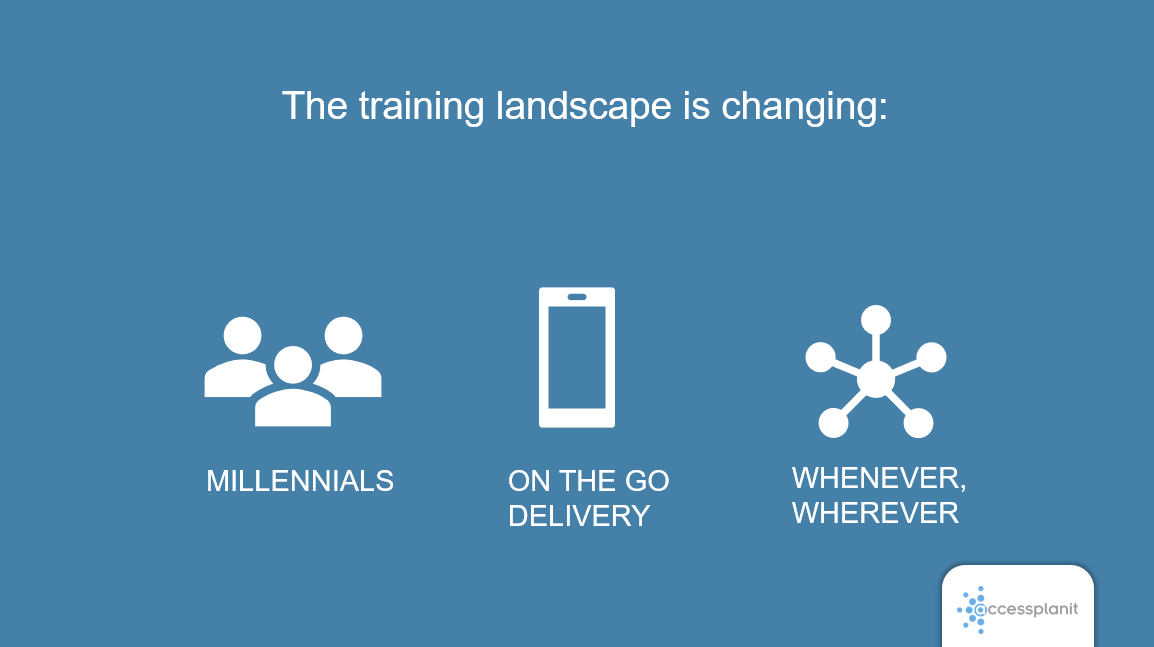 By 2020, millennials will make up 50% of the global workforce. more than 90% of these millennials own smartphones and 71% prefer mobile and self-service learning much more than traditional learning and development delivery methods.
However, it is not only the millennial demographic where working and learning preferences are changing. In the last 12 months, the number of remote workers has doubled in size with PwC actively encouraging their employees to work where they want. With leading organisations getting on board, the way people prefer to consume information is only set to become more focused on flexibility,
The training companies that took part in our 2018 training industry survey do appear to be taking this on board with respondents telling us that they plan to increase their focus on self-service learning in the next 12 months.
Though, this doesn't mean that traditional delivery methods are no longer effective. Findcourses.co.uk found that face to face learning is still incredibly valuable with workshops, seminars and open courses identified as the most popular options to train staff across all levels of an organisation.
No matter your target market, embracing online learning can set you apart from your competitors and help you to provide a value added service to your clients whether this be a standalone offering or part of a blended learning approach.
There are lots of options available to offer your customers self-directed learning such as a learning management system (LMS) or virtual learning environment (VLE). Another option to consider is using something that is connected with your training event management software as then your entire training operation is managed in one central location allowing you to easily identify process bottlenecks (which I'll come on to later).
Who is your ideal customer?
Without knowing who your ideal customer is, it is impossible to provide the learning and value that they want. Trends in the training industry are crucial to understanding the wider environment that you are operating in but knowing your individual customers' wants and needs is equally as important for success.
In order to do this, you need to begin by defining your ideal customer personas. A customer persona is "a semi-fictional representation of your ideal customer based on market research and real data about your existing customers".
Information you need to identify for each of your personas can include demographic characteristics such as occupation, age, income level as well as psychographic details such as goals, challenges and values.
It's also important to understand where your persona 'hangs out'. Which social networks are they part of? What blogs and publications are they reading? Are there any events that they go to?
The infographic below provides a great overview of the key areas to identify to start building your personas.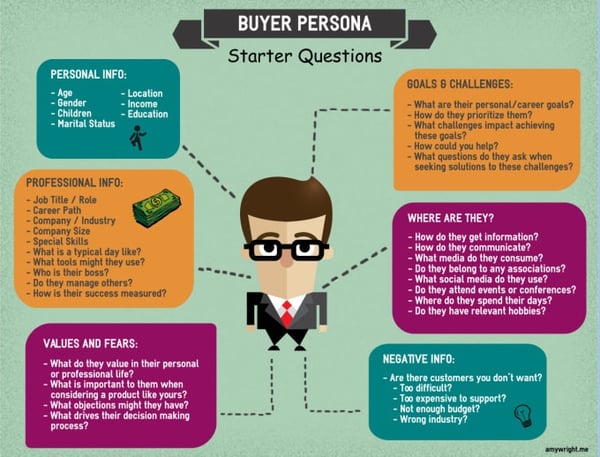 How can you do this? Here's a few ideas to use to really get to know your customers:
Focus groups
One-to-one interviews
Telephone calls
Surveys and questionnaires
Ultimately, it's all about talking to your customer to understand who they are, how they prefer to learn, where they consume information and how you can target them more effectively.
Check out HubSpot's Make My Persona tool to get started creating or refining your existing customer personas.
2. Utilise digital marketing tools
The training industry is becoming a more and more competitive marketplace so it is surprising that in in our training industry survey we found that 70% of training companies are neglecting digital lead generation tools.
This provides a huge opportunity for training businesses and is why I included it in my 4-step guide.
Why is digital marketing important?
With search engines attributed as the source for 90% of all website traffic and web users tending not to click past page 1, optimising your online presence is something that you can't afford not to do.
By knowing your customer personas (see above), you can better understand the terms that they are searching for and use this information to optimise your messaging. Keeping your website fresh by producing helpful and informative content and blogging regularly is also a key component. By doing this, you will rank higher in search engine results and help your ideal customers to find your website and in turn, choose you as their service provider.
Search engine optimisation (SEO) is extremely effective when you get it right but it can take a few months until you start to see the results you want. In the meantime, you can supplement your organic traffic by investing in pay-per-click lead generation such as Google AdWords.
Recommended reading: How to Make the Most of SEO and PPC to Increase Course Bookings
Leveraging your happy customers
Reputation and referrals are still a key part of marketing strategies for training businesses with 70% of our training industry survey respondents relying on them as key marketing channels.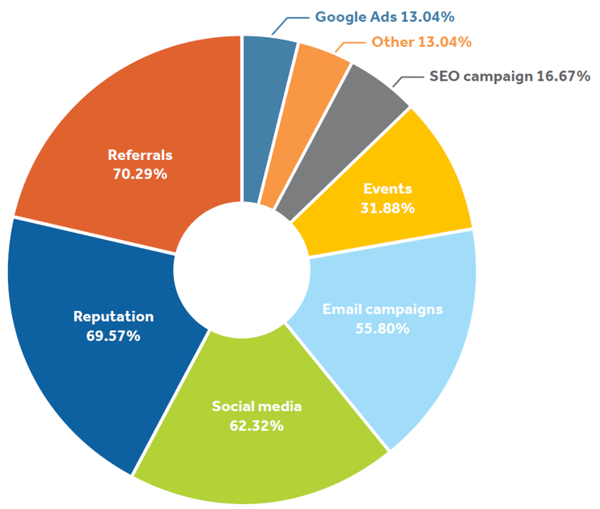 And, rightly so with 88% of consumers trusting online reviews just as much as advice from friends and family. But, what is the point in generating all of those reviews and testimonials if nobody sees them? Social proof is one of the most effective ways of marketing and is equally as important as the content that you create yourself.
So, how can you make the most of your happy customers? Here's three tried and tested ideas to get started:
Produce customer case studies highlighting key results and publish them on your website
Implement a customer referral scheme where you offer an incentive to customers for referring your business to someone they know such as money off their next booking
Set up a profile on customer review sites such as Coursecheck and Feefo and ask your customers to leave a review at the end of a course
3. Identify bottlenecks in your processes
The average training business is spending 26 resource hours on course administration per week according to our training industry survey. Does this sound familiar? Or, fairly tame?
Knowing your processes
First off, you can't identify process bottlenecks if you don't have a crystal clear understanding of your processes. By mapping your ideal learner or customer journey, you can understand where you can make changes in order to do more with less. You also have a repeatable process that everyone in your business can follow to ensure that all of your customers receive the same outcome each and every time they work with you.
I've mapped out a typical customer journey that I see from training companies below.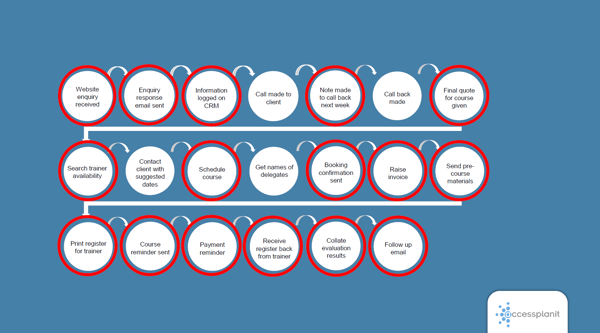 I have circled in red which areas of the process can be automated with tools such as our training management software to help your business provide a standardised service and reduce those manual admin tasks. These areas are essentially your bottlenecks.
It has been found that businesses lose more than 29% in revenue each year due to inefficient processes so it is incredibly worthwhile understanding where those inefficiencies are and how you can remedy them.
Investing in software that can automate your processes can feel like a steep investment. However, if you can cut down on admin time spent and redirect that resource to more value added activities then the ROI should speak for itself.
Which processes should I automate?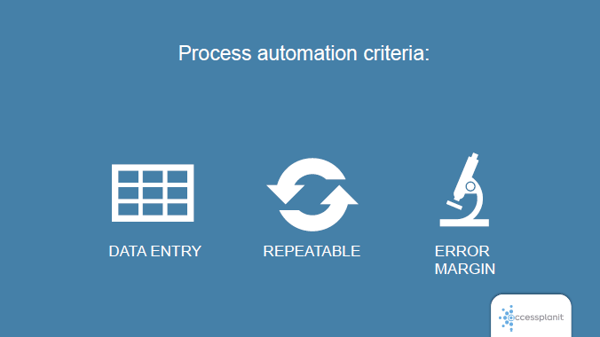 Just because you've found a tool that can automate every single one of your processes, it doesn't necessarily mean that you should. Some processes still require a human touch for purposes such as providing a great customer experience or quality control.
I've outlined 3 simple criteria to help you establish which business processes you should automate:
1. Data entry - are you spending hours inputting data in order to get value out of the information? If so, this is an area you should be looking to automate. This will both provide the information you need faster as well as freeing up admin resource to focus on more important tasks.
2. Repeatable - which of your processes happen over and over again? For example, how many emails do you send manually for each course? Automating these kinds of processes make sure that your service is standardised and nothing falls through the cracks.
3. Low margin for error - with humans inevitably comes human error. If you have processes that must be the same each time or there is no margin for error (such as invoicing), I'd suggest automating that part of the process.
You can try this yourself by mapping one of your key processes, identify any bottlenecks and review which of these bottlenecks meet the criteria above.
4. Eliminate unnecessary costs
Over a fifth of training businesses in our training industry survey were concerned with a lack of business oversight.
Business insight is critical for growth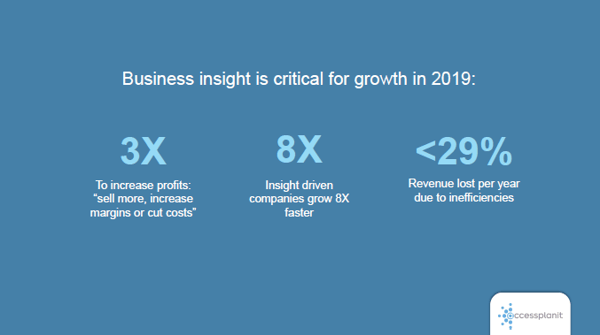 Insight driven companies grow 8 times faster as those businesses that aren't driven by insight. Why is that? Simple. Insight driven organisations know exactly where their costs are coming from.
Ask yourself:
What was your most popular course last year?
What was your most profitable course last year?
Many training companies I have spoken with do not have a clear understanding of which of their courses are actually profitable (not just popular). In turn, they are not able to remedy the issues that are costing them money unnecessarily.
In order to do this, you must be recording and reporting effectively. Once you know where your costs are coming from, you can assess where you can make savings.
Before you go slashing all of your costs, it's also important to consider how this will impact your service or brand. For example, if your training venue of choice goes from the Hilton to the Holiday Inn, will this have a negative impact on your clients' overall experience? It is all about finding the right balance between cost-saving and customer experience.
Preparing your training business for 2019
By following this 4-step guide, you'll be in a much better position for a successful 2019.
Understand your customer
Utilise digital marketing tools
Identify bottlenecks in your processes
Eliminate unnecessary costs
Preparing for 2019 should be on your agenda right now. To access my recent webinar on this topic as well as my suggested reading list, click here.
Or, if you want to explore how we can help you to automate manual training processes then you can schedule a one-on-one demo here where we will explore your current processes in more detail.
Related Resources