accessplanit Achieves Customer Service Excellence Standard!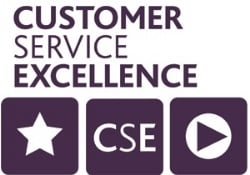 As a software house, we feel that our levels of customer service and support really do set us apart from the crowd. Software suppliers are sometimes seen as too machinelike and as not having enough of a human touch. Therefore, we are pleased to announce that this month (September 2015) we gained the Customer Service Excellence (CSE) Standard.
Following the implementation of ISO 9001:2008 earlier this year and the benefits gained we felt that we were in a great position to work towards another standard. As Customer Success is our philosophy, a customer service focused award was our goal so we selected the Customer Service Excellence Award.
The Customer Service Excellence Award recognises organisations that provide first-rate customer service and provides a tool for driving customer-focused improvements. It is made up of 57 elements within 5 key areas:
Customer Insight
The Culture of the Organisation
Information and Access
Delivery
Timeliness and Quality of Service
The Customer Service Excellence Award is presented to those organisations that can demonstrate 80% compliance to the elements.
We were found to be compliant in 91% of the elements and not only that, we were also awarded Compliance Plus in three areas:
Having an in-depth understanding of the characteristics of our current and potential customer groups.
Having insight about our customer groups to better understand their needs and preferences.
Delivering the service we promised to individual customers and ensuring the outcomes are positive for the majority of our customers. The report stated 'The organisation goes to extraordinary lengths to agree with customers what they can expect and they continue to adapt service delivery so that outcomes are positive for them, resulting in a Compliance Plus rating.'
The process for achieving the Customer Service Excellence Award is to collect and provide existing evidence of compliance to the elements followed by a two day on site assessment. The assessment visit is made up of discussions with customers, meetings with staff from front line to senior management, observing service delivery and reviewing evidence complied prior to the visit.
The main value that we gained from the process was the opportunity to review our existing processes and make customer focused improvements by introducing new best practice into the business.
The assessment report said 'Customer engagement and involvement is a priority and there are strategies in place to ensure customers become involved at all stages of production including after the implementation of programmes.'
The report also stated 'Feedback to the assessor includes complimentary comments on levels of support and engagement. The helpdesk team provides a valued service for customers who report that staff are helpful, reliable, knowledgeable and polite.'
Dave Evans, Managing Director of accessplanit commented 'The assessor recognised the commitment and effort put in by every member of the team to continually improve customer service. It is a great result and driver for us moving forward to build upon our existing Customer Success strategy and Driving Success Model'.
Meeting these standards has helped us to improve our approach to meet our customers' needs and build lasting, ongoing relationships with our clients. We have been able to embed this within our culture here at accessplanit, and continue in our efforts to improve our existing customer success strategies.
To learn more about our Driving Success Programme centred on a philosophy of Customer Success download the free ebook.
Other articles you might find interesting include:
Training Management Software On G-Cloud 7 With accessplanit
Finalists In Red Rose Customer Service Award 2016!
Training Management Software House Finalist For E3 Business Awards!