accessplanit Upgraded To 5 Compliance Plus In Customer Service Excellence

Software suppliers are sometimes seen as too machine-like and as not having enough of a human touch. This is why we are so heavily committed to providing the highest levels of customer service to our customers, and it is with great pleasure, that we can announce that we have upgraded our status in our most recent Customer Service Excellence Standard assessment.
Following our successful transition to ISO 9001:2015 last month, we are over the moon to have received even more great news. We have maintained Compliance Plus in three areas and been awarded an additional two.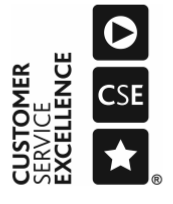 We now hold Compliance Plus in these areas:
Having an in-depth understanding of the characteristics of our current and potential customer groups.
Having insight about our customer groups to better understand their needs and preferences.
Delivering the service we promised to individual customers and ensuring the outcomes are positive for the majority of our customers. The report stated, 'The organisation goes to extraordinary lengths to agree with customers what they can expect and they continue to adapt service delivery so that outcomes are positive for them, resulting in a Compliance Plus rating.'
There is corporate commitment to putting the customer at the heart of service delivery and leaders in our organisation actively support this and advocate for customers.
We can demonstrate how customer-facing staffs' insight and experience is incorporated into internal processes, policy development and service planning. The report read, 'The assessor is impressed by the way customer-facing staff are encouraged to use their insight and experience to make improvements to internal policy, processes and service planning.'
The Customer Service Excellence Standard recognises organisations that provide first-rate customer service and provides a tool for driving customer-focused improvements. It is made up of 57 elements within 5 key areas:
Customer Insight
The Culture of the Organisation
Information and Access
Delivery
Timeliness and Quality of Service
The process for maintaining the Customer Service Excellence Award is to collect and provide existing evidence of compliance from throughout the business which are assessed annually.
The assessment visit includes discussions with customers, meetings with a variety of staff members from front line to senior management and the observation of service delivery.
The assessment report said 'The commitment from the Directors of this company to putting the customer at the heart of their service is commendable.'
The report also stated 'The service runs to exacting standards – to ensure that the software at the implementation stage works well for customers. Faults are few and are quickly remedied.'
Dave Evans, Managing Director of accessplanit commented "It was brilliant to be awarded 2 additional areas of Compliance Plus. The team work exceptionally hard to ensure our customers are satisfied and this is a great morale boost for the entire organisation!"
Building on the standard has allowed us to explore more and more ways to provide additional benefit to our customers.
To learn more about our Driving Success model centred on our philosophy of Customer Success download the free eBook.
Other articles you might find interesting include:
The Life of A Customer Success Manager
accessplanit Achieves ISO 9001:2015 Accreditation
accessplanit Chosen As Winners In HSBC Customer Service Award