COVID-19 & The Training Industry: The Impact Of Quarantine

In our latest webinar, we discussed the impact of the COVID-19 virus on the training industry, and ways in which you can look to mitigate some of the impact by offering online learning to your delegates. We heard from lots of training providers about how COVID-19 is impact training operations right now, and how they are responding to these uncertain times.
As a training management software solution that works with hundreds of training companies, accessplanit have witnessed first-hand the impact that COVID-19 is having on face-to-face training. We've been speaking to lots of our customers about the contingency plans they are making to try and keep training options open to their learners, and to combat and reduce the impact on their businesses. Our customers have reported that they have been experiencing the following:
A drop in booking numbers
Unsurprisingly, due to lock-down this was inevitable. This has had the largest impact on industries like construction, where much of the training requires a hands-on approach. Check out our webinar on taking the seemingly impossible training online.
How they are dealing with it:
Communication with delegates is key. If courses are still open, making sure that delegates are made aware of this, and made aware of any extra precautions they may be taking to keep people safe.
Staff and delegates working from home
When lock-down was first introduced, many of us didn't have the home setup that allowed us to work effectively, 9-5, Monday to Friday. We were missing vital technology such as headsets, webcams and cloud-based access to company files. We were also missing human interaction, regular check-ins and had to adjust to a change in routine/structure.
How they are dealing with it:
Everyone found themselves in the same boat. The first couple of weeks was a case of dusting off and getting organised - whether that meant ordering new equipment or checking in on colleagues well-being. Ultimately, in time, many of our clients found success using online webinar delivery tools such as Zoom and GoToWebinar via accessplanit, to allow them to continue their courses in a safe way for their clients and students.
Reductions in face-to-face interactions
This is impacting in-house courses the most across all industries within the training space, with a lot of clients deferring places.
How they are dealing with it:
Many training providers are allowing the deferral of courses, or putting courses on hold- to both protect revenue and to allow them some time to put online options in place for clients.
Increase in online offerings
More delegates are being transferred to online courses as well as more people choosing to spend this time of isolation taking an online course from home.
How they are dealing with it:
The training industry as a whole has the opportunity to turn their potential losses into a win, by offering online-learning to both existing clients and people who are taking this time at home to learn.
How the training industry feels about COVID-19
Every year, accessplanit run a Training Industry Survey allowing training providers to benchmark their business. This year, we've added the question: 'Do you feel Coronavirus has impacted your organisation in any way yet or will impact it in the coming year?'.
Of the hundreds of submissions we've had, 93% of training professionals have said 'yes' it has directly affected their business. Some are reporting dramatic impact on their bookings, either for the better (An uptake in online bookings), or for the worse (Face-to-face cancellations).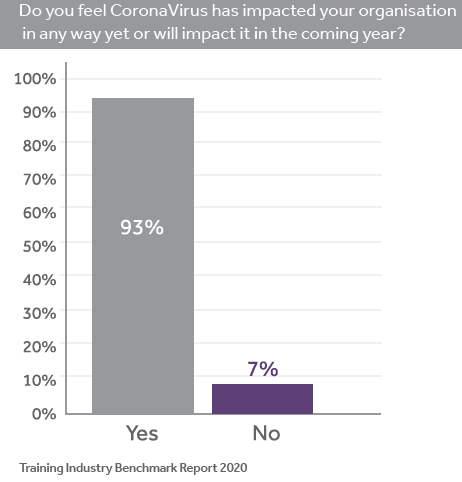 We've had comments from lots of different companies about the affect they're experiencing, as well as what they are doing to mitigate it.
"We provide a lot of classroom-based training. We're going to have to shift to VILT (Virtual Instructor Led Training) more heavily from here on out."
"We are increasing our focus on distance learning and skilling-up more resources to deliver."
"Our business is 95% face to face training with the vast majority of attendees traveling to the venue city. All courses cancelled this month and for foreseeable future. We will take the opportunity to talk to as many clients as possible and see if we can do forward-planning but as self-isolation becomes increasingly common, the dialogue will get quieter. We will do what we can to diversify and respond to clients' requests."
"We are currently in the process of cancelling all our f2f courses from now until end Apr. That's around 120 courses!"
... On a more positive note:
"As an online provider we expect to see more business and to pick up traditional classroom business"
"All of my clients have cancelled and have offered them remote learning as an alternative with some success."
"Working on online alternatives as we speak! Hopefully we can still deliver some of our events."
"Had to turn all in-person training into virtual immediately. No time to make hands-on items as quality as would like. Teaching facilitators how to use virtual tech"
"We are offering solutions which include larger virtual classrooms and smaller facilitated action learning groups. A university model applied in the business world."
So, what can you do to mitigate some of these affects?
Many of the training professionals we've spoken to have reported that they are actively implementing steps to take their courses online. Of the customers who already offer online-learning, most of them have reported an uptake in bookings for online courses. This makes perfect sense when you consider the sheer amount of people, now isolated and working from home.
With help from our friends at London School Online, we have put together a detailed help-guide and check-list, for those training providers wishing to take their course offerings online:
There are lots of ways that accessplanit can help make running online courses easier for training providers. accessplanit offers free web-based functionality for its customers, and it's as easy as setting up your normal, face-to-face courses. If you'd like to find out more about how to set-up web-based courses, and get even more info on how to run successful online-training, Book an online demo today!
Read More: