accessplanit's Feature Update | Q3 2022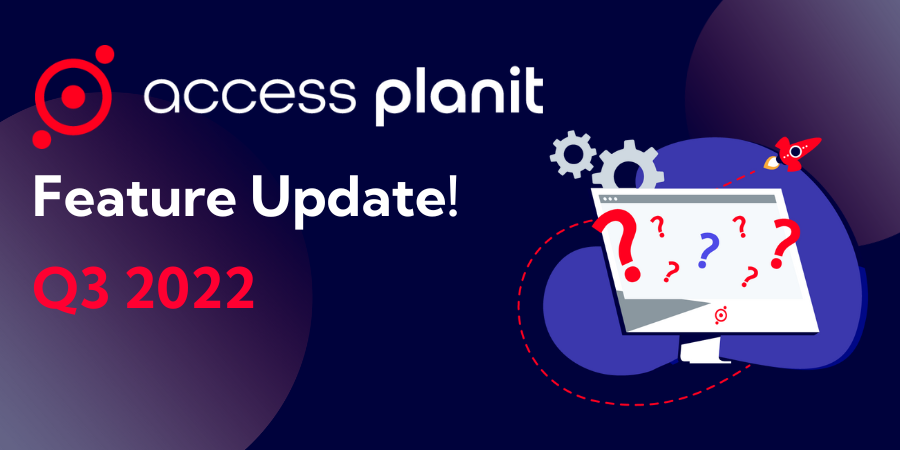 We've had lots of exciting accessplanit product updates last quarter, with several usability and performance improvements across the platform. Updates includes support for WorldPay and Products & Services in Checkout, API Feed enhancements, as well as new Section Menus along the top of platform forms.
Products & Services in Checkout
Our latest feature addition to our

new Checkout basket!

The Products & Services module allows you to sell more than just courses through your basket! Here are a few of the common types of Products & Services that we have seen built within the accessplanit platform so far:
Selling printed certificates alongside courses
Selling optional and mandatory exams alongside courses
Selling hotel / travel services alongside courses
Selling books and learning materials
Selling course related equipment such as first aid kits
Adding booking fees to course bookings
Products & Services tend to be allocated to Courses so that they are displayed and promoted in the basket whenever your customers are making a booking. However it is also possible for your customers to follow a direct purchase link to buy a Product & Service on its own!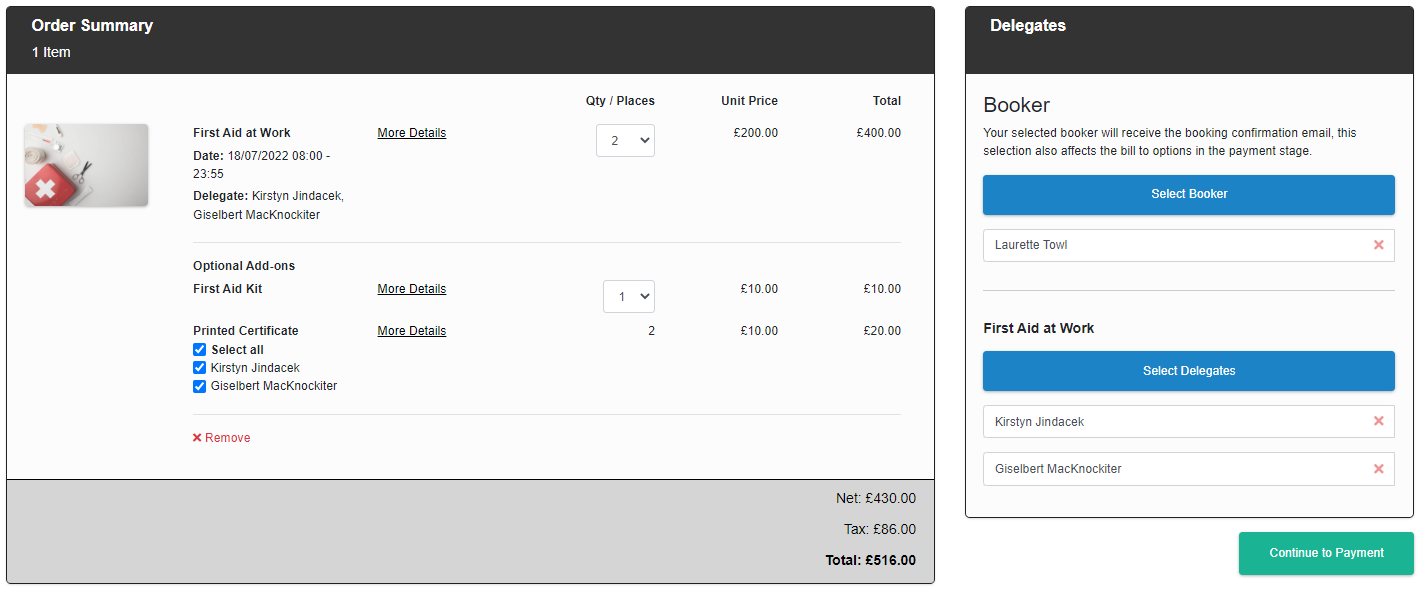 WorldPay in Checkout
Our latest payment gateway addition!
The integration is for WorldPay's Corporate Gateway and so if you have a WorldPay corporate gateway account or you are about to get one, once this is enabled it will show up as a new payment option in your Checkout basket!

WorldPay opens in a pop-over window over the top of the Checkout basket, so your customers are not directed anywhere else to complete their payment, it is all done within one page.
Section Menus
A new type of menu
Section Menus are a new type of menu which displays at the top of the forms in your platform, they make navigating up and down your forms much quicker and save you a lot of scrolling!
It's just a simple click to jump to the area of the form that you want to view or edit, and a click on the first option in the Section Menu to jump back up to the top of the page.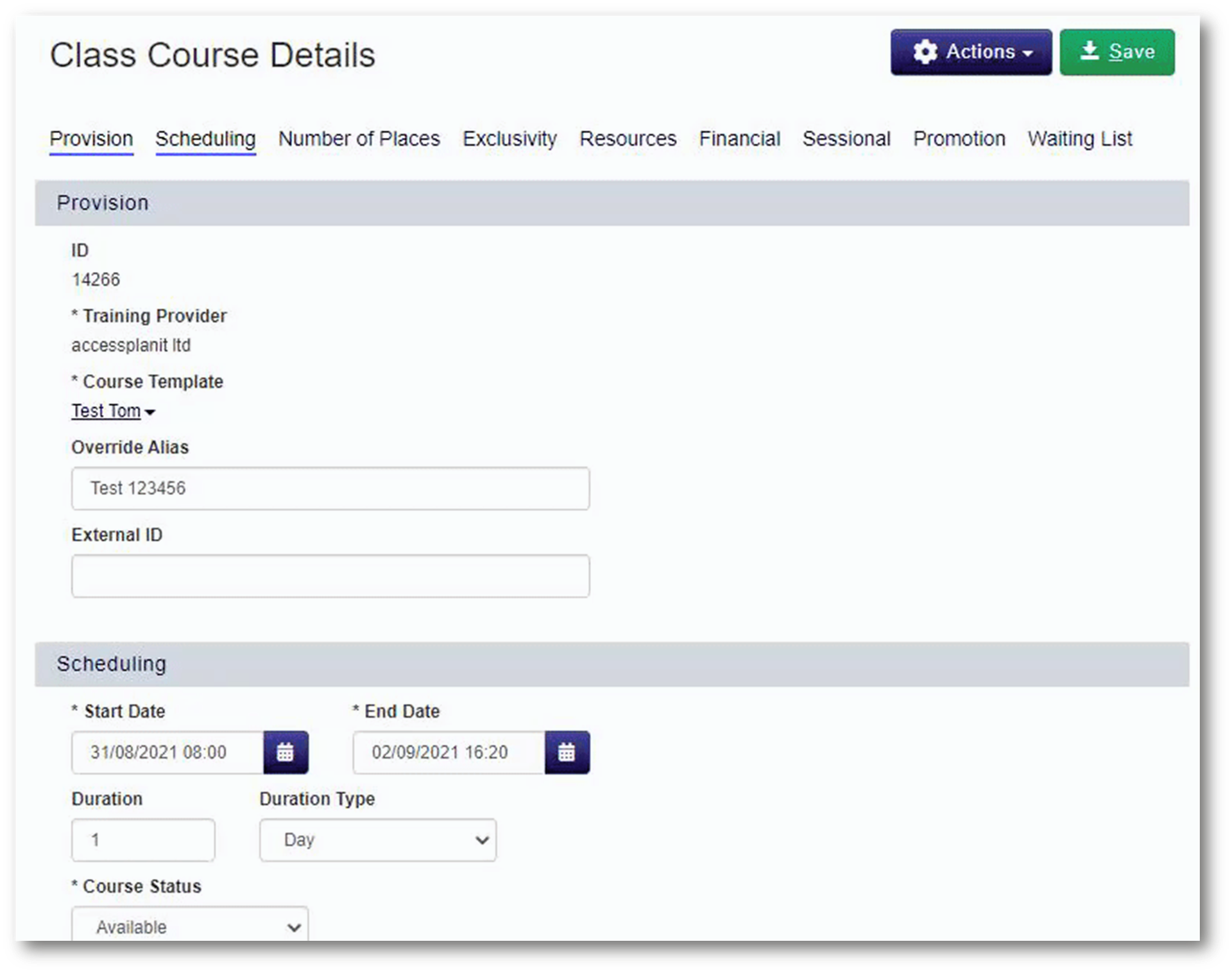 jQuery update

Security and performance improvements
jQuery is a JavaScript library and it is used as one of the technologies to build your accessplanit platform.

We have updated the entire accessplanit platform, including the Learner Portal and the Shopping Baskets, to have the latest version of jQuery. This means that your accessplanit platform benefits from the latest security fixes and performance improvements from the jQuery latest version.
API Feed improvements
There are two API Feed improvements in this update, both of them support your developers with building high performing integrations!
API Feed Filtering
The first is to introduce filtering into more of the available feeds, we already have support for filtering the Courses and the Delegates feed, however there is now support for filtering the following API Feed endpoints:
This means that there is much less work to do to grab the data needed for your integration.
Date Updated
The second update is the addition of 'Date Updated' as an extra field, for the following API Feed endpoints:
Users

Accounts

Course Dates

Invoices
As each of these feeds can be filtered, this means that your developers will be able to make requests such as "only show me users that have been updated in the last 24 hours", or "only show me courses that have been updated in the last hour".
DataGrid usability improvements
Improving user experience
We have implemented some helpful UX changes into the DataGrids this quarter. First of all, we have added some supporting icons to the Filters, Bulk Edit, and Export buttons.




Icons are great for everyone as, as well as looking nice, they help with recall which means that it is quicker to find what you're looking for on the page. Icons also help provide more context which is great for brand new administrators to your team.

You'll also notice that we have also updated the icon that is used for changing the columns in your DataGrid from the triple dots to a column icon. We recognised that the current icon is not very informative, so we have changed the icon to make more sense, and to improve this further there will now be text displayed when you hover over the button to let you know what it is for.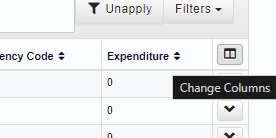 Secondly, we have added some headers to the column selector window to explain what the options are for, while experienced users will probably not benefit from this too much as they already know what they do, hopefully they will be a help to any new employees that you bring into your teams.


Finally, we have updated the DataGrid search options to move all of the options that you are currently searching on to the top of the list, this means that you can clearly see what you are already searching for and you do not need to scroll up and down the list to find out this information.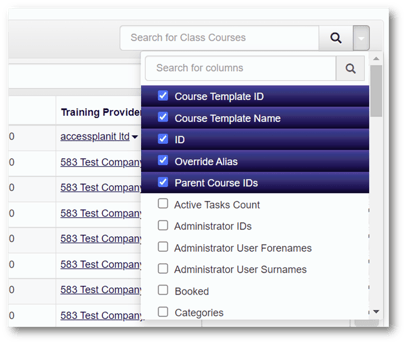 Page labels
Easy, jargon-free navigation
Here at accessplanit, we are starting on our journey to make the platform as accessible as possible. We have recently been working on a review of the platform against WCAG's AA accessibility standard to produce our accessibility statement and roadmap.

One of the interesting, and often overlooked, parts of accessibility is 'easy read' which is all about presenting text in an easy to understand, jargon-free format.

We have started on this by renaming many of the platform pages to remove unnecessary text.

For example, we have renamed the 'Resource Unavailability Maintenance' page to 'Resource Unavailability', the word maintenance is not essential, people accessing that page are not necessarily going to the page to maintain unavailability, and that is not how users describe the page.


Similarly, we have renamed the 'Course Booking Maintenance' page to 'Bookings'.


It is not just users that benefit from easy-read that will benefit from this change, it also helps all of us when we're talking about the platform, directing admins for which page to go to, and just really call the pages what they are.
Visit Basket button
Visit your basket
This is quite a small update! We have added in a new button into the window that pops-up when you add a course, or product and service to your basket so that you can head straight over to your basket.

Pre-populate the Manage Booking step
Making bookings simple
If you are already making use of the Manage Booking step at the end of your Checkout basket then this one is for you!

By popular demand, we have updated this page to pre-populate with information, if the delegate already has this information stored against them.

If you have not heard of this step before, the Manage Booking step is a feature available in the new Checkout basket where you can capture extra information about the Delegates attending your Courses, once the booking has been taken. This means that you're not losing out on bookings or revenue because there are too many questions up front in the registration form, or if your booking users just don't know that information yet!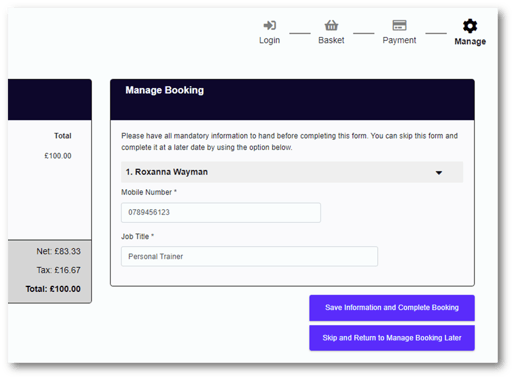 Following this update, if Roxanna (in the above image) has previously provided us with her mobile number and job title, these will be already filled in when she makes another booking to save her typing them in again, although she can overwrite them with new information if any of this has changed since her last booking.
Shortcuts in your Checkout basket
Subheading
If you have made the switch to accessplanit's new Checkout basket there are now shortcuts to remove items from your basket from the administrator view, you can remove one item or all of them from your basket preview at the top of your platform.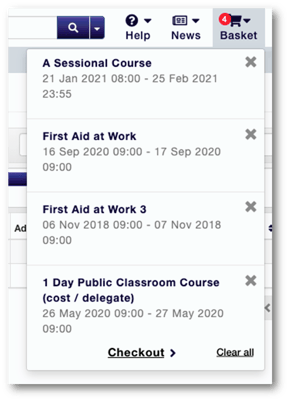 These options also include our click-again to delete feature to avoid any accidental deletes!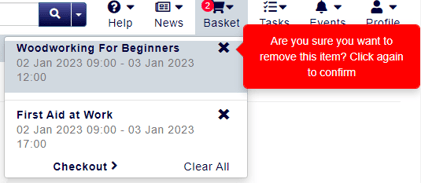 Performance updates
DataGrids, Checkout basket, and updating roles
n this latest update we have several performance improvements to speed up your accessplanit platform for yourselves and your customers!
Performance improvements have been made
In the platform DataGrids to speed up their loading time

In the new Checkout basket

To the frequency that roles are updated
Checkout - company name drop down box
No more scrolling
In this latest update we have improved the drop-down box which is used to select which Account new users will be added to when they are created as a new Delegate in your Checkout Basket.
The 'Company Name' option now has searching available so you no longer need to scroll through a long list of Accounts to find the right Account for your new user!

Stripe Update
Administrator payments
Following an update by Stripe for MOTO payments (mail order telephone order payments), we have updated our integration with Stripe.
Payments made by Administrators (on behalf of your customers) using the "Make Payment" option in the Invoices page will be processed as a MOTO payment. This type of payment bypasses the usual 3DS checks, allowing administrators to process payments without the customer having to provide sensitive data over the phone.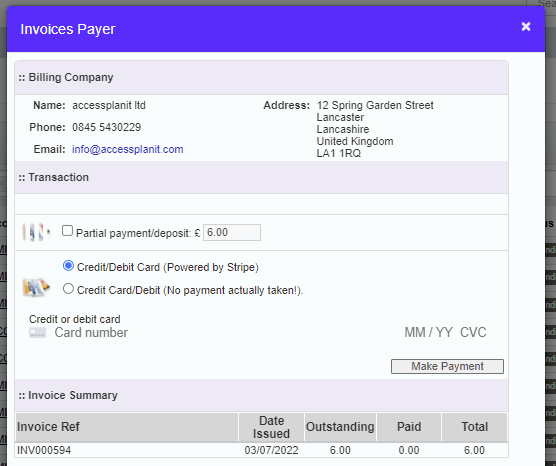 If you're interested in seeing what accessplanit's training management software can do for your business, please book a demo with one of our experts today.