The 7 Habits of Highly Effective Training Organisations
What's the difference between a good habit and a bad habit? Success. Witness some of the most productive training organisations in the world. These companies rarely grow due to some run of good luck; there's more to it than blindly undertaking a routine pattern of behaviour. Rather, the top training companies have identified the habits that bring them the most success, and refined them to the Nth degree.
At Learning Technologies back in 2017, we identified and presented the 7 habits of highly effective training organisations.
Process-driven
It begins with the end. A highly effective training organisation will possess two things: A plan of where they want to be, and a process map that defines how they intend to reach that objective.
Identify the 10 processes you should be automating by downloading the free eBook.
Maintaining a route-map is a time-honoured tradition across all industries. A novelist rarely starts a story without knowing how it ends; a builder doesn't knock up a block of flats without knowing what it should look like beforehand. And a training company doesn't look to grow and mature without a clear idea of how.
You may be looking to offer, automate, increase or promote course bookings, or looking at how to reduce training admin – whatever it is, knowing where you're heading, and forming a solid strategy to reach that destination in a professional manner is a vital habit to get into.
We recommend… Make full use of mapping your workflows which allow you to standardise processes while remaining flexible and open to performance improvements.
Automation
Unless a training company has a bottomless supply of money and people, it's inevitable that, as the organisation grows, certain processes will need to be automated.
Highly effective organisations understand that automation means bringing in the tools to help people do their job better on every level. So yes, employees can now ship out focused marketing communications and learners can book courses and pay online, but automation also provides business-critical additions like global online payments, SEO benefits, and unrivalled business insights.
Such is the power of automation that touches every aspect of a company, it becomes habit to simply let the machine help with the heavy lifting.
We recommend… Ascertain which manual processes are currently inefficient, and how employee time can be better used to provide a better service by automating your time consuming training admin.
Insight
Speaking of business insights… An effective organisation doesn't just want to see what's going on within their company; they need to know it, in order to better tailor their overall goals.
Insights let businesses make decisions that allow for growth. They can see, at a glance, which courses are over-performing (therefore allowing them to expand those particular courses, say), or they might receive feedback that implies a trainer is under performing, which negatively impacts the bottom-line.
There's far more to it than simply possessing and understanding company-wide insights – the habit comes from actually using those insights on a regular basis, feeding reports to everyone who needs to keep their finger on the organisation's pulse.
We recommend… Scheduling reports and overviews that are automatically emailed to all who need that information, without further intervention required.


Innovation
The training organisations that fail are those that are scared to change (and without insights, approaching those changes can be even tougher).
Innovation is the lifeblood of every successful business – training companies included. For instance, Netflix might've started out as a home delivery version of Blockbuster service for DVDs, but while Netflix innovated, Blockbuster stagnated, failing to capture the new online world of video streaming. By 2010, Blockbuster filed for bankruptcy. And Netflix… Or consider McDonalds, whose menu contains classics, like the Big Mac, that were a direct result of customer feedback (not to mention their constantly adapting rebrands to remain relevant).
The training world is highly competitive, meaning innovation is crucial to long-term success. To that end, there are two ways in which to innovate: 'Horizon-scanning', where you constantly seek arising opportunities or the reliable and less risky 'Feedback', using customer feedback to provide the service your clients want therefore innovating and growing.
We recommend… Collecting and analysing customer feedback from different stages of the experience. Then you and your staff are able to record, report and make improvements based on that feedback.
Communication
Good communication equals good company culture. It's certainly no surprise to discover that connected employees have a productivity rate 20-25% higher than companies who don't institute best communication practices that engage staff and drive purpose.
Clear, concise communications that are easily understood or easily actionable are the key. As Apple once said: 'Simplicity is the ultimate sophistication.' Such simplicity keeps everyone in the loop and on-message even when we're discussing global organisations with international delegates. And making good communications a good habit is just as effortless:
Set time aside each day to study communications, in order to see where the business can be improved
Study people and understand what they do
Listen – how do employees treat business comms?
Customise, since personalised communications get noticed, feel more relevant, and prevent eyes from glazing over.
It's easy, for some, to forget that the various departments of a training organisation are not individual silos, after all. You're all connected, so you'll want to work to keep it that way.
We recommend… Providing succinct and comprehensive information via communications as is required to effectively undertake each role, whether that's through emails or in-system notifications.
Customer Experience
There's more to customer experience than looking to improve a few profit margins. Naturally, you want to put customers front and centre of every experience, from initial contact to course completion – and beyond.
It starts with understanding the gap between the needs and wants of customers (those business insights coming into play once more) versus what they actually experience. You can, and indeed should, enhance their experiences by looking at which of them have the greatest impact, and acting accordingly.
Of course, all of this means nothing if you can't also provide staff with the proper capabilities to support the entire customer experience. Think 24/7 online course booking and payment. Think understanding customers' interests and offering targeted, personalised and relevant course suggestions based on their history. Think standardised company responses that create a consistent, professional image.
We recommend… Putting customers first. Simple as that. Give training administrators the ability to go the extra mile for them, with functions such as task settings and scheduling.

Continuous Improvement
The most effective training organisations never stop, not for a second. They're always studying their business and wondering, 'How can we change that for the better?'
This goes beyond simple innovation of one key aspect of your business – think bigger than that; think company-wide improvement, from the top-down. You're only as strong as the lessons you learn, and the most effective training companies are unafraid to experiment, to give their own products, services and processes the hard-eye – even if they don't particularly like what they see (and want to change them).
Whether it's making life easier for training administrators or easing the experience for customers, there's a constant need to advance themselves – and that requires three things: Inquisitiveness, a willingness to learn from all experiences, and embracing maturation. And they do this relentlessly.
Continuously assess and improve the first 6 habits and the 7th will come naturally.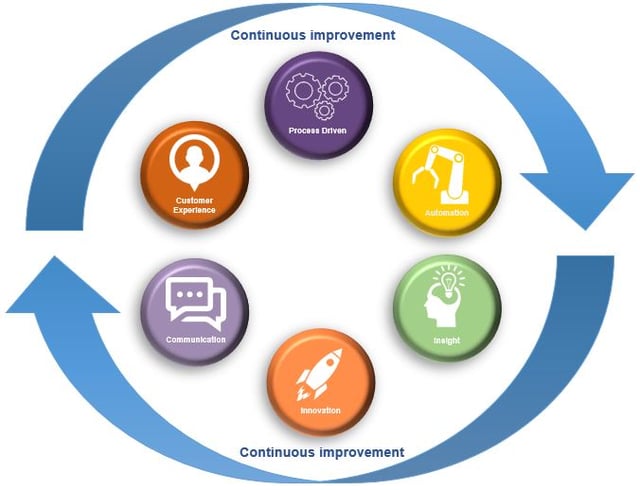 We recommend… Making full use of business insights, reports and feedback from employees and learners to identify areas of immediate areas of improvement. It's also worth analysing and critiquing what other industry figures are doing – and defining your unique value position against that. How can you go one better?
These are ingrained habits that help training organisations operate at maximum effectiveness and efficiency. By making them part of your path to improvement, using all the techniques and technology available to automate training admin and manage courses, you can gain the competitive edge and continue to grow your training business.
Download 10 processes you should be automating eBook to identify the areas where you should reduce manual processes.
You'll also like:
What We Can Learn About Automation from Technology Leaders
Periodic Table: The Key Elements of Training Management