Using TikTok to grow your training business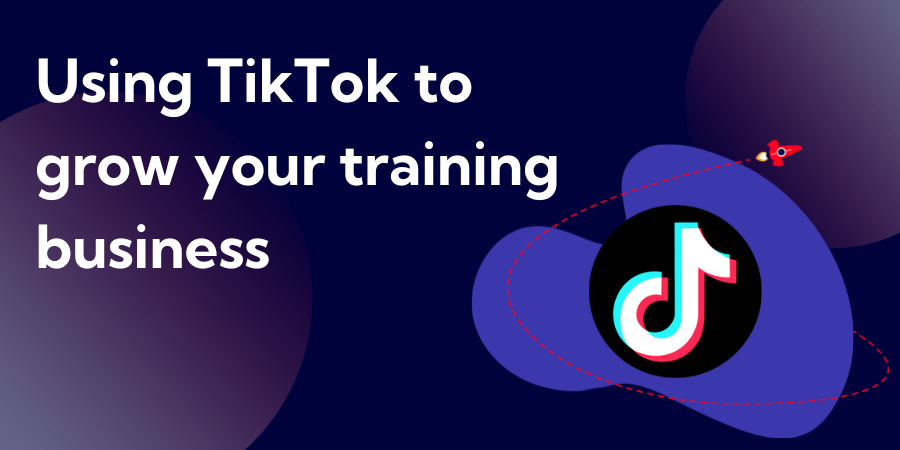 Gone are the days of TikTok being seen as an app purely for dance challenges or dramatic 12-part stories. It's a powerful tool for connecting with people from all over the world - whether that's for news, entertainment, or introducing your brand to billions of users.
The power of TikTok
TikTok is used by many as a standard social media platform - mostly for entertainment (and to accidentally waste 2 hours of your evening...). But interestingly, it's also changing the way people search for information.
According to Google's internal studies, almost 40% of young people prefer to use TikTok and Instagram instead of Google to search for information - for anything from places to eat, how-to videos, and product recommendations. What's more, 55% of TikTok users use the platform to research brands or products.
The platform's short-form, bitesize videos mean users consume far more content in a shorter space of time. TikTok has the highest user engagement per post of all social media platforms.
TikTok has seen so much success, that other major social media platforms have tried to imitate TikTok's appeal with their own short-form video features. Facebook and Instagram both have Reels and Stories, and Youtube have recently added "Shorts" to their platform.
With a staggering 1 billion monthly active users, there's a great opportunity to connect with potential delegates and others within the training industry to promote your courses and grow your training business.
Top tips for using TikTok to promote your training business
Chances are, even if you're not an avid TikTok user, you've come across some TikToks before. Creating them, however, is a whole different game, and it can feel overwhelming! Below is a summary of our top tips to getting started for promoting your training business using the platform.
If you have any previous experience with marketing on other social platforms, such as Facebook or Instagram, it's important to remember that TikTok works in a completely different way to these, and will need a different approach.
There's no fail-safe formula for creating a successful TikTok video - if anything, many videos go viral accidentally! However, there are definitely some guidelines to follow to set yourself up for success.
Setting up your TikTok profile
The information you can add to your TikTok profile is a lot more limited compared to other social platforms - your brand should ultimately be showcased in the TikToks you create. The main areas for profile customisation are:
Your profile photo
Your username
Your bio
Your URL
Ensuring you have a clear profile image that fits with your branding is key. Many businesses use their logo, but make sure it's easy to identify, as it's often displayed in a little circle shape on your TikToks.
Your username should be as close to a match as your company name, to help people to find you.
You bio needs to be carefully crafted as it's limited to only 80 characters - keep this short and sweet and make sure to include a call-to-action! TikTok is an informal social platform, so feel free to include some emojis if that fits with your brand. Emojis can help to add personality to your page and also get your message across using fewer characters.
It's up to you to decide which URL you'd like to link to in your TikTok profile. Most businesses link to a landing page, or their main website. If you're running a campaign to promote a certain course, you could swap that in for extra visibility!
We're not going to go into the details of how to set up your account here, as TikTok will do a better job than us!
Get to know the platform
It can seem daunting at first to delve into the world of a new app or tech. If you're finding yourself wondering where to begin - the best thing to do is to get to know the platform itself.
Setting some time aside to first scroll through videos posted from all users on the For You page is a great start. You'll begin to see the unique features of the platform - from duets, to trending sounds and filters.
From here, you can then use the search function to drill down into more specific, training industry-related content. Taking note of what others are doing to promote their training companies, facilities, courses, and even course materials, can be a real source of inspiration. By now you may have some creative ideas flowing!
Identify your target audience
Now that you've spent time looking at general content on TikTok, as well as more training industry-specific content, it's now time to identify your target audience (or audiences).
Your target audience(s) will also depend on what your goals are for your TikTok presence. Are you wanting to spread general brand awareness? Are you wanting to connect with other companies to offer them courses for their employees? Or are you trying to promote your courses directly to delegates?
While TikTok is hugely popular with teens and Gen Z - 52.38% of users globally are aged between 18 and 24 - a wide range of ages are active and engaging with content on the app.
Identify where your target market overlaps with TikTok users, and use this to your advantage. Keep in mind that you may be reaching new and unexpected audiences too! Your TikTok audience may be skewed due to the younger average age of users compared to more traditional marketing methods.
Find your competitors
You may have already come across some big training industry names already during your initial searches, but take some time to thoroughly go through their accounts. Identify what has brought them more likes, comments and views, and also what hasn't worked for them. If your competitors aren't already on TikTok, you've got a great head start.
It's important to take your research with a pinch of salt though - as the ever-changing TikTok algorithm can mean that two near-identical videos can get vastly different levels of engagement.
Get planning some videos
By now, there's a good chance you have some ideas bubbling away from browsing the app.
Use the fun, light-hearted nature of TikTok to your advantage. Videos on the app are usually filmed on smartphones - there's no need for elaborate equipment or perfect lighting, or even a script. However, getting the basics right is important. Ensuring you have decent quality sound and video, as well as making sure you're filming in a well-lit space, is key.
You may have noticed that TikTok users tend to respond well to videos where they can learn something new. You could have an expert from your team highlighting the latest training trends, or reveal some behind-the-scenes info, like a tour of your training spaces or a sneak peek of your course materials.
Research and experiment with the latest trending topics or sounds - there's even dedicated TikTok accounts that predict upcoming trends to take the guesswork out! Have fun with the various filters and editing tools to help your videos to stand out.
Accessibility is also really important in any content you're creating - you can add your own closed captions (CC) or create your own. You can also play around with adding text to your videos with TikTok's editing tools to further aid in accessibility.
Engage your audience and grow your following
Once you've got to grips with the basics of TikTok and planned out your content, it's important to consider your plan for engaging your potential audience and growing your following.
Using training-specific hashtags will help relevant users to find your content via search, and it'll also help the TikTok algorithm identify what kind of topics you cover in your videos.
We briefly touched on this earlier, but it really is important to take notice of what is currently trending and see if those trends fit within your content themes. They don't have to be specific to your niche either - for example, if 'British Summertime' is trending on TikTok due to a heatwave, then see if you can some up with some fun, training-related content to contribute to the trend. This keeps your videos relevant, engaging, and far more likely to be found!
Make sure you engage with your audience in your content - ask them questions to answer in your comments section, and make sure you're continuing the conversation by responding to them. It's important to do the same thing on other similar TikTok accounts, too. Comment on their videos, like and share them. Before you know it, you'll have started to create a community of like-minded training professionals within the platform.
After you've started to create your content, analytics are key to gaining a deeper understanding of your audience. They allow you to track your engagement over time and see which videos perform better than others. TikTok have an in-app analytics tool that can show you lots of interesting metrics.
Another great feature of TikTok is the ability to livestream. You could host a Q&A, or use it to promote a specific event or an offer you're holding. It's an interactive and engaging way for your followers to get immediate answers to their questions and an insight into your business.
Ultimately, the number one way to get views, follows and engagement is to create great, shareable content.
5 great training industry TikTok examples
We've included some great examples below for you for inspiration!
Newcastle University are using TikTok to promote their discounted short courses:
Here's a TikTok of a delegate receiving their course materials ahead of their mental health training:
Here's a TikTok from New Skills Academy promoting their Cupcake Academy:
An interesting TikTok from a delegate's point of view - showing off the facilities at his advanced scaffolding course:
Another great example from a delegate's perspective of a carpentry course:
To summarise
If used correctly, TikTok can be a powerful tool to connect people authentically to your brand, and to promote your training business to new audiences. Whether you're looking to promote your courses, or just raise brand awareness, taking advantage of TikTok's light-hearted, informal format is key to ensuring you truly get the most out of the platform and its unique features.
If you're looking for more powerful tools to grow your training business, why not book a demo with accessplanit today? Forget about admin, automate your processes, and free up your time to focus on what matters to you and your training business.