Using Notes to improve communication across your training business [12 EXAMPLES]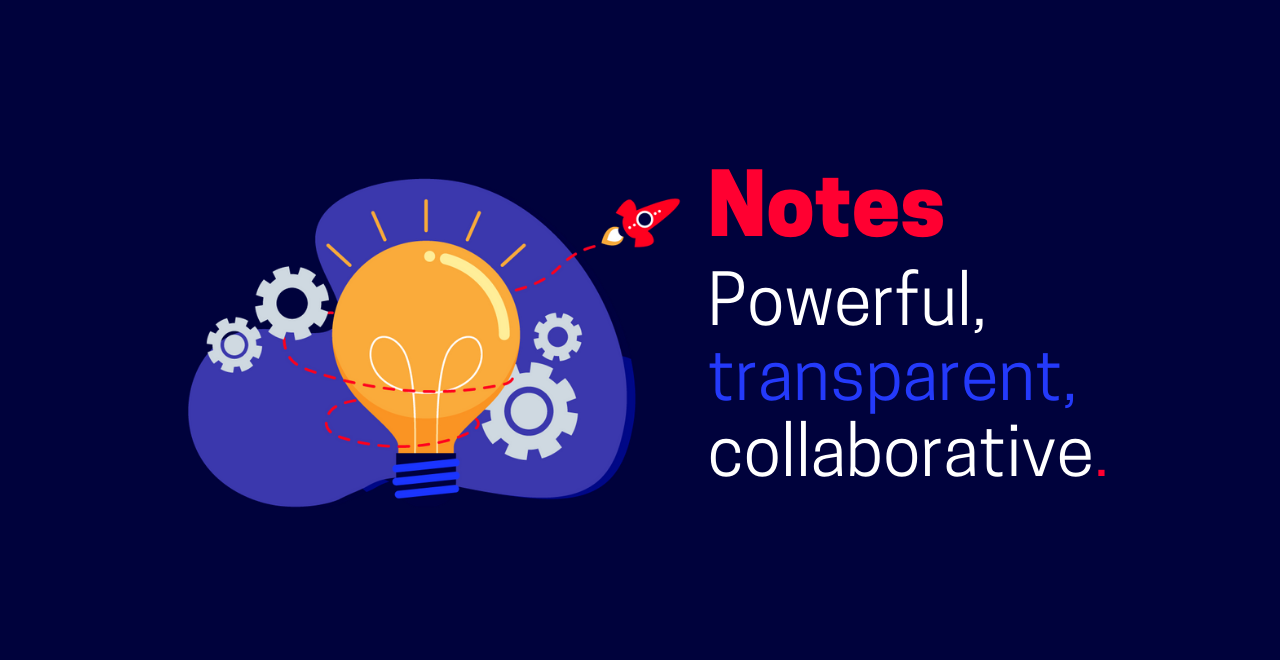 When we think of notes, most of us picture a scrap piece of paper or sticky note with a handwritten to-do or information share. This might then be passed to a colleague, or even stuck to our computer monitor so we don't forget.
There are times when handwritten notes will suffice for less important pieces of information, however it can prove costly for training providers that rely on it as a form of communication.
As we all know, busy training departments can be a hectic affair! Training managers, sales people, administrators, finance managers, coordinators and trainers are all often spinning multiple plates at once in order to meet clients needs and ensure training gets underway without a hitch.
When we are busy, unfortunately as humans we are fallible - whether this is forgetting to respond to a client, booking a venue for the wrong date or making mistakes in data entry. When this happens, it often leads to knock-on consequences such as a disgruntled client or extra work for our peers!
Using the technology we have available, mistakes such as the above can easily be avoided. Having the ability to create and store notes against objects within your management software is a powerful way of centralising operations and ultimately, staying on top of things.
Many CRM's and TMS's have this functionality, however it is greatly under-utilised, with most 'notes' still being recorded in various places outside the platform, usually via email, instant messaging, face to face or by hand.
Below, we explore the power and potential of logging notes within accessplanit's training management software through a number of different use case examples, and discover how you too can improve communication across your business using notes.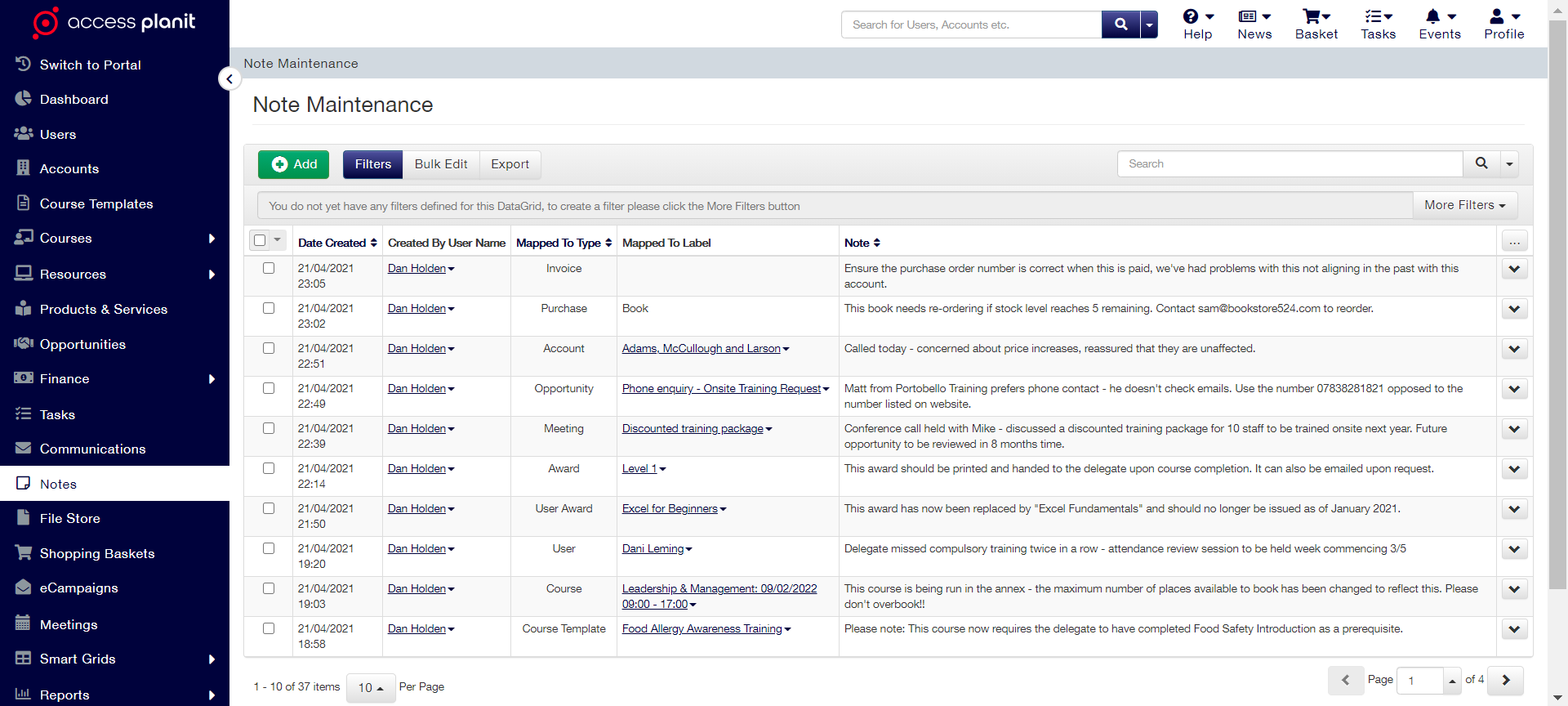 Image: Notes functionality within accessplanit's training management platform
What are notes used for?
Notes can be used to provide more information, document changes, record points and ideas, and aid memory about almost anything within your training business. In accessplanit's training management platform, notes can be stored against any of the following objects:
| | |
| --- | --- |
| Meetings | Documenting the discussions and outcomes of meetings is a really effective way to use notes! |
| Purchases | Notes can be stored against any type of activity related to goods or services. This is particularly useful if there's a special request, a requirement to update stock numbers or if shipping of an item is required. |
| Delegate and client information | Does a delegate have unique requirements? Has a client been uncontactable for a while? Has a key contact left the company? These are all great reasons to log a note! |
| Payment and invoicing | Perhaps an invoice doesn't match up, or a client is known to need chasing for payment! |
| Courses and resources | Has the format of a course changed? Is a particular resource currently unavailable? |
| Awards | Notes can be linked to awards in your accessplanit platform. This could be useful if an award has changed or been updated. |
| Opportunities | Logging notes against new sales leads is a key part of any CRM. If the prospect has unique requirements, a note is a useful way to let your colleagues know! |
Why use notes?
They're collaborative
Notes can be created and edited by any platform user, so information stays up to date in a centralised location, with everyone in the loop.
They're flexible
Within notes, you can upload images and files along with creating tables and various lists for ultimate flexibility. All of this is information is hosted securely within your platform.
They're transparent
In a busy training business, important information shouldn't be hard to access. You can see who created the note, when it was created, who it's assigned to and what it relates to. They can also be reported on!
They're intelligent
Automatic notes help to document key changes within the platform, without the need for human input. This is particularly useful if a delegate has transferred to a different course!
They're permanent
It's easy for information to go missing when things are frantic, never more so than if it's hand written. Notes are assigned to particular records within the platform, and will remain there until updated or deleted.
They're the new email!
Notes are a much more effective way of sharing information and documenting events over email. Emails get deleted, people miss being CC'd in, things get forgotten and ultimately, things change. With notes, the information is current and they relate directly to an object.
12 great examples of how you can use notes within your accessplanit platform
Notes against courses
Perhaps the structure of a course has permanently changed, or an odd session has something noteworthy to add. In accessplanit's platform, you can create notes and store them against either the course template or an individual session, seen in the examples below.
Notes against delegates
It's important to record any information that relates to your learners. These can be generated automatically (seen on right) when a delegate is transferred to a new course. Any notes that are logged are then visible in the individual user record.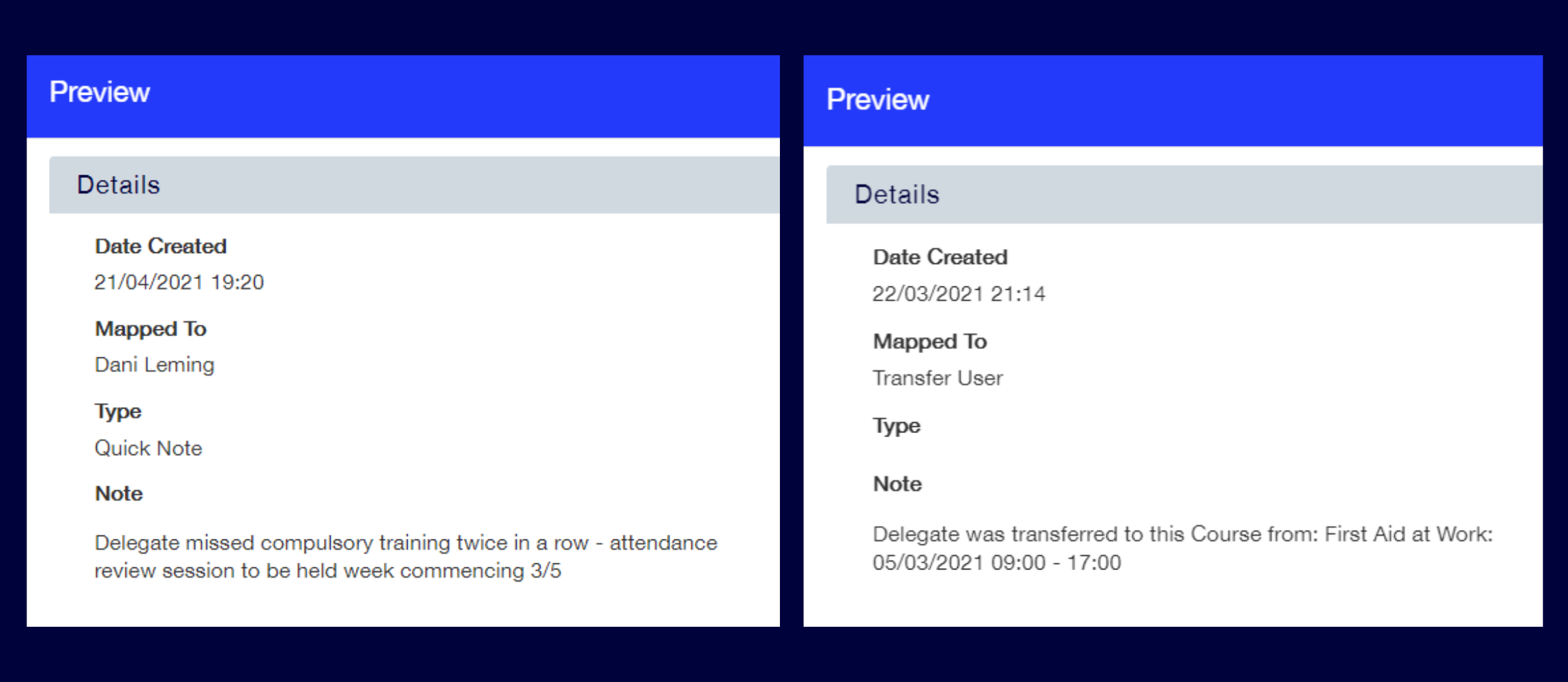 Notes against awards
Awards can change from time to time. Whether the criteria for the award has changed, the length of certification or perhaps you have replaced it with a new award, they can all be logged as a note against the system record.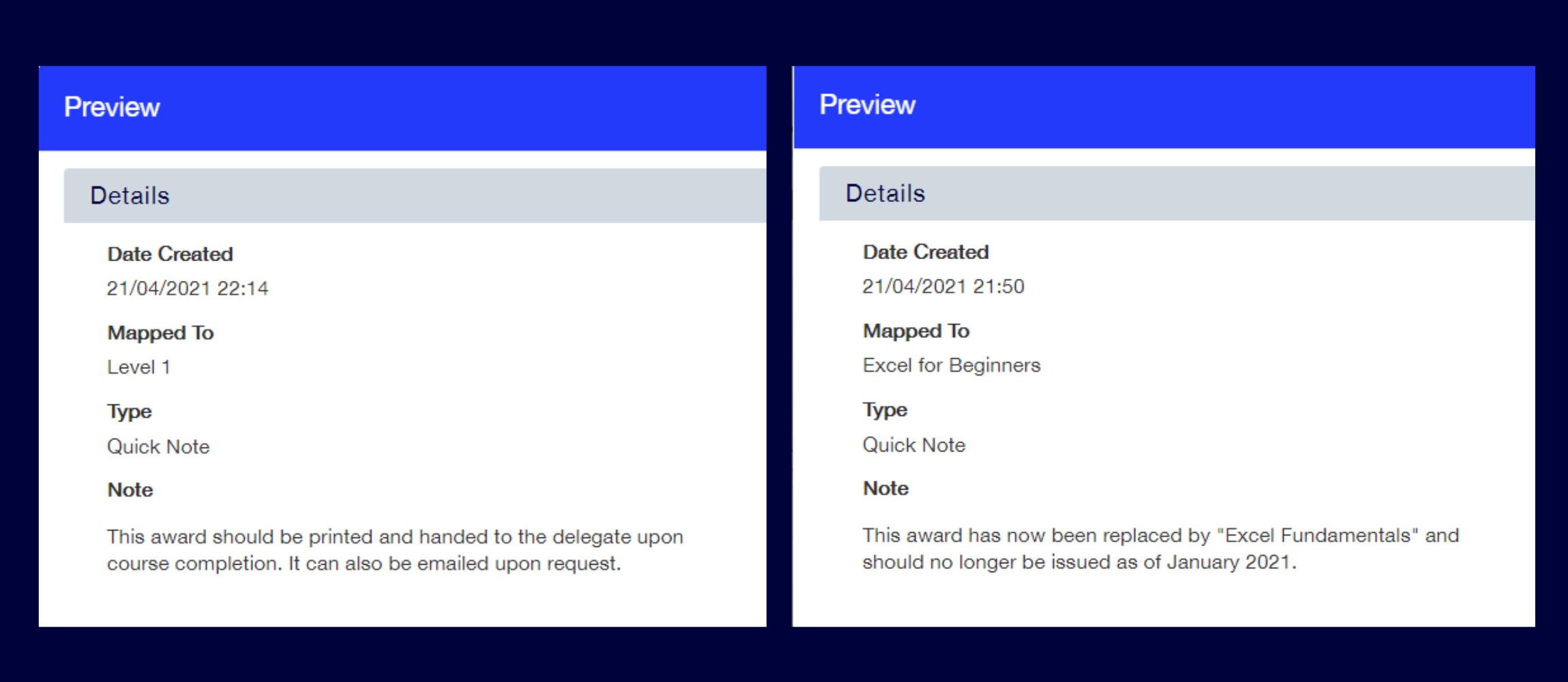 Notes from meetings
When logging notes from meetings, your whole team can stay in the know about what's been discussed internally (and externally with clients!)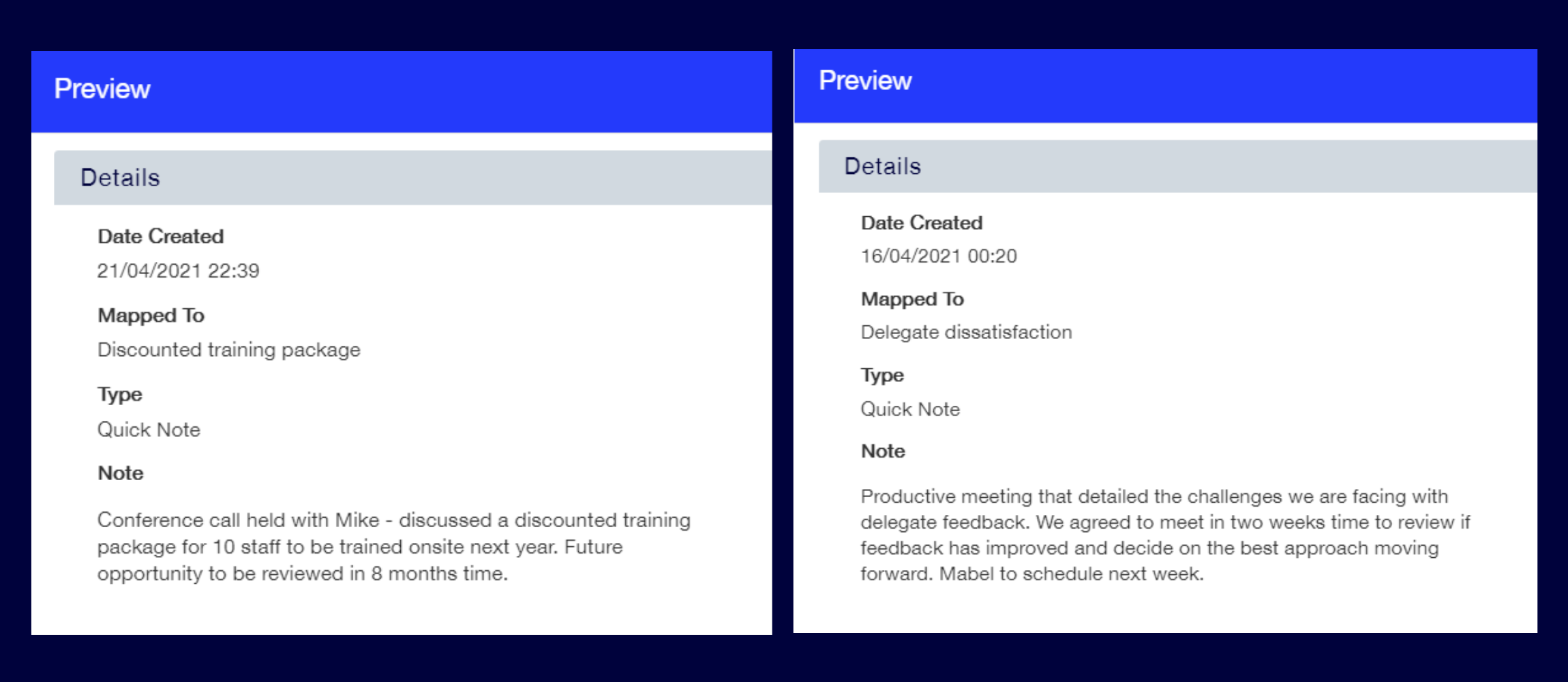 Notes about purchases & finance
Logging notes against purchases and invoices can help to make your finance managers job a lot easier!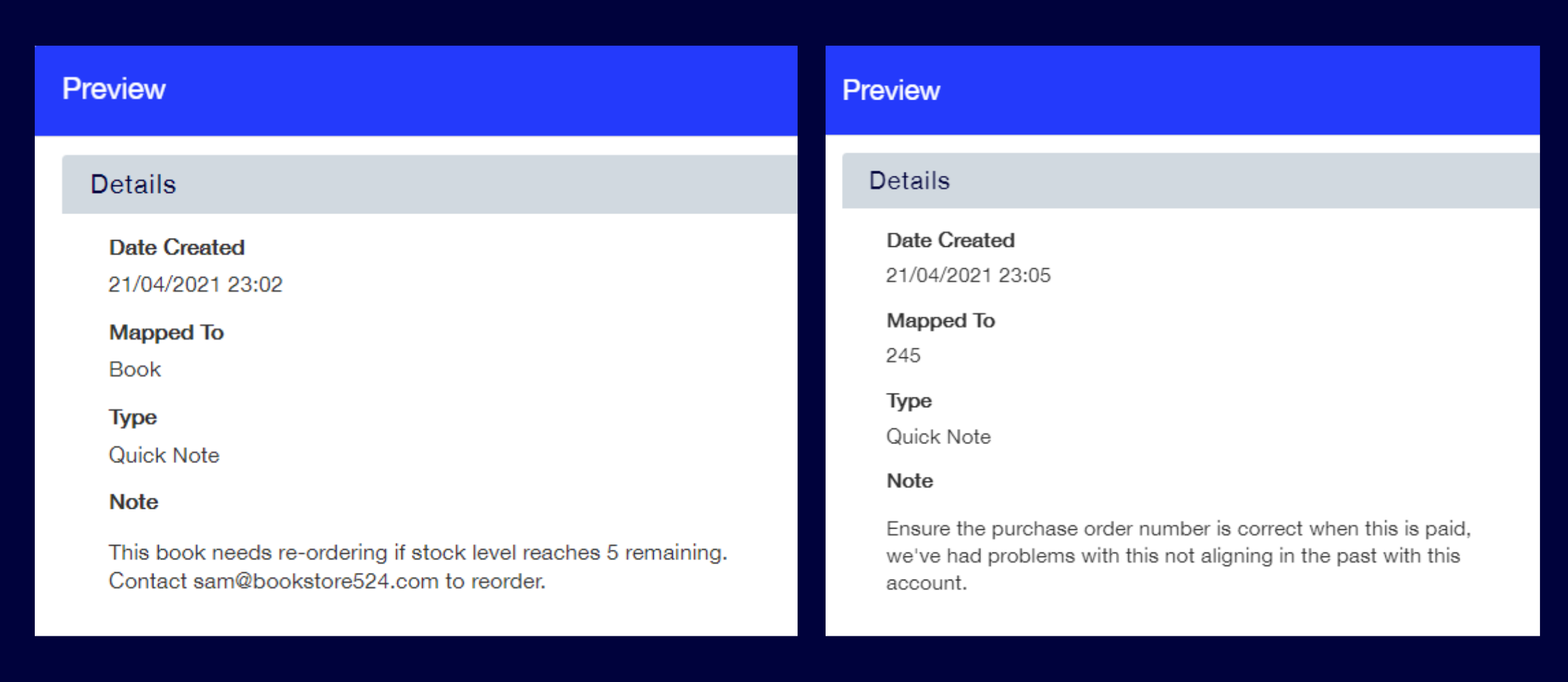 Notes against accounts & opportunities
Sales teams and account managers need to stay up to date and on top of communications with clients and prospects. Notes are a super effective way of doing just that!

Takeaways
When utilising technology, notes have the power to:
Keep your whole operation in the know and up to date with increased transparency across the business
Improve customer service and efficiency with on-demand, current information
Centralise operations and reduce time spent on internal communication
If you regularly face problems with information being lost in inboxes, if you have a team you're struggling to keep in-the-loop with activity, if you are in need a better way to audit, or a better way to collate information for account management, notes could be the answer to all of your problems!
Comment below or contact us directly to learn more about how using notes can help to improve communication across your training business.