Marketing Techniques Your Training Business Needs to Implement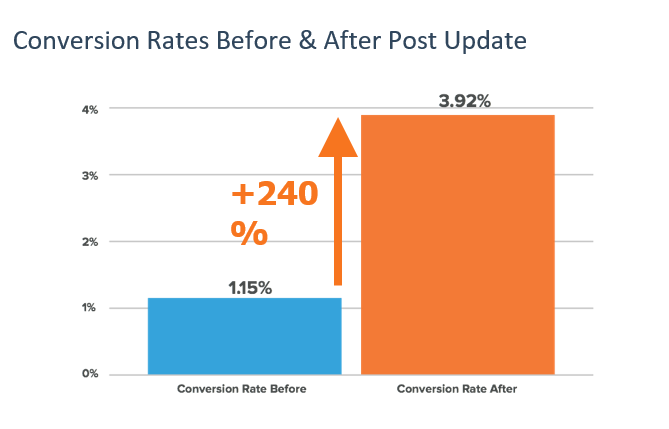 At Everest Conference 2018, we welcomed HubSpot's Senior Marketing Manager, Áine Devane, amongst our keynote speakers, to give us an invaluable guide to the inbound marketing methodology and sales alignment in order to increase qualified lead generation.
Join us for Everest 2019!
Read on to learn more about techniques proven to increase sales lead that you can easily apply to your training business including:
Providing timely, relevant content to attract new leads
Optimising your old content to generate more leads
Investing in automation to convert leads to sales
What is Inbound Marketing?
Let's start with what inbound marketing (the focus of the keynote) is (and, isn't).
HubSpot define inbound marketing as the practice of "attracting customers through relevant and helpful content and adding value at every stage in your customer's buying journey. With inbound marketing, potential customers find you through channels like blogs, search engines, and social media." Essentially, inbound marketing is about what the customer wants and helping them along their journey until they are sales ready.
So, what is inbound not about? Inbound is not about interrupting your customers or fighting for their attention. This falls under the umbrella of outbound. Outbound techniques include cold calling, emailing and advertising.
The Old Marketing Playbook is Dead
Áine's presentation, The Evolution of Marketing, took delegates on an informative and entertaining journey though time, from the days of old-style print adverts where the seller ruled - through to the introduction of technology which has placed all the power at the buyer's fingertips.
The overriding message was that marketers need to stop interrupting their prospective clients – there is no place for spamming in today's world – and catch up with customer preferences which dictate that inbound marketing is the key to growth.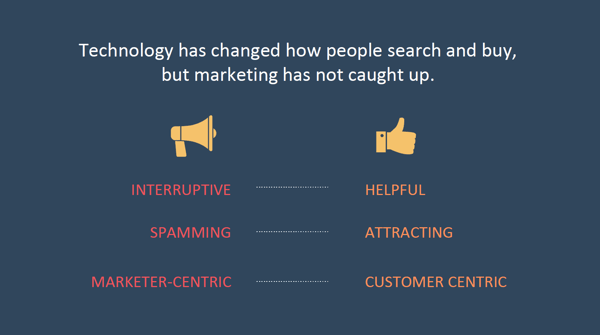 Stats showed us that outbound marketing can be filtered out, and seller-centred techniques turn customers off. Buyers need to be enticed and informed with useful content, and emails need to be relevant – basically we need to attract in order to convert and close.
In short, companies need to be helpful, using targeted strategies to solve audience problems, offering valuable, relevant content..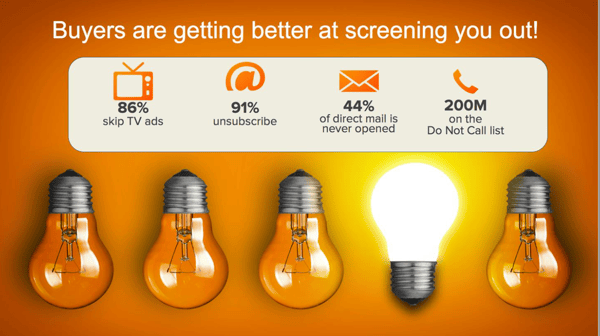 Áine explained:
"Every piece of content is an opportunity to get found online. It's an opportunity for someone searching in Google to find your website and begin to learn about who you are and what you do."
But how do you decide what quality content is?
"Well there's actually a very simple equation for that: inspiration x empathy x utility = quality content. You don't decide, your audience does. And content marketing is not a one-off. Ads are great, but once you stop paying, no one will see your ads.
"Good content is an opportunity to get found not just today, but tomorrow, and the next day and the day after that by a new group of people."
Optimise Old Content for More Leads
HubSpot advises a combination of content, including blog posts, web content, videos, infographics, podcasts, presentations and eBooks. And also, that it might not be new content that's needed, it could be that some of your older posts are the most effective.
"You need to inspire them, you need to understand their problems and you need to create something that does not just actually look good but adds value and solves a challenge."
HubSpot tried this theory out in a case study where they identified high traffic posts, looked at the keywords they ranked, updated the Call-To-Action with the exact keywords that the post was being found for, and republished as new. They also added a simple CTA above the fold and created niche offers. This conversion optimisation increased leads from old posts by 241%.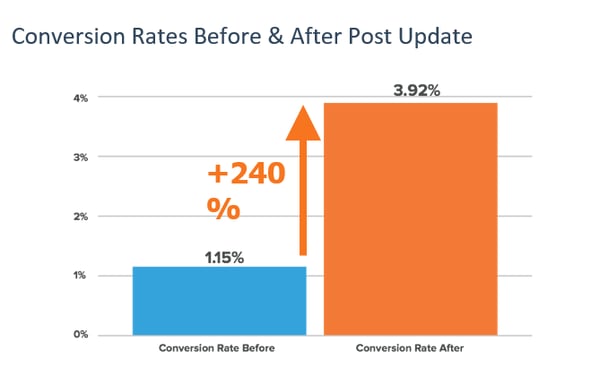 "Republishing as new was key because Google rewards freshness," said Áine.
Invest in Automation to Convert Leads
And to build on this, Áine advised putting the same resources into converting leads as acquiring them with marketing automation – because nurturing prospects can increase qualified leads by 451%.
HubSpot calls the process of converting leads to sales "autoprospecting". What this does is reduce the sales adviser's time spent searching CRMs, cutting and pasting emails, calling, going back and forth to organise meetings and so on...
Instead, automated email content is created and sent, using tone and information developed from the sales team, incorporating trigger-based data, and remembering to be human at the right time.
This results in more time spent selling with:
3 x more meetings
20% faster meeting bookings made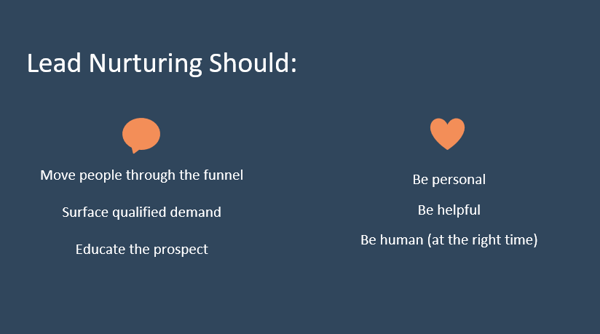 What We Learnt at Everest Conference 2018
Áine's talk reminded us all that the key to marketing success is to accept that the old playbook is dead and that investing in customer-centric, automated techniques is vital to company growth.
The session's key takeaways were:
The old marketing playbook is dead
No one wants to see content that isn't valuable
Optimise your old content for more leads
Invest in automation to convert leads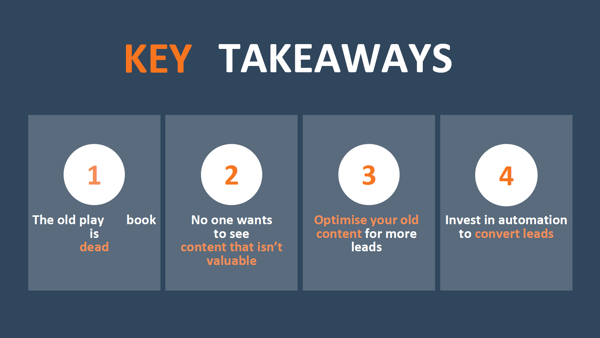 Áine joined us in Lancaster from HubSpot's Dublin office for Everest Conference 2018. HubSpot is #1 ranked marketing software designed to generate more traffic, leads and sales and were central to creating the inbound marketing movement.
Want to learn more about using inbound marketing to attract leads for your training business? Download our Content Marketing Guide for Training Companies.
Watch The Evolution of Marketing Delivered at Everest Conference 2018
Download the Beginners Guide to Content Marketing for Training Companies to learn more about using inbound marketing in your training organisation.
Related posts include:
[Highlights] Everest Conference 2018: The Training Industry Event
Where to Promote Your Training Courses Online to Increase Sales