Key Insights From Learning Technologies 2019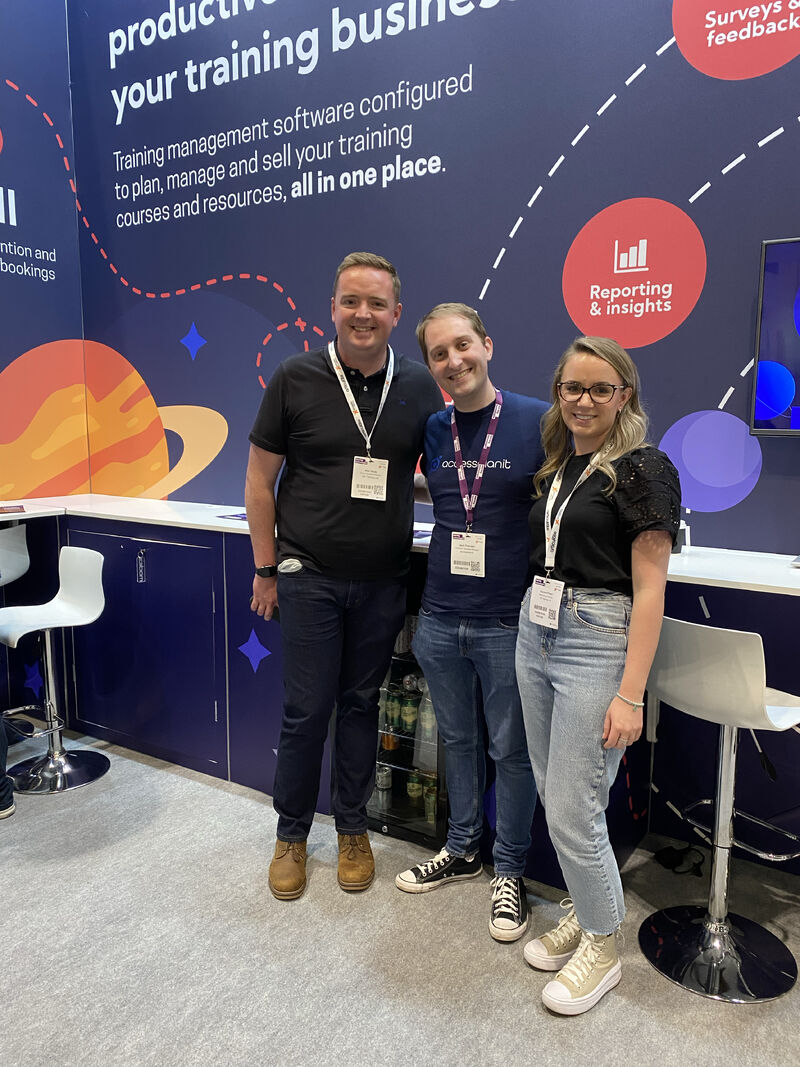 Learning Technologies is Europe's leading showcase of technology used to support learning at work, and learning professionals. Each year it draws more than 8.500 visitors, 150 free talks, and over 200 exhibitors.
The two-day event at London's ExCel Centre promised to be bigger and better than ever this year, and it didn't disappoint. The new venue provided more space, and the exhibitors and talks were informative and engaging.
If you missed Learning Technologies 2019 (or LearnTech as we like to call it) this year, not to worry- we've sat in on plenty of insightful talks, as well as checking out all of the fascinating exhibitor's stands; getting a good feel for the hot training trends, as well as the biggest concerns in the learning industry this year. Read on to hear our thoughts on the exhibition and what you should know.
Key Insights From Learning Technologies 2019
A quick glance around the exhibitors at Learning Technologies this year showed two clear (and, maybe contradictory) themes. These were using increasing technology use whilst also increasing the human element of learning.
There was a noticeable increase in virtual and augmented reality learning solutions. We saw plenty of VR headsets, and even a computer program that responded to your mood! AR specialists, Auggd will be joining us at our 2019 Everest Conference - if this is a topic that you want to know more about then make sure to join us!
Many of the talks and much of the content produced this year was based around the evolution of digital learning and the need to create more person-centric content and delivery. Encouraging learners to self-assess and drive their own development through technology was certainly a predominant theme this year.
The 6 Best Talks For L&D and Training Professionals
We've written up the six most inspiring and interesting seminars (in our humble opinion😉) we attended at LearnTech this year.
1. Extended Enterprise Success: How to Deliver Digital Transformation for External Customers
D2L, Alan Hiddleston
Alan described an extended enterprise as a company that delivers something for another company (extending the enterprise) i.e. training companies and associations. This focused on how external training companies can deliver on the ever-increasing demand for digital training within organisations.
Alan talked about the need for learning management systems to become more engaging for learners, rather than merely record-taking or compliance-centred. He also spoke about the need to train employees faster than ever before. The millennial workforce is much more transient than generations before them; therefore, requiring up-skilling faster to be of more value to a company, and a good mentoring program to encourage company staff retention.
Key facts:
By 2020, 1/3 of jobs will require skills that employees don't have today
70% of millennials are receiving no leadership training at all
88% of millennials prefer collaboration over competition
70% of millennials use YouTube as a learning resource
Key takeaways:
Agile learning – a highly customised, personalised; flexible, collaborative, and results driven form of learning is what is required of training companies today.
Digital inclusion – In order to deliver such a personalised and customised style of learning, training companies must embrace LMS as a means of training delivery.
---
2. Licence to Skill - How to Identify, Develop and Accelerate Skills Acquisition in the Workplace
Saffron Interactive, Noorie Sazen and Gabi Zemsky
We don't just like the pun in the talk title. Although, that did draw us to the theatre!
Noorie and Gabi began their talk by showing us a World Bank report form 2016, highlighting the risk of jobs being replaced by automation in the next five years. In the UK, this is predicted to be 35% of jobs by 2021. The worldwide average is 57%!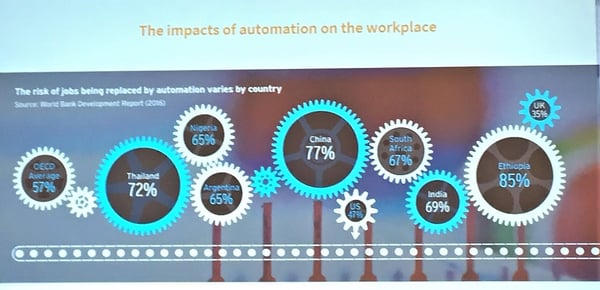 This gave context to the importance of soft-skills acquisition within the workforce, and the need for both employees and employers to diversify in terms of learning styles and approaches. In the space of 5 years, the demand of soft skills is set to greatly increase.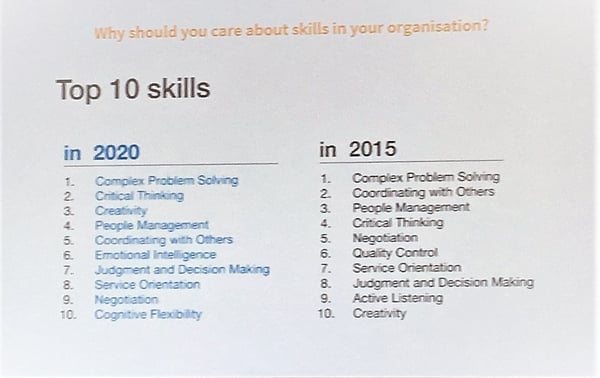 Key facts:
35% of jobs in the UK are at risk of being replaced by automation by 2021
Top 10 'most important' skills have changed in the last five years to focus more on soft-skills
Key takeaways:
The key guidelines when up-skilling a futureproof workforce are the following:
Identify skill gaps – Encouraging employees to understand and assess their own skills
Create mindset shifts – Encouraging employees to take responsibility for their own learning
Free up time with point of need technology – Make it easy for employees to learn on the job and/or with limited time
Focus on essential skills – Soft-skills are becoming the most sought-after attributes in a strong workforce
Accelerate skills acquisition with AI/Chatbots – Use technology to remove obstacles to learning
Use tools, surveys and one-to-one skills coaching to create the right conditions for change
---
3. The Evolution of 70:20:10
GoodPractice, Owen Ferguson
GoodPractice have conducted a study into L&D learning strategies and how leaders are implementing them within their teams. They shared some of their findings with us, as well as providing us with a copy of their extremely insightful report.
Key facts:
Only 8% of L&D leaders are not using some variation of 70/20/10 – 32% of L&D leaders' strategies are fully aligned to the 70/20/10 learning style
Key takeaways:
Learning leaders understand the criticisms of 70/20/10
70/20/10 is widely used to drive change in L&D
It's working – as a catalyst for change
L&D leaders tend to focus more on Experience/exposure/education (3Es) – removing the 70/20/10 ratios and shifting to less-rigid approach
People feel they could do more with technology (others are doing more)
Leaders are using 70/20/10 and adapting it to fit their organisations – there is no single path to success
Download a copy of the future of 70/20/10 from the GoodPractice website.
---
4. The Future of Attracting and Retaining Talent
Bridge EMEA and Canvas, Jeremy Carter
Jeremy began by talking to us about the challenges that face almost every HR department, and went on to give us some key insights on how to abate them in order to retain good people; by putting employees at the centre, when it comes to learning and development.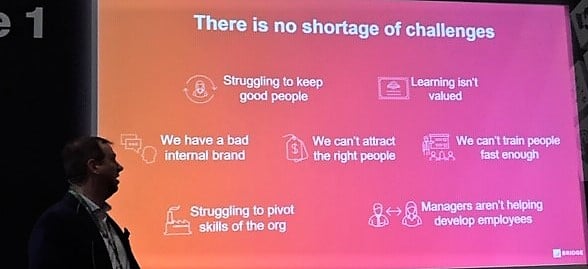 Key facts:
Only 10% of employees use eLearning tools
One third of all employees change jobs each year
Half of all employees are looking for new jobs
70% of employees are not fully engaged with their job
75% of People leave managers, not jobs
Key takeaways:
Both managers and employees need to assess whether their role is meaningfully connected to their career goals
Peer assessment can create a valuable insight and motivation for employees
Leaders who believe in development are necessary to a healthy L&D environment
Leaders need to embrace individual learning styles (this can vary by generation of learner)
Learning should be less disrupting at work – embracing technology and on-the-job learning is key
---
5. The State of Digital Learning 2019
5App, James Bridgman & Hemsley Fraser, Matthew Prisco
Matthew and James spoke to us about some of the key findings so far, from their report on the state of digital learning in 2019 (out in March). They've found that the majority of opinion, points to the fact that using digital has helped improve employee engagement; communication; performance, and productivity. They also looked at the adoption of digital into L&D, and what obstacles departments are facing to implementation.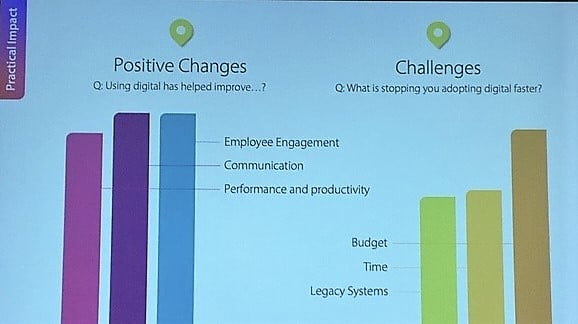 Key takeaways:
LMS is still very central to the learning experience, despite recent criticisms of poor user experience
Use simplicity – technology solutions that do the basics, get the resources online and help manage them, have a big impact
Curation is important – the free availability of resources for employees has pushed the importance of good curation to the fore
The younger generation are looking for more development in the workplace
---
6. 5 Smarts to Engage Your Learners
Skill Pill, Gerry Griffin
Gerry Griffin talked us through some smart ideas for how L&D and HR departments can engage their learners better. These included:
Self-diagnosis – trusting employees to acknowledging their own skill gaps.
Accessing content quickly – being able to learn on-the-go.
Creating a knowledge depository – employees can dip in and out when needed.
Creating interest by renaming content – make it digestible.
Create a compelling event - why do they need to do it?
Key takeaways:
Create digital relevance in training
Make your learners think about Personal motivations
Provide valuable performance support
Listen and co-create solutions
---
Bonus Content: CIPD Study of L&D Professionals
The CIPD are the professional body for HR and people development, with over 150,000 partner members around the world. We picked up a copy of their survey of Learning and Development professionals, to uncover skills and knowledge gaps' is an extremely insightful study for L&D professionals looking to improve their department or processes.
Key takeaways:
90% identify business acumen as a priority development area
Only 42% of business leaders think L&D teams have the expected level of business acumen
96% think that data and analytics use is an area that needs developing, as a priority
While 98% of L&D leaders aspire to create a positive learning culture- only 36% believe they have achieved this goal
27% of L&D practitioners don't believe they have the right skills to make informed decisions
28% believe their organisational expectations and their professional beliefs clash
48% feel they are not spending enough time on their own learning and development
Read more of CIPD's professionalising L&D report here.
Further Reading:
- Why Training Professionals Should Attend Everest Conference 2019
- The Ultimate Guide for Attending an Exhibition or Conference