Maximise The Productivity Of Your Sales & Marketing Team

With any crucial business decision, it is vital to assess how any changes might affect and benefit different roles and departments throughout the organisation. Implementing a training management system can deliver a range of measurable benefits across your training company. This blog will be taking a look at the advantages of an automated system for the Sales & Marketing departments.
For any sales team, communication is one of the top priorities. Being able to track and monitor marketing emails is vital in improving efficiency and measuring the effectiveness of your campaigns. This is where automation could save your training company a large amount of time in manual data processes.
An automated training management system can track clients and prospects and provide them with targeted information to suit their needs. This means being able to easily monitor customer journeys and create customised workflows to suit your contacts' interests.
By utilising a CRM feature within automated management software, relevant courses, correspondence and any additional detail can be linked to an individual's records.
There are many other benefits of an automated training system which are included in Gaining buy-in throughout your organisation eBook. The eBook explores benefits to the key stakeholders included below.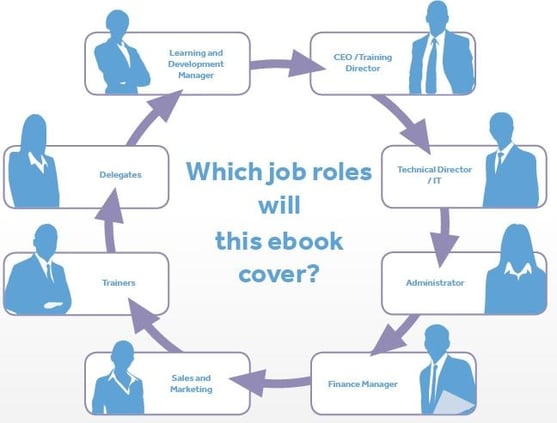 This blog post explores some of the key benefits taken from the eBookin detail.
3 key benefits for the Sales & Marketing Team
1. 24/7 sales opportunity
If your training company currently uses manual methods of booking and tracking courses, then an automated online booking system will revolutionise your processes. Using a course management system with integrated online booking features allows course delegates to view, book and pay for courses whenever and wherever they are. As you can see from figure 1 below taken from Findcourses.co.uk Training Barometer 2015-14 this is becoming increasingly important.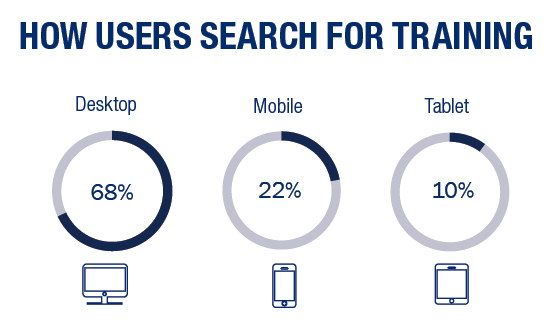 Figure 1: How users search for training
A sophisticated online booking system will allow contacts to access your system from a wide range of devices. Course information can be automatically updated in real time including new courses, additional course dates and availability.
And, if you thought it couldn't get any better, online booking systems also support discount codes, vouchers and promotional pricing to drive sales. Payments can be tracked and invoices can be automatically generated. This can reduce the department's workload and provide a seamless end to end process.
2. Data to understand the market
One of the most important tasks of a sales and marketing team is identifying your client's needs and interests to provide them with information that engages them. A training management system can provide the sales team with a great deal of insight which can help in understanding the market. This might include analysing their browsing habits and web behaviour to gain a greater understanding of their activity on your website.
This means it will be much easier to segment and establish target markets as well as identify what works and what doesn't through email marketing analytics. This can be extremely valuable in creating automated workflows and engaging prospects before they even speak to the sales team! It can also revitalise previous leads who have become inactive by automatically making contact through retargeting email campaigns.
With an integrated and automated communications strategy, your training company can develop better connections with contacts and establish relationships with leads.
3. Manage, maintain and track relationships
With a greater understanding of the market and your customer needs, your training company can develop more effective campaigns, targeted towards specific segments. This means creating content that engages contacts at different stages of the customer journey and providing them with information that will interest them. This can be a cost-effective method for informing customers and guiding them through their decision.
After sending out email campaigns, a training management system also assists in managing relationships and tracking customer profiles. This can provide valuable information on which prospects and leads are likely to be of interest to the company. It can also provide an insight into which methods are most effective which can help develop and improve your overall marketing strategy.
If you're interested, why not find out more about how automation can benefit other departments within the organisation by downloading our eBook below!
Other related articles include:
The Beginner's Guide to Content Marketing
How Can Automating Processes Benefit Your Finance Team?
How Can Training Automation Benefit Course Delegates?