How Can Training Automation Benefit Course Delegates?
The process of introducing a new software system or way of working can often be met with opposition within an organisation. This makes it key to ensure that all individuals are satisfied with the selection. This series looks at different priorities within key areas of your business however this addition has a slight twist focusing on your course delegates rather than internal stakeholders.
It is equally as important to meet needs internally as it is externally. Your finance team is happy with the costings but are your end users happy with their experience? Are they receiving the best service and product possible? Providing a streamlined learning journey is a great way to do this with the added bonus of ensuring repeat business as well as securing recommendations.
An automated training management system can enhance your delegate's experience in a multitude of ways which we explore in our 'ROI gains throughout the organisation' eBook. Other key stakeholder benefits explored in the eBook are included in the diagram below.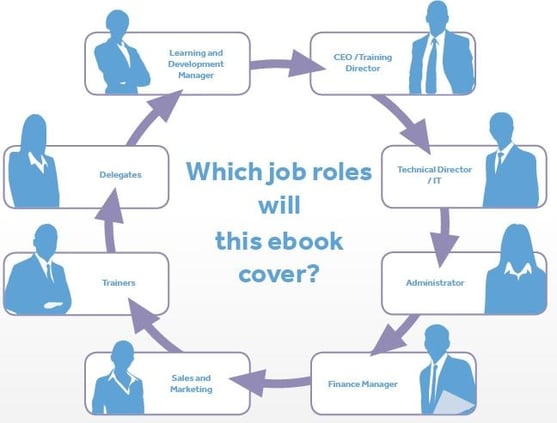 This blog post explores some of the key benefits taken from the eBook in detail.
3 key benefits for course delegates
1. Access to learning anytime, anywhere
Being able to access learning anytime and anywhere provides convenience and flexibility to your learners. Many learners want to enhance their skills while still having a full time job, a family and a social life - online learning is a great way to do this.
This also means that you can offer training to delegates up and down the country, and even worldwide!
2. Ability to manage and track own progress
Learners thrive off the ability to take responsibility for their own learning through tracking their progress, viewing what is required for completion and accessing all of their learning to reach that goal. This can easily be facilitated by offering an online user portal where they can easily perform all of the above.
3. 24/7 access to book courses
Another huge benefit of providing a user portal is the ability for candidates to book on to and pay for other courses 24/7. This can be completed quickly and easily as all of their details will be pre-populated using their credentials.
"What if I don't offer online learning?"
If you currently don't provide online learning or don't have the need for a user portal, a training management system provides many additional benefits:
Using automated communications to ensure your delegates are always kept informed including joining instructions and venue change notifications
Automatically generating course certificates upon completion meaning that there is no waiting around for the learner
Sending on post course resources to increase delegate knowledge retention
Making the learner feel valued by sending on post course communications and offers such as a 'birthday deal'
To explore more delegate benefits and to delve into the advantages of a course management system to other departments and roles download the 'ROI gains throughout the organisation' eBook today.
Other titles include:
How Can Automating Processes Benefit Your HR Team?
How Can Automating Processes Benefit Your Finance Team?
Automating Processes Can Benefit Your Business | Infographic