Everything Training Providers Need To Know About Blended Learning [Q&A]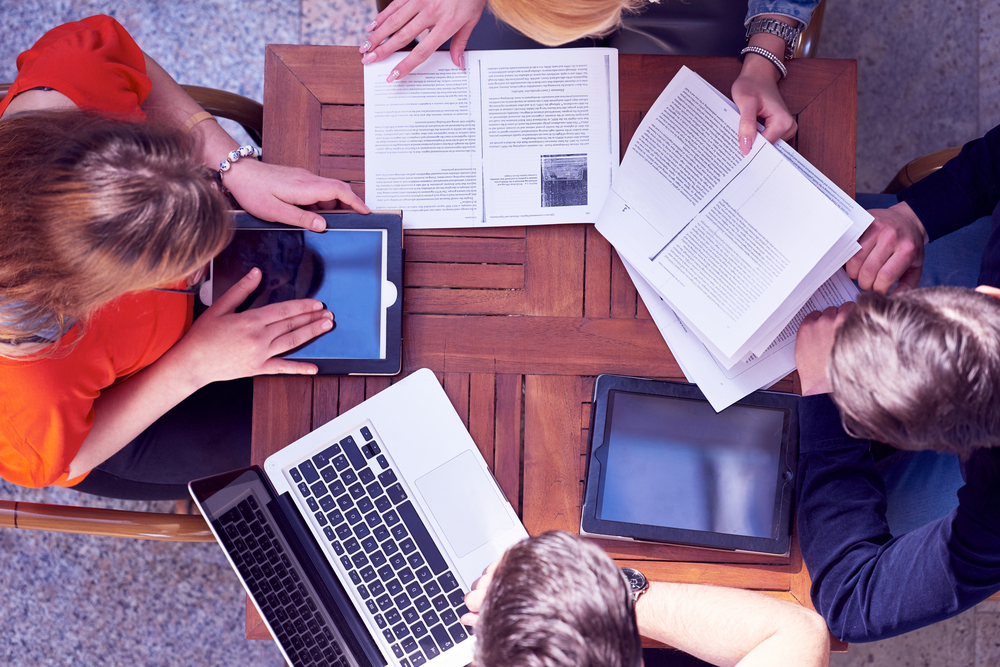 It was in the late 1990's when blended learning was first introduced and recognised as an educational approach. It has risen to prominence over the past few years, as training providers look for unique ways to provide a value-add to clients, and clients look to improve knowledge retention for their learners.
In this guide, we look to answer your most frequently asked questions on blended learning, providing an in-depth understanding on what it's all about and helping to inform your decision on if it's something you should consider introducing into your own training business.
What Is Blended Learning?
Blended learning is an educational approach that is a combination of both online learning and in-person, classroom-based training. A blended learning program can involve any number of offline and online interactions through scheduled sessions, ad-hoc coaching, self-paced learning, and collaboration.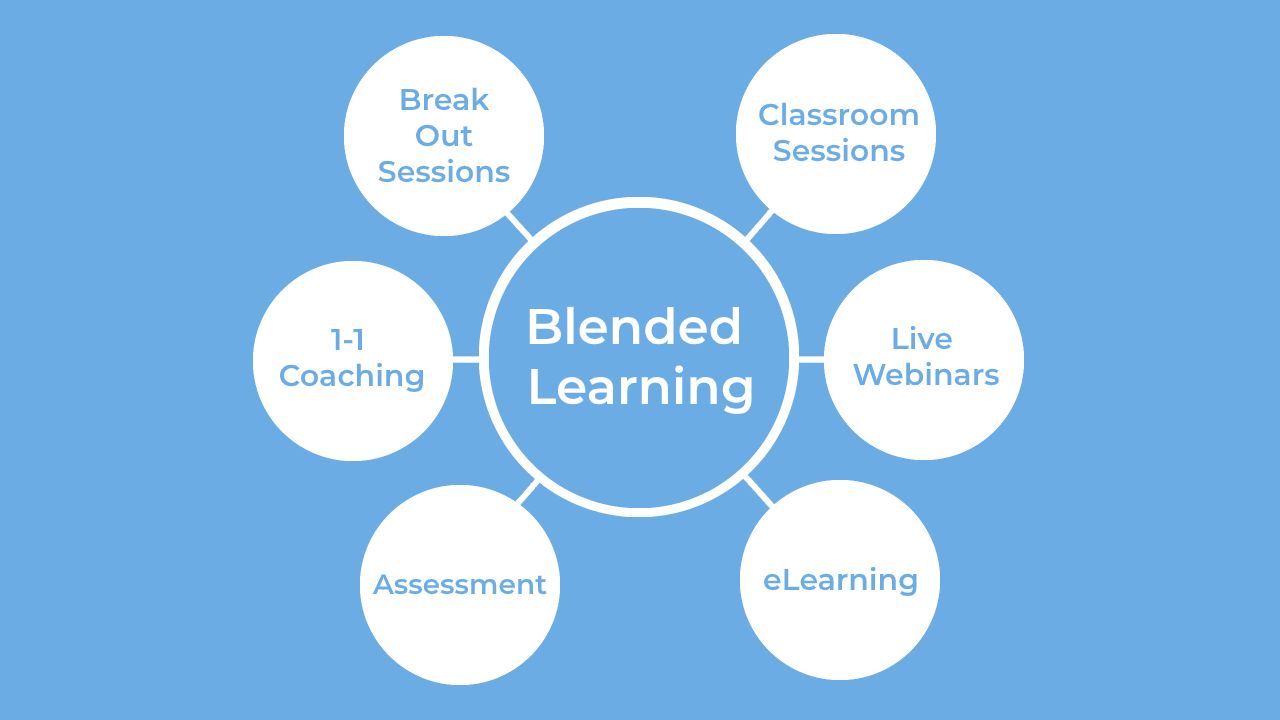 Who Uses Blended Learning?
Blended learning has long been used by higher education institutions such as universities, colleges and schools as well as internal training departments. More recently, it has entered the space of commercial training. Whether you're looking to upskill your own employees, educate students or provide training to clients, the concept and technology behind blended learning is still the same.
What Are The Benefits Of Blended Learning?
Implementing a blended learning strategy can have a number of benefits for both your business and your learners. We've outlined some of the most recognised benefits below.
The benefit to learners
When enrolled in an effective blended learning program, learners tend to see the greatest benefit.
It makes learning more fun
For many, classroom-based training is rarely synonymous with the word fun. Sure, it's effective in it's ability to engage learners en masse, and there's unrivalled opportunity for collaboration and teamwork, however it's a much more restricted environment than online learning. As a generation, we now crave more engaging, stimulating & captivating learning experiences, and that's reflected in the modern design of learning technology. There's also potential for information overload and fried brains if learners are sat in a classroom for hours on end.
Self-paced learning
We all remember our school days fondly. Perhaps some of us, not so much. In every class there would be a range of learning abilities that a teacher would have to be mindful of. The truth is that it's particularly difficult, if not impossible, for tutors to create individual student plans for a classroom full (all at the same time). This often meant that some students become disinterested through slow progression, whereas others may need things explaining with a little more clarity.
Blended learning is the perfect solution to combat such a situation. With a hybrid of classroom based training and online learning, everyone's needs can be met regardless of learning ability, with a structured plan allowing you to digest information at your own pace and gain individual support from your tutor even outside the classroom.
The benefits to the organisation
Saves resource
It won't be news to most that classroom training can be expensive to run. Just setting up and arranging training courses can require countless hours of an administrators time. For courses run at an external venue, there's the travel and cost of the venue itself to consider. Costs of equipment you're likely to need on the day and lunch for delegates also mustn't be overlooked.
Another way blended learning helps to save resource is through online material. Content that was once printed including text books, worksheets, certificates & other reading materials can now be provided online for learners to access. Furthermore, things like online assessments can now be marked online, feedback forms can be completed virtually and academic progress can all be tracked in a portal.
Better results
If the aim of the game is to provide the best education for your learners, it's time to consider blended learning over a purely in-person based approach. You're essentially widening the net, allowing different learning styles and abilities to find what works for them. With increased metrics and tracking of understanding & engagement, you can be more objective in your assessment and planning moving forward.
If the aim of your game is to run a profitable training business, you should expect better results and increased ROI through efficiency gains and reduced cost. Client satisfaction is likely to rise as learners have a more comprehensive and engaging learning experience, increasing the likelihood they will come to retrain with you.
Upsell opportunity
For commercial training providers, blended learning offers you a unique chance to upsell your clients. A single day classroom course compared to a multi-faceted learning program over the course of a week is appropriate justification to bump up them course prices. Naturally, the training you offer has to lend itself to this blended model for this to work.
Value-add
Do any of your competitors offer blended learning?
Many training organisations are using blended learning to increase the value to the client and differentiate themselves above competition.
Many training systems also have the potential for manager access, allowing for instant oversight and tracking of their course delegates.
Scalable
An unfortunate truth is that there's only so much training innovation that can occur within 4 walls. When we consider online, however, modern gamification, virtual simulation and competitive leader boards are all recent developments that are continuing to shape online delivery. By investing in learning systems today, you are well placed to engage with future opportunities within the space of learning and development.
Should I Introduce Blended Learning?
Right now, the time has perhaps never been better to introduce blended learning in to your organisation. With COVID-19 restricting face to face interaction worldwide, it's a great chance to start introducing some online content, whilst delivering your typical classroom based course via webinar online.
Our annual training industry benchmark report found that blended learning is now almost as popular as classroom or online-only training.

Before jumping in, however, it's worth considering if your training portfolio lends itself to blended learning. For example, if your training offering relies heavily on manual operation (ie forklift truck training), it's perhaps not the most suitable transition to make. That said, there's a great deal of online simulation tools that can help learners prepare for real life situations that can complement classroom based theory. Check out the video by Quytech training below:
For training that relies on roleplay, collaboration, regular assessment & comprises of multiple modules, these courses lend themselves well to a blended learning approach. The most important thing to consider is if you have a training offering that would benefit from both in-person and online learning. If you can't nail down merits for each, it's perhaps not the ideal move to make.
The decision on shifting to a blended learning approach has to be based on the objectives your organisation wants to fulfil.
Is Blended Learning Expensive?
The cost of blended learning largely depends on 4 factors which we'll break down below:
The technology your organisation already has in place
The tech savvyness of your team
The timescales you are working to
The extent of your training offering
The technology your organisation already has in place
Implementing new technology can be costly. If you're used to using spreadsheets, access databases and paper to manage your operation - it's fair to say there could be some investment to be expected early on. Many modern learning systems have the capabilities to support your blended learning program - the most popular being a learning management system (used for accessing and digesting online content by learners), and a learning content management system (used for instructional design and creation). Learn the difference between these systems.
If you're looking to run live training sessions, you also need to consider a web conferencing tool.
The tech savvyness of your team
In the early stages of transition, blended learning may rely on much of your current content being repurposed for online access or delivery. Having a team that has some experience building eLearning content can go a long way here.
It's also worth considering how comfortable your trainers are with online delivery. For instructors that have religiously stuck to in-person training for their career, it could be quite a steep learning curve to suddenly be chucked in to online presenting, engaging in chat rooms and consulting with learners 1 to 1.
The timescales you are working to
If the plan is to draft blended learning in slowly over the course of a few months, the upfront cost is going to look much different to a course an infrastructure overhaul and content build over the course of a few weeks.
The extent of your training offering
If your plan is to introduce blended learning to a small audience that speak your language, are tech savvy, have internet access and are all enrolled on a single course, it could be reasonably straightforward.
On the flip side, if you provide training globally through multiple providers with different languages, requirements, abilities and currencies, things are slightly more complex (and likely more costly!)
What Do I Need For Blended Learning?
Technology
In order to get up an running with blended learning, you must first consider technology. Some of the most common platforms used to support online & distance learning include learning management systems, learning content management systems and training management systems.
Material
Repurposing content is much easier than creating content from scratch. This could relate to things like video content, brochures, tutorials, quizzes and assessments that you're already using. Once you have this material together, you'd use an authoring tool to repurpose this and generate multimedia content.
Buy-in from colleagues
Unless your whole team is fully adept and onboard with the operation, blended learning needs to be introduced with care. There's potential everyone's day-to-day role will change; trainers will become coaches, HR managers may become learning analysts, you may even need to hire instructional designers/content developers,
Willing learners
Whilst you're in the conceptual stage of blended learning, you need to get the feedback of the people who matter most - your learners. The truth is that the role of the learner will change - they must be accountable for more of their own learning. It's no longer enough as a learner to simply be present in the classroom, indeed they must involve themselves, collaborate, and regularly speak to their manager to get the most from their training.
Are There Any Drawbacks?
Despite the buzz and excitement around blended learning in recent years, it's not all sunshine and rainbows, at least in the early stages. Most of the drawbacks associated with blended learning are experienced when setting up and getting to grips with your new learning strategy.
Technology cost
The cost of your chosen LMS platform will depend on a number of factors such as:
The level of functionality you require
The number of learners enrolled in the system
The setup or implementation required
Potential ongoing usage
eLearning Industry have put together a great article on how much this is likely to cost you.
There are free options, such as the widely popular open-source LMS Moodle. Proceed with caution however, unless you have IT expertise in-house, getting up and running with the developments and server-side can prove pricey in the long-run.
Once you've got an LMS in place, it's likely you'll need an authoring tool.
If you're looking to run web-based live courses, you'll also need to think about a web conferencing tool.
Tech Savviness
Implementing new technology, especially technology in the space of learning design, creation and accessibility, can take some time to adjust for all parties. For learners, tech savvyness is of less concern as modern systems are designed for learner accessibility and ease of use.
For trainers however, there's a number of things you'll likely have to get to grips with.
Unsynchronised progress
There is a danger, particularly for organisations that have recently introduced blended learning, that you can soon find yourself amidst chaos with some remote learners progressing far faster than others and therefore in very different places when learning returns to the classroom. This is a challenge training providers must overcome, between synchronous (real time learning often on a set schedule) and asynchronous (self paced) learning.
Teacher workload
Workload may be perhaps the wrong term. However, the role of the teacher changes somewhat. There is a lesser focus on the delivery aspect, and a higher focus on being a 'coach'. In the role of coach, teachers may find they have less structure and format to their day - the work day may not be determined by set timings of sessions, rather the less predictable, ongoing, ad-hoc support learners require.
Motivation
Without the watchful eye of the instructor to catch the distracted learner and pull them back in to the room, who knows how attention and engagement may slip away behind closed doors. Motivation can however be managed in a number of ways including:
Regular check-ins from the instructor
Activity monitoring
Creating an engaging learner journey
Collaboration projects
How Long Until I Can Be Up And Running?
In order to set up a blended learning program, it can take anything from a number of weeks to a number of months, it really can vary that much. Conceptualising, implementing and perfecting a blended learning solution largely depends on the variables already mentioned above - mainly things like current technology, existing course materials, tech savvyness and budget.
If your aim is to slowly introduce blended learning through bite-size quizzes and online knowledge documents, transition can happen quite quickly. If your aim is to start running virtual web sessions, you can be up and running faster still, getting to grips with a web conferencing tool can take as little as a few minutes.
Conclusion
All modern-day innovation within the training industry favours the online learner, and it's important we move with technology without forgetting the merits of in-person training such as improved focus and relationship building. Perhaps the most exciting thing when implementing a blended learning strategy is that it allows traditional course providers to experiment with emerging technology, without sacrificing the tried and trusted delivery they've perfected over the years.
If you're considering implementing blended learning into your training business, come and have a chat with one of the accessplanit team and see how our award-winning training management system can help you manage the entire process.
Related posts: