[2021] Which Training Tracking Software Tool Is Best?
There are a number of different software tools available to help you track employee training. From a specialist learning management system to a robust spreadsheet, this guide will help you to decide which training tracking tool is most appropriate for your training business.
Everyone is familiar with two common reasons for tracking training: compliance and return on investment
When regulations require records for mandated courses, there better be a way to prove completions. This is especially true in industries such as Oil & Gas and Healthcare. Having all of this information in one central repository makes it a lot easier to prove to regulatory bodies.
Likewise, training can only be viewed as an investment when you can measure who took it and how it impacted the business. This is why tracking training and its outcomes is key.
There is a third, less common but equally important reason to track your training, which is to allow for strategic resource planning. When you know the who, what and how of an employees' training, you can use that information to project their ability to perform new functions or learn new skills.
This is invaluable information for any company especially due to rapidly changing technologies and business climates. When the next major change is near, training records can help define skill gaps and provide a map for future training needs.
Accruing this information is one thing but reporting, analysing and identifying trends is the key. You don't want to have a mountain of data available only to find that you cannot sort or analyse it to your benefit.
Your training tracking software options
There are a number of software solutions available on todays market that can help you to track both employee training and business impact. Depending on precisely what functionality you require and your budget will determine what training tracking tool is best suited for your business. Below, we break down the key players to help you make an informed decision.
Use the links below to quickly navigate to each section:
Learning Management System (LMS)
Often, the first thing you'll come across when you're looking in to tracking employee training is a learning management system (LMS), and for good reason.
Learning management systems are a widely used online software solution, designed to provide an engaging learning experience for delegates and rich reporting functionality for managers. The beauty of an LMS is that all of your reporting data relates to the activity that occurs within the platform - there's no need to import/export data or rely on manual entry, it all happens autonomously as learners complete assessments, engage with content and progress through modules.
If you're looking to track employee training within an LMS, here's some useful functionality you can expect:
Automated reports: The right information is sent to the right people at the right time, without needing manual intervention.
Progress and completion reports: Tracking engagement and rate of progression is a really useful way to track your learners within an LMS
Intricate reports: Looking for granular detail? Things like individual answer breakdowns on assessments, the time spent on each question and drop-off data can all be attained in an LMS
Online feedback: Hear it from the learner, what did they think about the recent session? Where do they feel they need further support?
Assessment: There's no better way to track learner understanding than good old assessment. Most LMS's have functionality that allows you to run assessments, quizzes and even create leaderboards.
When to choose an LMS
You want to consider an LMS if you're looking for a comprehensive, end-to-end solution for internal staff training, and have the budget to make it happen. All of your learning content will most likely be built and accessed within your LMS, including hosted eLearning, assessments, knowledge documents and other media. The ability to report on your learners alone is unlikely to justify the expenditure of an LMS, and the reporting indeed extends far beyond that, it's great for improving your course provision, refining your learner journey and tracking the ROI you achieve from your training.
An LMS is not appropriate for every organisation that is looking to track employee training. In fact, if you fall into any of the below categories, you may want to consider a different solution:
Infrequent training requirements: Unless you're looking for regular, scheduled reports and have enough, consistent data to make this worthwhile, you're perhaps paying for an advanced level of functionality you don't require.

Fully classroom based: On top of having great reporting functionality, an LMS is so much more than that. Unless you're looking to fully utilise and embed an online learning program, you may be better suited to buying a training management system.
Training Management System (TMS)
Training management systems (TMS's) such as accessplanit provide all the functionality an internal training team requires to track employee training. Training management systems differ from learning management systems in that they specialise in automating course administration and streamlining operations, opposed to the learner-centric focus of a LMS. ROI from a training management system is typically achieved through the cost savings of automation, reducing the resource spent on time consuming, mundane tasks.
A TMS is the ideal tool for training providers that are looking for advanced, cloud based reporting functionality, without needing the bells and whistles of microlearning, gamification, quizzes & spaces for collaboration.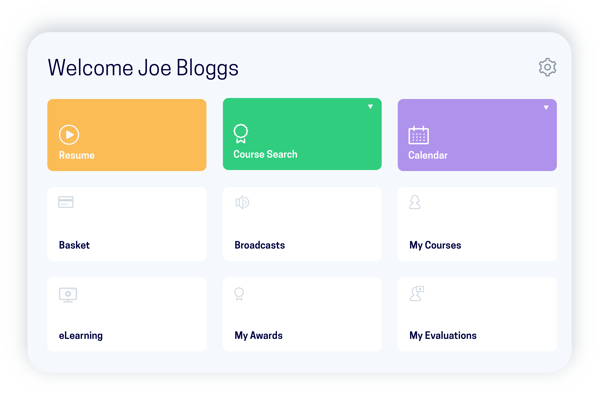 Training management systems have the ability to track employee training through:
Automatically generating tasks and sending communications on expirations
eLearning assessment and quizzes with answer breakdowns
Skill gap identification and training requests submitted by the learner
Online course evaluations
Automated reports delivered to relevant bodies as required
Generating certification
Individual training record management
Learn below how London Leisure College successfully mapped qualifications to individual job roles, allowing management to identify skill gaps and training needs at a glance using accessplanit's training management system.
When to choose a TMS
A training management system is the flexible choice.
It's effective at tracking both face to face and online learning, whether this be internal (employee) or external (client) training. This is the ideal solution for training departments that want the ability to track both in-person training and eLearning but don't require things like gamification, chat rooms and microlearning.
TMS's perhaps offers the largest benefit to course administrators and HR managers through the ease and simplicity of course creation, automated communications & reminders and the self-serve aspect of learner portals.
Training Tracker Tool
At this stage, you may be thinking an all-out management system is a little more than you require. Thankfully, you still have options.
Many internal training departments that run in-person training simply require a cloud based system which allows them to allocate training, track completions, generate reports and ensure compliance. If your training provision does involve some form of online learning, I'd strongly suggest one of the two management systems above this, mainly to avoid the headaches of disparate systems!
There are a number of cloud-based solutions that can help you keep tabs on employee training. Toolbox have put together a list updated for 2020 on the 10 best training tracker tools available today.
These vary considerably across the spectrum, but you can expect a number of useful features for tracking training such as:
Compliance tracking and alerts
Viewing and accessing course content
Schedule learning sessions
Manage training records
Monitoring training hours
Attendance reports
Import/export tools
When to choose a training tracker tool
If you're looking for a very specific reporting system that effectively does what it says on the tin, look no further than a training tracking tool. These solutions are great for small businesses that need a little more sophistication than a spreadsheet but don't require the ability to provide online training or manage the operational side of scheduling courses.
Spreadsheets
It's not uncommon for many internal training & HR departments to use Excel or Google Spreadsheets to track employee training. Whilst Excel is perhaps the most common (and arguably the most powerful), Google excels in it's ability for learners to collaborate. There are a number of concerns to be mindful of however when running training in this way:
Manual error: It happens to the best of us. Organisations that have rows of data in a spreadsheet are bound to fall victim to data errors. When it comes to compliance, this is something that requires a great deal of care and caution!
No prompts: Spreadsheets lack the ability to be able to trigger notifications and alerts when training expiries are nearing. This relies on manual checking to occur on a regular basis.
Validation: Without employee records and document stores, it's hard to validate precisely what training has been undertaken, or be able to prove this through a spreadsheet.
Time consuming: Data entry is laborious. Without basic import/export tools, the resource required to keep a training spreadsheet up to date can be costly to a business.
When to choose spreadsheets
If tracking employee training is something you're just introducing, or if the learning you need to manage and report on is quite manageable, it makes sense to use a spreadsheet. They're free after all, and don't require any special knowledge or onboarding. Particularly for training departments that don't have a massive amount of training to track, anything more than a spreadsheet could be considered overkill.
Conclusion
When it comes to training tracking, the most important thing is that is gets done. Automated management systems are certainly the way to go if budget allows, however training tracking tools and spreadsheets are improving by the day, and are effective in ensuring compliance is achieved and training logs are kept up to date.
Related Posts: