[2020] The Top 5 Tools For Training Industry Success

In any profession knowledge is power and the best way to keep your knowledge up to date is by staying in the know with the latest trends, updates and news. This is especially true for the fast paced and ever changing industry of training and development. We have pulled together a list of our top 5 resources to share some of the best out there at the moment.
Peter Drucker said, "Knowledge has to be improved, challenged, and increased constantly, or it vanishes". Check out our round up of the top 5 resources for gaining learning and training knowledge.
TrainingZone

The name says it all; this site is a zone for training. If you want any information or updates on training TrainingZone is the place to go.
The site offers content from leading industry professionals including blogs, whitepapers, podcasts and articles. All content is segmented into topics such as 'Coaching', 'Strategy' and 'CPD' so it couldn't be easier to find what you are looking for. And if you're not looking for anything in particular the site offers 'Trending on TrainingZone' and 'Popular Resources' sections to provide you with a bit of inspiration.
TrainingZone also provides a great community platform to start discussions in order to gain feedback from other training professionals or provide your own insight into ongoing topics.
Top tip: sign up to the newsletter to receive a round-up of the week's top content.
eLearning Feeds

eLearning Feeds is a one stop shop for all of your eLearning needs. Content includes blogs, infographics and event information exploring various topics such as eLearning concepts, software and trends.
eLearning Feeds is unique in that it ranks and scores hundreds of eLearning blogs (614 to be precise). This provides its readers with a countdown of the top blogs in order to stay up to date with what people are talking about in the eLearning Industry. In addition if you like what you see from one particular contributor you can continue to explore that specific blog.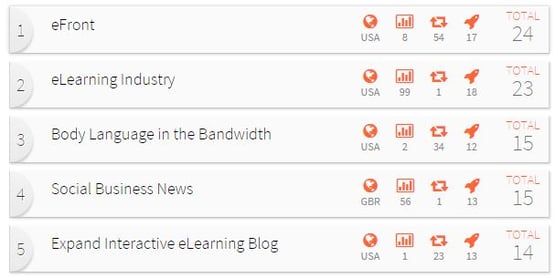 Top tip: stay in the know with the most up to date eLearning trends in the Trends section.
HR Grapevine

HR Grapevine provide a wide range of both HR and talent management information. The site has an entire section dedicated to learning and development and includes interviews with leading professionals in the field, up to the minute news and informative videos in the form of 'HR Grapevine TV'.
As well as providing standard content such as articles and news the site offers in-depth insight reports, a magazine and a list of ranked firms for all of your HR and learning and development needs.
Top tip: download a free copy of HR Grapevine magazine to keep up to date with this month's hot topics.
LinkedIn

LinkedIn is the go to place for business knowledge and information from all angles with features including Pulse and Groups.
Pulse is a fantastic platform to read up on specific topics and by following your preferred Influencers, Channels and Publishers relevant information is posted directly to your news feed.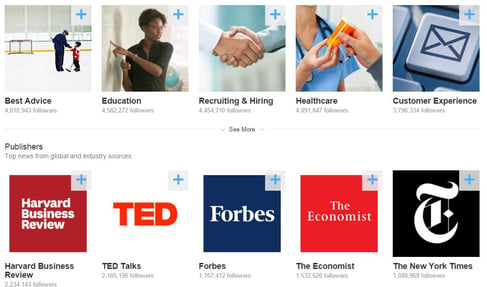 Groups allow you to engage with like-minded individuals to share insight, gain feedback and also receive or circulate engaging content.
Top tip: all of your favourite online resources including the sites mentioned above are likely to have their own LinkedIn group which you can contribute to. See below:
TrainingZone on Linkedin: over 16,000 training professionals
HR Grapevine on Linkedin: over 13,000 likeminded individuals
Online Resource Centre
Our online resource centre is designed to provide up to date learning and training information and also to support the process of researching, selecting and purchasing an automated system.
There is the ability to filter by resource type or topics enabling you to easily find the most relevant content for your needs.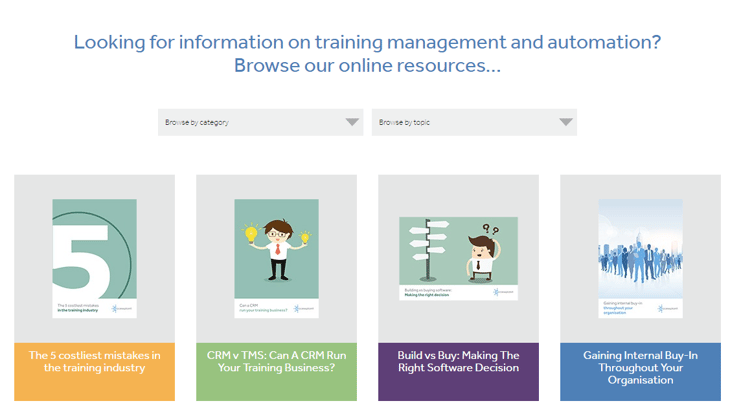 Resources are available in a wide range of formats including whitepapers, eBooks, infographics and tools all surrounding topics such as eLearning, marketing training, online booking and buying software. Our most popular resources include:
The five costliest mistakes in training
The periodic table of training management
CRM vs training management system: Can a CRM run your training business?
Explore these resources and more by visiting our resource centre today.
Have I missed any valuable training resources? Let me know in the comments section below.